Do you know what phrases you overuse when you write? I am well-aware that I use the phrase "over and over," well, over and over. One time I was editing a scene of about 600 words. My main character nodded four times! I just imagined her as a bobble-head doll.
Every writer has phrases that they overuse. For fiction writers, we often use the same few actions. Raising an eyebrow is a favorite. J.K. Rowling's characters raise an eyebrow over 128,000 times. George R.R. Martin's characters do it over 88,000 times! But every person who writes will repeat phrases.
Sometimes, repetition can be a powerful literary device to show emphasis. But typically, too much repetitiveness will make your writing feel robotic and boring. Luckily, ProWritingAid is here to help. There are multiple reports you can run to find unintended repetitiveness.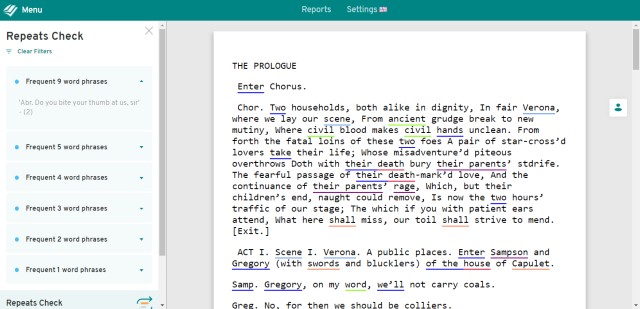 All Repeats
Within the editing tool, there is a section called "Repeats." There are two different reports you can run. The first is "All Repeats." This report will check your writing for repeated phrases. The report will populate on the left-hand side, and it organizes by the length of the phrase. The longest repeated phrases will show up first.
Of course, sometimes these words need to be repeated. But you'll be surprised at how often you use certain phrases!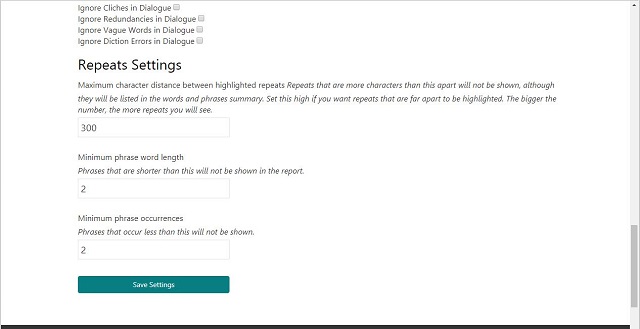 Echoes
The next report in the "Repeats" section is "Echoes." "Echoes checks for overused words and phrases within a certain word count limit. For instance, if you use the word "I" too many times in a 150-word paragraph, your writing will sound clunky and redundant.
The "Echoes" check is very customizable. Simply click on "Settings" at the top of the editing tool, then click "App Settings." This will open a new page. Scroll down to "Repeats Settings." Here you can set the maximum word count distance for your document. Do you only care about echoing words and phrases within 200 words or do you want to see how many echoes you have in 600 words? That's up to you.
You can also set the minimum number of words within a phrase that it will check. If you want to check single words, change this number to one. This number is completely customizable. The last box allows you to change the minimum phrase occurrence. If something only repeats twice, you might not care to change it. You can make this number higher or lower depending on your preferences.
The Style Report is one of the most powerful tools in ProWritingAid. It checks things like adverb usage, emotion tells, and readability. It also checks for repeated sentence starts.
When three or more sentences in a row start with the same word, your writing will read repetitive and mechanical. Although sometimes this can be a strategic literary device called anaphora, more often than not, it's unintended repetitiveness. When you've looked at the same piece of writing many times, it's easy to miss these repeated sentence starts.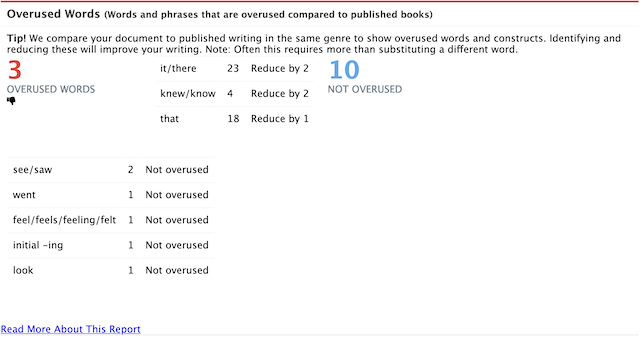 Finally, the Summary Report can also help with repetitiveness. The Summary Report analyzes many factors of your document, and a few of these analytics deal with repetition. First, it can tell you your most used words. It also tells you your overused words and how many you should aim to cut from your writing.
Lastly, it gives you an overview of your Sticky Sentences. While not strictly repetition, Sticky Sentences contain too many glue words, which are the 200 most common words (besides personal pronouns).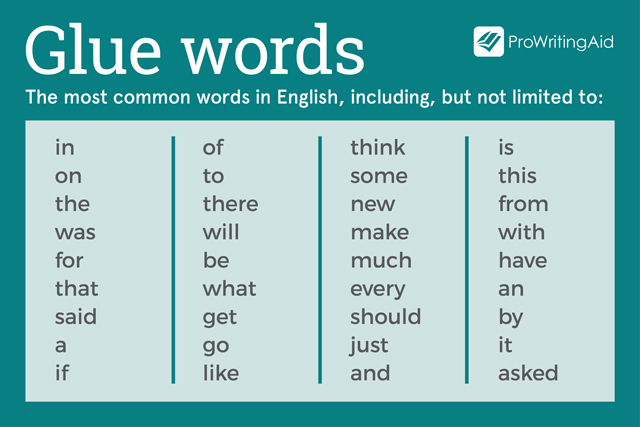 Using too many of these slows your reader down and makes your writing sound robotic and clunky. If you repeatedly use glue words, this could be the report for you!
Final Thoughts
Refine your writing and eliminate all your unintentional repetitiveness with ProWritingAid. Try it now!
Not Using ProWritingAid Yet? Try ProWritingAid's Editor For Yourself:
---