One of the most common types of writing is expository writing. Whether you're a student taking an English class or a professional trying to communicate to others in your field, you'll need to use expository writing in your day-to-day work.
So, what exactly does this term mean?
The short answer is that expository writing refers to any writing designed primarily to explain or instruct.
Read on to learn the definition of expository writing as well as some examples of what this type of writing can look like.
What Is Expository Writing?
Before we look at examples of expository writing, let's start with a quick definition of what this term actually means.
Expository Writing Definition
The term expository writing refers to any writing that's designed to explain something. We use the word expository to describe any passage of writing that's supposed to present information and help you understand it in an objective way.
Some common examples of expository writing include academic essays, textbooks, instructional guides, and news reports. Good expository writing should be factual, objective, and clear.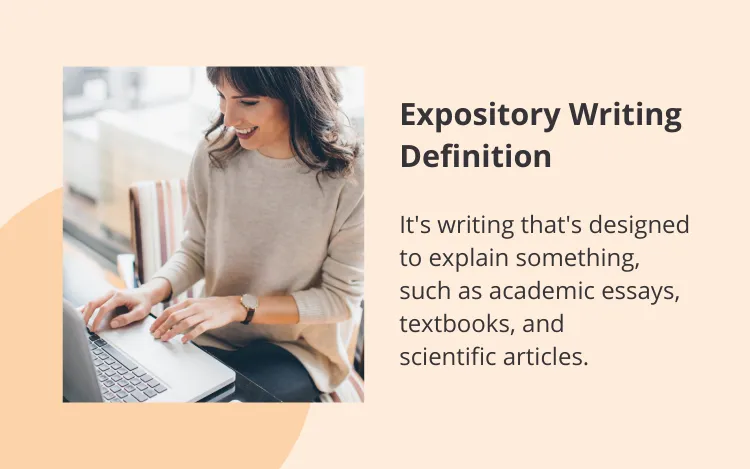 To better understand what this term means, think about the difference between a scientific article, a short story, and an advertisement.
The scientific article is considered expository writing because its primary purpose is to explain a particular topic in more detail. It presents data, analyzes what that data means, and focuses on the facts.  
On the other hand, the short story isn't considered expository writing, because its core purpose isn't to explain or inform—instead, it's probably trying to entertain you or to take you on a journey. Short stories are narrative writing.
Similarly, an advertisement isn't expository writing because its core purpose isn't to explain or inform—instead, it's trying to persuade you to buy what it's selling. Advertisements are persuasive writing.   
Here's a quick rundown of what expository essays should and shouldn't do.
An expository essay should:
Teach the reader about a particular topic

Focus on the facts

Follow a clearly organized structure

Present information and details from credible sources
An expository essay should not:
Try to change the reader's mind about something

Present the author's personal opinions

Include made-up narratives or stories

Follow experimental or nonlinear structures
What Is an Expository Paragraph?
An expository paragraph is exactly what it sounds like—a paragraph of expository writing.
A well-written expository paragraph should follow a specific format to make it as clear and easy to read as possible. Most expository paragraphs do the following things:
Start with a topic sentence, which explains what the paragraph will be about

Then, include 3–5 body sentences that provide supporting details for the topic sentence

Finally, wrap things up with a closing sentence that summarizes what the paragraph has said
Writing an expository paragraph is a great way to practice expository writing. That's because the paragraph follows the same structure as a more complex expository essay, just on a smaller scale.
Most expository essays should follow this format:  
Start with an introductory paragraph that includes the thesis statement, which tells the reader the core statement of the essay

Then, include 3–5 body paragraphs that provide factual evidence to support the thesis statement

Finally, wrap things up with a concluding paragraph that summarizes what the body paragraphs and thesis statement said
You can see the similarities between the two formats. If you can write a fantastic expository paragraph, you'll be well-prepared to move on to writing a full expository essay.
Example of Expository Paragraph
Here's an example of an expository paragraph that follows the structure described above.
The leading cause of death in the United States is heart disease, which can be fatal if it leads to heart attack or cardiac arrest. Heart attacks occur when a blockage in the coronary artery prevents oxygenated blood from reaching the heart. Cardiac arrests occur when the heart stops pumping entirely, which prevents the patient from breathing normally. Both of these problems can be deadly, even in seemingly healthy people who don't have noticeable risk factors. As a result, heart disease is an important problem that many doctors and scientists are researching.
Expository Writing Examples
There are many ways you can present information in an expository essay. Here are four of the most popular ways, along with examples of each one.  
Problem and Solution Essay
A problem and solution essay presents the reader with a problem and then considers possible solutions to that problem. 
Here's an example passage you might find in a problem and solution essay:
Among the many proposed solutions to rising carbon emissions, one promising possibility is carbon trapping. Scientists are figuring out how to pull carbon emissions out of the atmosphere and trap it in less harmful forms, such as by injecting carbon dioxide underground so it will turn to stone.
Compare and Contrast Essay
This type of essay takes two subjects and compares and contrasts them. It focuses on highlighting the differences and similarities between those two things.
Here's an example passage of this type of expository writing:
Though country music and R&B music have very different sounds, they also share many similarities. For one thing, both types of music embody a specific cultural identity. For another, both genres trace their roots back to the 1920s, when the Victor Talking Machine Company signed singers from the American South.
Classification Essay
In a classification essay, you describe the categories within a certain group of things.  
Here's an example passage you might find in a classification essay:
There are three ways in which artificial intelligence might become stronger than humans in the future: high speed, high collective intelligence, and high quality. A speed AI would be able to perform calculations and experience the world much faster than humans. A collective intelligence, like a hive mind, would be able to break down a complex task into several parts and pursue them simultaneously. Finally, a quality AI would simply be able to solve more complex problems than humans could.
Process Essay
In a process essay, you give the reader the steps for completing a specific process. This is similar to a how-to guide or an instruction manual.   
Here's an example passage you might find in this type of expository writing:
Caramelize the chopped onions in a frying pan. When the onions have caramelized, mix in the bell peppers, mushrooms, and tomatoes and stir for 4–6 minutes or until all the ingredients have softened. If you want to add meat, you can add ground beef and cook for another 4–6 minutes. Season with salt and pepper to taste.  
How ProWritingAid Can Help You With Expository Composition
Good expository writing should be easy to read. After all, the purpose of exposition is to explain things to your readers, and you won't be able to accomplish that if they have trouble understanding your writing.
That's why ProWritingAid can help you write an expository essay. The grammar checker can help you ensure your sentences flow well, you're not missing any necessary punctuation, and all your words are precise and clear.
Good luck, and happy writing!
---