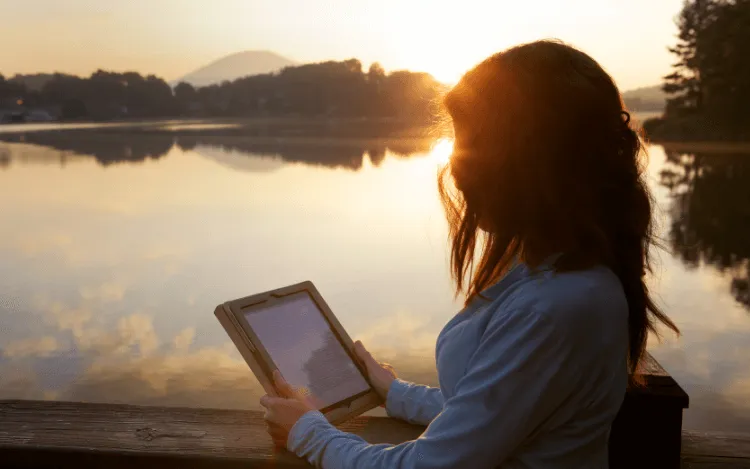 Dark romance is a subgenre of romance that features darker themes than your average Cinderella-meets-Prince-Charming romance. Most dark romance books are about two broken souls falling for each other in very disturbing situations.
Be warned that this subgenre isn't for the faint of heart. Many of these stories involve graphic violence, societal taboos, and dubious consent.
That being said, these books can be highly enjoyable reads that help us embrace the dark side of human nature.
This article will give you 25 twisted dark romances to add to your reading list.
Best Dark Romance Books of 2023
Let's start with some recently released titles as well as highly anticipated upcoming releases of 2023.
1.
Blood of My Monster
by Rina Kent
Sasha is a Russian woman who disguised herself as a man in order to join the army and avenge her murdered family. Kirill was her captain in the army.
Now, Sasha and Kirill come together in New York, where revenge finally mixes with lust. Blood of My Monster is a dark mafia romance that will grip you by the throat.
2.
The Auction
by Maggie Cole
The Auction begins when a billionaire named Riggs buys his partner's daughter, Blakely, at a charity auction.
Riggs forces Blakely to sign a contract to be with him for a year. And now he's going to break her to show his partner who's really in control.
But as he tests Blakely's limits and finds out how much she can take, their relationship grows into something more.
3.
Nocticadia
by Keri Lake
Lilia is given a full-ride scholarship to a prestigious school called Dracadia University. There, she meets a hot professor, Devryck Bramwell, who's nicknamed Doctor Death.
This mysterious dark academia book features the student-teacher taboo as well as some fun fantasy and horror tropes.
4.
Poison Roses
by Jaymin Eve and Tate James
Poison Roses is a reverse harem romance, meaning it involves one woman with multiple male love interests. The story features a girl named Billie who connects with a band called Bellerose.
Each member of the band is hiding a lot of pain beneath the surface, which helps them connect with Billie. This book will give you mafia romance, rock stars, angst, and more.
5.
Marrow
by Trisha Wolfe and Brynne Weaver
Dr. Kyrie Roth and Dr. Jack Sorenson are two rival serial killers.
They're both cunning and full of deception, evading the authorities time and again. They both hate each other and admire each other at the same time.
With morbid details and a wicked rivalry, this book is entirely morally gray, which is perfect if you're looking for dark sexual tension.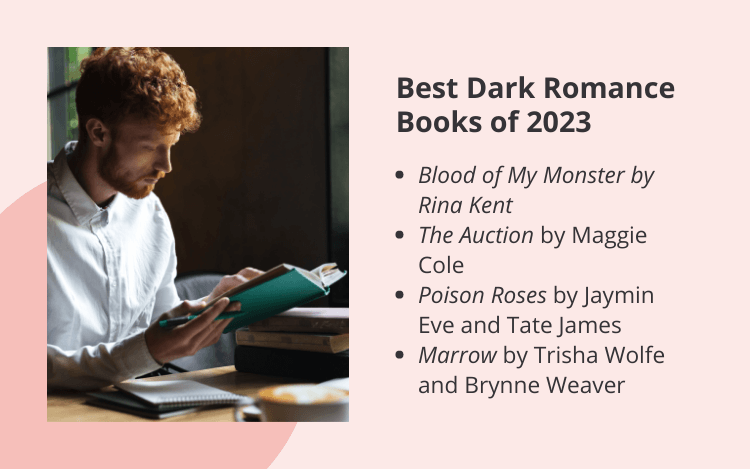 Top Dark Kidnapping Romance Books
One popular trope in dark romance is kidnapping. Many books involve captives falling for their captors, or, on the flip side, former pleasure slaves searching for revenge.
Here are some truly twisted dark romances that involve the kidnapping trope.
6.
Still Beating
by Jennifer Hartmann
When Cora attends her sister's birthday party, the last thing she expects is to end up shackled in a basement. Worse yet, her archnemesis Dean is shackled there with her, and they have to work together if they want to get out alive.
Still Beating is a twisted and compelling adult dark contemporary romance.
7.
Tears of Tess
by Pepper Winters
Tears of Tess is a well-written debut novel about a woman named Tess. When Tess' boyfriend surprises her with a romantic trip to Mexico for their two-year anniversary, she expects a passion-filled week full of cocktails and beaches.
Then Tess gets drugged and kidnapped, and her life changes completely. She has to find out who she truly is when facing incomprehensible circumstances.
8.
Captive in the Dark
by C.J. Roberts
Caleb was kidnapped when he was young by a power-hungry mobster. Now he's set on getting revenge on the person who ruined his life.
As part of his plan, he kidnaps a beautiful girl named Olivia and tells her he must be called Master. She must follow all his rules in order for his plan to work.
9.
Twist Me
by Anna Zaires
On the night of her eighteenth birthday, Nora is kidnapped and taken to a private island.
Her beautiful captor, Julian, is strangely alluring. As he subjects her to his darkest sexual cravings, Nora discovers the fine line between pleasure and pain.
10.
Consequences
by Aleatha Romig
Claire Nichols wakes up battered and bruised in a luxurious suite.
Anthony Rawlings, a powerful businessman, is her abductor. He plans to teach her how to behave, forcing her to follow his strict rules.
But Claire's beauty might be his undoing, and his need for control might just be a mask for a more caring side underneath.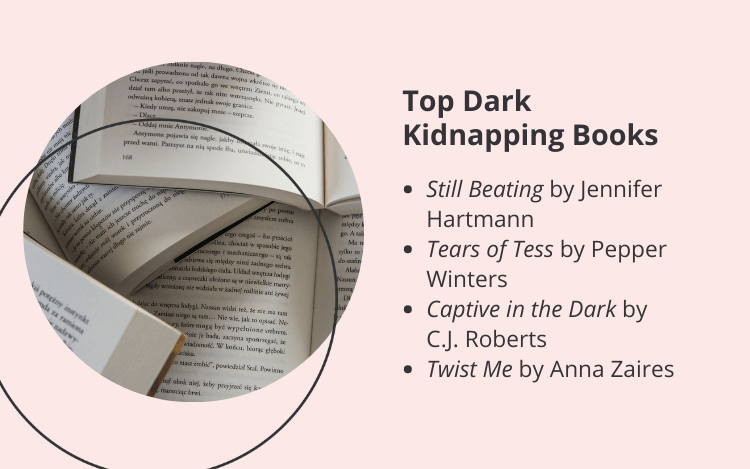 Best Dark Obsessive Romance Books
Many dark romance books are full of delicious obsession. Often, this obsession is directed at a forbidden target, such as a boss or a stepsibling.
Here are some obsessive dark romance books that will keep you on the edge of your seat.
11.
The Siren
by Tiffany Reisz
Nora is an erotica writer who wants to get her latest manuscript published. Zachary is an editor who will only publish Nora's novel if she gives him complete control over the story.
They undergo many grueling writing sessions together, which leads Nora to start wondering if she's falling for her married editor. This book is complex, morally gray, and full of forbidden obsession.
12.
The Sweetest Oblivion
by Danielle Lori
The Sweetest Oblivion is about Elena, the favored daughter of a mafia boss in New York's underworld.
She never expected to fall for her future brother-in-law, Nicolas, who's ruthless, even for a mafia man. But after their first encounter, she can't stop thinking about him.
Now she's left obsessing over someone she absolutely can't have.
13.
Cruel Obsession: A Mafia Romance
by J.L. Beck & C. Hallman
When they were children, Zane promised to protect Dove from everything.
Since then, he's destroyed all those who have hurt her. He's been her guardian angel, and possibly her guardian devil, obsessed with her from afar.
Now, he needs to kidnap her in order to protect her, even though she doesn't remember him anymore. Cruel Obsession is jealous, possessive, and full of delightful drama.
14.
Beyond Jealousy
by Kit Rocha
Rachel, a member of the powerful Sector Four gang, finds herself entangled with two gang men.
One is a warrior named Lorenzo who's been taught not to give in to his own desires or emotions. The other is a wicked tattoo artist named Ace who's happy to help both Lorenzo and Rachel explore their dark sensuality.
Beyond Jealousy is the story of a sinfully sweet ménage à trois.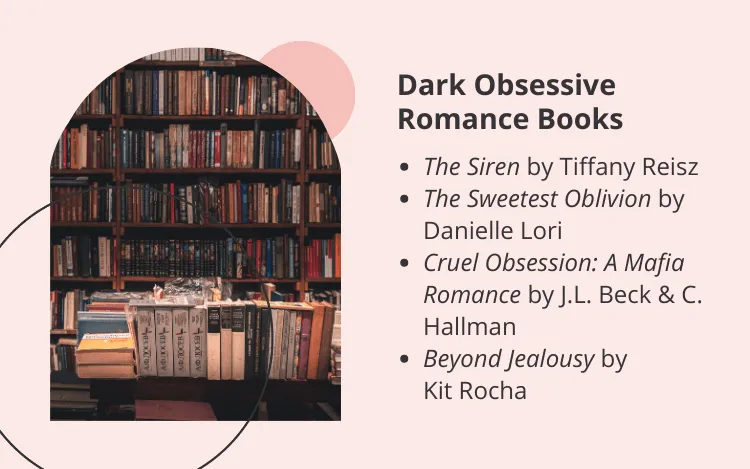 Top Dark Romance Series
If you just can't get enough of dark romance, you might prefer reading a series over a stand-alone. That way, you can stay invested in the same world or the same characters.
Here are some of the top dark romance series you can check out next.
15. The
Maiden Lane
series by Elizabeth Hoyt (begins with
Wicked Intentions
)
Maiden Lane is a 12-book series set in 1730s London. It features a wide cast full of dukes, earls, pirates, and guttersnipes.
Each book centers around a different protagonist and a love interest who's morally gray and sometimes even outright bad. They often meet while solving grisly murder mysteries, mixing love and lust with the darkness of the era.
16. The
Thornchapel
Quartet
by Sierra Simone (begins with
A Lesson in Thorns
)
The Thornchapel Quartet is a twisted, beautiful four-book series set in a remote manor called Thornchapel.
The first book features a librarian named Poe who's investigating what happened to her mother 12 years ago. As she uncovers Thornchapel's secrets, she begins falling for the owner of the manor.
17. The
Devil's Night
Series by Penelope Douglas (begins with
Corrupt
)
In this six-book series, Rika is the younger neighbor that Michael lusts after. To him and his friends, she's forbidden fruit.
Then, Michael and his friends get sent to jail because of a night Rika was involved in. Now they want to punish her for her role in that night.
The Devil's Night series is sadistic, feisty, and full of twists.
18. The
Dark Olympus
Series by Katee Robert (begins with
Neon Gods
)
Dark Olympus is a five-book series (with two further scheduled for release) that retells the myths of the Greek gods in darkly romantic ways.
In each book, Katee Robert brings to life a mythological couple like Persephone and Hades, Psyche and Eros, Cassandra and Apollo, and many more.
19. The
Victorian Rebels
series by Kerrigan Byrne (begins with
The Highwayman
)
The Victorian Rebels is an eight-book historical dark romance series about Victorian-era women who fall in love with rebels and scoundrels.
Each book involves different types of scandals, courtships, and passions. These love interests may not be the most suitable suitors, but they're all sexy in their own ways.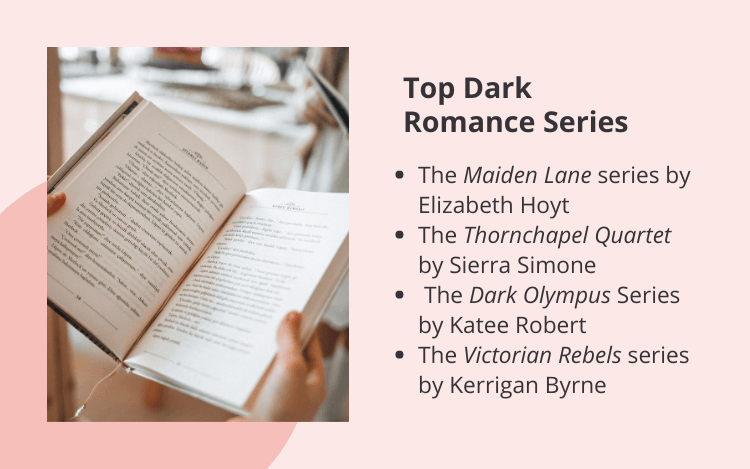 Best Dark Romance Kindle Unlimited Books
If you subscribe to Kindle Unlimited, there are lots of dark romance books available there.
Here are a few top recommendations for Kindle Unlimited subscribers.
20.
Twisted Love
by Ana Huang
Twisted Love is about a girl named Ava who falls in love with her brother's best friend, Alex. He's possessive, jealous, and haunted by his past.
Twisted Love is full of steam and suspense. It's also the first book in the Twisted series, so there's plenty more to read if you like it.
21.
Dante
by Sadie Kincaid
Kat hates Dante, a mafia boss who murdered his former fiancée. But now she owes him a debt, which means she has no choice but to be trapped in his gilded cage.
Dante is possessive, controlling, and dangerous. Kat is feisty, smart, and sweet. The two of them fall for one another in these twisted circumstances.
Overall, Dante involves very strict rules, dark secrets, and plenty of fiery passion.
22.
Haunting Adeline
by H.D. Carlton
Haunting Adeline follows a game of cat and mouse between a woman called the Manipulator and a man called the Shadow.
The Shadow is mesmerized by her and begins to stalk her, trying to find the right moment to pounce.
Slowly, the Manipulator falls in love with her stalker.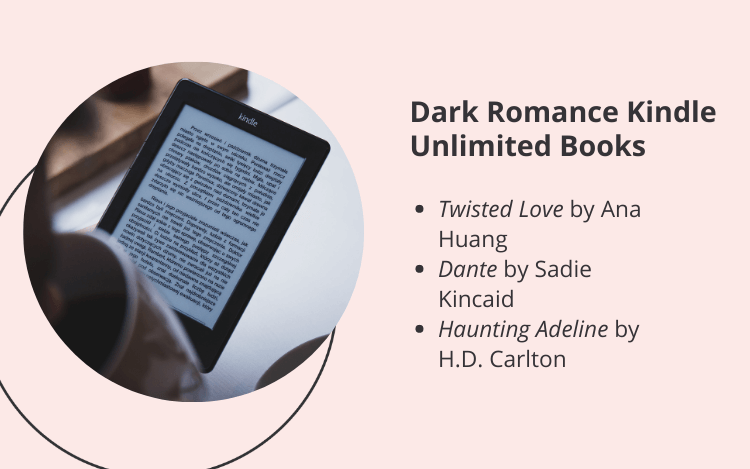 Top Dark Romance Audiobooks
23.
Sinners' Playground
by Caroline Peckham and Susanne Valenti
Sinners' Playground, performed by Bridget Bordeaux and Jake Bordeaux, is an enemies-to-lovers reverse harem story.
Rogue Easton was nearly killed by her ex-boyfriend. Now she's back in the town where that happened, and she's set on getting revenge on Fox, JJ, Chase, and Maverick.
But despite her thirst for revenge, she finds herself falling for these boys again.
24.
Den of Vipers
by K.A. Knight
Den of Vipers is a reverse harem book about a girl named Roxy whose dad sells her to a gang of four men.
All four men have different roles in the gang: one is the leader, one is the enforcer, one is the accountant, and one is the assassin. Roxy ends up slowly falling for all of them.
The audiobook, available on Audible, is performed by Cornell Collins and Hollie Jackson.
25.
The Darkest Temptation
by Danielle Lori
Mila has always been told by her papa never to go to her birthplace, Russia. Most of her life, she's followed his rules.
Then, out of curiosity, Mila breaks the rules and boards a flight to Moscow. She gets taken hostage by mobsters who have a singular interest in her, and she must figure out how to survive.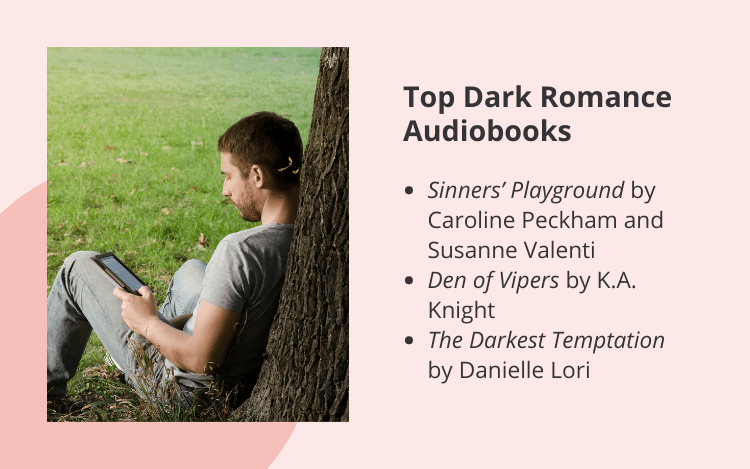 There you have it—our picks for the best dark romance books to add to your reading list.
Happy reading!
---