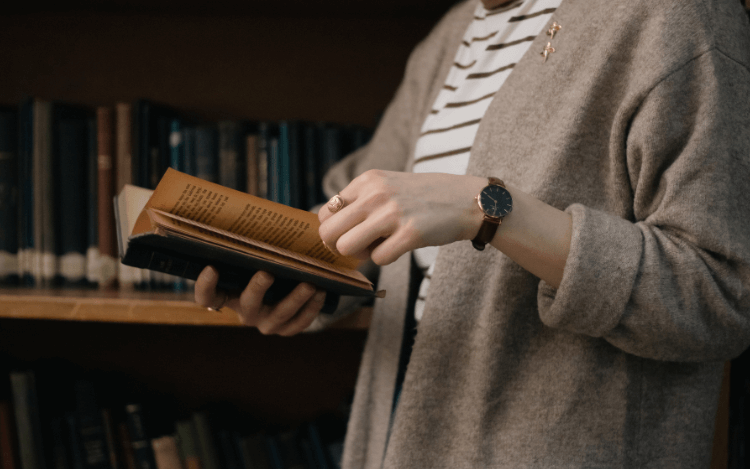 Dark academia is far from a new trope, but in the past few years, it's become more popular than ever.
Whether it's set at a private boarding school or a prestigious university, a dark academia novel romanticizes learning while also exploring the darker side of elite academic settings. You can find dark academia books in any genre, including fantasy, science fiction, thriller, and literary fiction, just to name a few.
So, what are some of the best dark academia books you can read this year?
This article will give you 35 fantastic dark academia books to add to your reading list.
Best Dark Academia Novels of All Time
Let's start our list with some of the best dark academia books of all time.
1.
The Secret History
by Donna Tartt (1992)
Donna Tartt's debut novel The Secret History is about six classics students at an elite New England college. They're a strange clique with erratic behaviors that at first seem to make no sense.
As the story progresses, we see the ways this situation leads to the murder of a student named Bunny. This book is dark, literary, and gorgeously written.
2.
Never Let Me Go
by Kazuo Ishiguro (2005)
Never Let Me Go is a beautiful novel by Nobel Prize winner Kazuo Ishiguro. It's about an exclusive boarding school, where the children are special for reasons they don't understand.
Later, once the students are grown up, they understand what truly makes them special. And the revelation changes everything they thought they knew.
3.
A Little Life
by Hanya Yanagihara (2015)
In this bestselling novel, four classmates move to New York after they graduate from their small Massachusetts college. Their friendships are competitive, intimate, and addictive.
As the decades pass, their dynamic changes further, and past traumas continue to haunt them.
4.
Trust Exercise
by Susan Choi (2019)
At a performing arts high school in the 1980s, two freshmen named David and Sarah fall in love. Then their acting teacher, Mr. Kingsley, notices this and starts to exploit it.
The book is told in three parts, and each part adds new layers to the story we thought we were being told, betraying our trust and rebuilding it again in a dazzling reflection of what's happening to David and Sarah.
5.
Bunny
by Mona Awad (2019)
Samantha Mackey is a lonely writing student attending a prestigious MFA program. She doesn't get along with the rest of her cohort, a group of rich girls who all call each other "Bunny."
Then Samantha gets an invitation to the Bunnies' "Smut Salon," and after that, she can't help plunging into their strange and spellbinding world.
6.
The Plot
by Jean Hanff Korelitz (2021)
Jacob Finch Bonner is a failed novelist who hasn't published a good book in decades. His pride takes a blow when Evan Parker, an arrogant student, tells him the plot of his new masterpiece.
Then Evan Parker mysteriously dies, and Jacob finds himself in a rare situation. He can take Evan Parker's plot for himself and present it to the literary world as his own.
7.
The Maidens
by Alex Michaelides (2021)
Edward Fosca is a handsome professor at Cambridge who teaches Greek tragedy. He's idolized by a group of female students known as The Maidens.
When a girl named Zoe gets murdered, Mariana Andros is sure that Edward Fosca is responsible. But she's not sure why he would do this or how she can possibly stop such a powerful and well-liked killer.
8.
The Likeness
by Tana French (2008)
The second book in the Dublin Murder Squad series, The Likeness is about the murder of Lexie Madison, a graduate student at Trinity College. Coincidentally, one of the detectives on the squad, Cassie Maddox, looks exactly like Lexie.
This creates a unique opportunity for Cassie to go undercover, posing as Lexie to find out what really happened to her. As she meets Lexie's strange literary friends, she finds out secrets that even Lexie might not have wanted her to know.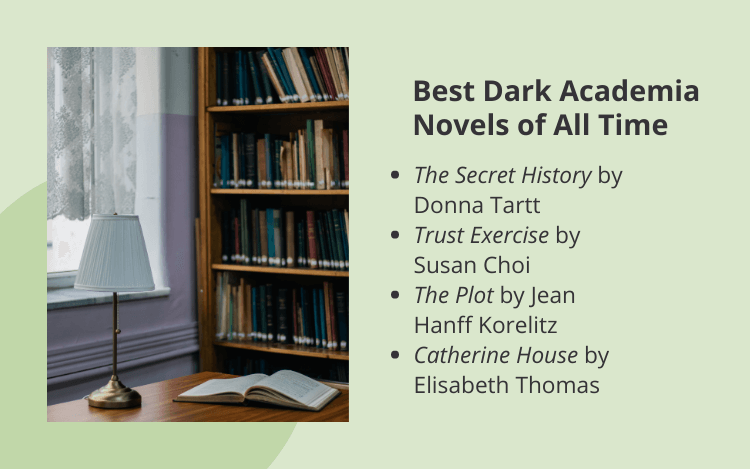 9.
Catherine House
by Elisabeth Thomas (2020)
This gothic novel is about a secluded university called Catherine House in rural Pennsylvania. Students can attend for free, but only if they agree to spend three years completely isolated from the outside world, without contacting their friends or family.
Ines Murillo is excited to attend Catherine House and learn more. But when a terrible tragedy occurs, she's no longer sure if this is a safe place for her to be.
10.
Dead Poets Society
by N.H. Kleinbaum (1988)
Welton Academy is a school for boys in the 1950s, where everyone conforms to the same standards. That is, until a new English professor, John Keating, challenges the boys to make their lives extraordinary.
The boys resurrect a secret society called the Dead Poets Society, where they can explore the beauty of poetry by great poets like Keats and Byron. But as the school authorities crack down on their club, they realize that their club might hurt the teacher who inspired it.
Dark Academia Romance Books
Romance books set in a dark academic setting can be deliciously twisted. Whether the relationship occurs between a student and a professor or between two students who are competing to be at the top, these stories can be cutthroat and twisted.
11.
These Violent Delights
by Micah Nemerever (2020)
Paul is still haunted by the recent death of his father when he starts university. There, he meets a boy named Julian, whom he finds charmingly worldly and intellectual.
As he seeks out a friendship with Julian, their dynamic becomes more obsessed and possessive, and it eventually turns to violence.
12.
Half Truths
by Claire Contreras (2019)
Mae transfers schools to try to investigate what happened to her brother and her friend, both of whom are missing.
While she's searching for answers, she meets a student named Logan as well as a strange secret society called The Eight. She finds herself pulled toward Logan while also unraveling the dark secrets that those around her are hiding.
13.
Maurice
by E.M. Forster (1971)
Maurice follows a young gay man named Maurice Hall, who is confined to the oppressive society of the Edwardian era. As a Cambridge undergraduate, he needs to figure out how to find love in a world that doesn't permit homosexuality.
Written in 1913 and 1914, this dark academia book was far ahead of its time, and it wasn't published until more than half a century later.
14.
My Dark Vanessa
by Kate Elizabeth Russell (2020)
At a private high school, 15-year-old Vanessa enters a secret love affair with her charismatic 42-year-old English teacher.
Decades later, during the #MeToo movement, Vanessa is contacted by someone else who was also groomed by the same man. She must try to understand the truth behind what really happened in the relationship that she perceived as her first love.
15.
My Dearest Darkest
by Kayla Cottingham (2022)
Finch is a student at Ulalume Academy who's hiding a terrible secret. She should be dead from a terrible accident, but she's still alive, and she's not sure why.
The only person who seems to potentially understand is her friend Selena. Then, when Finch and Selena unintentionally summon a creature who offers to grant them wishes in return for their body parts, their lives change forever.
16.
The Ritual: A Dark College Romance
by Shantel Tessier (2021)
Barrington University is home to some of the most powerful men in the world, who call themselves the Lords. In their senior year, they're each rewarded with a young woman they call the Chosen.
An aspiring Lord named Ryat is forced to choose Blakely, even though she's already been promised to someone else named Matt. This dark romance is twisted, fun, and full of spicy scenes.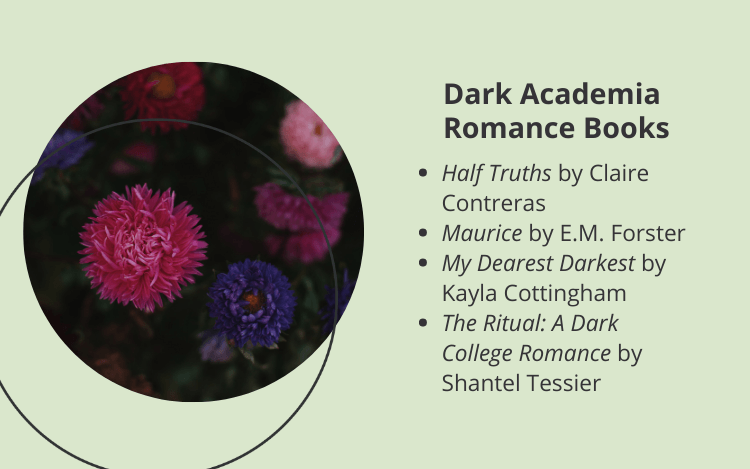 YA Dark Academia Books
Many students are teenagers or in their early twenties, so it makes sense that there's a huge young adult audience for dark academia books.
Here are some YA books that use dark academia vibes to tell powerful coming-of-age stories.
17.
Wilder Girls
by Rory Power (2019)
The Raxter School for Girls is under quarantine because a plague called the Tox is taking them one by one.
The Tox is changing their bodies in strange ways. When Hetty's friend Byatt goes missing, Hetty is determined to break quarantine to bring her back.
This YA horror novel is sapphic, strange, and widely considered to be a dark academia masterpiece.
18.
Ace of Spades
by Faridah Àbíké-Íyímídé (2021)
This YA contemporary thriller is set at Niveus Private Academy, a school for rich students. Just before graduation, an anonymous texter, who goes by the nickname Aces, starts texting people secrets about other students.
Worst of all, Aces seems to be specifically targeting Black students. Devon and Chiamaka have to figure out what to do about it before it changes their futures forever.
19.
Plain Bad Heroines
by Emily M. Danforth (2020)
In 1902, at an all-girls boarding school in New England called Brookhants School, Flo and Clara start a club called the Plain Bad Heroine Society. When they die in a tragedy, the school is believed to be cursed.
In the modern day, a film production studio tries filming at the now-abandoned school, which might be a very bad mistake.
20.
Conversion
by Katherine Howe (2014)
Clara Rutherford is the queen bee at St. Joan's Academy until she contracts a mysterious illness that no one understands.
Then, a girl named Colleen realizes this strange illness has something to do with the Salem Witch Trials from the seventeenth century. She must race against time to figure out what's happening.
21.
The Raven Boys
by Maggie Stiefvater (2012)
Blue Sargent was prophesied to kill her true love. Luckily, she's never believed in true love anyway.
But when she becomes friends with a group of boys called the Raven Boys, who are rich students at a private school called Aglionby, she finds herself learning more about magic and her own heart.
22.
The Name of the Star
by Maureen Johnson (2011)
Rory Deveaux is an American teenager at a boarding school in London. As she arrives in England, she finds herself surrounded by a series of gruesome murders, which seem to be imitating the murders committed by Jack the Ripper.
She's the only one who's seen the prime suspect, and she has to figure out how to stop him before he comes for her next.
23.
The Taking of Jake Livingston
by Ryan Douglass (2021)
Jake Livingston is a medium who can see dead people. As one of the only Black students at St. Clair Prep, he has to deal with the racism of his White teachers while also grappling with his own powers.
When another Black student transfers to the school, Jake starts falling for him. But one vengeful ghost might just ruin his life first.
24.
Ghosts of Harvard
by Francesca Serritella (2020)
Cadence Archer is a freshman at Harvard University who's desperate to understand why her schizophrenic brother committed suicide.
As she investigates his death, her own life becomes more complicated when she starts hearing voices from three ghosts. She's not sure if she's closer to finding answers or if she's leaning into a fate like her brother's.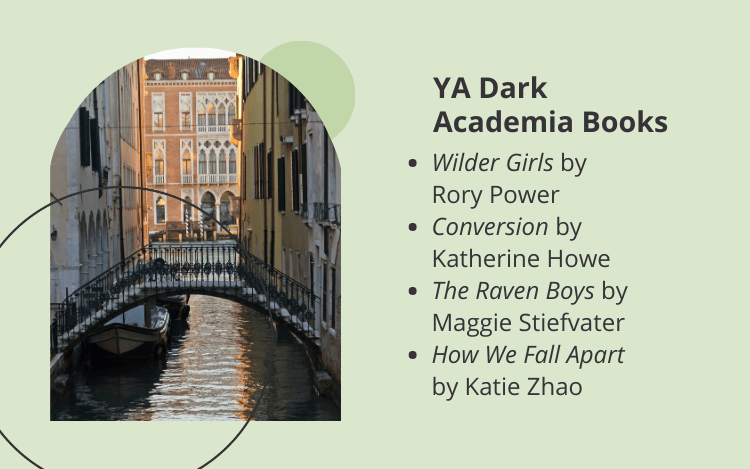 25.
How We Fall Apart
by Katie Zhao (2021)
The top students at Sinclair Prep all want to go to Ivy League schools and seem to have a good shot at getting in. Then Jamie Ruan, the top ranked student, is found dead.
Jamie's friends are the prime suspects since Jamie knew all of their secrets. They must clear their names before their reputations are ruined forever.
Top Dark Academia Fantasy Books
Many dark academia books have a touch of magic. You can find books that feature prestigious schools for necromancers, witches, magicians, and more.
Here are our recommendations for the top dark academia fantasy books.
26.
Vita Nostra
by Marina Dyachenko and Sergey Dyachenko (2007)
Vita Nostra is a gorgeous Ukrainian take on dark academia. It follows Sasha Samokhina, a girl who's invited to attend the Institute of Special Technologies.
At the Institute, she finds strangely obscure lessons, books that can't be read, and homework that makes no sense. Slowly, she learns to manipulate the boundaries of her mental abilities and even the laws of physics.
27.
Ninth House
by Leigh Bardugo (2019)
Alex Stern is a scholarship student at Yale who can see ghosts. She finds out that the school's secret societies practice dangerous forms of magic such as necromancy and shape-shifting, and she gets sucked into the ninth secret society, Lethe.
As a Yale graduate myself, I can promise we're not actually as spooky as this book makes us seem, but it's well worth a read.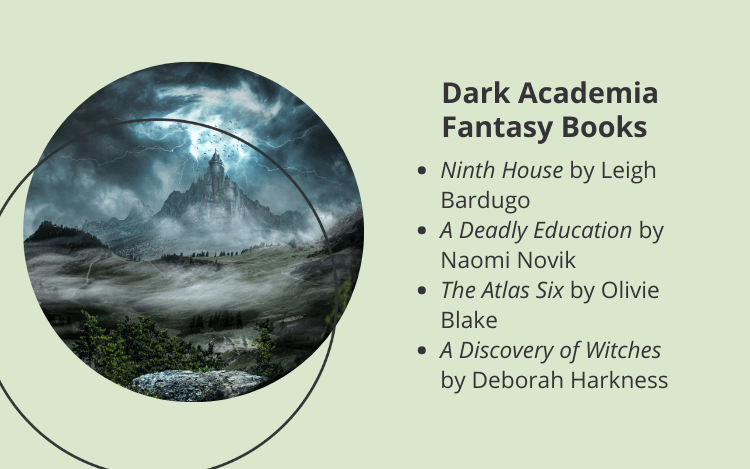 28.
A Deadly Education
by Naomi Novik (2020)
Galadriel "El" Higgins is a loner with more powerful dark magic than any of the other young mages her age. She attends a magical university called the Scholomance, which has a tendency of killing its students because it's infested with dark monsters called mals.
But El makes more allies than she expected, and her journey through her school years are full of strange, dark adventures.
29.
A Lesson in Vengeance
by Victoria Lee (2021)
At an ivy-covered boarding school called Dalloway School, Felicity Morrow feels sure that something's wrong. She lives in a dormitory that's said to be haunted by the ghosts of the Dalloway Five, five girls who were gruesomely murdered years ago.
Their deaths have become personal because Felicity's own girlfriend, Alex, died here not long ago.
30.
The Atlas Six
by Olivie Blake (2020)
Once a decade, six talented magicians are selected as candidates for the Alexandrian Society, who preserve ancient knowledge from old civilizations. But only five of the six will be initiated.
Now, six young magicians with different types of powers are forced to compete to see who will succeed and who will be cut.
31.
Legendborn
by Tracy Deonn (2020)
The descendants of the Knights of the Round Table in the legend of King Arthur are still alive today, and they call themselves the Legendborn.
Bree Matthews is a young Black girl who enrolls at UNC Chapel Hill and learns that she's one of these Legendborn. In this propulsive debut novel, Bree must fight for her right to have a seat at the table while also preventing magical war from breaking out.
32.
Magic for Liars
by Sarah Gailey (2019)
Ivy Gamble has never been magical, unlike her estranged sister who teaches at a magical private academy. Ivy tells herself she doesn't mind being a private detective in the normal world.
But when she gets hired to investigate a murder at the magical school, she has to confront what she really wants and the price that accompanies it.
33.
A Discovery of Witches
by Deborah Harkness (2011)
Young scholar Diana Bishop finds a mysterious book hidden in Oxford's Bodleian Library. As the descendant of a line of witches, she doesn't want to use a manuscript of sorcery, so she leaves it alone.
But a horde of magical creatures wants to take this book, and Diana has no choice but to get sucked into the ensuing chaos.
Our Dark Academia Book Recommendations
Here at ProWritingAid, we have a monthly book club where ProWritingAid employees gather to discuss a book of the month.
We've recently chosen two dark academia books. Both are gorgeously written, and we highly recommend them to the ProWritingAid community!  
34.
If We Were Villains
by M.L. Rio (2017)
Oliver Marks has served ten years in prison for a murder he claims he didn't commit. Now, he reconstructs the truth behind this years-old murder mystery, which took place at Dellecher Classical Conservatory when he and his friends were young drama students.
We loved this story for its slow, atmospheric setting and deeply immersive character-building.
35.
Babel
by R.F. Kuang (2022)
Babel is a brilliant novel by R.F. Kuang that critiques the dark academia genre. The story follows Robin Swift, a half-Chinese orphan in the 1830s, as he joins Oxford's elite Royal Institute of Translation.
There, the students learn how to do magic through the power of language. But as Robin learns more about institutional racism, imperialism, and exploitation, he must decide which side he's really on.
There you have it—our top recommendations for dark academia books to add to your reading list.
Good luck, and happy reading!  
---