Register for this FREE event, just for crime writers
Do you love writing crime as much as we do?
Do you have every juicy detail of a thrilling case planned out in your head, ready to keep readers turning pages?
Whether you've written crime before or are just starting out in the genre, join us for Crime Writers' Week 2022.
What to Expect at Crime Writers' Week
This whole week is dedicated to supporting you and inspiring you to become the best crime writer you can be.
You'll find:
Interviews with bestselling crime authors who will share their writing journeys
Training sessions, workshops, and Q&As specifically curated for crime writers
Daily networking events where you can meet other writers
Our dedicated closed Facebook group, just for Crime Writers' Week participants
Did we mention it's free?
---
How to Register
It's easy to reserve your seat. Just add your email address in the box to the right and we'll send you everything you need to join in.
If you love writing crime, this is the event for you. Join thousands of other crime and thriller writers to learn from the experts, find your community, and write your crime novel.
Last Year's Event
In April 2021 we hosted our first Crime Writers' Week—a week jam-packed with online events for crime authors. The enthusiasm and sheer dedication of the writers who attended was so inspiring and so we are thrilled to be going even bigger this year. Our goal is to bring you 100% closer to finishing and publishing your crime or thriller story.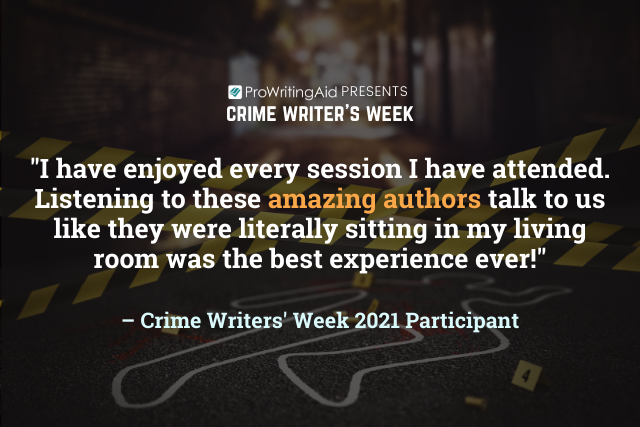 Last time we had some incredible live sessions with some of the biggest names in crime writing, like Ian Rankin, Karin Slaughter, Peter James, and Lisa Gardner, Q&As with police advisor Graham Bartlett and publishing experts from Simon & Schuster, 10 crime writing workshops, and more.
We had the best time learning from the experts and getting inspired.
And so did attendees: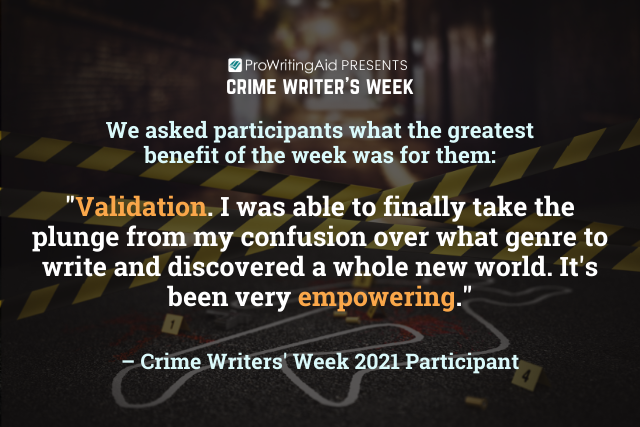 Last Year's Schedule
This year we are going bigger and better, but last year's schedule is below to give you a sense of what to expect.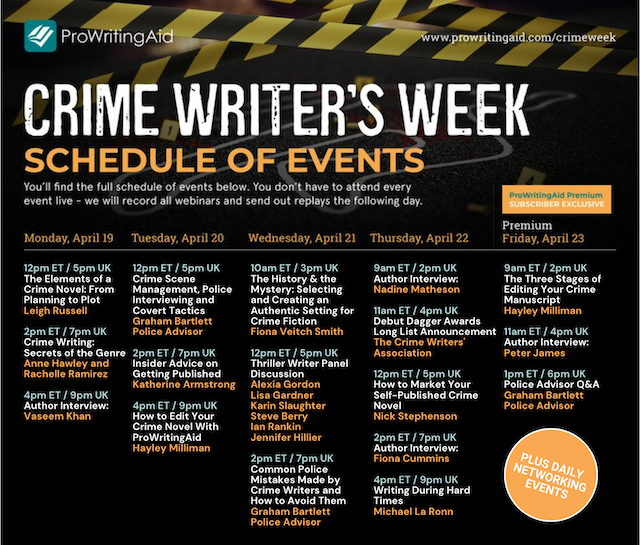 ---
How to Register
Crime Writers' Week 2022 is free to attend. Just enter your email address in the registration box below to save your seat.
If you have any trouble registering, contact us at hello@prowritingaid.com.
Enter Your Name Below to Register