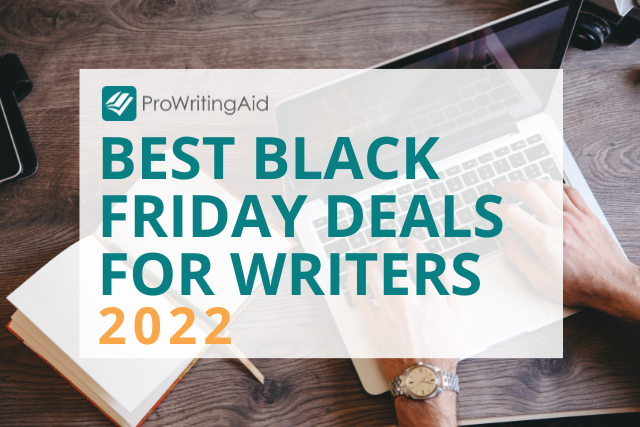 As we head into Black Friday and Cyber Monday for 2022, there are some great deals popping up on courses, software, and books for writers. We think there will be something on this list that will help you become a better, more successful writer.
We'll continue scouring the internet for deals this week, but if you come across any others, let us know and we'll add them to the list!
Note: A few of the links below are affiliate links, which means we will get a small commission at no extra cost to you. Others are just deals that we thought were awesome!
16 Awesome Black Friday Deals for Writers
---
ProWritingAid gives you clear, easy steps to improve your writing so you can share your ideas with confidence.
Unlike other writing software, ProWritingAid offers world-class grammar and style checking combined with more in-depth reports to help you strengthen your writing. The unique combination of suggestions, articles, videos, and quizzes makes writing fun and interactive.
The more you use ProWritingAid, the more you will learn. Your skills will grow and your ideas will shine.
Integrations for MS Word, Google Docs, Scrivener, Chrome, and many more mean that you can use ProWritingAid wherever you write.
You will become a better writer with ProWritingAid.
Between November 16 and November 28, sign up for a free trial and use coupon code BLACKFRIDAY2022 to get 30% off The Novel Factory.
Novel Factory helps new writers learn the craft of writing and assists established writers in being more productive and profitable.
It contains plot templates, character sheets, and heaps more useful tools for novel writers. Created and supported by award-winning writer Katja Kaine, the software has helped thousands of writers make leaps and bounds towards their writing dreams.
"I am so glad I found your software because it has been a game changer for me in my writing. I've been working on a 'first draft' on and off for two years and then I found Novel Factory and it helped me get my first draft done in around 4 1/2 months."
Editing a manuscript is a big undertaking, both intellectually and emotionally. Being thorough can be difficult and time-consuming, but the creative story editing process always pays off.
Fictionary StoryTeller makes editing easier by applying universal storytelling structures to each and every scene. Evaluate and revise your manuscript against 38 Fictionary Story Elements to tell a powerful story readers will naturally connect with.
StoryTeller automatically creates powerful visuals by analyzing your manuscript from start to finish. Insights such as the Story Arc provide a 30,000-foot view of your manuscript and quickly highlight structural areas that need improvement. Turn your words into a great story.
More than 150,000 writers use Campfire to write better stories faster. With Campfire Write's full suite of organizational tools, you can create character sheets, full timelines, relationship webs, and a manuscript with built-in reference tools that allow you to eliminate plot holes while you write.
Campfire is available to use online using your favorite internet browser, for offline use with their desktop app, and on the go with their 100% free mobile app for iOS and Android phones. When you're done, publish your project in Campfire Explore where you can show off your work, garner a following, and eventually monetize your writing.
Campfire is free to try, but if you find yourself needing to create bigger projects you only have to pay for the features you need. Start a subscription for as low as 50 cents per month or pay a one-time price with their à la carte payment structure.
The Women in Publishing Summit is a week-long conference that provides resources and training to authors across all facets of writing, publishing, marketing, and author development.
Made by women, for women, the conference not only delivers incredible content, but celebrates the achievements of women in the industry. Plus, you'll get access to even more incredible discounts and opportunities from the event's sponsors to help you in the training process.
Join 2,000,000 writers and worldbuilders on World Anvil—the award-winning novel writing and worldbuilding platform created by writers, for writers.
Write faster, create deeper settings, and keep all your notes organized with your manuscripts, characters, timelines, family trees, interactive maps, plot boards, and more! Whether you're writing for fun, dreaming of publication, or already have your own author's business, World Anvil will give you the tools, support, and know-how to bring your dreams to life!
Looking for more oomph in your writing life? Check out their incredible community, challenges, competitions, expert guides and more!
THE ANATOMY OF PROSE: THE SENSES COURSE
Do you want to improve your writing but have no idea where to start?
Are you worried your prose is flat and full of weak descriptions?
Are you ready to power up your writing and create prose that grips your reader to the page?
From Sacha: "In this course, I'll share everything I've learned about creating sensory-rich writing. I'll show you the psychology behind the senses as well as how to connect sensory detail with memory to deepen both your characterization and imagery."
If you want to hook a reader, the emotion and the emotional journey your hero goes on is the foundation of a good story. And what creates and enhances emotion? Sense-rich writing.
This course is jam-packed full of useful tips and tricks to make you think about the senses in new and unique ways. By the end of the course, your writing will be richer, deeper, and more powerful.
THE VILLAINS MASTERCLASS
If you want to create better villains, this course replay will show you how. In the class, they cover:
Common villain story structures
The six common villain journeys and the key scenes you need
Villain wounds, scars, and ideologies
How to create unlikeable characters
A villain's defining moment
Save the Cat—villain style
The aspects a villain-protagonist story MUST include
Your villain's villain and how to create them
Supercharge your bad guys today, and give your story the tension, conflict, and power it needs.
You'll get the 2.5 hour long replay video, audio, 5000+ words of notes, slides and a summary sheet.
This is for authors who are just getting started with using TikTok as a tool for growing their author platform. If you're not using TikTok yet or have set up an account and don't know what to do next, this course is for you!
End Result:
A TikTok account with the tools you need to create fun contact, make connections, and grow your author platform!
TikTok for Authors is a Beginner Level course to demystify the TikTok/BookTok Platform. By the end of this course, students will: - Have a TikTok account - Understand the widgets and tools in TikTok - Feel confident creating videos and have a repository of ideas to pull from - Understand how to find, follow, and utilize other accounts - Use hashtags and communities to their benefit - Learn tools to schedule your content
And more. Don't let fear of the unknown stop you. Regardless of your age, technical ability, or genre, TikTok can be a fun platform to find new readers!
9) Nov 14–Dec 4: Spark Your Story: 30% off 12-month enrollment Code: BLACKFRIDAY2022
The Spark Your Story Lab will help you sidestep blocks, craft powerful memoir, AND streamline the publishing process.
Designed by multi-award winning author Nicole Breit as a friendly online space to experiment with form and craft, the Spark Your Story Lab will take you every step of the way from story idea to your first (or next!) publication. Nicole's unique approach to teaching short-form memoir has helped countless writers get published and win awards.
With 40+ short videos, a lab manual of lessons, exercises, projects, checklists, guides, and a live monthly write-in with Nicole, the Spark Your Story Lab has everything you need to quickly become a better, more creative + successful writer!
10) Nov 23–Nov 28: Savannah Gilbo: 30% off courses Code: BLACKFRIDAY2022
FIRST 5 PAGES WORKSHOP
Want to learn how to hook readers from the very first page of your story? In this workshop, you'll learn the 5 key elements you need to include in the opening pages of your novel in order to hook the reader and make them curious about what's going to happen next. Multiple bonuses included!
SCENE WRITING WORKSHOP
Scenes are the building blocks of story. If you can learn how to write a great scene, then you are definitely capable of writing a great story—and this workshop will help you get there! Examples included from Murder on the Orient Express, The Silence of the Lambs, The Ballerinas, The Duke and I, and Harry Potter & the Sorcerer's Stone, too!
11) Nov 23–Nov 28, Savannah Gilbo: 30% off Notes to Novel Course, Code: BLACKFRIDAY2022
NOTES TO NOVEL
In this self-paced online course, you'll learn how to confidently write the first draft of a story you feel proud of (without the crippling self-doubt, frustration, and overwhelm that stops most writers in their tracks).
Writing Mastery Academy offers on-demand writing courses, live webinars, and an online community to give fiction writers the knowledge, skills, and support they need to achieve all their writing goals.
Founded by Jessica Brody, author of the bestselling plotting guide Save the Cat! Writes a Novel, Writing Mastery Academy is home to the official Save the Cat! Online Novel Writing Course, plus courses on fast drafting, character development, productivity, revising, publishing, and more.
As a member, you'll get: - Unlimited access to all our on-demand writing courses - Access to the Writing Mastery Community - Monthly "members-only" webinars + recordings - "Office Hours" with instructors & guests - BONUS: Searchable Q&As from Office Hours & Webinars - BONUS: Surprise Bonus Content - And more!
"The Academy has done more for me than any of the other courses I've taken. It's been like a DIY MFA!" —Emerly G.
"All of the courses from Writing Mastery Academy are fabulous. They take you on a literary adventure that is both challenging and fun and boy do they deliver the goods!" —Betty A.
Join now and start your journey toward Writing Mastery today!
Writing a book can be daunting, but it doesn't have to be.
Are you struggling to finish, or even start your novel? Are you overwhelmed by the many steps in the writing process, drowning in endless drafts, or creatively blocked? Shut Up and Write the Book is a step-by-step guide to crafting a novel from your first spark of an idea to the final edit.
Whether you're brand new to writing or want to hone your skills, this action plan provides straightforward advice while demystifying the art of storytelling.
In Shut Up and Write the Book, you'll learn:
Ways to select an exciting, marketable concept that incites your passion and intrigues readers
Techniques for creating multi-dimensional characters your audience will love (or love to hate)
How to navigate the dreaded first draft with confidence
Tips for writing an impactful first chapter that hooks readers
The key to eliminating sagging middle syndrome so your story is engaging from start to finish
The best way to craft a plot twist that wows your audience
How to write a climax that takes your story to a new, thrilling level
And much more
Enjoy bestselling author Jenna Moreci's no-nonsense guidance and saucy sarcasm as she walks you through every step of the writing process. If you want to finally hunker down and finish your novel, read Shut Up and Write the Book today.
Publisher Rocket is the world's leading book marketing software that has helped over 70,000+ authors of all levels sell more books, and save loads of time doing it. It comes from Dave Chessen, the brains behind Kindlepreneur, so you know you're in safe hands! Discover profitable keywords, identify bestselling categories, see how much the competition earns, generate hundreds of AMS keywords, and more to help your book instantly start selling more copies.
For a limited time, Dave is offering you the Kindlepreneur Keywords and Categories Course absolutely free when you buy Publisher Rocket.
This course has hundreds of 5-star reviews and is normally $50. It helps you navigate the tricky waters of SEO, teaching you how to select profitable keywords and bestselling categories with ease. It even comes with Amazon Ads features that will save you hours in setting up your ad campaigns.
Ready for a game-changer? One Stop for Writers is your ultimate story support tool, containing an arsenal of ground-breaking resources to help you think and write like an expert. Confidently build characters with true depth, craft fresh plots, and design worlds your readers won't want to leave.
Whether you need a little help or a lot, the Storyteller's Roadmap guides you through planning, writing, and revising so you end up with a publish-ready novel.
Use the code BF2022 to receive a 40% discount on our 6-month plan. Writing can be easier...and with One Stop, it will be.
FirstEditing's professional editors manually correct and perfect your every word so you can publish confidently and successfully.
FirstEditing is unique because it vets, trains, and certifies expert editors with publishing experience to coach you.
Over 50,000 authors since 1994 have entrusted FirstEditing with their manuscripts.
After completing your self-edit, be sure you are ready to distribute publicly.
Get an expert editor in your genre to personally edit your writing, revise your syntax, and advise you how to structurally strengthen your English presentation.
---
What have we missed?
Have you spotted any more great bargains floating around the internet? Let us know in the comments, and we'll add them to our list!