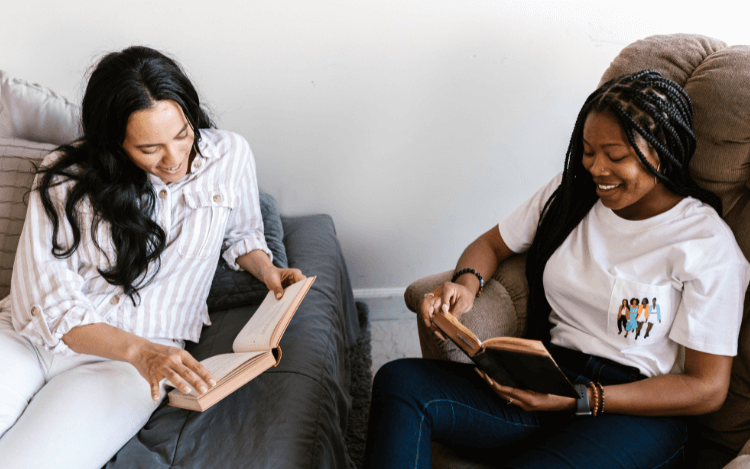 Self-help books sometimes have a reputation for being cheesy or preachy, but in truth, we could all benefit from reading a self-help book or two. These books can help you understand how your own body works, remove stress from your life, achieve more success at work, and so much more.
So, what are the best self-help books you can add to your reading list?
In this article, we'll give you 42 self-help books that can help you become the person you want to be while also embracing the person you already are.
Best New Self-Help Books for Women
Times change quickly, and the problems that women face today might not be the same as the ones women faced a century ago. So, to kick us off, here are some useful self-help books published within the past five years.
1.
More Than Enough: Claiming Space for Who You Are (No Matter What They Say)
by Elaine Welteroth (2019)
Elaine Welteroth, the former editor-in-chief of Teen Vogue, writes about how she navigated both gender prejudices and racial barriers to achieve success and change the world.
In this inspiring book, Welteroth reminds us all we're already more than enough.
2.
Maybe You Should Talk to Someone: A Therapist, Her Therapist, and Our Lives Revealed
by Lori Gottlieb (2019)
Therapist Lori Gottlieb writes about when she sought a therapist of her own to help her cope with her personal crises.
With the perspectives of both clients and clinicians, Maybe You Should Talk to Someone gives you practical examples of how therapy can help you push past barriers and become a healthier person.
3.
Untamed
by Glennon Doyle (2020)
Glennon Doyle writes about divorce, jealousy, parenting, faith, and the story of how she escaped an invisible cage she didn't even know she was trapped in.
Part memoir, part self-help book, Untamed helps you break free of societal expectations.
4.
Wintering: The Power of Rest and Retreat in Difficult Times
by Katherine May (2020)
Sometimes you experience terrible unforeseen circumstances, like the death of a loved one or the loss of a job.
In Wintering, Katherine May helps us navigate these difficult times and find rest, acceptance, and even joy.
5.
Body Talk: How to Embrace Your Body and Start Living Your Best Life
by Katie Sturino (2021)
Society teaches women to hold their bodies to absurd standards and stay quiet about many normal bodily functions.
Katie Sturino, the host of the podcast "Boob Sweat," isn't afraid to talk about the messy joy of inhabiting a female body. Body Talk helps us understand and accept the bodies we live in.
6.
The Way of Integrity: Finding the Path to Your True Self
by Martha Beck (2021)
The core thesis of The Way of Integrity is that "Integrity is the cure for psychological suffering." Martha Beck, a life coach and social scientist, shows us how to attain personal integrity using small, actionable steps.
7.
Feeding the Soul (Because It's My Business): Finding Our Way to Joy, Love, and Freedom
by Tabitha Brown (2021)
Tabitha Brown, a well-known personality on platforms like TikTok and Instagram, tells us her personal stories relating to food, work, and health. She also provides nourishing recipes to help us feed both our bodies and our souls.
8.
What Happened to You? Conversations on Trauma, Resilience, and Healing
by Oprah Winfrey and Dr. Bruce Perry (2021)
Oprah Winfrey shares stories from her own life about vulnerability, trauma, and strength. With the help of brain expert Dr. Bruce Perry, she helps us reframe the narratives of our lives to stop thinking, "What's wrong with you?" and start thinking, "What happened to you?"
9.
The Power of Writing It Down: A Simple Habit to Unlock Your Brain and Reimagine Your Life
by Allison Fallon (2021)
Allison Fallon is an author and writing coach who found that a daily writing practice can help you transform your life. By writing every day, you can build better habits, heal from past trauma, and live more deeply in the present moment.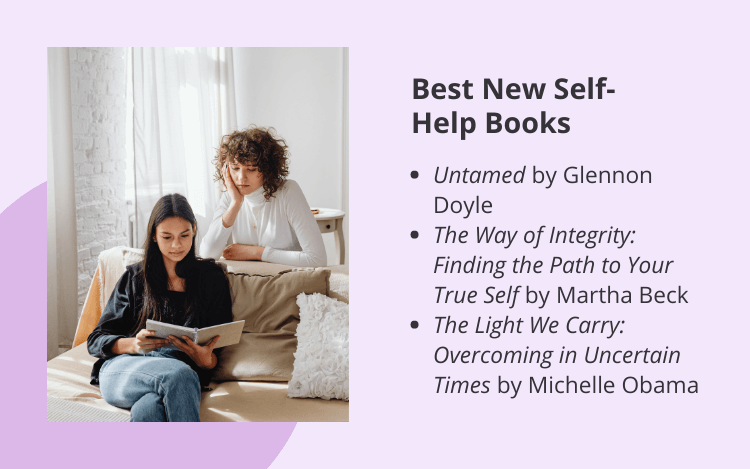 10.
Find Your Unicorn Space: Reclaim Your Creative Life in a Too-Busy World
by Eve Rodsky (2021)
Many people fail to prioritize time for activities that let them unleash their creativity and express themselves fully. Eve Rodsky calls this time your "Unicorn Space" and argues that it's crucial for living a better life.
She interviews thought leaders, academics, and ordinary people about how they find Unicorn Space and incorporate it into their busy lives.
11.
Set Boundaries, Find Peace: A Guide to Reclaiming Yourself
by Nedra Glover Tawwab (2021)
Set Boundaries, Find Peace is a book by a therapist named Nedra Glover Tawwab that's designed to help us set better boundaries.
Tawwab teaches us how to remove toxic relationships from our lives, stop trying to please everyone around us, and embrace the power of the word "no."
12.
The Light We Carry: Overcoming in Uncertain Times
by Michelle Obama (2022)
Former First Lady Michelle Obama shares her strategies for how to navigate a rapidly changing world. In The Light We Carry, Obama gives us practical tools for addressing feelings of helplessness and hopelessness so we can adapt to change and stay calm, balanced, and grounded.
13.
Why Has Nobody Told Me This Before?
by Dr. Julie Smith (2022)
Dr. Julie Smith is a clinical psychologist who provides useful, bite-sized solutions for common problems. 
Why Has Nobody Told Me This Before? is a guidebook full of techniques for managing anxiety and depression, finding motivation to achieve new goals, and forgiving yourself for your past mistakes.
14.
Speak: Find Your Voice, Trust Your Gut, and Get From Where You Are to Where You Want to Be
by Tunde Oyeneyin (2022)
Tunde Oyeneyin is a Peloton instructor famous for providing motivation and positivity to her students.
In Speak, Oyeneyin shares her personal journey toward attaining success. She also walks us through techniques for achieving each component of the acronym Speak: Surrender, Power, Empathy, Authenticity, and Knowledge.
Best Self-Care Books for Women
Self-care is important for mental, physical, and emotional wellness. In the hectic day-to-day grind of the modern world, it's important to make sure you're devoting enough time and energy to self-care.
Here are some great books to read if you want to make sure you're taking better care of yourself.
15.
The Body Keeps the Score: Brain, Mind, and Body
in the Healing of Trauma
by Bessel van der Kolk (2014)
Many of us have experienced trauma without really understanding what that means for our bodies.
The Body Keeps the Score is a powerful book that helps us understand the ways traumatic stress reshapes our bodies and brains, changing the ways we engage with pleasure, self-control, and trust. It also explores treatments for trauma that can help us reclaim our lives.
16.
How to Relax
by Thich Nhat Hanh (2015)
Thich Nhat Hanh is a Buddhist monk well known for his Mindfulness Essentials books, which help everyone learn how to establish a practice of mindfulness in their lives.
How to Relax is the fifth book in that series, and it reminds us to relax and "become calm water" so we can "reflect reality as it is." These meditation techniques can help you learn self-discipline, manage stress, and achieve new clarity.
17.
The Little Book of Hygge: Danish Secrets to Happy Living
by Meik Wiking (2016)
The Danish word hygge, pronounced "hoo-g," describes a feeling of contentment and happiness.
If you're looking for more hygge in your life, Meik Wiking, the CEO of the Happiness Research Institute in Copenhagen, can help you find it. The Little Book of Hygge teaches us how to live a good life, the Danish way.
18.
The Life-Changing Magic of Tidying Up: The Japanese Art of Decluttering and Organizing
by Marie Kondo (2010)
The Life-Changing Magic of Tidying Up, a world-famous self-help book that inspired an entire Netflix show, teaches you the life-changing magic of decluttering your home.
Marie Kondo posits that by simplifying the objects you own and only keeping the ones that "spark joy," you can cultivate a calmer mindset and finally become your best self.
19.
Start Where You Are: A Journal for Self-Exploration
by Meera Lee Patel (2015)
Start Where You Are is an interactive journal that includes writing prompts, drawing prompts, chart-making prompts, and more. Filling out all these pages will help you nurture your creativity, reflect on who you are, and understand what you really want from life.
20.
The 5 Love Languages: The Secret to Love That Lasts by
Gary Chapman (2013)
Dr. Gary Chapman argues there are five love languages, and understanding them will help us connect more deeply with those we love.
The 5 Love Languages has sold over 20 million copies worldwide and includes a Couple's Personal Profile assessment so you can figure out what your own love languages are.
21.
Communion: The Female Search for Love
by bell hooks (2002)
Communion describes the ways that our perceptions of love and femininity have been shaped by feminism, the ongoing gap, and the culture of self-love.
In this visionary book, bell hooks helps us search for love in a courageous and radical way.
22.
Tiny Beautiful Things: Advice on Love and Life from Dear Sugar
by Cheryl Strayed (2012)
Cheryl Strayed, the famous author of Wild, was also the anonymous columnist responsible for The Rumpus'' advice column, Dear Sugar. In Tiny Beautiful Things, Strayed compiles the best pieces from Dear Sugar to help us learn from others and reflect on how best to live an awesome life.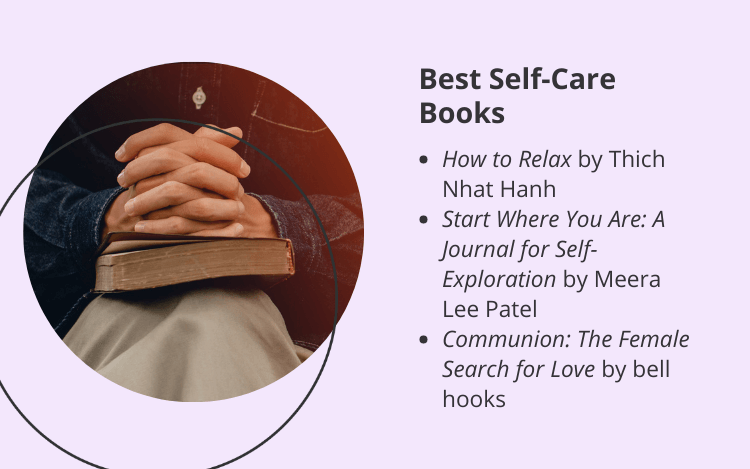 23.
The Happiness Project: Or, Why I Spent a Year Trying to Sing in the Morning, Clean My Closets, Fight Right, Read Aristotle, and Generally Have More Fun
by Gretchen Rubin (2009)
The Happiness Project chronicles Gretchen Rubin's year-long experiment with trying to discover true happiness. Rubin uses philosophy, science, and real-world experience to help us all unlock the keys to true contentment and joy.
24.
Mind Over Mood: Change How You Feel by Changing the Way You Think
by Dennis Greenberger and Christine A. Padesky (1995)
Many people who suffer from mood disorders, such as depression and anxiety, can benefit from Cognitive Behavioral Therapy. Mind Over Mood, which has sold over a million copies worldwide, is essentially a treatment guide for anyone who wants to improve their mental health.
Top Self-Esteem Books for Women
It's hard to get anything done if you don't believe in yourself. Building self-esteem is crucial for achieving your goals, developing healthy relationships, and taking charge of your own life.
If that sounds like something you're interested in, here are some books that can help you improve your self-esteem.
25.
The Self-Love Experiment: Fifteen Principles for Becoming More Kind, Compassionate, and Accepting of Yourself
by Shannon Kaiser (2017)
It's a common misconception that it's selfish to put your own dreams first. On the contrary, argues Shannon Kaiser, self-love is the first step to living a good life.
The Self-Love Experiment shows you Kaiser's own journey to loving herself, with 15 actionable tips that will help you embrace who you are.
26.
You Are a Badass: How to Stop Doubting Your Greatness and Start Living an Awesome Life
by Jen Sincero (2013)
Jen Sincero is a well-known success coach. Her book You Are a Badass teaches you to remove self-doubt from your life in order to radically increase your self-confidence.
This short 27-chapter guide teaches you how to live the life you want. Each chapter comes with clear practical advice, as well as exercises that will help you put its teachings into practice.
27.
The Confidence Code: The Science and Art of Self-Assurance
—
What Women Should Know
by Katty Kay and Claire Shipman (2014)
Confidence is key for all women who want to achieve success in life. The Confidence Code gives you advice and inspiration for building self-confidence and closing the gender gap in the corporate world.
The book even comes with a journal so you can try out everything you learn.
28.
Mindset: The New Psychology of Success
by Carol S. Dweck (2006)
Carol Dweck, a Stanford psychologist, teaches us the difference between a "fixed mindset," which means believing your talents are static, versus a "growth mindset," which means believing your abilities can grow over time. Using a "growth mindset" can help us change our own lives and maybe the world too.
29.
Be Unapologetically You: A Self-Love Guide for Women of Color
by Adeline Bird (2016)
Be Unapologetically You is a book that helps women of color embrace who we really are and break free of the societal norms that hold us back.
The book helps you feel more grateful for the things you already have and build the self-confidence to achieve the things you don't.
30.
Quiet: The Power of Introverts in a World That Can't Stop Talking
by Susan Cain (2012)
Quiet helps introverts thrive in a world that's largely dominated by extroverts. Susan Cain argues that silence is a subtle art that can actually benefit introverts and help them achieve a successful life.
This book is a perfect read for introverts who want to know how to harness their natural personalities to help change the world.
31.
Year of Yes: How to Dance It Out, Stand in the Sun, and Be Your Own
Person
by Shonda Rhimes (2015)
Shonda Rhimes, the acclaimed creator of shows like Bridgerton and Grey's Anatomy, shares the story of how she said "yes" to opportunities for an entire year.
This book is like a real-world version of Yes Man and can inspire you to embrace new challenges.
32.
Daring Greatly
by Brené Brown (2012)
The core thesis of this book is that vulnerability is a courageous act. By acknowledging our fears and allowing ourselves to show vulnerability, we can actually achieve more.
Daring Greatly is a #1 NYT bestselling self-improvement book that can help you become more courageous.
33.
Present Over Perfect: Leaving Behind Frantic for a Simpler, More Soulful Way of Living
by Shauna Niequist (2016)
Bestselling author Shauna Niequist argues that being present and connected is more important than being busy and perfect. In a world that's always telling us to work harder and do more, this beautifully written self-improvement book gives us practical tips for living a life full of grace, simplicity, and rest.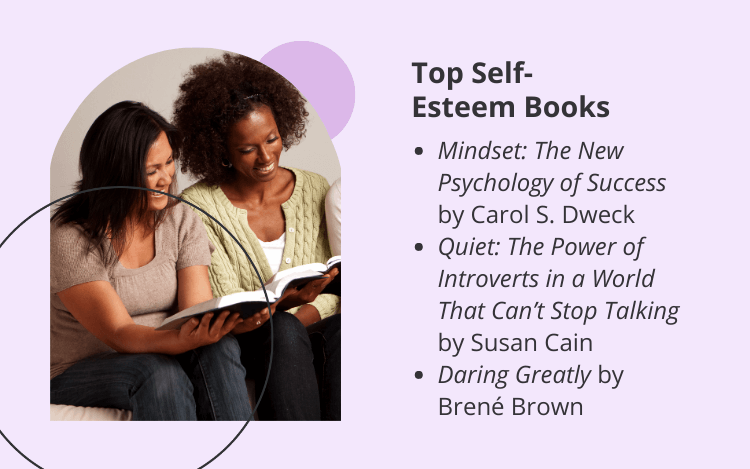 Best Personal Development Books for Women
If you want to learn new business skills, become more creative, or develop as a person, reading personal development books can help.
Here are some of the best self-improvement books you can use to achieve more personal success.
34.
Lean In: Women, Work, and the Will to Lead
by Sheryl Sandberg (2013)
Sheryl Sandberg wrote this book when she was the chief operating officer at Facebook. In this bestselling book, she gives women advice about how to achieve career success by "leaning in," including tips for negotiation techniques, finding mentors, and seeking new challenges.
35.
The Myth of the Nice Girl: Achieving a Career You Love Without Becoming a Person You Hate
by Fran Hauser (2018)
Many women in the business world live in a double bind: they're perceived as weak if they're too nice but as rude if they're not.
The Myth of the Nice Girl teaches us how to reclaim the word "nice" so it's no longer an insult. This is one of the best self-improvement books for how to become a strong leader while still being kind.
36.
Big Magic: Creative Living Beyond Fear
by Elizabeth Gilbert (2015)
Creativity is a crucial skill for anyone, whether you work in an artistic field or not. Being creative can help you think outside the box, enjoy life more, and reach new levels of self-discovery.
In Big Magic, Elizabeth Gilbert teaches us how to become more creative and embrace our inner curiosity.
37.
Atomic Habits: An Easy & Proven Way to Build Good Habits and Break Bad Ones
by James Clear (2018)
Atomic Habits is a bestselling self-help book that helps you make small changes in your day-to-day life to break bad habits and form better ones.
James Clear gives us simple, useful tips for trying to get 1% better every day, instead of trying to solve all our problems at once. The book also comes with a habit tracker that lets you track your current habits so you can put these ideas to practice.
38.
Rich Dad Poor Dad
by Robert Kiyosaki and Sharon Lechter (1997)
Rich Dad Poor Dad is one of the most famous personal finance books of all time. Robert Kiyosaki describes his experience being raised by two dads, one of them poor and one of them rich, and explains the different mindsets his two dads had about how to spend and save money.
39.
The 7 Habits of Highly Effective People
by Stephen Covey (1989)
In this bestselling classic, Stephen Covey gives us seven habits that all successful people share. These seven habits, which include "Begin with the end in mind" and "Think win/win," can help us learn better time management, focus on long-term gains, and find synergy and balance.
40.
The Four Agreements: A Practical Guide to Personal Freedom
by Don Miguel Ruiz (1997)
In The Four Agreements, Don Miguel Ruiz draws from ancient Toltec wisdom to help us attain personal freedom.
Ruiz presents four agreements: be impeccable with your word, don't take anything personally, don't make assumptions, and always do your best. By following these four agreements, we can be kinder to one another and achieve enlightenment.
41.
Deep Work: Rules for Focused Success in a Distracted World
by Cal Newport (2016)
"Deep work" refers to the ability to focus on a difficult task without getting distracted. Many people have forgotten how to do "deep work," constantly distracted by social media and email.
Cal Newport gives us a training regimen for developing our "deep work" skills so we can learn how to focus again.
42.
How to Get Sh*t Done: Why Women Need to Stop Doing Everything So They Can Achieve Anything
by Erin Falconer (2018)
Many women live in a constant state of guilt about not doing enough, both at work and at home. How to Get Sh*t Done helps us break out of this mindset to figure out which tasks are the most important and ignore or delegate the rest.
This book is a great read if you want to achieve stress-free productivity.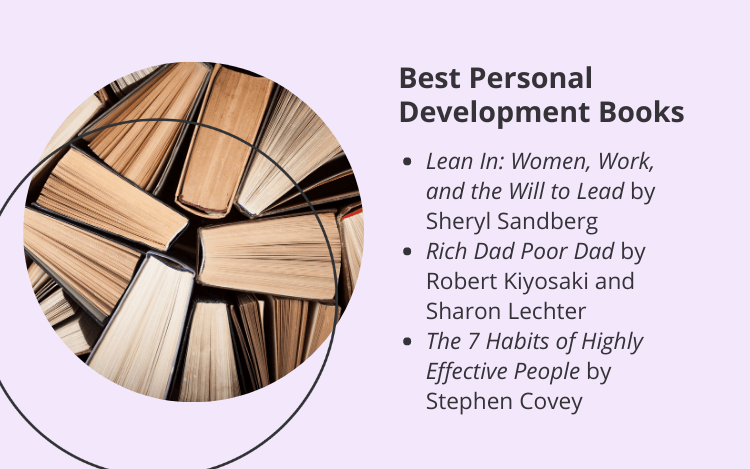 How We Selected the Best Self-Empowerment Books
To pick the books featured in this article, we looked at bestseller lists as well as reader's choice lists. We also looked at reviews from women who read these books to see how these self-help books have actually made an impact on the lives of real people.
We checked the credentials of all the authors to make sure they're qualified to write about their topics. We tried to highlight great books written by women for women, but we also included several self-help books written by men that can also be useful to a universal audience.
There you have it—our complete list of the best self-help books for women. We hope this list gives you some fantastic new books to try.
Good luck, and happy reading!
---