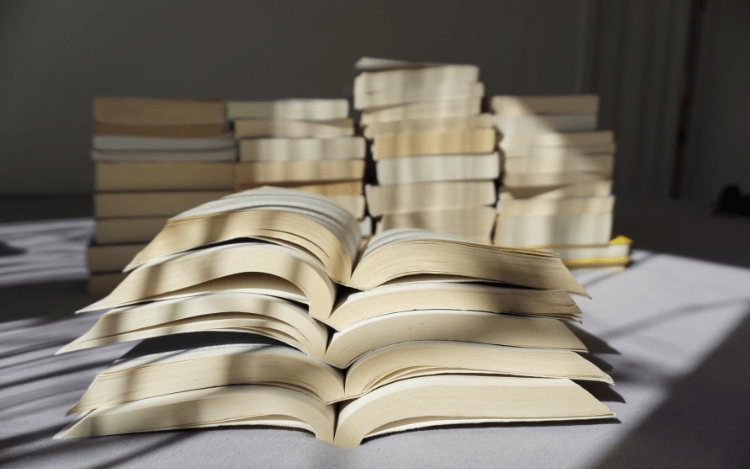 Reading nonfiction books is a fantastic way to see the world from a new perspective.
Nonfiction can help you learn about your favorite historical time period, find out more about a fascinating topic, or hear the life story of someone with interesting experiences to share.
If you're looking for the best nonfiction books, you've come to the right place.
In this article, we've compiled a list of 100 best nonfiction books to add to your reading list. Happy reading!
Top Nonfiction Books
Let's start by looking at some of the top selling nonfiction books that were published within the last five years. If you want to stay on top of current trends, here are 15 great options for you.
1.
Educated: A Memoir
by Tara Westover (2018)
Westover's memoir about her early years growing up in an isolated Mormon family depicts the importance of education.
2.
Know My Name: A Memoir
by Chanel Miller (2019)
Chanel Miller's Know My Name is a chilling and eye-opening memoir from the survivor of a famous sexual assault case at Stanford.
3.
How to Be an Antiracist
by Ibram X. Kendi (2019)
Part memoir and part sociology, How to Be an Antiracist calls us to take action against the systemic racism in America.
4.
A Promised Land
by Barack Obama (2020)
Barack Obama's presidential memoir describes his first term in office and his views on democracy and community.
5.
Caste: The Origins of Our Discontents
by Isabel Wilkerson (2020)
Pulitzer-winning journalist Isabel Wilkerson compares America's hidden caste system to those of India and Nazi Germany.
6.
Breath: The New Science of a Lost Art
by James Nestor (2020)
Breath examines the science and history of breathing through psychology, pulmonology, physiology, and even religion.
7.
Untamed
by Glennon Doyle (2020)
A New York Times bestseller, Untamed is an empowering memoir about divorce, motherhood, and more.
8.
Minor Feelings: An Asian American Reckoning
by Cathy Park Hong (2020)
Korean American essayist Cathy Hong describes the "minor feelings," such as shame and repression, that many Asian Americans face.
9.
Crying in H Mart
by Michelle Zauner (2021)
Crying in H Mart is a powerful memoir about family, loss, and resilience from the lead singer of Japanese Breakfast.
10.
How to Avoid a Climate Disaster: The Solutions We Have and the Breakthroughs We Need
by Bill Gates (2021)
Bill Gates discusses the ways we can halt climate change and reach zero greenhouse gas emissions.
11.
Empire of Pain: The Secret History of the Sackler Dynasty
by Patrick Radden Keefe (2021)
Keefe reveals the history of the Sackler family and how Purdue Pharma contributed to the opioid epidemic.
12.
A Little Devil in America: In Praise of Black Performance
by Hanif Abdurraqib (2021)
Abdurraqib examines the history of Black music and culture in America, from Michael Jackson to Beyoncé.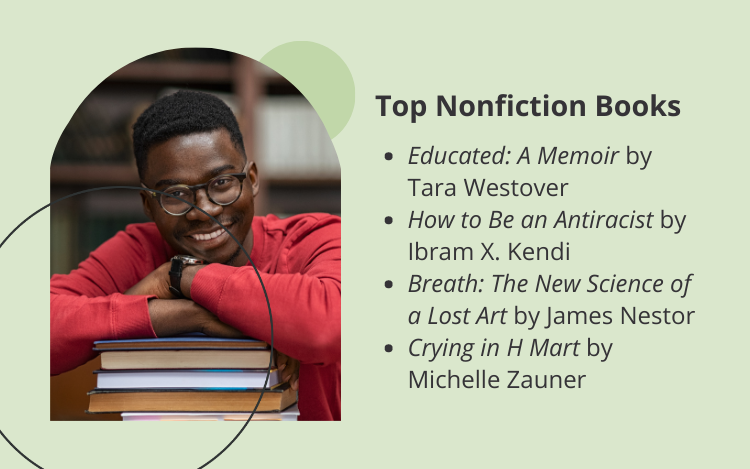 13.
An Immense World: How Animal Senses Reveal the Hidden Realms Around Us
by Ed Yong (2022)
Pulitzer-winning science journalist Ed Yong shows us how animals perceive the world, from sight to scent to electromagnetic fields.
14.
I'm Glad My Mom Died
by Jennette McCurdy (2022)
Former Nickelodeon child star Jennette McCurdy tells us about her childhood growing up with an abusive mother.
15.
Spare
by Prince Harry (2023)
Prince Harry, the Duke of Sussex, tells us about his own life as a royal, from childhood to the present day.
Must-Read Nonfiction Books
Some nonfiction books are simply must-reads for everybody. Here are 15 must-read books.
16.
Roots: The Saga of an American Family
by Alex Haley (1976)
Roots tells the story of the author's family history throughout the generations, beginning with Kunta Kinte, an African slave.
17.
Gödel, Escher, Bach: An Eternal Golden Braid
by Douglas Hofstadter (1979)
Winner of both the National Book Award and the Pulitzer Prize, this book is Hofstadter's love letter to art, math, and music, and the ways all three intersect to create meaning.
18.
A People's History of the United States
by Howard Zinn (1980)
A People's History of the United States depicts American history through the lens of underrepresented voices, such as Native Americans, immigrants, and women.
19.
Sister Outsider
by Audre Lorde (1984)
Lorde, a renowned Black lesbian poet, discusses subjects from police violence to female sexuality.
20.
Wild Swans: Three Daughters of China
by Jung Chang (1991)
Wild Swans tells the story of three generations of women in the political turmoil of twentieth-century China: Chang's grandmother, her mother, and finally, Chang herself.
21.
How We Die: Reflections on Life's Final Chapter
by Sherwin B. Nuland (1994)
Winner of the National Book Award, How We Die demystifies the biological and psychological process of dying, which all human beings must face.
22.
On Writing: A Memoir of the Craft
by Stephen King (2000)
On Writing is both a memoir and a masterclass by bestselling author Stephen King.
23.
The Omnivore's Dilemma: A Natural History of Four Meals
by Michael Pollan (2006)
This book is essential reading for anyone who wants to know where their food comes from and how that affects both our personal health and the entire planet.
24.
Outliers: The Story of Success
by Malcolm Gladwell (2008)
Outliers explores the reasons behind the successes of some of the world's high achievers, such as the Beatles and Bill Gates.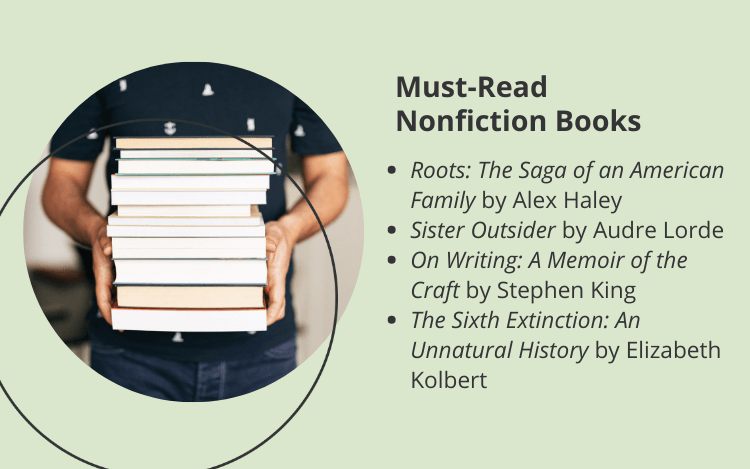 25.
The Immortal Life of Henrietta Lacks
by Rebecca Skloot (2010)
Skloot examines the unethical medical experimentation Black Americans have experienced throughout history through the true story of Henrietta Lacks.
26.
The New Jim Crow: Mass Incarceration in the Age of Colorblindness
by Michelle Alexander (2010)
Michelle Alexander critiques the racism inherent in the American criminal justice system and explains how she helped create the tipping point that led to Black Lives Matter.
27.
The Emperor of All Maladies: A Biography of Cancer
by Siddhartha Mukherjee (2010)
A Pulitzer Prize winner, The Emperor of All Maladies looks at the way cancer has affected human lives and the breakthroughs that have helped us treat it.
28.
Braiding Sweetgrass: Indigenous Wisdom, Scientific Knowledge, and the Teachings of Plants
by Robin Wall Kimmerer (2013)
Indigenous botanist Robin Wall Kimmerer walks us through the lessons we can learn from plants, from strawberries to sweetgrass.
29.
The Sixth Extinction: An Unnatural History
by Elizabeth Kolbert (2014)
In this Pulitzer-Prize-winning book, Kolbert describes the five mass extinctions that our planet has experienced, as well as the sixth one we're currently contributing to.
30.
Invisible Women: Exposing Data Bias in a World Designed for Men
by Caroline Criado Perez (2019)
Invisible Women uses fascinating case studies to show how big data systematically ignores women, from the ways cars are crash tested to the ways clinical drug trials are conducted.
Classic Nonfiction Books
Some books are so powerful that they still resonate with readers, even centuries after they were written. Here are 40 books published more than 50 years ago that remain relevant today.
31.
The Art of War
by Sun Tzu (~400 BCE)
The Art of War is a famous Chinese military treatise that has influenced military strategies around the world, even in the modern age.
32.
The Republic
by Plato (~375 BCE)
Plato's The Republic is a Socratic dialogue that discusses justice, the ideal city-state, and what it means to be a just human.
33.
Meditations
by Marcus Aurelius (~180)
Meditations is a philosophical work by Roman emperor Marcus Aurelius that records his ideas on Stoic philosophy.
34.
The Confessions of St. Augustine
by Saint Augustine of Hippo (~400)
Confessions is an autobiographical work that shows St. Augustine's redemption and his process of returning to God.
35.
The Prince
by Niccoló Machiavelli (1513)
The Prince is a political treatise explaining why royals can use immoral means to achieve important ends. This is where the modern word Machiavellian comes from.
36.
Leviathan
by Thomas Hobbes (1651)
British philosopher Thomas Hobbes argues that the natural state of humankind is anarchy, and only a contract with a sovereign can prevent that.
37.
A Treatise of Human Nature: Being an Attempt to Introduce the Experimental Method of Reasoning into Moral Subjects
by David Hume (1739)
Scottish philosopher David Hume examines the nature of ideas and constructs a theory of knowledge.
38.
The Social Contract
by Jean-Jacques Rousseau (1762)
The Social Contract considers what it means to live in a civil society, contributing to the ideas that led to the French Revolution.
39.
Common Sense
by Thomas Paine (1776)
Common Sense is a short but pivotal pamphlet that advocated for American independence.
40.
The Wealth of Nations
by Adam Smith (1776)
The Wealth of Nations by Scottish economist Adam Smith is a landmark book about capitalism.
41.
The History of the Decline and Fall of the Roman Empire
by Edward Gibbon (1776-1788)
This six-volume work by English historian Edward Gibbon documents the rise and fall of early Western Civilization.
42.
A Vindication of the Rights of Woman
by Mary Wollstonecraft (1792)
Wollstonecraft's groundbreaking book is one of the earliest works of feminist philosophy.
43.
Narrative of the Life of Frederick Douglass, An American Slave
by Frederick Douglass (1845)
Written by an orator and former slave, this book is a famous and moving abolition treatise.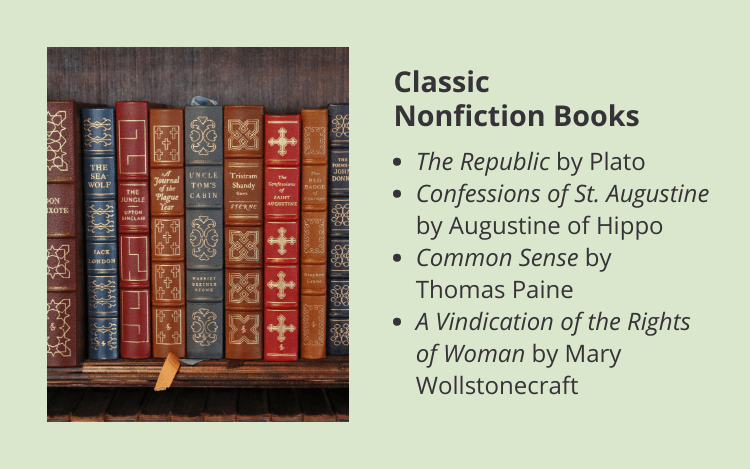 44.
The Communist Manifesto
by Karl Marx and Friedrich Engels (1848)
The basis of the modern communist movement, The Communist Manifesto argued for the proletariat to rise to power.
45.
Walden
by Henry David Thoreau (1854)
Walden contains Thoreau's meditations on his place in the natural world.
46.
On Liberty
by John Stuart Mill (1859)
On Liberty is Mill's innovative book about how individual freedom interacts with the state.
47.
On the Origin of Species
by Charles Darwin (1859)
This book proposed the theory of natural selection and launched the field of evolutionary biology.
48.
Personal Memoirs of U. S. Grant
by Ulysses S. Grant (1885)
This two-volume autobiography is Grant's narrative of his military career in the Mexican-American War and the American Civil War.
49.
The Souls of Black Folk
by W. E. B. Du Bois (1903)
In this pivotal book, Du Bois explores the "double consciousness" that Black Americans experienced in post-Reconstruction America.
50.
Autobiography of Mark Twain
by Mark Twain (1924)
This autobiography details the life of famous American author Mark Twain.
51.
Being and Time
by Martin Heidegger (1927)
Being and Time is German philosopher Martin Heidegger's magnum opus on existentialism.
52.
A Room of One's Own
by Virginia Woolf (1929)
Woolf's famous essay explores the role of female writers in literature.
53.
My Early Life: 1874-1904
by Winston Churchill (1930)
My Early Life reveals the childhood experiences of historical leader Winston Churchill.
54.
Homage to Catalonia
by George Orwell (1938)
Homage to Catalonia details Orwell's experiences fighting in the Spanish Civil War.
55.
Hiroshima
by John Hersey (1946)
Hiroshima documents the lives of six residents of Hiroshima whose lives were changed by the atomic bomb.
56.
Man's Search for Meaning
by Viktor E. Frankl (1946)
Frankl tells the haunting, powerful story of his years in a Nazi concentration camp and how that shaped his philosophy.
57.
The Diary of a Young Girl
by Anne Frank (1947)
Anne Frank's diary entries as a Jewish girl hiding in an attic in World War II remain powerful and resonant today.
58.
The Second Sex
by Simone de Beauvoir (1949)
The Second Sex is an essential nonfiction book on the "otherness" women have experienced throughout history.
59.
Notes of a Native Son
by James Baldwin (1955)
Baldwin's essays about his experiences as a Black man in America before the civil rights movement remain painfully relevant today.
60.
Night
by Elie Wiesel (1956)
Night is a poignant story of Elie Wiesel's experiences in a Nazi death camp during the Second World War.
61.
The Structure of Scientific Revolutions
by Thomas S. Kuhn (1962)
This book was a groundbreaking account of the history of science.
62.
Silent Spring
by Rachel Carson (1962)
Silent Spring alerted the public to the vast environmental harm caused by synthetic pesticides.
63.
The Fire Next Time
by James Baldwin (1963)
Baldwin's provocative book helped spur the civil rights movement forward.
64.
The Feminine Mystique
by Betty Friedan (1963)
The Feminist Mystique launched the second-wave feminist movement by critiquing the belief that women can only feel fulfilled as mothers and homemakers.
65.
In Cold Blood
by Truman Capote (1965)
In Cold Blood is a gripping true crime book about a quadruple murder committed in Kansas in the 1950s.
66.
Against Interpretation
by Susan Sontag (1966)
This thoughtful collection of essays discusses art, interpretation, and meaning.
67.
The Double Helix: A Personal Account of the Discovery of the Structure of DNA
by James D. Watson (1968)
James Watson describes the story of how he and Francis Crick discovered the structure of DNA.
68.
Slouching Towards Bethlehem
by Joan Didion (1968)
This collection of essays relates Didion's experiences witnessing countercultural California in the 1960s.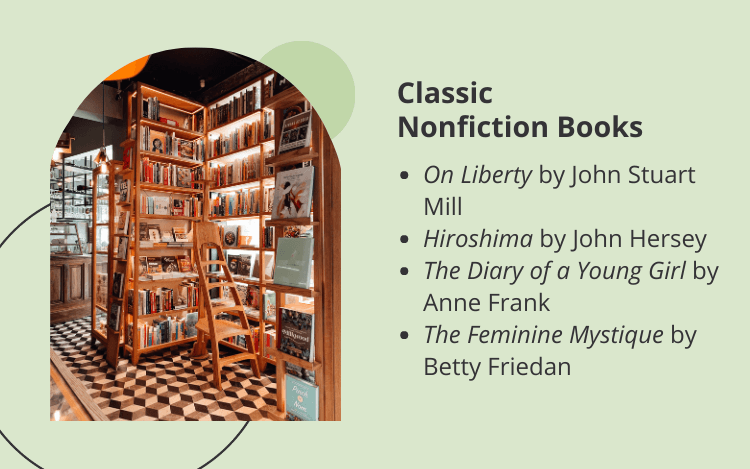 69.
I Know Why the Caged Bird Sings
by Maya Angelou (1969)
Maya Angelou's autobiography tells the story of her early years and how she freed her voice from oppression.
70.
Bury My Heart at Wounded Knee: An Indian History of the American West
by Dee Brown (1970)
Brown uses the first-person accounts of Native Americans to expose the broken treaties, massacres, and other atrocities that the U.S. government has committed.
Bestselling Nonfiction Books of All Time
To finish our list, here are 30 bestselling nonfiction books.
71.
The Elements of Style
by William Strunk Jr. (1918)
This English writing style guide has helped millions of readers write with accuracy and brevity.
72.
How to Win Friends and Influence People
by Dale Carnegie (1936)
Carnegie's business education book has sold over 30 million copies worldwide.
73.
Zen and the Art of Motorcycle Maintenance: An Inquiry into Values
by Robert M. Pirsig (1974)
Pirsig's autobiography is a long-standing bestseller that shows one man's search for meaning.
74.
The Man who Mistook His Wife for a Hat
and Other Clinical Tales
by Oliver Sacks (1985)
Neurologist Oliver Sacks describes some curious neurological case histories.
75.
The 7 Habits of Highly Effective People: Powerful Lessons in Personal Change
by Stephen R. Covey (1988)
This famous self-help book gives you seven tips for becoming more successful.
76.
A Brief History of Time
by Stephen Hawking (1988)
Famous physicist Stephen Hawking explores questions about how the universe began, how time works, and other fascinating topics.
77.
Tuesdays with Morrie
by Mitch Albom (1997)
This gorgeous memoir describes a series of visits the author made to his dying former professor.
78.
Guns, Germs, and Steel: The Fates of Human Societies
by Jared Diamond (1997)
This Pulitzer Prize winner attempts to explain why some human societies advanced faster than others.
79.
Me Talk Pretty One Day
by David Sedaris (2000)
This bestselling essay collection depicts Sedaris's difficulty learning the French language.
80.
Fast Food Nation: The Dark Side of an All-American Meal
by Eric Schlosser (2001)
This book is a shocking look at the American fast food industry and how it's transformed the world we live in.
81.
A Short History of Nearly Everything
by Bill Bryson (2003)
Bryson interviews the world's top scientists to tell us the history of the universe, from the Big Bang to modern civilization.
82.
The Devil in the White City: Murder, Magic, and Madness at the Fair that Changed America
by Erik Larson (2003)
Larson's book tells the true story of a famous serial killer in 1893 Chicago.
83.
Stiff: The Curious Lives of Human Cadavers
by Mary Roach (2003)
This New York Times bestseller shows us how we've used human cadavers throughout history.
84.
Alexander Hamilton
by Ron Chernow (2004)
Chernow's biography chronicles the life of Founding Father Alexander Hamilton.
85.
Freakonomics: A Rogue Economist Explores the Hidden Side of Everything
by Steven D. Levitt and Stephen J. Dubner (2005)
Freakonomics uses an economic lens to examine interesting questions about the modern world.
86.
Eat, Pray, Love: One Woman's Search for Everything Across Italy, India, and Indonesia
by Elizabeth Gilbert (2006)
Elizabeth Gilbert describes her post-divorce trip around the world in a touching memoir.
87.
The Life-Changing Magic of Tidying Up: The Japanese Art of Decluttering and Organizing
by Marie Kondo (2010)
This self-help book swept the globe with its suggestions for how to prioritize your possessions.
88.
Thinking, Fast and Slow
by Daniel Kahneman (2011)
Psychologist Daniel Kahneman explains the difference between two modes of thought.
89.
Bossypants
by Tina Fey (2011)
Tina Fey's comedic autobiography portrays her life with a hearty dose of humor.
90.
Sapiens: A Brief History of Humankind
by Yuval Noah Harari (2011)
Sapiens covers all the major stages of human history in a unique and engaging way.
91.
Wild: From Lost to Found on the Pacific Crest Trail
by Cheryl Strayed
(2012)
Cheryl Strayed tells the story of her 1,100-mile hike on the PCT.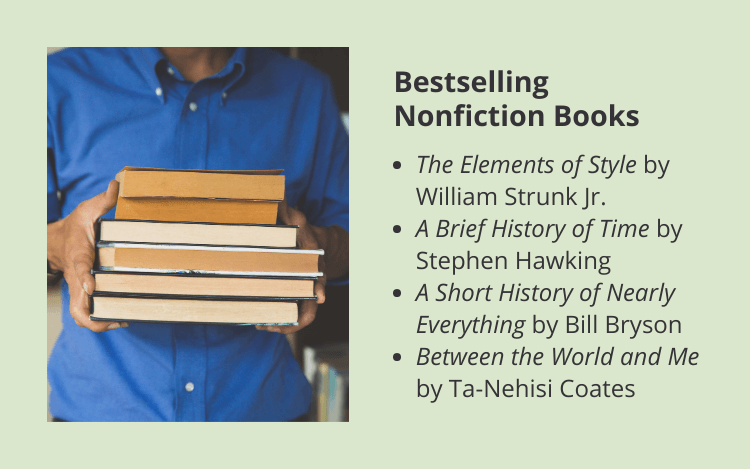 92.
I Am Malala: The Story of the Girl Who Stood Up for Education and Was Shot by the Taliban
by Malala Yousafzai (2012)
Malala Yousafzai, winner of the Nobel Peace Prize, gives us a personal account of her life as a girl growing up in Taliban-controlled Afghanistan.
93.
Quiet: The Power of Introverts in a World That Can't Stop Talking
by Susan Cain (2012)
Susan Cain asserts that introversion is underrated, and she defends the importance of solitude and silence.
94.
We Should All Be Feminists
by Chimamanda Ngozi Adichie (2014)
This book-length essay, first presented as a TED Talk, provides a framework for twenty-first-century feminism.
95.
Between the World and Me
by Ta-Nehisi Coates (2015)
Winner of the National Book Award, Between the World and Me examines what it looks like to navigate modern America as a Black man.
96.
Hillbilly Elegy: A Memoir of a Family and Culture in Crisis
by J. D. Vance (2016)
Vance's memoir depicts the success story of a man from a poor Appalachian town and, more broadly, the challenges faced by America's white working class.
97.
Born a Crime: Stories from a South African Childhood
by Trevor Noah (2016)
This collection of personal stories by comedian Trevor Noah illustrates what it was like to grow up in apartheid South Africa.
98.
The Subtle Art of Not Giving a F*ck: A Counterintuitive Approach to Living a Good Life
by Mark Manson (2016)
Mark Manson's bestselling book is about how to let go of things outside your control and only care about the things that matter.
99.
When Breath Becomes Air
by Paul Kalanithi (2016)
When Breath Becomes Air is the memoir of a Stanford neurosurgeon who was diagnosed with terminal lung cancer in his thirties.
100.
Atomic Habits: An Easy & Proven Way to Build Good Habits & Break Bad Ones
by James Clear (2018)
Atomic Habits is a self-help book that provides a framework for taking control of your own habits.
There you have it—our picks for 100 impactful nonfiction books to add to your reading list.
There are countless fantastic nonfiction books in the world, and it's impossible to fit all of them into a single article. We hope we didn't leave your favorite nonfiction book off the list, but if we did, hopefully this list gives you some new favorites too.
---