Customization is awesome. That's why we created our House Style Report for ProWritingAid. This powerful feature allows you to add your own rules to your work. We'll show you how to use it here.
The House Style Report is intentionally open-ended, so there's a lot you can do with it. In fact, there's far too much to cover in a single article. Therefore, we'll show you the basics, then add a few examples of common use cases. Sound good? Here we go!
Getting Started with the House Style Report
In our web app, you'll find the House Style Report under the "More" panel. When you first click it, all you'll see is a brief description of the report and a link to this article. If you arrived here from that link, welcome! You'll need to configure your report before anything else will show up.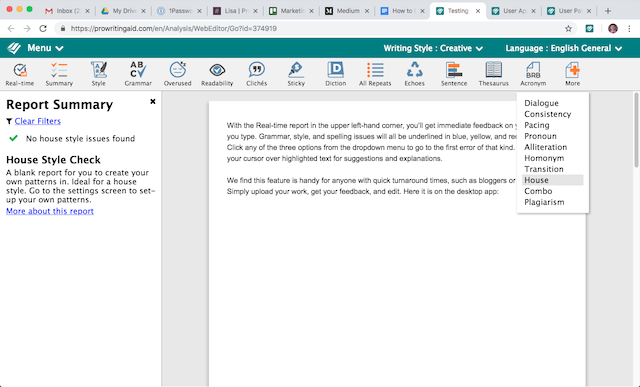 To set up the House Style Report, click "Menu," then "Settings." You'll find yourself on this page: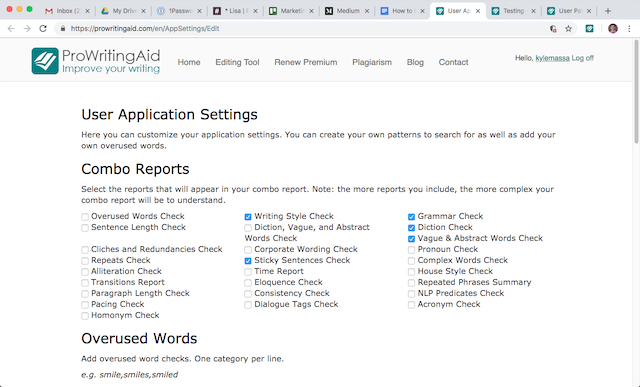 Scroll down to the heading labeled "User Patterns." This is where the real magic happens.

The Elements of Setting your House Style
The House Style options might seem complicated at first glance, but it's actually pretty simple. There are three basic elements:
Pattern (to find): The words you want ProWritingAid to highlight.
Report: The report you'd like the custom style to appear in. For example, you might want to add a specific business phrase to the Corporate Wording Check.
Message (shown when found): The message that appears when your error is found. If you place your message within brackets, you'll be able to click the suggestion to make the change. More on that later in this article.
Here's the gist of the whole thing: Enter the word or phrase you want ProWritingAid to catch into the Pattern field. Choose the report you want the pattern to appear within. Then enter the message that appears when the pattern is found.
Basic Wildcards and Pattern Terminology
Wildcards are special symbols that you might add to the pattern field to omit or include certain criteria. We'll show you the basics in this article, but if you'd like to get more advanced, you can learn more here.
Enter lowercase letters into the Pattern field if you want to match a word and don't care about the case. For example, writing "wall" into the Pattern field will get you "wall" or "Wall" or "WALL".
To be case-sensitive, enter a backslash like this: "\". For example, if you want ProWritingAid to only find "Wall" with a capital W, write "\wall" into the Pattern field. Note: Writing "Wall" won't be case sensitive—you'll need the backslash to make it work.
The backslash can also be used to find a specific character. So if you want PWA to find the letter "a" all by itself, type "\a" into the Pattern field.
For advanced wildcards, please refer to our User patterns article.
Custom Suggestions
Love when you can click the ProWritingAid suggestion to have your text replaced? It's easy to set those up for yourself. Just put brackets around the suggestion text, [like this].
If you'd like to provide yourself with multiple suggestions, put each in its own brackets, like this: [this][that][the other]. If you'd like to have the option to delete the text, use [OMIT].
Of note: The replacement will match the case of the original word unless you put a \ in front of the first character. For example, if you want the suggestion "Gettysburg Address" to come with capitals, type "\Gettysburg \Address into the message field.
Some Helpful Examples
Still not sure where to start? Here are five working examples to help show what this report can do.
1. Custom Acronyms
Let's say there's an acronym (or initialism) you use constantly. You don't want to forget to capitalize it. For example, "sat" means to sit down. But "SAT" is a standardized test for students. Here's how to ensure it appears correctly: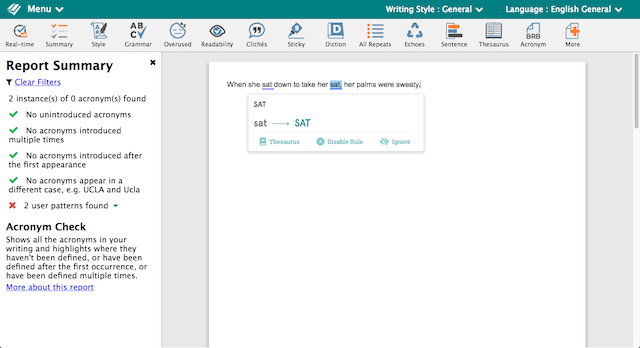 2. Personal Tendencies
Writers have tics. For example, in my writing I've noticed that all my characters shrug. I feel it happens too often, so I'd like ProWritingAid to help me find those instances.
Pattern: shrug
Report: House Style
Message: Whatever helps you!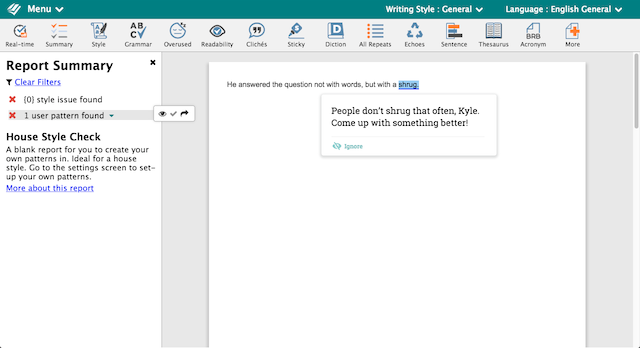 3. Fixing Incorrect Terms
Have you ever written an entire piece only to realize you misspelled the name of an important character or place? The House Style Report can help find those mistakes (and ensure you don't make them again in the future). Here's an example:
Pattern: \Middle \Earth
Report: House style
Message: [Middle-earth]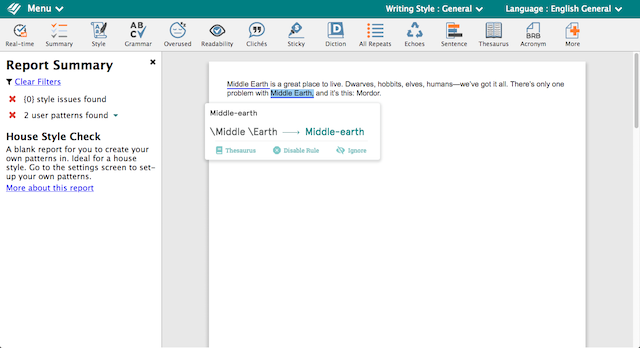 4. Catching Adverbs
ProWritingAid will already catch your adverbs for you. But if you want to make doubly sure that they don't sneak into your writing, the House Style Report can help. Since most adverbs end in -ly, we'll search for any word ending with those two letters. (The "*" wildcard stands for any letters coming before the letters we enter.)
Pattern: *ly
Report: House style
Message: Warning! Adverb sighted!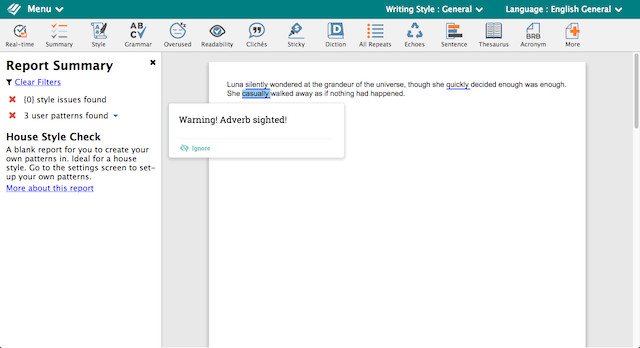 5. Finding Numbers
If you have many dates in your work, you might want to cross-check them to make sure they're all correct. However, if your document is big enough, it might be hard to find them. A plus sign, "+", stands in for one number. Therefore, if we're looking for years, we'll input four + signs.
Pattern: ++++
Report: House style
Message: Is this date correct?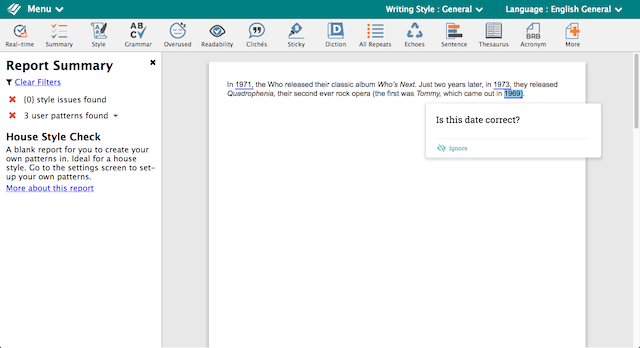 Those are just a few of the ways the House Style Report can help your writing. Since it's so customizable, there's still far more for you to discover. Take it for a test drive and see what you can come up with.