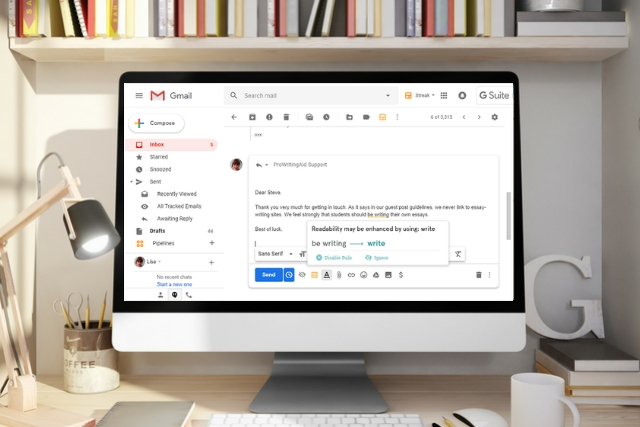 How much writing do you do on the internet? Besides your manuscript and content for clients, think about all the emails you send. Maybe you're prolific on social media, or you run several blogs on WordPress.
A more pressing question is this:
How do you check your online writing?
If you've been copying and pasting your email or social media content into ProWritingAid's online editor, that's wonderful. But there's an even easier way.

Realtime grammar, spelling and style suggestions.
If you have ever accidentally sent off an email with a typo, you know that it's embarrassing. People see it as a sign of sloppiness. The spelling and grammar checker will help reduce embarrassing errors.
However, you and I both know that good writing is about more than just good grammar. The style suggestions help you increase the clarity of your writing. With thousands of readability suggestions, the extension will help strengthen your communications.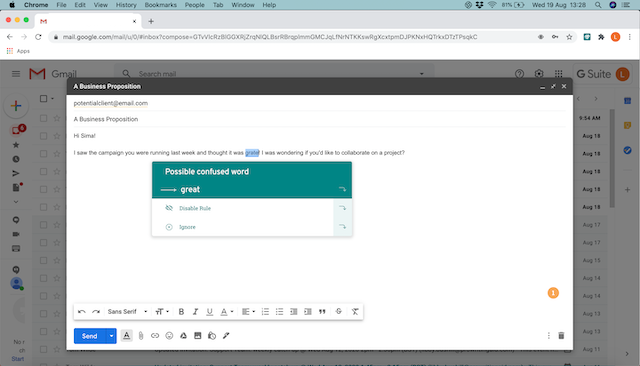 Easy access to all of the ProWritingAid reports
If you are writing something more in-depth than a tweet, like a report or a cover letter, you want a deeper level of analysis. Click the icon in the corner of your text box and the full ProWritingAid web editor will open up with your text already imported. No more cutting and pasting!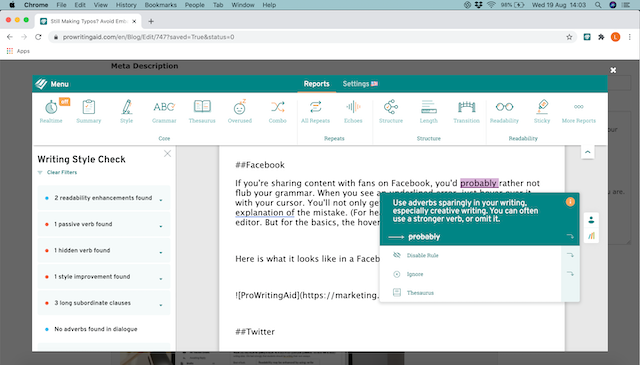 All the reports show up. And you can access settings to make adjustments to any special reports.
Now anytime you need to write something online on a website, a WordPress blog, social media, your Gmail account, etc., you'll look like the professional you are.
Where can you use the ProWritingAid extension online?
You can use the extension in most text boxes online, but here are some of the most popular sites where writers use ProWritingAid:
Facebook
If you're sharing content with fans on Facebook, you'd probably rather not flub your grammar. When you see an underlined error, just hover over it with your cursor. You'll not only get a suggested correction—you'll get an explanation of the mistake. (For heavy edits, you might still open the full editor. But for the basics, the hovering feature is perfect.)
Here is what it looks like in a Facebook post: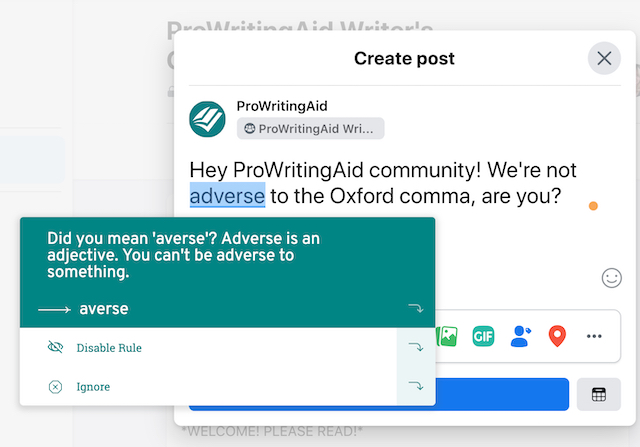 Twitter
For those who prefer Twitter, you'll find the same helpful hints there as well: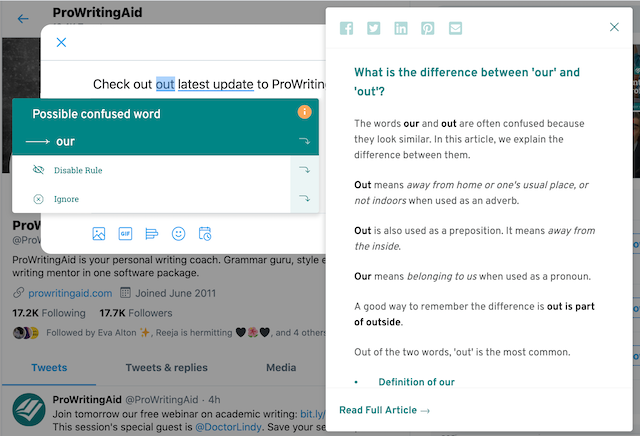 Gmail and other web-based email platforms
It works well in Gmail for emails to agents, editors, publications, fans, and people named Steve: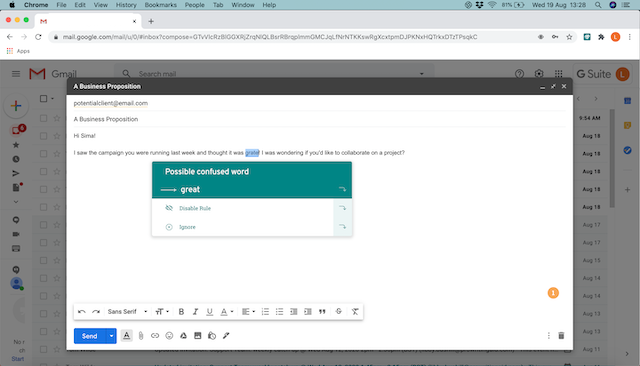 Do you have a favorite online app like WattPad or NowNovel to write stories? ProWritingAid's Chrome extension is invaluable for both.
WattPad
Here's the extension on a story in WattPad: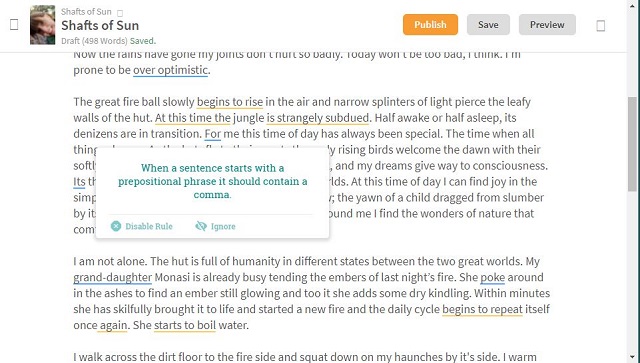 NowNovel
Here's what my Novel Now story idea looks like with the Chrome extension analyzing it: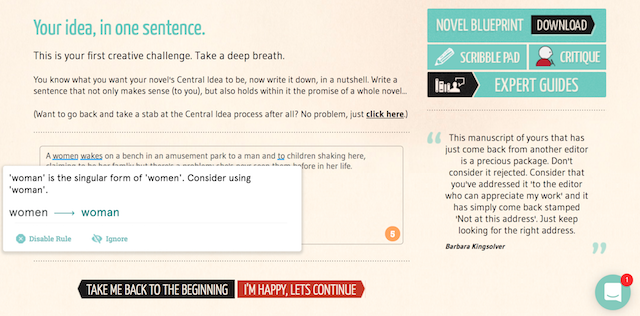 Trello
Another great example is a card on Trello, especially if you share cards with your team, management, or even clients.
Here's what a card looks like with the Chrome extension: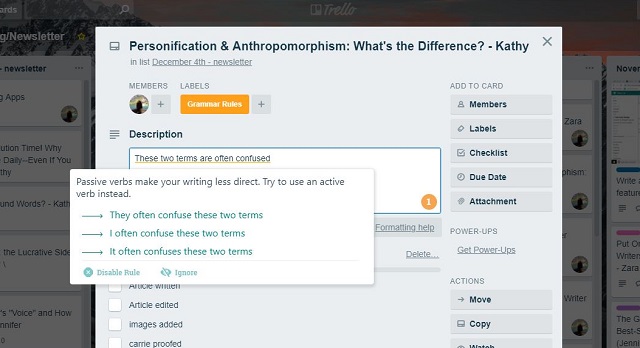 Before you send off that quick comment on a Trello card that everyone, including your boss, will see, check it with the extension.
Upwork
For those who use Upwork, the Chrome extension is especially useful for ensuring spotless cover letters:

Mailchimp
It only takes one click to discard a sloppy email. The Chrome extension works seamlessly with Mailchimp, so you can be certain every email is flawless. That will keep them out of the trash and inside your customers' mailboxes.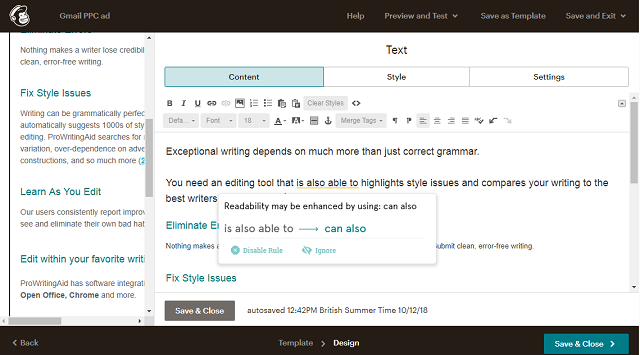 Comment Boxes Everywhere!
Sure, comment sections aren't exactly known for gorgeous prose. But maybe they will be after you use the Chrome extension!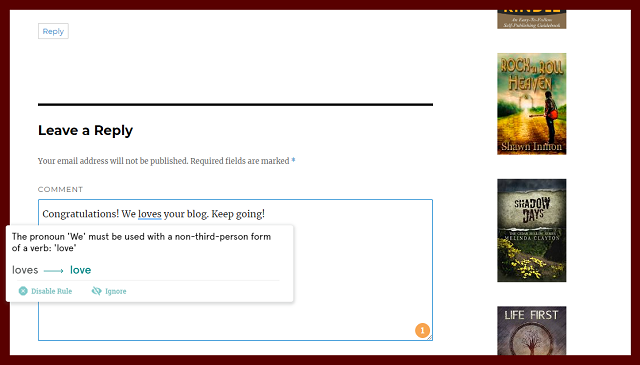 Use a more dynamic vocabulary
The extension even suggests alternate phrasing and word choices with the contextual thesaurus feature. If you're unsure of your word choice, double click it and see what happens.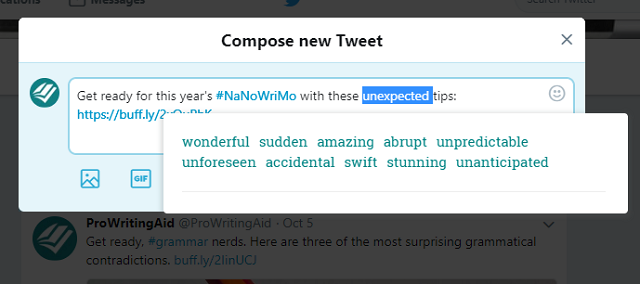 Final thoughts
The Chrome extension works with a wide range of websites and applications. Now you can be confident that everything you write shows your skills in the best light possible. Already using ProWritingAid? We rounded up some of the other best Chrome extensions for busy writers.
Ready to get started?
Need a bit more help? We have an easy guide here: Getting Started with the ProWritingAid Chrome Extension


---
Try ProWritingAid's Editor For Yourself