Have you ever gone to an article for information only to drown in unexplained acronyms? You probably came away with more questions than you started with. When using acronyms, it's important to introduce them properly, like this:
'The London Stock Exchange (LSE) is a global financial markets infrastructure business.'
Once you've introduced your acronym, you can go on to use it throughout your article or document, like this:
'The LSE was founded in 1751, making it one of the oldest stock exchanges in the world.'
The Acronym Report allows you to see all of the acronyms that you have used in your text. This allows you to easily check for mistakes, or to create a glossary of acronyms used. It can also highlight instances where you have accidentally misspelled an acronym, as they are not picked up by normal spell checkers.
How to Use The Acronym Report
To access the report, click on its icon in the Reports toolbar. If you can't see the Acronym Report icon, you may need to click on 'More Reports' on the far left of the toolbar: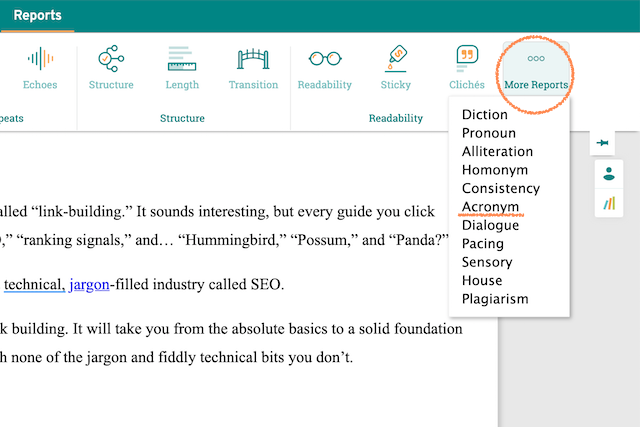 The Acronym Report will tell you:
How many different acronyms you have used
How often you have used each acronym in your text
How many acronyms you have used but not introduced
If you've introduced an acronym more than once
If you introduced any acronyms after their first appearance
If any of your acronyms are inconsistently typed (e.g. SeO and SEO)
Each of these areas are listed in the menu to the left of your screen. You can expand each section by clicking on the down arrows to the right of the boxes.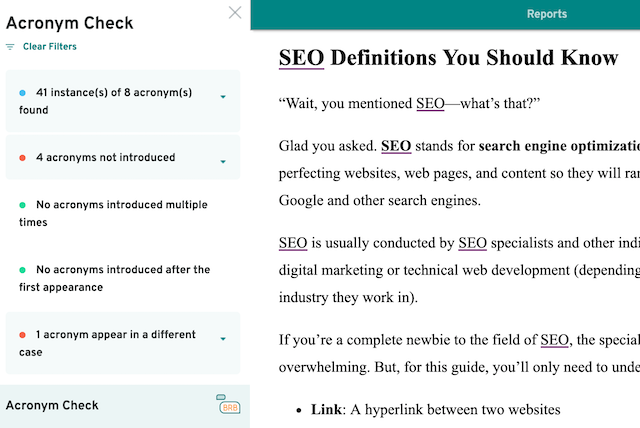 The menu allows you to get an overview of the acronyms in your document, and to check them quickly for clarity and accuracy.
Each section corresponds to a different coloured highlight within your document. When you hover over a section in the menu, you'll see this navigation bar: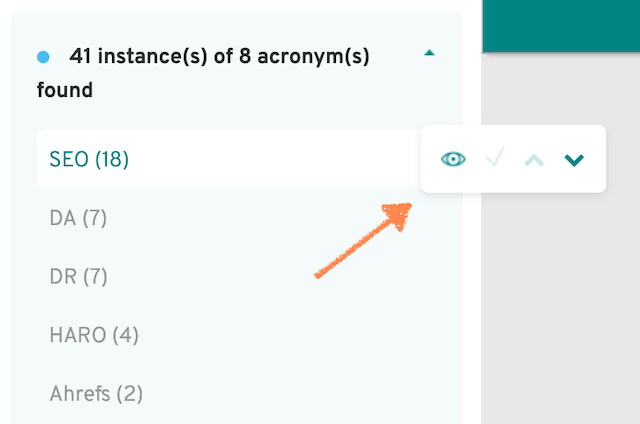 If you're happy with how you've used an acronym in your document, you can click on the Eye icon to hide its highlights so you can focus on other acronyms. If you want to move quickly between instances of a certain acronym in your document, you can use the arrows to the right of the bar.
How is The Acronym Report Useful?
For Students
When writing reports and essays, you'll often use acronyms to avoid using up your word count by repeating the same long phrases and titles. While your instructors will probably recognise the acronyms you are using in your writing, introducing and contextualising them within your argument helps demonstrate your knowledge. It will also make it easier for the person grading your essay to keep track of what each acronym means.
Use the acronym report to make sure you've introduced your acronyms. Once you've cleared your 'not introduced' list, use the 'instances' list to jump to the first instance of each acronym in your text. Check that you've explained why the term you are using is relevant to what you are saying—having a good knowledge of your terms will allow you to use them more persuasively.
For Non-Fiction Authors
When you're writing a non-fiction book, chances are you won't write your manuscript in the order that it will eventually be read in. You may introduce an acronym in one paragraph, but that paragraph may not end up being the first place you use the acronym in your finished book. Run the acronym report to check that you've introduced your acronyms in the correct places.
Once you are happy with your acronym use, you can use the list of acronyms under 'instances of acronyms used' to create a glossary for your article or document. ProWritingAid won't do this for you, however it will speed up the process and make sure that you haven't left any acronyms out of your glossary.
Final Thoughts
The Acronym Report will help you maintain clarity for your readers. Run the report before your first proofread to avoid having to check back each time you come across an acronym in your text.
---
Try ProWritingAid's Editor For Yourself