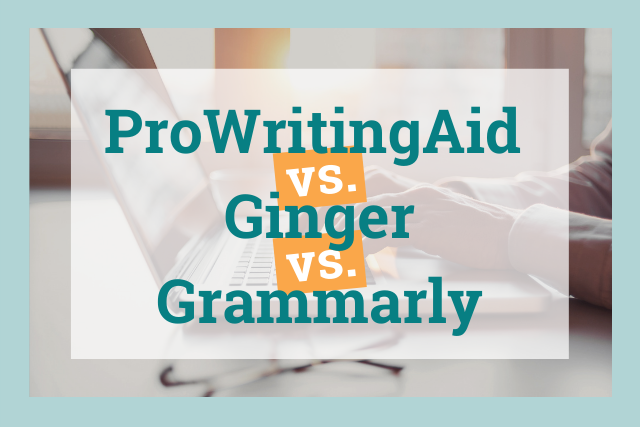 No matter how good a writer you are, inevitably mistakes will creep in from time to time. And when you've been working on the same document for hours or days on end, it can sometimes be difficult to edit your own work.
That's where writing enhancement software such as grammar checkers can help. Most grammar checkers will catch glaringly obvious grammar and spelling mistakes, but improving your writing goes way beyond these two features.
Why Compare Grammar Checkers?
If you're just getting started with grammar checkers, you'll want something that's comprehensive and provides value. So, in this article we'll compare three different grammar checkers, the two biggest players in the market—ProWritingAid and Grammarly—and a third, slightly more basic option, Ginger.
To compare how they stack up, we'll use five different quantifiable categories: Design, Goals, Features, Integrations, and Pricing.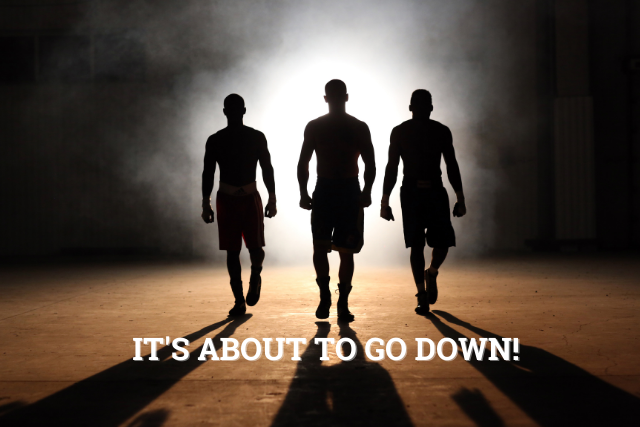 1. Design
The first impression anyone gets of an app or piece of software is important. It can either feel inviting or overwhelming. In this category, all three are welcoming, offering a clear white space and uncluttered interface. However, only ProWritingAid and Grammarly offer full screen writing, whilst Ginger is a smaller, clipboard-style page.
ProWritingAid offers the standard white page with menu bar above, that users of most writing software will be familiar with. There is a Realtime button in the top left corner that you can toggle to bring up the errors in the writing (and related reports) on the left-hand side of the document. After that you can work through and check the reported errors, before toggling it off back to the clean screen.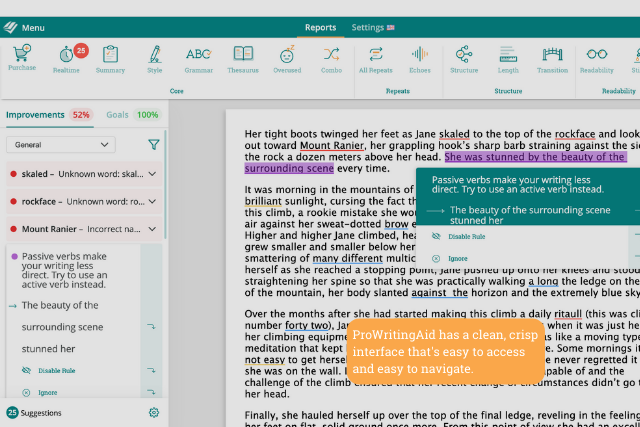 Grammarly has a similar system with a blank white page and a button that you can toggle at the top which opens up into three columns with "all suggestions" to the right of the document and then a third column to the right of that with "overall score" and "goals." Again, this works fairly well and is relatively clean, plus can be toggled off when not in use.
Ginger is more like a clipboard or tablet-sized writing app and, in keeping with its more basic nature, it has a much more basic layout. It is essentially a white screen for pasting/typing text and a couple of buttons along the bottom. It looks a little bit underwhelming.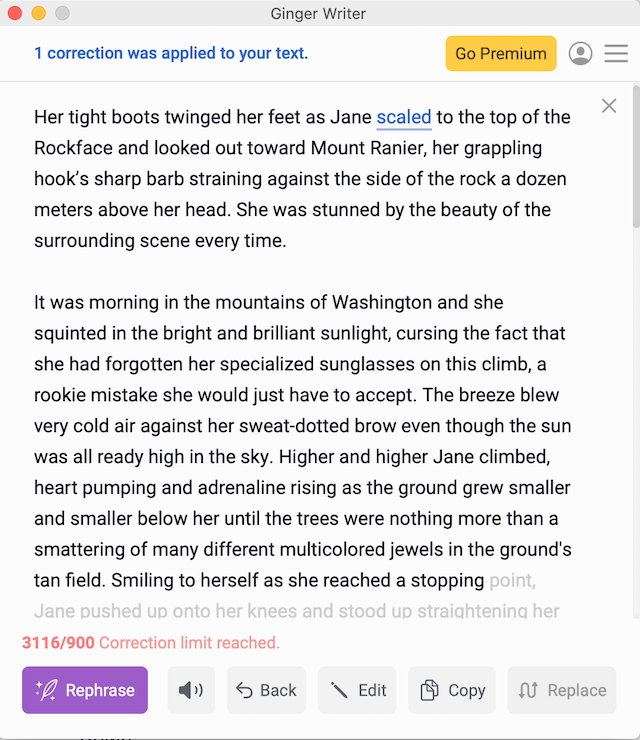 So, in the design category it's a tie for first place between ProWritingAid and Grammarly. In keeping with its more basic aims, Ginger has a more basic and smaller interface. The other two both offer clear white space for writing and uncluttered interfaces until you toggle reports on and off.
RESULT: TIE BETWEEN PROWRITINGAID AND GRAMMARLY
2. Goals
In this category, we will compare how the three apps allow you to set goals for your different types of writing and define what you hope to achieve.
Ginger doesn't really offer users the opportunity to set style goals. Aside from checking grammar, punctuation, and spelling, the software won't be looking at your intended writing tone or document style.
Grammarly allows you to define both the type of writing and the tone you want to achieve. This involves setting up different categories and options:
Audience
Formality
Domain
Tone
Intent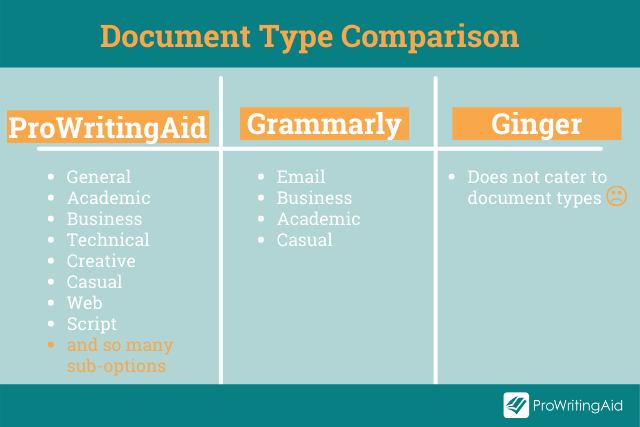 Whilst there are several different options in Grammarly and certainly a great deal more than Ginger, the categories can at times feel a little vague. If you take "Domain" as an example, with Grammarly you can only select "Business" and yet there are (as we will see with ProWritingAid below) various kinds of business documents that have significant variations in tone and style.
ProWritingAid offers a much wider range of document options and the ability to be a lot more specific. Your initial options here are General, Academic, Business, Technical, Creative, Casual, Web, and Script. This is already a wider choice than Grammarly offers but then ProWritingAid takes it to the next level, by allowing you a huge choice of document type within each option:
General: General
Academic: General Academic, Abstract, Academic Essay, Admissions Letter, Book Review, Compare and Contrast Essay, Critique
Business: General Business, Business Book, Business Case, Case Study, Cover Letter, Email (General), Email (Sales), Job Description, Marketing Text, Memo, Report
Technical: General Technical
Creative: General Fiction, General Non-Fiction, Children's, Fantasy, Historical Fiction, Horror, Mystery, Romance, Science Fiction, Thriller, Young Adult
Casual: General Casual
Web: General Web Copy, Long Web Article, Short Web Article
Script: General Script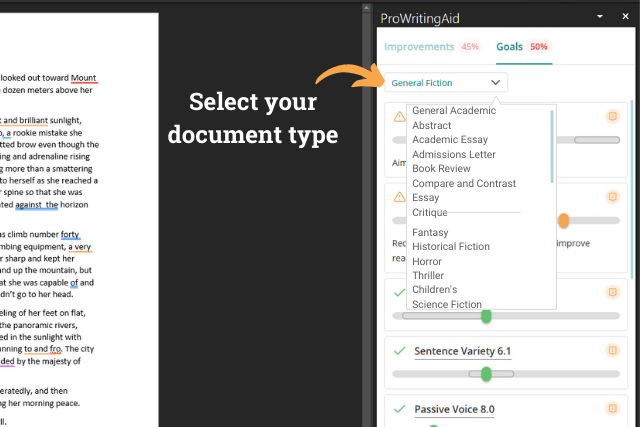 As you can see, this astonishing array of options allows you to be much more specific in the kind of document you want to write compared with Grammarly and Ginger, which means there can only be one winner.
RESULT: WINNER—PROWRITINGAID
3. Features
And so, to the main event—what the software can actually do. Let's see how they compare.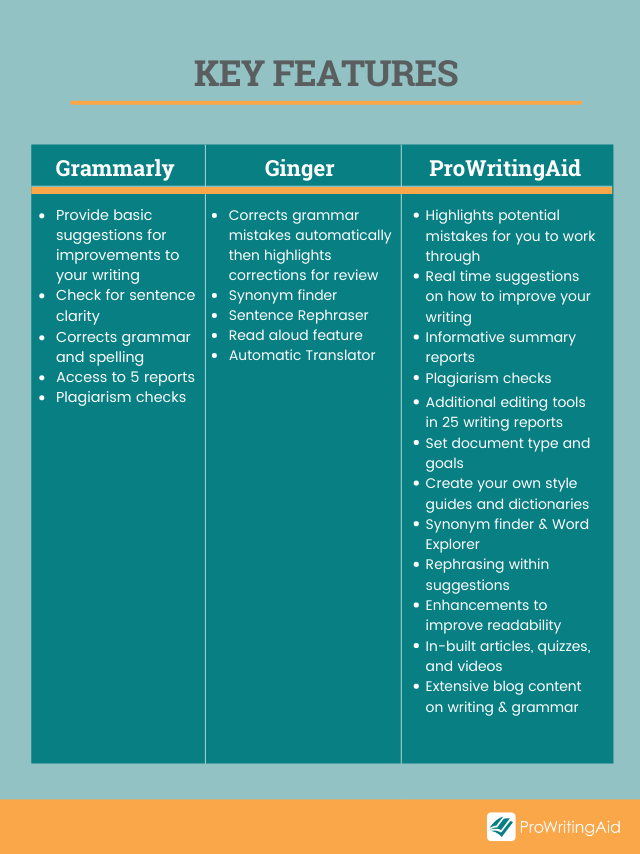 Ginger works well as a basic grammar checker, and it will happily remove any glaring errors of spelling, punctuation, and capitalization from your writing. Additionally, it will flag up more subtle errors such as consecutive nouns, misused words, and contextual spelling. Other tools it offers include showing you synonyms for your words, and a unique feature called the "sentence re-phraser tool."
Ginger, then, is a decent grammar and spelling checker with a couple of extra bonus features. However, it is clear there are a limited number of features. There are no goals, no document setup, it doesn't have style or plagiarism checkers and it doesn't provide in-depth reports about your writing.
Grammarly certainly improves on Ginger. It comes with a grammar, spelling, and plagiarism checker and it also allows users to set up a few goals before writing. Grammarly checks your writing in real time, either as you paste it in or as you type. Additionally, Grammarly will check for sentence clarity by looking at problems in sentence structure and checking for overuse of the passive voice. In terms of the goals set at the beginning, Grammarly will score your content out of 100 and report on:
Repetitive words
Comma Usage
Tone Detector
Weak Adjectives
Style Suggestions
Punctuations
ProWritingAid really comes into its own when it comes to features. It offers a much wider range of document goals than Grammarly and Ginger at the outset. Then, once the writing has been added, the level of detail applied to that writing is, we're happy to say, a world apart.
Whereas Grammarly offers a handful of reports and suggestions on writing improvements, ProWritingAid gives users a whopping 25 different writing reports—and with them a far greater grammar analysis than any other product on the market. Basically, you get every single feature that Grammarly has, plus about 20 more reports on top. In addition to the grammar checker, spell checker, plagiarism checker, and everything else mentioned above, you get all of these features:
Writing Style Report
Dialogue Check
Context-Sensitive Style Check
Pronoun Report
Homonym Check
Alliteration Report
Transition Reports
Contextual Thesaurus Report
Diction Report
Overused Words Check
Repeated Word Phrases
Cliché Check
Detailed Explanations
Sentence Structure Analysis
Lengths and Variation
House Style Check
Pacing Check
With ProWritingAid, it's not only the reports and analysis that offer more detail. We also believe that for grammar software to be truly great, it should also gradually improve your writing ability. That's why, unlike Grammarly, ProWritingAid also offers educational features—including explanations, video lessons, quizzes, and webinars with famous writers—to complement our grammar analysis. Our aim is that the more you use our app, the better your writing becomes.
In this round, I think you'll agree that ProWritingAid is the hands down winner in terms of features on offer. With more goals, more reports, and far deeper analysis of your writing, it's not even close! Grammarly certainly offers more than Ginger but in terms of features, ProWritingAid clearly wins.
RESULT: WINNER—PROWRITINGAID
4. Integrations
Next, it's time to look at how many options the three companies offer when it comes to ways to use their products.
We can divide this into desktop apps, web editors, and integrations with other software.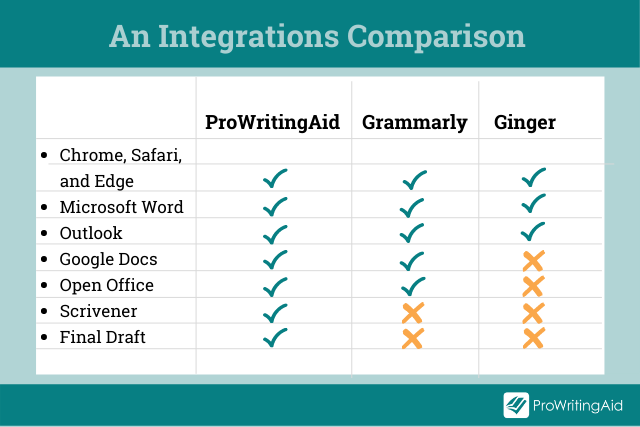 Desktop Apps: All three have desktop apps that work with both with PCs and Macs.
Web Editors: All three have web editors.
Integrations with other software: ProWritingAid, Grammarly, and Ginger all integrate well with the following products:
Chrome, Safari, and Edge
Microsoft Word
Outlook
Additionally, both Grammarly and ProWritingAid also work with:
But importantly, only ProWritingAid works with:
These last two are important, because they are used by many serious writers these days. So, in terms of integration, once again that extra level of detail means the top prize goes to ProWritingAid.
RESULT: WINNER—PROWRITINGAID
5. Pricing
Aside from the features and ease of use, the other important consideration when it comes to comparing software is price.
Before we get to comparing prices for the full versions it is worth pointing out that all three offer a free version for people to use. How do these compare?
What's the Best Free Grammar Checker?
When it comes to free versions of their software, all three have limits on what you can do: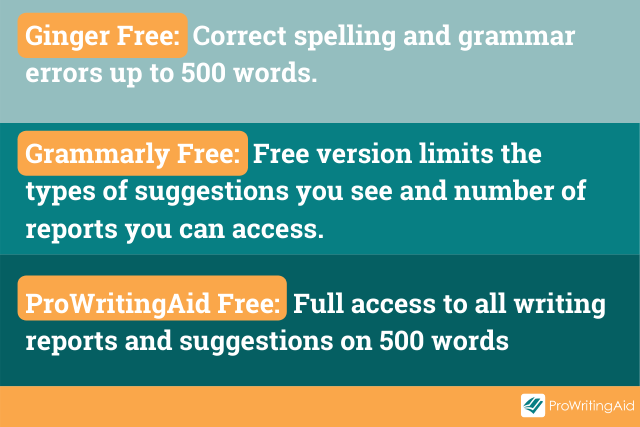 Ginger Free Version: The free version of Ginger allows you to edit up to a maximum of 500 words. It will correct spelling and grammar errors in those 500 words and show you a limited number of synonyms.
Grammarly Free Version: Grammarly's free version limits access to many of their reports. You can check for spelling and grammar mistakes, but you cannot experience all the products that will be available if you upgrade.
ProWritingAid Free Version: With ProWritingAid, you get the same 500 word limit as Ginger, but unlike Grammarly you can access all of the comprehensive writing reports on structure, repeats, transitions, readability, etc. This means there are no hidden suggestions, and the free version lets you try the full range of reports before committing to the premium version.
ProWritingAid still manages to deliver more value even with its free version. However, things are even clearer when it comes to judging their premium versions.
What's the Best Value Grammar Checker?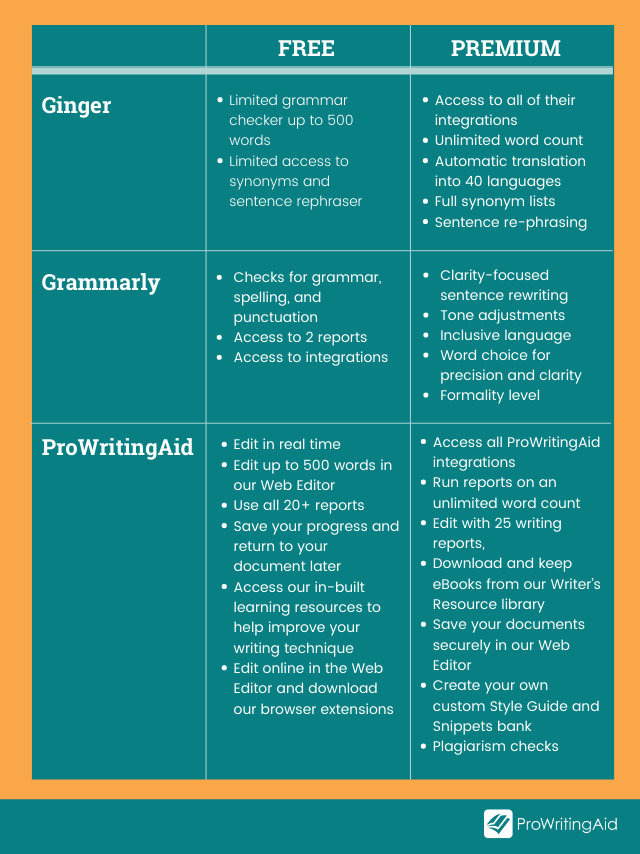 Grammarly offers three individual payment plans:
Monthly at $30
Quarterly at $20/month billed as $60
Annual at $12/month billed as $144
Ginger also offers three individual payment plans:
Monthly at $19.99
Annual at $150
Two years at $240
ProWritingAid remains undefeated when it comes to its premium subscription features—with the perfect balance for affordability and value.
Grammarly is much more expensive than ProWritingAid while only offering a fraction of what they offer. Even more impressive is that you can buy a lifetime subscription to ProWritingAid for the equivalent of about three years' worth of annual subscriptions to Grammarly, who do not themselves offer a lifetime option. Additionally, you can get Lifetime access to ProWritingAid, including all future updates, for $81 less than 4 years of Ginger Premium.
RESULT: WINNER—PROWRITINGAID
ProWritingAid vs. Ginger vs. Grammarly: Which Grammar Checker Is Best?
So, which one is the best? Of course we're biased, but we think that we've shown in almost every category, that ProWritingAid offers the most features, the best analysis and reports, and the best way to improve your writing. All of that at a price which comes in well under its main rival, Grammarly!
Which Is Best, Grammarly or Ginger?
Ginger is clearly aimed at users who want a lighter, less in-depth grammar checker, without style checking and reports (and no plagiarism checker.) However, it still costs as much, if not more, than ProWritingAid.
Is ProWritingAid Better than Grammarly?
We shouldn't brag, but… yes. In every category, ProWritingAid offers more than Grammarly—more features, more options, more analysis, and more learning—at less cost. ProWritingAid is king!
Try ProWritingAid's Editor for Yourself