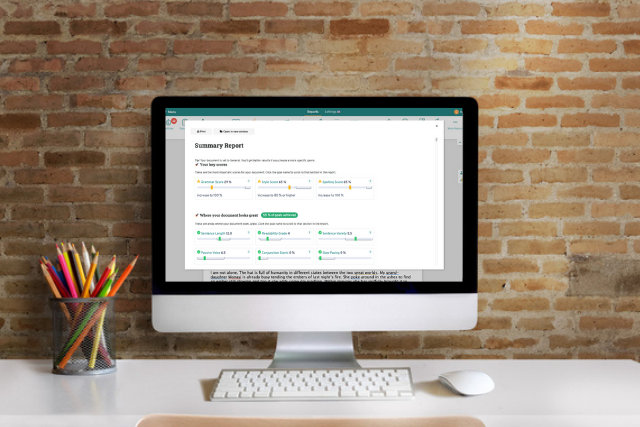 Nothing makes a reader lose faith in a writer faster than a grammar error!
The ProWritingAid Editing Tool is one of the world's best grammar-checkers, but it also looks at elements of style and structure that help you make your writing as strong and clear as possible.
The software analyzes your text and highlights a variety of key writing issues, such as repeated words and phrases, sentence structure, overused words, punctuation issues, consistency, dialogue, pacing, and readability.
It helps you learn as you edit, making you a stronger writer.
I just bought a 3 year license for @ProWritingAid because it does an amazing job of improving my writing! So many tools for finding passive voice, repeated phrases and so much more. #writers You can try it online for free check it out!
- Dan Absalonson, author
The best way to find out how much ProWritingAid can improve your writing, is to test it yourself.
Who Uses ProWritingAid?
As of 2020, there are over 1 million writers using ProWritingAid to edit their work. They come from a wide range of writing disciplines, but most fall into the following categories:
Fiction Writers
Many writers in our community are editing short stories and novels. Some are first-time authors and others are professionals with many books under their belts. They usually use book-writing apps like Microsoft Word or Scrivener during their creative process and then turn to ProWritingAid when they are ready to self-edit. ProWritingAid is a key part of the modern fiction writing process.
@ProWritingAid Thanks guys for a great program. You have cut down my editing time of a book by 2-3 drafts & my writing has improved tremendously. Every time I use it, I learn. And I've been writing 4 years.
- Susan May, author
Bloggers and Content Writers
Most writers have their own blogs these days. They build their profile, earn income through affiliate marketing, hone their writing process, and get their ideas out into the world.
Similarly, nearly every company today has an online presence, and their need for high-quality content is ever-increasing. Many writers today make an excellent living creating captivating content for a wide range of clients.
ProWritingAid allows bloggers and content creators self-edit more effectively before they hit "publish".
Students
An increasing number of students are using essay writing apps to help them improve the quality of their paper or thesis. If your professor is getting distracted by errors and unclear ideas, you may not be getting the grade you deserve.
Most professors today run their students' work through some kind of plagiarism software. If you're a student, you can use the ProWritingAid Plagiarism Checker to find any accidental plagiarism in your essay before your teacher does!
ProWritingAid won't write your essay for you, but it's a grade-saving grammar checker that helps keep your work original and makes the writing process quicker and easier.
Business Writers
Most professionals find themselves writing nearly all day long: reports, emails, applications, pitches, or presentations. In the fast-based corporate world, mistakes look unprofessional and yet there is little time to self-edit.
ProWritingAid helps business writers deliver concise, error-free communications that clearly get ideas across to colleagues and clients. For quick edits of short bits of text, our online editing tool is the best free writing app around. If you're working on longer bits of text, or as part of a remote team, upgrade to Premium to make use of unlimited word counts and create your own house style.
Whatever kind of writer you are, ProWritingAid will help you improve your writing and get your ideas across more clearly. Try it for free now!
How does ProWritingAid Work?
ProWritingAid analyzes your writing and presents its findings in 25 different reports. Each writer has their own strengths and weaknesses and so different ProWritingAid reports will appeal to different users. Our reports act as both coach and editor, providing you with feedback about the content, style, grammar, and spelling of your writing.
Let's take a look at our top 10 reports.
The Writing Style Check is one of the most popular and comprehensive reports that ProWritingAid offers. It highlights several areas of writing that should be revised to improve readability, including passive voice, overuse of adverbs, repeated sentence starts, hidden verbs, and much more.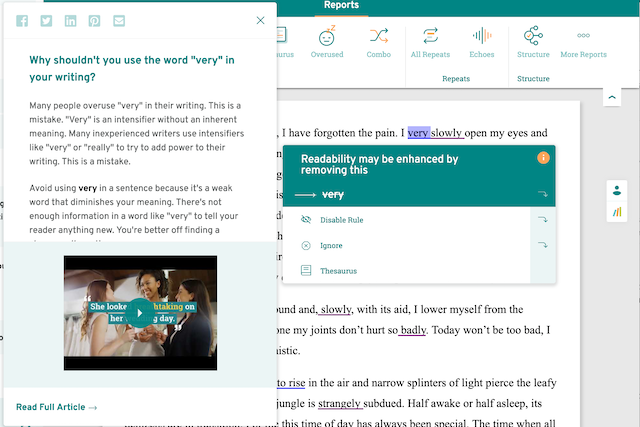 2) The Grammar Report
The Grammar Checker works similarly to the spelling and grammar checkers in a word processor. It highlights any word that's not in our dictionary in case it's misspelled. It also looks at the construction of the sentence to make sure that the structure, punctuation, and tense are correct.
But, in addition to these standard grammar checks, our team of copyeditors have been inputting thousands of specific checks that they have come across in their years of editing. For example, they noticed that many writers write "adverse" when they actually mean "averse." When this comes up, the software will offer a short explanation about how the two words are different so that you can make sure you select the correct one.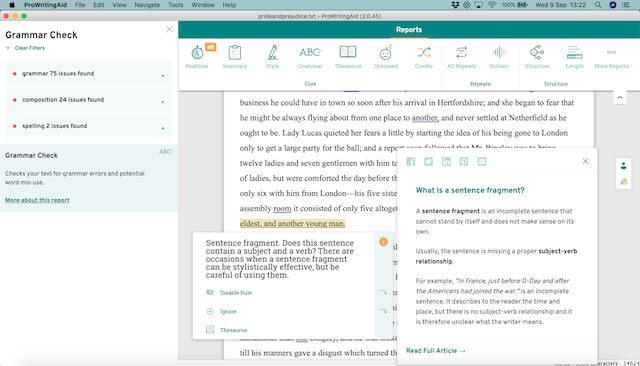 A sticky sentence is one that is full of glue words. Glue words are the 200 or so most common English words (in, of, on, the, at, if, etc.). They are the empty space that readers need to get through before they can get to your ideas. Generally, your sentences should contain less than 45% glue words. If they contain more, they should probably be re-written to increase clarity. Let's look at a quick example:
ORIGINAL: Dave walked over into the back yard of the school in order to see if there was a new bicycle that he could use in his class. Glue index: 60.7% - Sentence length 27 words

REDRAFT: Dave checked the school's back yard for a new bicycle to use in class. Glue index: 42.8% - Sentence length 14 words
The second sentence is much easier to read. Unnecessary information has been discarded, and the wording is more concise. The point of the sentence comes across clearly.
Writers often use clichés when they are working on their first draft because thinking up original wording takes time and can interrupt creative flow. That's fine. But, when you go back to edit, this report will pick out instances of unoriginal phrasing so that you can replace them with fresh ideas.
Redundant wording creeps into the texts of even the most experienced writers. It adds quantity to your writing, but not quality. Every word in your writing should be there for a reason. This report helps you eliminate the clutter.
Writers often mistakenly use the same word several times in the span of one paragraph because it's foremost in their mind. But those repeats can set off an echo in the reader's mind—that subconscious feeling of "Didn't she just say that?" It can be irritating to read and, worse, it can detract from what you are trying to say.
But it's difficult for writers to spot repetition in their own work. When they are editing, they go over the same text several times and become impervious to that echo feeling. And when you replace a word when making amendments, it's easy to forget that the same word was in the sentence before or after. This report highlights repeated words and phrases in your document so you can use a more diverse vocabulary.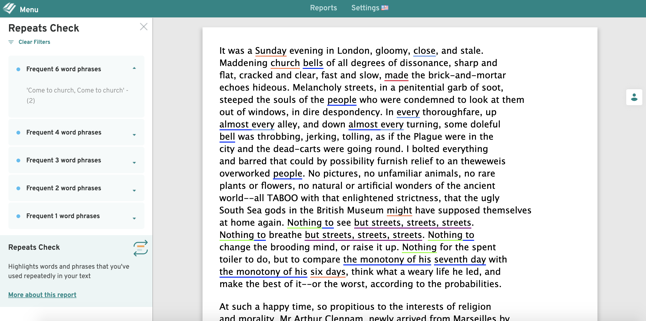 Writing that uses varying sentence lengths keeps the reader's brain engaged. Some should be short and punchy, others should be long and flowing. Sentence variety adds an element of music to your writing.
ProWritingAid will create a bar graph of your sentence lengths so you can pick out areas where you should add more variety. It will also give you an Average Sentence Length Score, which will highlight whether you are using too many long sentences, which may result in a monotonous text, or too many short sentences, which may result in a choppy text.
When writers are in creative mode, they often rely on pronouns to keep the narrative moving: "He did this," "She did that," "They ran there," "I found out." That's fine. It's more important to keep writing momentum up than it is to get every sentence just right.
ProWritingAid will scan your document and calculate a pronoun percentage. Ideally it should fall somewhere between 4% and 15%. Any more than this and writing can feel dull. This is especially so with initial pronouns—those at the start of the sentence. The initial pronoun percentage should be under 30%. Run the report and replace your pronoun-heavy passages with more dynamic wording.
Consistency is so important in writing. It makes it feel professional and polished. ProWritingAid doesn't care if you choose to write in American or UK English, as long as you choose one and stick to it. Likewise, it's up to you whether you capitalise a word like "Yoga" but the report will highlight if you have done it in one place and not in another.
The Consistency Check highlights inconsistency of spelling, capitalization, hyphenation, and punctuation.
Dialogue tags are the words that refer dialogue to a specific character. The two most common examples are "said" and "asked." They are essential in writing, particularly in scenes that include several characters, because they help the reader follow the conversation. Ideally, your dialogue tags should be invisible within your writing, just signposts that point out who is speaking. The character's actions or the dialogue itself should be carrying the emotion. Where possible, try to omit dialogue tags altogether. Instead, use description and action to point out your speaker and build your scene.
The Dialogue Tags Check will highlight all your dialogue tags so that you can find a better way to demonstrate emotion.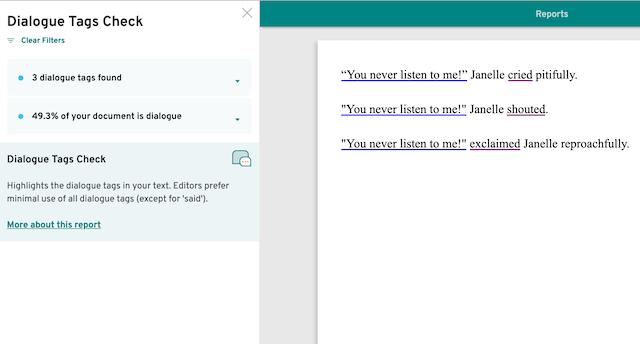 Often, changing just one word in a sentence allows a writer to present a more nuanced or specific idea. Our contextual thesaurus allows you to explore a wider vocabulary. Unlike most thesaurus suggestions, our report takes into account the context of the word in the sentence and offers replacement words that fit within that context.
Just double click on any word and you will see a variety of synonyms that should fit your context. If not, hit the Word Explorer for an even more in-depth look at your word.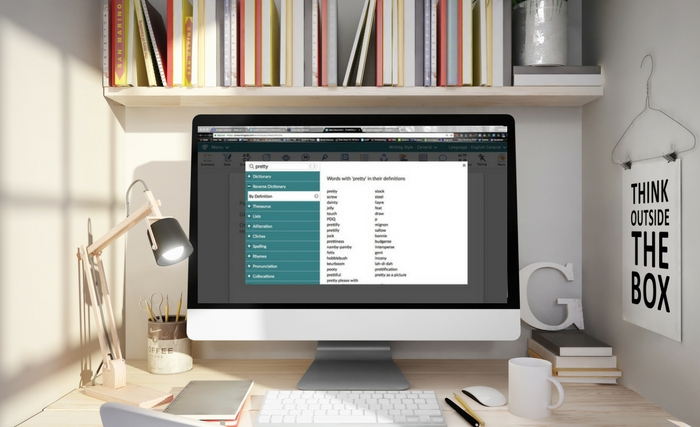 Does ProWritingAid integrate with my favorite writing software?
Yes! ProWritingAid has more software integrations than any other grammar-checker out there, including Chrome, Word, Scrivener, Google and OpenOffice.
Click here to give ProWritingAid a try now.
Any other questions?
Check out our FAQs to see if yours is there. If not, you can get in touch via our contact form, Facebook, Twitter or LinkedIn. Happy editing!
---
Try ProWritingAid's Editor For Yourself