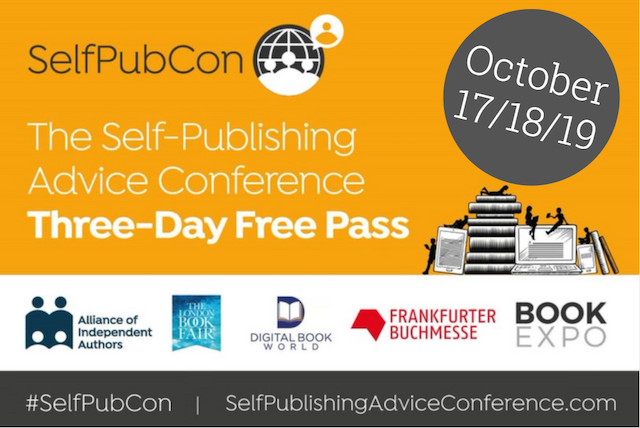 Hey Writers,
It's Lisa Lepki here from ProWritingAid. We are thrilled to be sponsoring the Self-Publishing Advice Conference (SelfPubCon) again this year. Hosted by the Alliance of Independent Authors (ALLi), it is one of the best events in the calendar for indie writers.
The conference runs on 17th/18th/19th October 2020 starting on the Saturday at 10am GMT. Can't make that time? Don't worry. You'll be able to access all of the talks for 48 hours after the conference is over.
I'll be collaborating with Kristina Stanley from Fictionary on the following session:
In this session, we look at how technology can help you perform a thorough and effective self-edit to tighten and strengthen your manuscript. Kristina Stanley will demonstrate the key features and tools in Fictionary that help with story editing, and Lisa Lepki will demonstrate the key features and tools in ProWritingAid that help with copy editing. See the software in action in a live editing session and bring all your questions to our Q&A.
By the end of this session, you will understand how to use Fictionary and ProWritingAid together to complete a full story edit and line edit of your manuscript.
The Self-Publishing Advice Conference
At the conference, ALLi will host 24 video sessions over 24 hours, bringing you the best and most up-to-date self-publishing education through the magic of online webinars.
This year, their conference theme is Tools and Tech and they've compiled 100 of the best self-publishing tools for indie authors, designed to make writing, making, and selling books easier, faster, and more profitable.
As you'll see if you hop over to the conference home page, they've brought together an amazing line-up of speakers offering news, interviews, webinars, and presentations. All you need to participate is a pen, paper, and the drive to learn.
Here are some of the topics:
New International Tools at Ingram Spark, Plus an ALLi Member Q&A
Two Tools to Aid Your Editing: ProWritingAid and Fictionary
How Authors Use Giveaways to Grow Their Readership
Reaching Your Ideal Readers: Using Beta Readers to Validate Your Book Ideas
Write More Books Faster: How Plottr Can Turbo-Charge Your Writing Process
Mastering Online Author Events
The best part?
SelfPubCon is totally free to attend live and for 48 hours after the event using this link: Self Publishing Con
Premium Access
24 hours of content is... a lot of content. All of the talks are free to access, but if you want to come back to them at your leisure, you need to upgrade to a 6 Month Pass or Lifetime Pass.
If you choose to stick with the free pass, the talks will disappear 48 hours after the conference. With your 6 Month Pass or Lifetime Pass you can re-watch or catch up on the talks as many times as you like, plus you have access to all past conferences. The Lifetime Pass covers all future conferences, too.
Want to upgrade? We thought you might, so we've bagged you a discount. Use the code NTK2684 at checkout to get a discount on your pass.
The 6 Month Pass, usually $199, is yours today for just $99. You get six months of access to not just the October 2020 conference, but also all past conferences.
A Lifetime Pass, usually $450, is yours today for just $225. It gives you unlimited access to the October 2020 conference AND all past AND future conferences, forever.
Remember: Use code NTK2684 to get your discount
See you there!
There are a lot of courses, resources, and virtual summits out there for writers, but #SelfPubCon is was one of the very first (premiering in 2013 as IndieReCon) and is still one of the best.
It's exceptional, not just because it's backed by ALLi, but because it's always one step ahead and cuts through everything you DON'T need to know or do. I'm really excited by the tools and tech that ALLi has compiled for this conference.
See you there!

---