Welcome to Editing Week at ProWritingAid!
This week, we've teamed up with editing powerhouses Fictionary and First Editing to help authors better understand the three key phases of the editing journey:
What is story editing?
What is copy editing?
When is it time to hand your writing off to a professional?
You can celebrate Editing Week with us in three ways:
You can attend one of our free webinars.
You can download our free eBook, Your Editing Journey: How to Make Your Manuscript Shine.
You can purchase an amazing offer from us and our partners.
Let's dive in!
---
1: Free Writing Webinars During Editing Week
This week, we are proud to offer two free writing webinars that you can attend.
April 29: Get Started On Your Story Edit with Kristina Stanley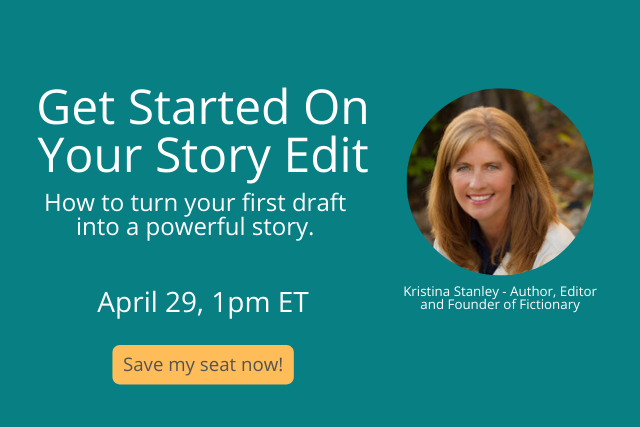 We all get excited when we type "The End" on our first draft. Before you share your story with others, you owe it to yourself to tell the best possible version. Learn how to self-edit, and you'll create a story readers love.
In this session, Kristina Stanley, CEO of Fictionary and ALLi Story Editing Advisor, will teach you where to begin a story edit. If your dream is to craft a powerful story, she'll show you how to "see" your first draft in a new way.
Just like you learned how to write a novel, you can learn how to perform a story edit. All you need is a clear process, some editing knowledge, and the right tools.
---
April 30: Navigating Your Editing Journey with JoEllen Nordström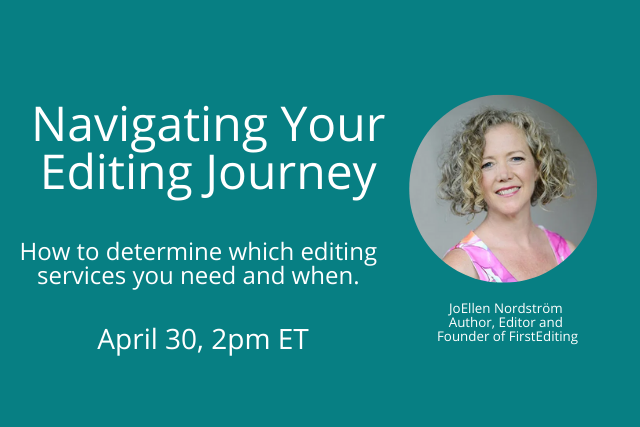 Professional editors provide content editing, line editing, and copy editing. But what does that mean? And how does that apply to you? What do you want and what do you really need? Lastly, how can you make it more affordable and less painful?
In this session, JoEllen Nordström, Publishing Power Podcast Host and founder of First Editing, shows you how to determine what editing services you actually need. If you are seeking editing but aren't sure what you need, join us!
---
2: Free eBook Alert! Your Editing Journey: How to Make Your Manuscript Shine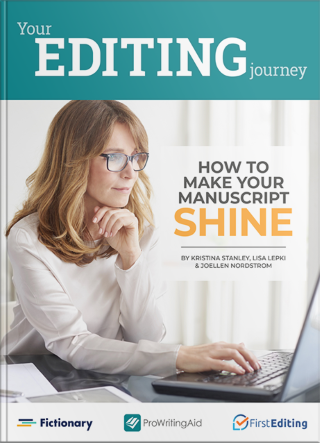 There are three essential phases in an author's editing journey: story editing, copy-editing, and professional editing. Each stage plays an important role in turning a rough first draft into a publish-ready manuscript.
In this practical guide, learn how and why every author must perform an intensive story edit themselves to ensure that their story is as powerful, coherent and evocative as possible. Discover some of the most effective copy-editing techniques to help tighten and strengthen your manuscript.
Find out the secret to building a strong and productive relationship with your editor.
---
3: The ProWritingAid + Fictionary Editing Bundle: Two Powerful Editing Tools That Work Beautifully Together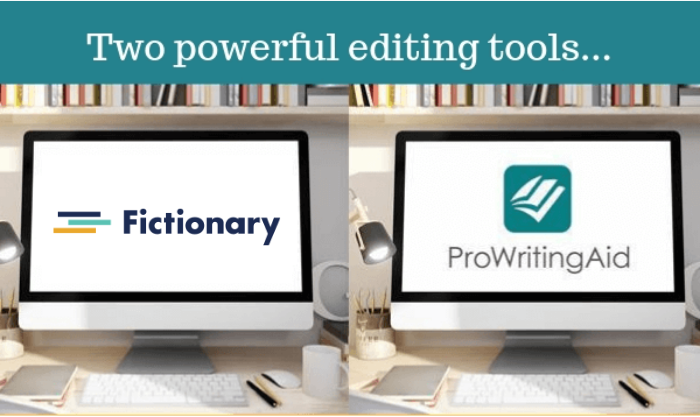 Fictionary makes developmental editing a breeze.
ProWritingAid ensures your writing is clear and polished.
Until May 5, get annual subscriptions to both Fictionary ($200) and ProWritingAid Premium ($60) for just $99.
What if I already have ProWritingAid Premium?
If you already have ProWritingAid, [you can click here to purchase Fictionary only for $89](https://fictionary.co/prowritingaid-discount-offer/
). Use the code PWA2020.
---
Your Editing Journey: From First Draft to Ready-to-Publish Manuscript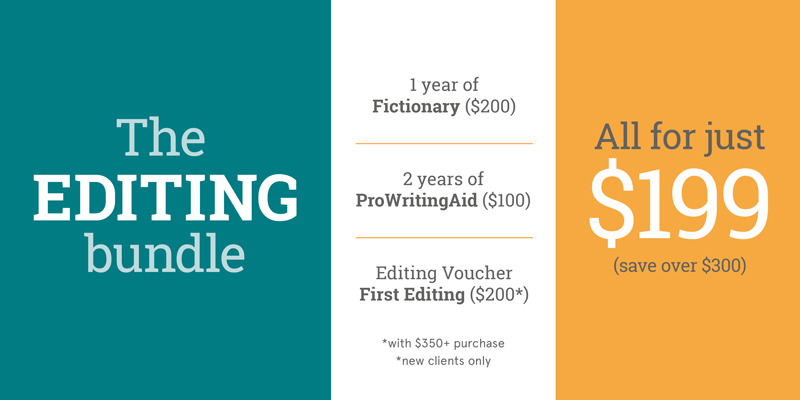 1 year of Fictionary (worth $200) – creative editing software for fiction writers
2 years of ProWritingAid (worth $100) – copy editing software for all kinds of writers
Editing Voucher for First Editing (worth $200) – professional (human) editing services
---
Fictionary: The Story Editing Tool for Fiction
Developed by best-selling author and editor Kristina Stanley, Fictionary helps writers tell better stories with online software that simplifies and automates story editing.
Story editing is an in-depth manuscript evaluation that improves the structure, characters, plot, and settings of your story. A must-do step when you're revising your manuscript.
Fictionary analyzes your entire manuscript and creates powerful visuals such as the Story Arc and your Cast of Characters. 11 additional reports help you visualize your story like never before.
Fictionary then guides writers through a scene-by-scene evaluation of their manuscript against 38 story elements and provides insightful rewrite tips for improving your story exactly when you need it.
---
ProWritingAid Premium: All of ProWritingAid's Editing Power, No Limitations
Since you're here on our blog, you probably already know and love the ProWritingAid editing tool, but we just thought we would take a moment to remind you about the extra perks you get when you go premium:
#1: No word count
If you don't write that often, you will probably get along just fine with our free version and its 500-word limit. If, however, you want to analyze full chapters, articles, reports or essays and get a wider overview of your work, then ProWritingAid Premium is for you.
#2: Integrations
Premium users have access to the ProWritingAid Desktop App (perfect for Scrivener and Mac users), as well as our add-ins for MS Word, Google Docs, and Chrome.
---
First Editing: Professional Editing for Your Manuscript
Getting ready to publish your manuscript? A professional editor can fine-tune your writing so you can publish confidently.
The First Editing family of editors has a fantastic array of skills, such as developmental & structural editing, academic reviews & publications, eBook formatting, proofreading, and publishing insights & experience.
With editors across the world in many different time zones, you can get editing where you need it, when you need it.
---
Got a question about Editing Week? Let us know in the comments!
---