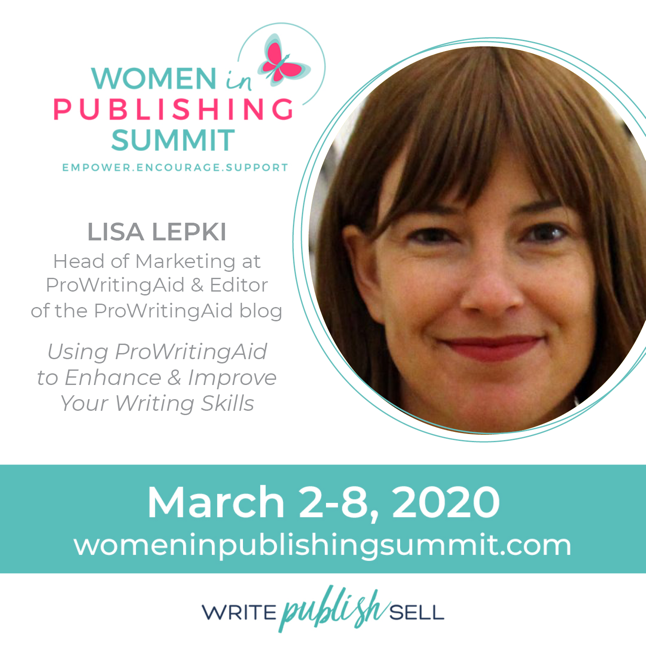 Good news! The Women in Publishing Summit is coming! A week-long, FREE, online event!
March is Women's History Month. It's an awesome time to to celebrate, honor, and learn from a line-up of amazing women in the writing and publishing world who deserve some applause.
The Women in Publishing Summit sponsored by Bublish runs March 2-8, 2020, covers all things related to writing, publishing, and selling a book. It's Created FOR women, BY women, for women who want to write a book, have written a book, are in the process of writing a book, or perform some kind of function related to writing, publishing, and selling a book! You are not going to want to miss it.
I'm happy to be part of a celebration of women who are absolutely rocking it in the writing, publishing, and selling of books. (Plus the other people who make amazing books come to life - the editors and the graphic artists, the PR and marketing professionals, and so forth.)
This summit is being hosted by Alexa Bigwarfe. She is an author coach and publisher and noticed that there seemed to be a real void in the female voices present in online conferences and training programs on writing and selling books. So, she set out to change that. And I thought it was a great idea too!
What exactly are we trying to achieve with this summit? Well, a couple of things.
One, we're celebrating and honoring the achievements of women who often go uncelebrated. But really, what they have done and continue to do is worthy of an Olympic style parade.
Two - we want to provide the support and encouragement for other women who are trying their best to grow their business with a book, change the world with their book, or otherwise leave a mark on the world with their writing.
Three - we're talking about issues that other publishing conferences don't talk about AT ALL. Like representation and making sure marginalized voices are heard. Like opening up opportunities for women so we don't have to publish under male pen names. And so forth.
We recognize there is a LOT to learn and know. So you can consider this week-long FREE virtual conference your free Bachelor's Degree in writing, publishing, and selling a book!
Here is the schedule of topics for each day:
Day 1: The Big Picture for Your Book - Why We Show Up, Finding Inspiration & Big Picture Topics
Day 2: Knowledge Base for Authors: Writing/Editing/Production/Distribution/Platform
Day 3: Tech Tools & Additional Resources For Writing / Publishing / Selling / Platform Building
Day 4: Book Launch Strategies, Marketing, Marketing and more Marketing
Day 5: The Business of Being An Author + Mindset
Come learn from Best Selling Authors, Publishers, Experts in Marketing and PR, Editors, Graphic Designers, and other industry experts to get all the tools you need to write, publish, and sell your amazing book!