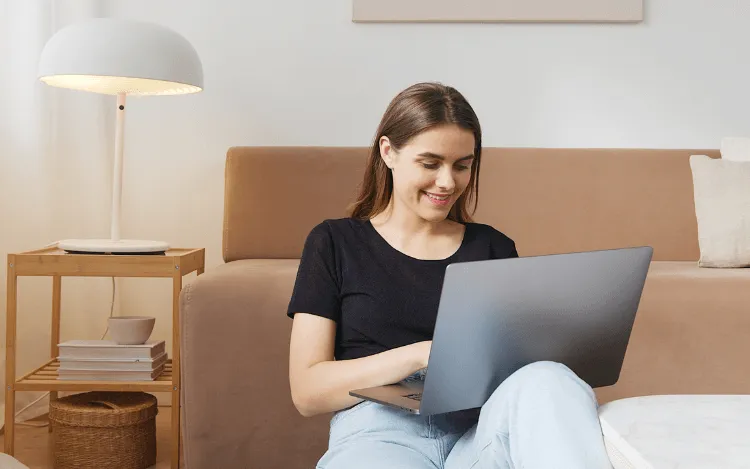 AI (artificial intelligence) writing has become one of the most talked about topics for writers, as there are a lot of questions about how AI-generated content will help writers in their craft.
The major benefit is the time you save when you use an AI writing tool. Whether it's an AI to help you when you're editing or an AI that generates a complete first draft for you, there's bound to be an AI tool that will speed up your writing process.
With so many AI tools available to writers, it's hard to know which one is the best to help you with all your writing needs.
In this article, we'll recommend nine AI writing tools you can use for essays, business writing, or blogs.
How Do AI Writing Tools Work?
AI writing tools use algorithms and natural language processing coding to generate new writing or suggestions based on previous user input. The better the input and language processing, the better the new suggestions will be.
There have been many companies working on perfecting the art of AI writing over the last few decades, but we've reached a point now where the technology is so impressive.
There are different AI writing tools you can use:
Content generators

Integrated AI tools or features

AI grammar checkers

SEO optimizers

Citation generators
Content generators produce text based on the prompts you provide. Some content generators can follow templates for specific document types, such as articles, essays, and copywriting for product descriptions.
Integrated AI tools are built into pre-existing software, such as Google Docs. AI features can be small, such as an auto-correct that fills in the rest of your sentence. Alternatively, the AI feature could become a big selling point for the software, like an AI writing assistant.
AI grammar checkers analyze your writing and give you suggested improvements by using natural language processing to check your writing against known grammar rules. An AI grammar checker will not replace a human editor, but you can use a combination to get your editing job done quicker.
SEO content writing tools help you create and optimize your content for blogs. An SEO content writing tool will often include a content writing generator and features to optimize your articles or copy to ensure you're being seen in Google searches. 
Citation generators can help you create accurate citations for your academic writing. If you struggle to remember how to cite your sources, you can select the type of citation you need and get the AI tool to generate a citation you can use in your bibliography.
3 Best Content Writing Tools
Content writing is one of the most common use cases for AI writing tools, as there are so many programs for speeding up content production. If you don't want an AI to write your first draft, you can use one to help you with keyword research and article briefs instead. We've picked three tools that will help you with the different elements of content writing.
ProWritingAid
ProWritingAid is a grammar checker and writing coach with a built-in AI rephrasing feature. You can use the Realtime checker to edit and rephrase as you write. 
There are several ProWritingAid integrations, so it's available in most places where you write. For example, the Chrome browser extension integrates into social media sites, Google Docs, Atticus, and Gmail, as well as many other sites.
You can conduct more in-depth analysis of your written content by using one of the 20+ reports within the ProWritingAid editor. Each report provides results and suggestions for making improvements to ensure you create high quality content. 
The tool also features a specific Rephrase report, which allows you to check rewriting suggestions for each sentence. There are seven rephrasing options for you to choose from: standard, fluency, formal, informal, sensory, shorten, and expand. Rephrase is the perfect report for improving your sentences when you can't think of the right words to use.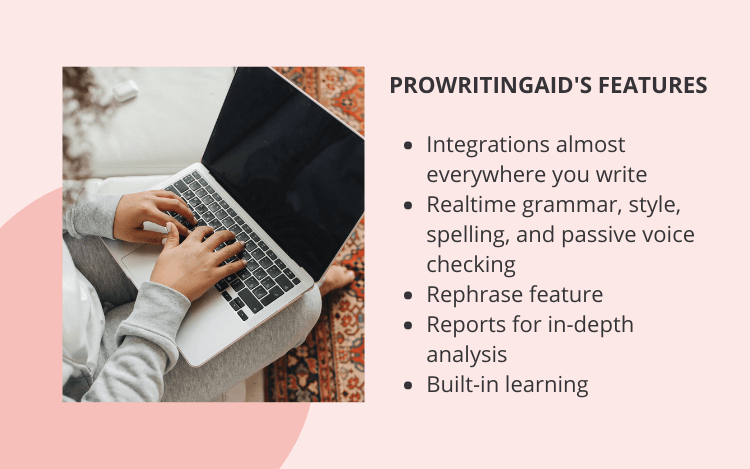 Rytr
Rytr is a content writing generator that includes use-cases and different tones. It is available in over 30 languages. If you need to write long-form content such as blog articles, Rytr is a simple and easy tool that will save you time by reducing the time spent writing your articles.
If you need to include pictures in your blog post and you're not familiar with image creation tools, like Canva, Rytr also includes an AI image generator you can use to create relevant images for your article.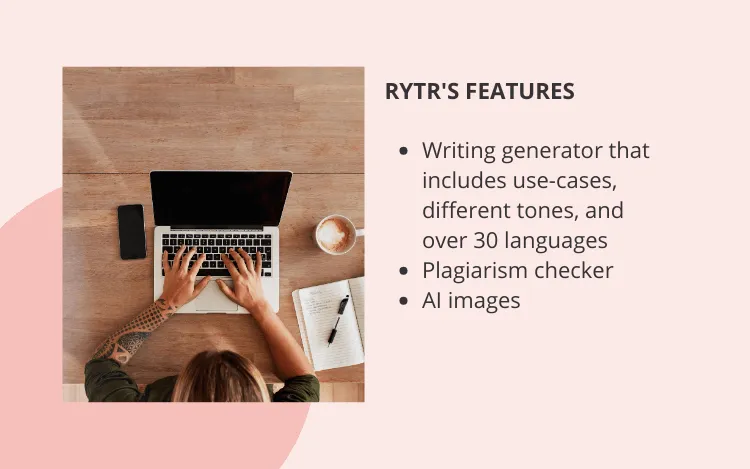 Scalenut
Scalenut is a content generator with built-in SEO optimization, which you can use to ensure your writing appears on the first page of Google. The key feature of Scalenut is the article writer, which you can use to save time on writing articles for your blog.
Once you've completed your article draft, whether you've used the writing generator or not, you can use the SEO optimization features to check whether your article has enough keywords for ranking on the top search engine results pages.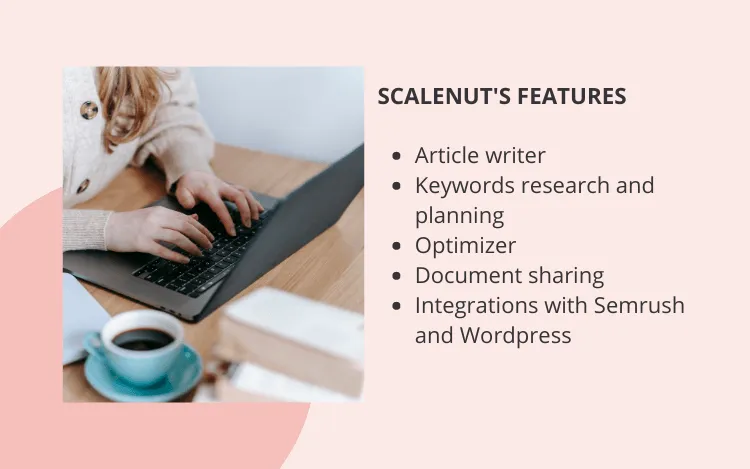 3 Options for Best AI That Writes Essays
When writing essays, it can take a long time to complete all the steps of researching, planning, writing, and editing your work. Using an AI writing tool, or a combination of them, can speed up the writing workflow so you can get your papers submitted on time.
Remember, as AI essay writing tools have developed, so have the tools that can detect AI-generated writing. It's best to avoid submitting completely AI-generated papers as a submission tool may pick this up and it could affect your grading. 
Jenni.ai
Jenni.ai is an essay writing assistant powered by AI. It generates essay content based on your input via a tool called AI Autocomplete. As you're writing your essay, it will suggest ways to continue your thoughts, which you can accept or ignore as you go.
If you're worried about plagiarism, you can use the built-in plagiarism checker to ensure that your writing is plagiarism free before submitting your assignments.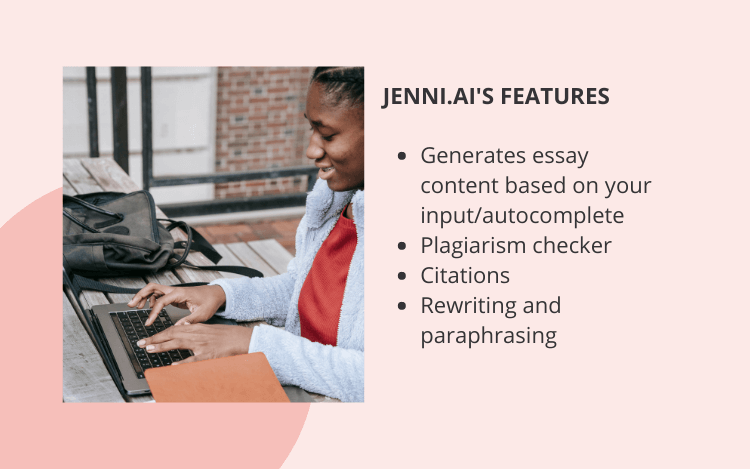 Smodin.io
Smodin.io is an essay writing generator with several other features designed to help students complete their papers. The essay writing generation works based on prompts from you, so your essays apply to the subject you are writing about. You have the option to improve your title and add an abstract to give the AI more context to work with.
You can also use the citation generator to ensure you're referencing your sources correctly. Alternatively, if you request an essay generated by Smodin.io, it will also create a list of cited sources for you to use in your final draft.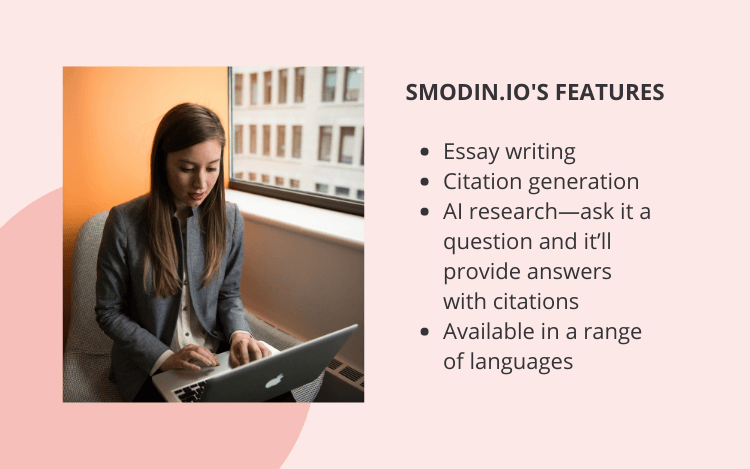 ChatGPT
ChatGPT is an AI chatbot that can help you answer questions, brainstorm ideas, and generate essay outlines or create content. You'll need to ask very specific questions if you want to generate good quality long-form writing, but if you need ideas for your essays, ChatGPT is an easy tool to use.
If you're working on a subject and want to consider all areas for research, or you aren't sure where to start with your research, you can ask ChatGPT for examples. Once you've got some sources in mind, you can even ask it to generate an outline based on the information from those sources.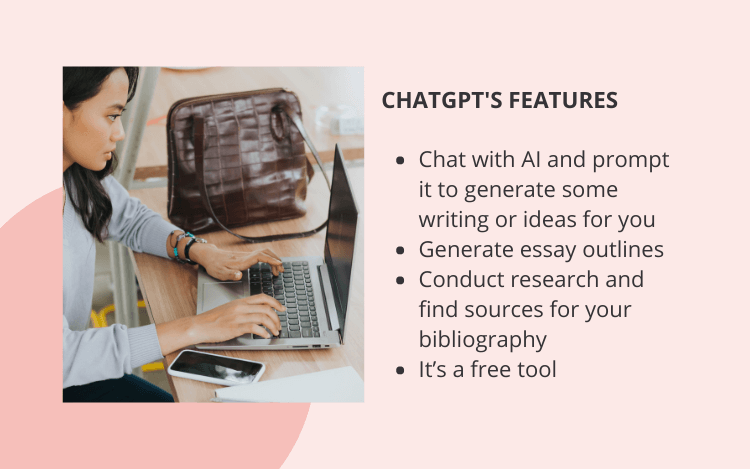 3 Best AI Writing Tools for Business
Many AI writing tool companies have focused on business writing at the core of their software. If you want to speed up your document creation or copywriting for products and websites, there are several helpful tools you can use.
Notion AI
Notion is one of the best tools for business users who need to create and organize documents within a company, and now it comes with a built-in writing assistant. The aim of Notion AI is to save you time in tedious writing tasks such as summarizing documents, creating action points, and providing insight details.
You can also use Notion AI to rewrite your document content, which will save lots of time if you have reports or detailed standard operating procedures to write.
Another Notion AI feature is the ability to brainstorm and generate ideas for your documents. For example, if you're looking for ideas for your next email campaign, simply ask it to brainstorm some options.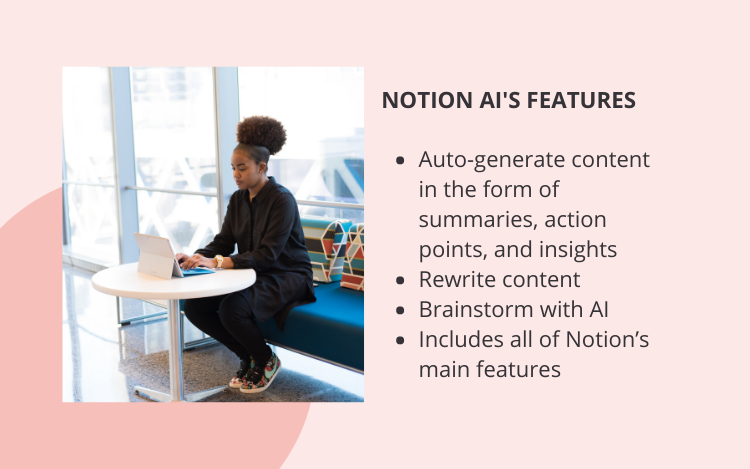 Copysmith
Copysmith is a copywriting generator which is perfect for ecommerce businesses who need to create on-brand copy for product descriptions or website content. When you're trying to think of a unique way to describe a product, the Copysmith writing generator will give you several options to pick from.
One of the biggest selling points of this tool is the product catalog import, which means you can keep track of all the products you have written copy for in one place. It even integrates with several ecommerce websites so you can upload your product descriptions straight away.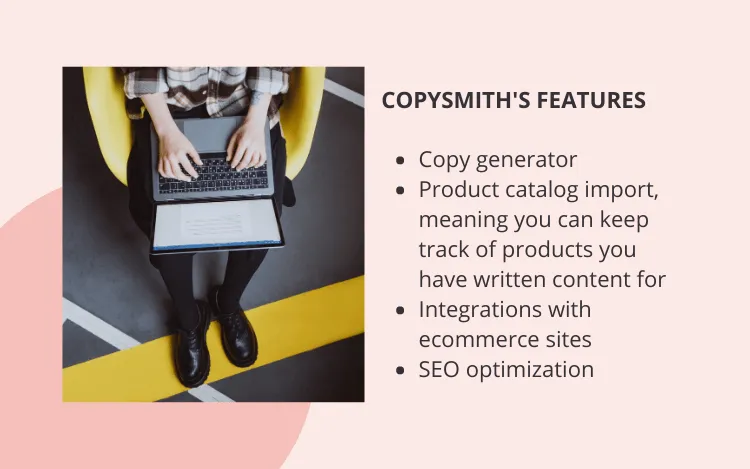 AnyWord
AnyWord is an AI marketing copywriting tool you can use to generate copy for all your marketing needs. You can create social media posts, email marketing campaign content, and website copy.
One feature that stands out in AnyWord is the copy intelligence platform, which allows you to check existing content to see how it compares to other existing marketing copy available online. You can use it to see how well your writing is performing compared to your competitors.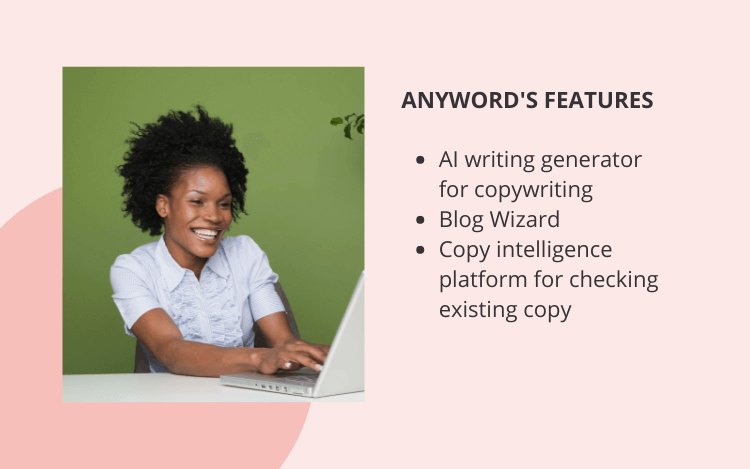 How to Select the Best AI Writing Tool
If you've checked our list, and you don't see a tool specific to your writing project, don't worry because there are plenty more tools on the market right now. Before you go searching for the perfect tool for you, there are several things you should consider during your search.
The most important part of AI writing tools is the AI models the developers build them on. For example, one of the most highly regarded AI models is called GPT-4, developed by OpenAI. 
Check the tool has all the features you're looking for. AI tools can be expensive, so you don't want to purchase more than one to get all the features you need. However, some tools integrate with others seamlessly to create a better quality package because each program specializes in its own area of expertise.
Test out any AI tools you're considering with a free trial. If they don't have a free trial, you could try emailing them to request a demo, as it's not worth paying for a tool that might not suit your needs. A good free trial will let you get a good idea of how useful the tool will be to your process.
While you're testing out the software, it's a good idea to consider the usability of it. How easy is it to learn the basic functions and features? Using an AI writing tool will feel different to begin with, as it's a new process to add to your flow. However, it shouldn't be hard to understand or too complex to use, otherwise you'll give up with it before you've made the most of it.
The last thing to consider is whether the tool actually saves you time. If you're getting to know a new tool, it might not be obvious how much time it will save you because you're still figuring the system out. However, try to think about how much time it will take to use the tool when you've fully integrated it into your writing process.
Conclusion on the Best AI Writing Tools
Remember that AI writing tools don't replace human writers or editors, but companies design them to save you time and help with writing tasks.
Thoroughly test all the tools you are thinking of using to make sure they're right for you. There are so many options, and each one comes with its own pros and cons. Check the pricing as well to ensure you're getting the best features for your money.
If you'd like to test out ProWritingAid for your needs, you can sign up for a free account. You'll be able to see what it's like to use an AI grammar checker to help you improve your writing and learn the best writing practices. You can even try out Rephrase, which will provide suggestions for rewriting your own content to make improvements on readability and tone. 
We hope this list and the tips we've provided will help you decide which AI writing tools will be useful for your writing tasks.
---