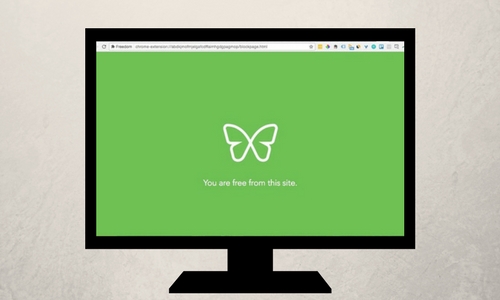 Do you get distracted easily when writing? Do you check Facebook, Twitter, and Instagram when your writing slows down or you reach a difficult section?
I had a very hard time with social media and writing in 2016 thanks to the US presidential election. I couldn't stand to not know what was trending. My productivity was cut in half, and I was working crazy hours just to keep up with demand.
So when my Editor at ProWritingAid asked me to have a look at Freedom, I was intrigued. The function of this app is to block time-wasting websites, apps, social media, and even email on all of your devices so you can focus on your writing.
How to use Freedom
When I write, there are so many distractions that pull me away. There's always email to check and apps on my phone send me notifications throughout the day that take my attention away from what I should be doing…writing.
Freedom lets you block all these distractions so you can focus solely on writing.
It's simple to use. When you download the app to your computer or laptop, it installs a friendly butterfly in your menu bar for starting a session, selecting a block-list to use, and selecting which devices you want blocked.
A "session" on Freedom is any number of hours and minutes that you select, and it blocks everything you tell it to.
The app has a web (browser) dashboard that lets you:
Add devices like your phone or tablet
Start a session, schedule one for later, or create a recurring session
Select from standard block lists or create your own custom lists
Here's what the dashboard looks like: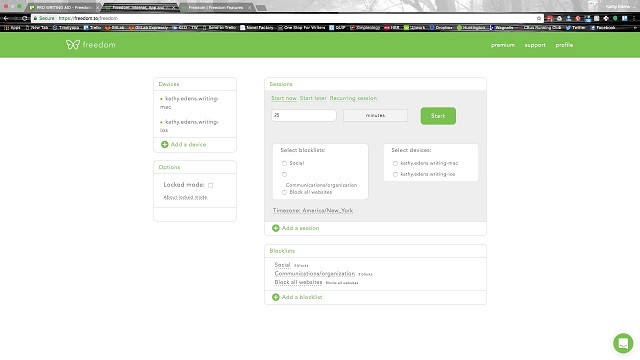 Once you get the hang of using Freedom, the handy quick link at the top is all you'll need to create a writing space free of distractions.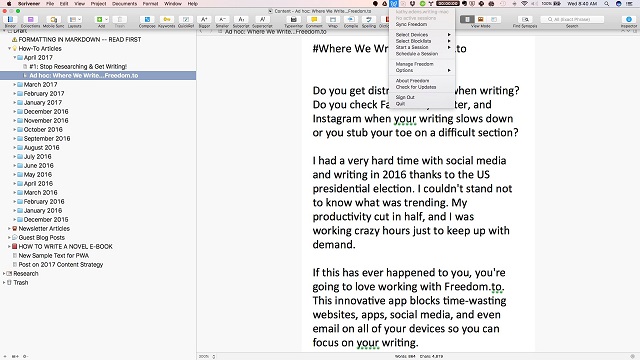 During a session, if you try to go to an app or website, you get a gentle reminder that "this website isn't working."
Here's what your browser looks like when you're in a session and try to visit a blocked website: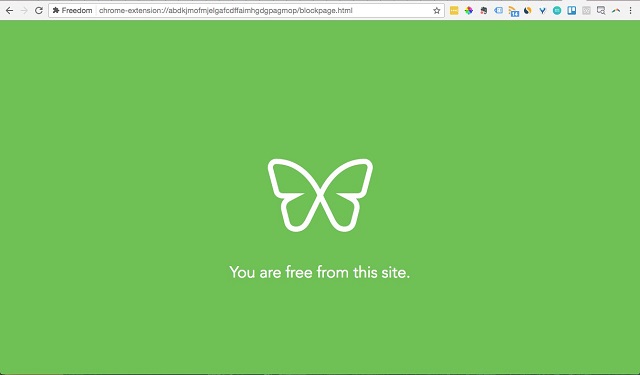 If something comes up and you desperately need to get to a website, you can stop your session.
But...if you don't trust yourself to stay on task, you can enable "Locked Mode", which means you won't be able to quit your session until it completes. No matter what!
Special features
You can create your own custom sessions that include exactly how much time you need to work and block lists you've created specifically for each session. For example, you may need to get a piece written, but struggle with checking communication apps and websites like WhatsApp, Trello, Slack, and more. You can create a custom block list that's easy to select when it's time to get to work.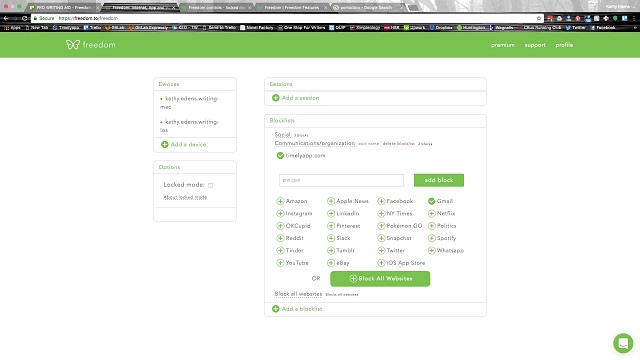 Or if you want to get really serious, you can block ALL websites, and ALL notifications on your phone. Freedom operates as your conscience, keeping you focused on what's important and eliminating procrastination.
Once you get the hang of Freedom and want to build long-lasting habits, you can use the advanced Locked Mode. This is serious. It locks you out of everything and you can't sign out on your devices until your session is over. If your willpower is weak, this is the boost you need to form new habits.
Benefits of Freedom
I have a bad habit of shifting my focus when I'm trying to figure out what to write. I'll look to my to-do list on Trello or check my TimelyApp schedule to see what I need to do today. I also focus too much time on communications like email, Skype, Slack, and other platforms.
Freedom takes the ability to act on that impulse away. I can't do anything but write when I'm in the middle of a session. It truly gives you the freedom you need to focus on your writing.
Another benefit is the opportunity to schedule recurring sessions. I found this incredibly helpful to solidify my morning ritual. I grab my morning cuppa and jump right in with a mind dump of everything in my poor little brain while I was asleep. I have a recurring session scheduled for 30 minutes first thing every morning. I can't check email. I can't dither away on social media or my to-do list. I can only write because Freedom automatically blocks my time-wasting weaknesses.
Finally, being able to extend this freedom to all your devices is a tremendous benefit. I can be in the middle of a writing session, and get distracted by a notification on my phone. Not anymore with Freedom.
Take it for a free test drive
You can use Freedom for free for 7 sessions to see if it helps you be more productive. If you subscribe to methods like the Pomodoro technique, Freedom helps you block out everything so you can crank out words when you need to.
In fact, Freedom helped me write this article in about half the time I normally take. There's something to be said for that.
Let us know in the comments below if you've used Freedom and what you think. If you haven't used it yet, give it a try, then come back and let us know how it worked for you.
Freedom have offered ProWritingAid users 50% off Freedom Yearly or Forever (no recurring charges!) plans. Use code PROWRITE
---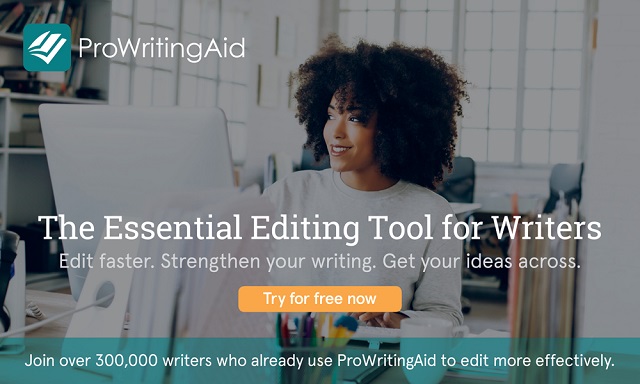 ---