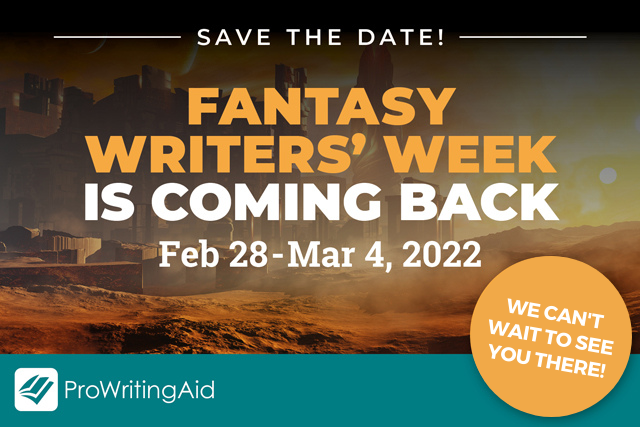 Do you have a whole world in your head just waiting for you to write it to life? Got a cast of fantastical characters and creatures ready to leap off the page? Then join us for Fantasy Writers' Week 2022, a week of free events just for fantasy writers.
This is the Fantasy Week Hub. When the event starts, this is where you'll find:
Your link to join the live sessions and networking events
The full Fantasy Week schedule
Your exclusive Fantasy Week offers
Replays of all sessions
Bookmark this page to be the first to see the Fantasy Week schedule for 2022.
Days Until Fantasy Writers' Week 2022
Fantasy Writers' Week 2022
If you love writing fantasy, this is the event for you. Join thousands of other fantasy writers to learn from the experts, find your community, and write your fantasy novel.
We're going to make next year's event better than ever—clear your calendar.
What can you expect? We're working on securing some of the biggest names in fantasy writing for you ready for next year. More details to come in January.
Join the Fantasy Writers' Fellowship
Join over 900 like-minded fantasy writers in our exclusive Fantasy Writers' Week Facebook community to share your successes, receive exclusive Fantasy Writers' Week news and content, and discuss all things fantasy.
See you there!