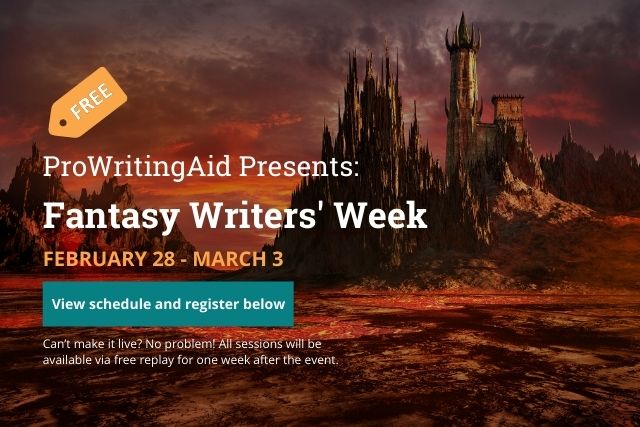 How to Register
It's easy to reserve your seat. Just add your email address in the box to the right and we'll send you everything you need to join in.
If you love writing fantasy, this is the event for you. Join thousands of other fantasy writers to learn from the experts, find your community, and write your fantasy novel.
---

Monday, February 28, 2022
Available free to everyone
Welcome from the ProWritingAid Team
10:00 AM EST / 3:00 PM UK
Presented by the ProWritingAid Team
Open Fantasy Writers' Week with the ProWritingAid Team as we reflect on what we love about the genre.
The Secrets of the Fantasy Genre
12:00 PM EST / 5:00 PM UK
Presented by Pages & Platforms
Developmental editors Anne Hawley and Rachelle Ramirez of Pages and Platforms present how to build, evaluate, and improve your fantasy story using four tools: marketing categories, story types, essential story elements, and world-building.
You will learn how to evoke empathy for your characters, create tension and excitement, provide emotional satisfaction for your reader, innovate within the fantasy genre, and finish a professional draft of your story.
The ProWritingAid Write-In: Fantasy
2:00 PM EST / 7:00 PM UK
Presented by ProWritingAid
Join us for the ProWritingAid Write-In as we work on prompts related to Fantasy Worlds as a group.
How to Use ProWritingAid to Improve Your Fantasy Manuscript
4:00 PM EST / 9:00 PM UK
Presented by ProWritingAid
Learn how to use the ProWritingAid editing tool to improve the craft of your writing.
---

Tuesday, March 1, 2022
Available free to everyone
How to Start World-building and Writing Your Novel
10:00 AM EST / 3:00 PM UK
Presented by Janet Forbes and Dimitris Havlidis
Published authors Janet Forbes and Dimitris Havlidis take you on a step-by-step guide to world-building your own settings - and how to start new novels - in Fantasy and SciFi settings! From finding inspiration and setting the foundations, to developing your plot idea and choosing the perfect main characters, this seminar walks you through the process of fleshing out your idea so YOU can get on with writing!
The 4 Fundamentals of an Immersive YA Fantasy Novel
12:00 PM EST / 5:00 PM UK
Presented by Stephanie BwaBwa
In this webinar, you're going to learn the four fundamental elements you need to craft an immersive, and unforgettable, YA fantasy novel your readers will both re-read and recommend to all their bookish friends.
How to Grow Your Author Platform Using Social Media
2:00 PM EST / 7:00 PM UK
A Conversation with Jessica Cage
Bestselling author and award-winning author Jessica Cage writes paranormal and urban fantasy that audiences love. She's also mastered the art of using social media to engage with her readers.
In this conversation, learn how Jessica plans her books and builds her platform.
A Wizard Did It: Magical Systems as Science in Fantasy
4:00 PM EST / 9:00 PM UK
Presented by Laura VanArendonk Baugh
Put a dozen fantasists in a room and lines will quickly be drawn between proponents of Sanderson's Laws of Magic, writers with encyclopedias full of crafting data, and some who turn up their hands and say, "I just make it up as I go." But magic is both character and setting in fantasy, and as soon as you have someone deliberately using it, you have a science, too.
Just as there are many ways to use character and setting, so must a writer know how to choose the best technique in this instance for magic and scientific magic. We'll cover broad theories, advantages and disadvantages of different approaches, and some tips for informing the reader how this magic is different than in the previous book she read.
---

Wednesday, March 2, 2022
Available free to everyone
How to Build a Magical World Grounded in Real-life Inspiration
10:00 AM EST / 3:00 PM UK
A Conversation with Tomi Adeyemi
Tomi Adeyemi is a Hugo Award winner, a Nebula Award winner, and a two-time #1 NY Times bestseller, as well as an acclaimed writing teacher. In this intimate conversation with ProWritingAid's Head of Education, learn how Tomi approaches her writing and editing process.
World Anvil Software Walkthrough
12:00 PM EST / 5:00 PM UK
Presented by Janet Forbes and Dimitris Havlidis
Join World Anvil Founders Janet Forbes and Dimitris Havlidis to learn how to use their software to plan your world, characters, and story.
Scenes: The Building Blocks of Story
2:00 PM EST / 7:00 PM UK
Presented by Savannah Gilbo
If you can learn how to write a scene that works, you can write a story that works. Join Savannah for an in-depth discussion about writing compelling and well-structured scenes that work every time.
How to Turn an Idea Into a Book
4:00 PM EST / 9:00 PM UK
A Conversation with Alex Aster
Alex Aster is the award-winning author of the Emblem Island series, the Lightlark series, and a graphic novel series. Her debut Emblem Island: Curse of the Night Witch received starred reviews from Kirkus & Publishers Weekly and was on Good Morning America. Learn how Alex built her author platform before she sold her book, as well as how she went from dreaming about an idea to selling a book.
Copyright Basics Every Author Should Know
6:00 PM EST / 11:00 PM UK
Presented by Robert Pimm
Do you need to worry about copyright law as a writer? How do you know if your work is protected? The legal side of writing is just as important as the words on the page. In this session, literary Lawyer Bob Pimm will walk you through a basic introduction to copyright law, so you know where you stand.
---

Thursday, March 3, 2022
Available only to ProWritingAid Premium Users
How to Find Fantasy in the Real World
10:00 AM EST / 3:00 PM UK
A Conversation with V.E. Schwab
Victoria "V.E." Schwab is the #1 NYT, USA, and Indie bestselling author of more than a dozen books, including Vicious, the Shades of Magic series, and This Savage Song. Her work has received critical acclaim, been featured by EW and The New York Times, been translated into more than a dozen languages, and been optioned for TV and Film. In this conversation, learn how Victoria finds inspiration in the real world.
Marketing Your Fantasy Book
12:00 PM EST / 5:00 PM UK
Presented by Sue Campbell of Pages & Platforms
One of the toughest, but most necessary, parts of being an author is tackling your own marketing. Too often, writers rely on tactics without having an underlying strategy and flail around like they've just landed in another realm.
You'll learn why marketing your book using a slapdash playbook of tactics from the internet is likely to fail, your number one book marketing goal, and the foundational 4-part book marketing strategy that will actually grow your audience of romance readers
Telling the Story Only You Can Tell
2:00 PM EST / 7:00 PM UK
Presented by E. Christopher Clark
In this session, we'll explore how to use writing exercises, visual prompts, and a regular writing practice to discover—or rediscover, as the case may be—our own unique voices. Before we sit down to draft an outline, revise a novel to meet market demands, or pitch an agent on what's sure to be a bestseller, we must learn how to tell the stories only we can tell.
Writing Romance in Fantasy
4:00 PM EST / 9:00 PM UK
Presented by Jenna Moreci
Whether you are writing a fantasy novel with a romantic subplot or a fantasy romance novel, there are certain elements all authors incorporating romance in their fantasy stories need to be aware of. Join #1 bestselling author and YouTube sensation Jenna Moreci to learn more.
---
Register Now
Fantasy Writers' Week 2022 is free to attend. Just enter your email address in the registration box below to save your seat.
If you have any trouble registering, contact us at hello@prowritingaid.com.
Enter Your Email Address Below to Register