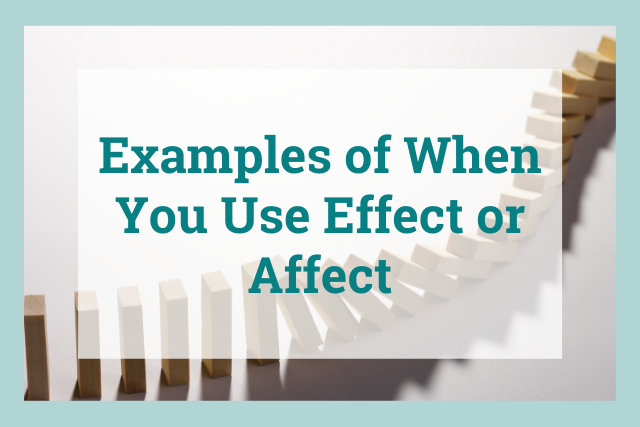 When you are writing, picking the right choice between effect and affect can be confusing.
They both stem from the Latin verb facere meaning "to do" or "to make." The words are rooted in the prefixes used with facere. Afficere is the root of affect, meaning "to do or have influence on." Efficere, meaning "to do" or "to carry out," is the root of effect.
In English grammar, both effect and affect serve as a noun and a verb. The purpose of this article is not to give you background knowledge, but to illustrate how to use the words correctly in context.
This article will help you see the words in action in example sentences so you can better understand the different uses, so let's look at effect first.
Effect as a Verb
Using effect as a verb applies to certain circumstances. As a transitive verb, effect has an object.
There are several meanings:
1) To cause to come into being
2) To put into operation
3) To cause to occur by overcoming obstacles
It's easier to remember effect as a verb when you think of synonyms:
| Bring about | Bring on | Cause |
| --- | --- | --- |
| Draw on | Do | Create |
| Engender | Generate | Invoke |
| Result in | Produce | Make |
| Translate into | Work | Yield |
Examples of Effect Used as a Verb
1) The mayor could not effect the parking laws because the city council stalled the vote.
2) Although many cattle owners tried for years, they could not effect a change in the breed standard.
3) Although the company brought in IT consultants, they had problems effecting change in how employees used the software.
4) All instructors will effect these changes on Monday to keep better attendance records.
5) The prisoner effected his escape with knotted bedsheets and towels.
6) Human Resources effected a change in the hiring policy in mid-May.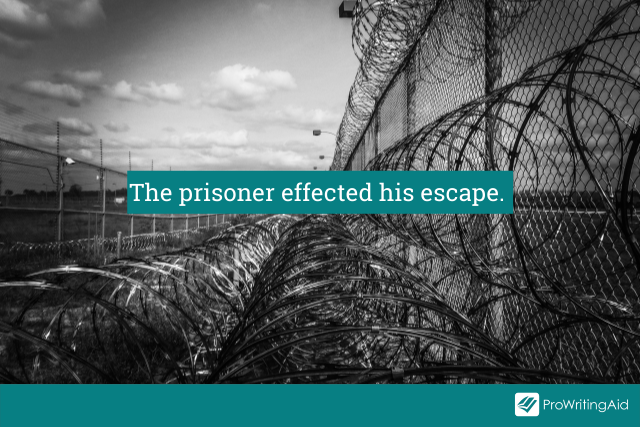 Merriam-Webster gives these examples from literature:
"Hitherto, while gathering up the discourse of Mr. Brocklehurst and Miss Temple, I had not, at the same time, neglected precautions to secure my personal safety; which I thought would be effected, if I could only elude observation."—Charlotte Brontë, Jane Eyre, 1847.

"As the whole progress of mathematics from its ancient simplicities to what we call its "higher" modern developments has been effected by assuming impossibilities and inconceivabilities, your line of argument does not seem to me conclusive."—Bernard Shaw circa 4 Nov. 1932, in Collected Letters: 1926–1950, 1988.
Effect as a Noun
As a noun, the word effect has several definitions. Let's take a quick look at them, along with some working examples.
1) A thing that inevitably follows a cause.
Example: Her singing had the effect of bringing the audience to tears.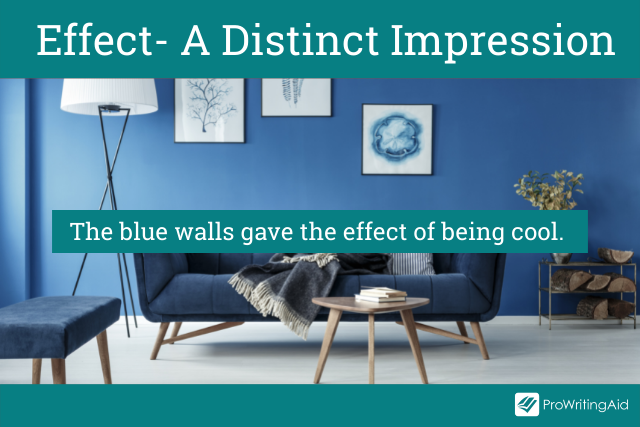 2) A distinct impression.
Example: The blue walls gave the effect of being cool.
3) Creation of a desired impression.
Example: Alicia's tears were purely for effect.
4) Something designed to create an impression.
Example: The 3-D effect made it feel as though you were on deck in a storm.
Example in plural form: The special effects created a terrifying future world.
5) The state of being in operation.
Example: The new rules for health and safety go into effect on June 1.
6) A power to bring about a result.
Example: The effect of social media distracts young people from face-to-face interaction.
7) An outward sign.
Example: The building's modern facade gave the effect of a new construction even though it was 70 years old.
8) Fulfillment or accomplishment.
Example: After months of training, the dolphin act effected a seamless performance that delighted the audience.
9) Intent.
Example: The effect of the maestro's sleight-of-hand dazzled the audience.
10) Essence.
Example: The effect of the ghost town was eerie and unsettling.
11) The plural is used to represent belongings.
Example: She threw all his effects out the front door after his betrayal.
You can see that when effect is a noun it has multiple uses in modern speech.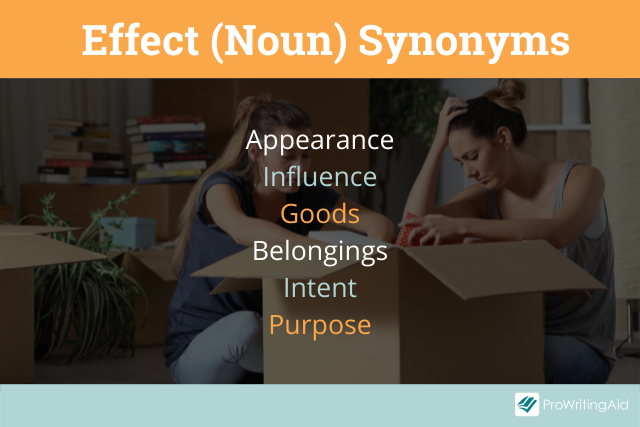 Examples of Effect Used as a Noun
Here are some publication examples from Merriam-Webster:
"The nation's most solvent individuals—private-equity barons—have not been immune from the ill effects of the credit crunch."—Daniel Gross, Newsweek, 3 Mar. 2008.
"Economic effects of such high speed change are also unpredictable and somewhat chilling…"—Genevieve Stuttaford, Publisher's Weekly, 29 July 1996.
Affect as a Verb
Using affect as a verb is common in the English language; much more common than effect as a verb.
As a transitive verb, the word affect has two basic meanings.
The first meaning is to produce an effect on something. (Aren't you glad we looked at effect first?)
Example: The rainfall this year affected all the plants in the garden.
Within this category are four subtypes:
1) To act on or cause a change in something or someone.
Example: The new construction at the airport affects traffic flow. Remember to arrive early.
2) To cause illness, or symptoms, in something or someone.
Example: COVID-19 has affected millions of people around the globe.
3) To produce an emotional response.
Example: His last urban planning trip to Afghanistan deeply affected him.
4) To influence someone or something.
Example: When she broke off the engagement, he tried not to let his emotions affect his decisions.
The second meaning of affect as a verb has to do with pretending or doing something noticeably.
This has three subtypes:
1) To put on on a false appearance or pretend to feel something.
Example 1: She affected composure as she walked to the podium to give her speech.
Example 2: Even though his heart was crushed, he affected nonchalance.
2) To wear something often.
Example: For many years, Alan Watts affected a walking stick.
3) To make a display of liking something or using something, or to cultivate ostentatiously.
Example 1: She affected a love of German opera during her graduate studies.
Example 2: The students affected a habit of irreverence on campus.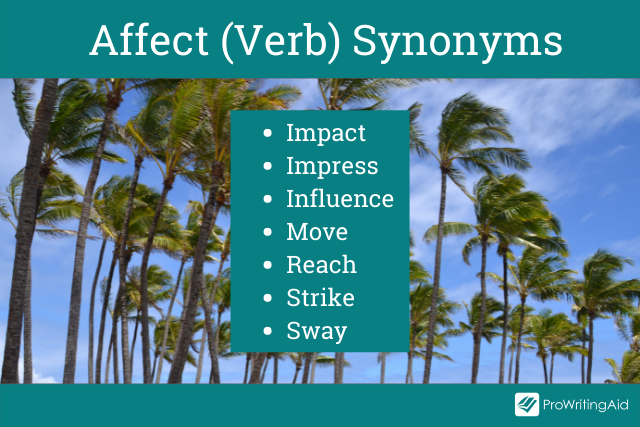 Examples of Affect Used as a Verb
1) Harold affected a use of middle-English words after studying Chaucer's Canterbury Tales.
2) Jason affected bad cop attire with a black leather jacket.
3) Frightened of the height, Jason affected a devil-may-care stance as he prepared to dive to the pool below.
4) He affected composure in front of the angry mob.
5) The new on-campus structures affected student behavior off-campus, causing local disapproval.
6) Disregard of vaccination precautions needlessly affected children with measles.
7) Darrell did not know how his inattention affected Josie just when she needed support.
8) The new corporate guidelines affect how all employees respond to sexual bullying.
9) Every book Laura reads affects her emotions for days afterward.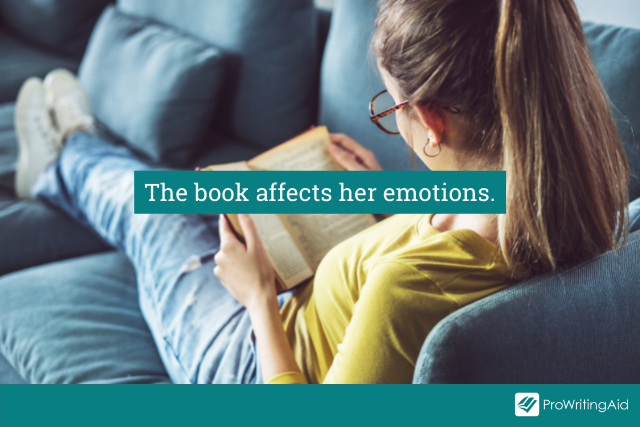 10) Clinical as he was, the surgeon affected an air of concern talking to the trauma victim.
Merriam-Webster gives these examples from real life online publications:
"At a special board meeting Tuesday night, the Southwest Ohio Regional Transit Authority announced a new contract with Cincinnati Public Schools that will affect for thousands of students."—Cameron Knight, The Enquirer, 29 July 2021.
"Thomas recommends people who have a family history of high blood pressure and diabetes, those who carry excess weight, and workers of certain jobs that affect sleep and circadian rhythms (i.e. shift work), get screened for diabetes."—Darcel Rockett, chicagotribune.com, 26 July 2021.
Affect as a Noun
The meaning of affect as a noun comes from the discipline of psychology. The original meaning refers to an individual's overall demeanor and includes facial expressions, body language, gestures, vocal tone, and other indications of how a person presents to the outside world.
Example: Her affect was aggressive as if she were fighting off the world.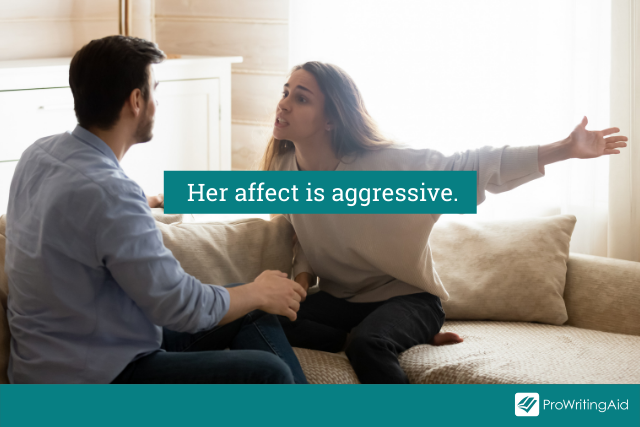 The second meaning is a conscious emotion that emerges because of an act or experience.
Example: All the girls displayed a positive affect after the extended vacation announcement.
Examples of Affect as a Noun
1) She had the affect of a teenager even though she was well into mid-life.
2) After hours of interview and interrogation, the suspect's affect changed from belligerence to friendly.
3) Her affect in the courtroom during the entire trial was flat, unmoved by the horrors she'd committed.
4) As the detective probed, his facial expressions diminished so his affect was flat, without emotion.
Here are some published examples from Merriam-Webster:
"Many of these young killers display an absence of what psychiatrists call affect. They show no discernible emotional reaction to what they have done."—Richard Stengel, Time, 16 Sept. 1985.
"The way people respond to this is sometimes called depressed affect—a sort of mental shifting into neutral that psychologists say also happens to prisoners of war, submarine crews, and other people in confined situations with little stimulus."—Susan West, Science 84, January/February 1984.
Are Effect and Affect Homophones?
Although the two words have a language root, they are not true homophones because they are pronounced differently.
Homophones are words that sound the same but have different meanings and spellings. ProWritingAid's Homonym Report spots the words in your text and highlights them so that you can check that you are using each correctly, whether a noun or a verb.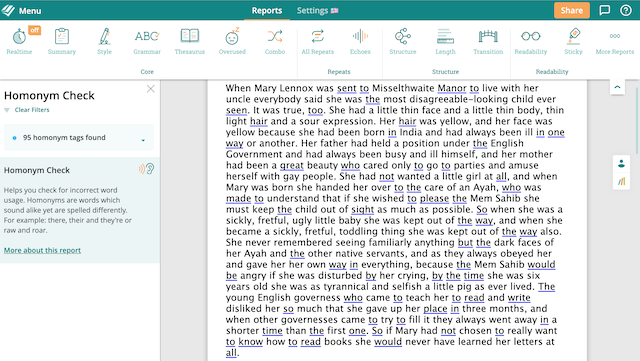 Effect vs. Affect Summary
The words effect and affect are both about doing, but doing in different ways.
Effect as a verb is about becoming.

Effect as a noun is the essence of the change.

Affect as a verb is about making a change.

Affect as a noun is the emotional appearance.
Although effect as a verb and affect as a noun, are not common usage, that commonality doesn't matter. What is important for using the words correctly is their context in a sentence.
In building vocabulary, quick tricks can lead you astray. Use each word to create the effect you want in the sentence. You'll affect your vocabulary usage to good advantage.
---
Take your writing to the next level: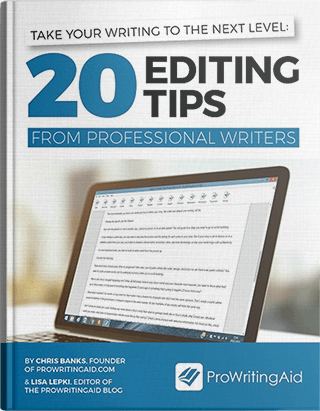 Whether you are writing a novel, essay, article, or email, good writing is an essential part of communicating your ideas.
This guide contains the 20 most important writing tips and techniques from a wide range of professional writers.