Thank you so much for joining us for Crime Writer's Week! This event has now passed. Replays of all Crime Writer's Week sessions can be found on the ProWritingAid Academy course platform.
We host a full schedule of free writing events every month. Don't miss out—sign up to our newsletter to keep up to date.
---
Access the Crime Week Replays on ProWritingAid Academy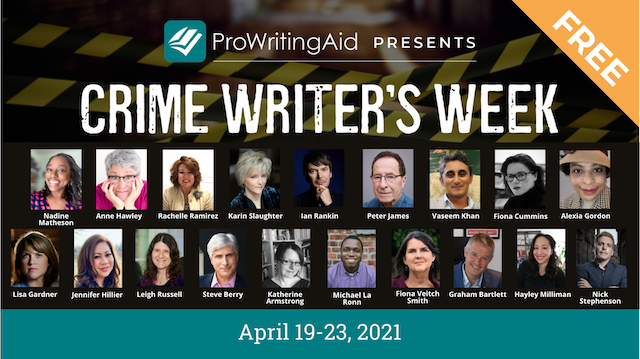 Build your writing skills, find your writing community, and get your ideas out there with our course platform, ProWritingAid Academy! Are you craving accountability and support? There's no better place to continue your writing journey. 
As a member of ProWritingAid Academy, you get access to:
Premium, on-demand courses (including Crime Writer's Week)
An exclusive writing community
A free, monthly 30-day writing challenge
Biweekly live interactive workshops 
May's 30-day writing challenge: The Perfect Crime (Novel)
Included: May's Writing Challenge
Our next live writing challenge begins on May 1, and it's especially for crime writers. The Perfect Crime Story challenge will help you:
Ratchet up the tension in your scenes
Add more depth to your characters
Ensure your plot is airtight
Deepen your book so your readers can not put it down
If you are serious about writing something unforgettable, then this is the bootcamp for you. 
Join us today to save your spot and access the replays.
---
Crime Week Schedule At a Glance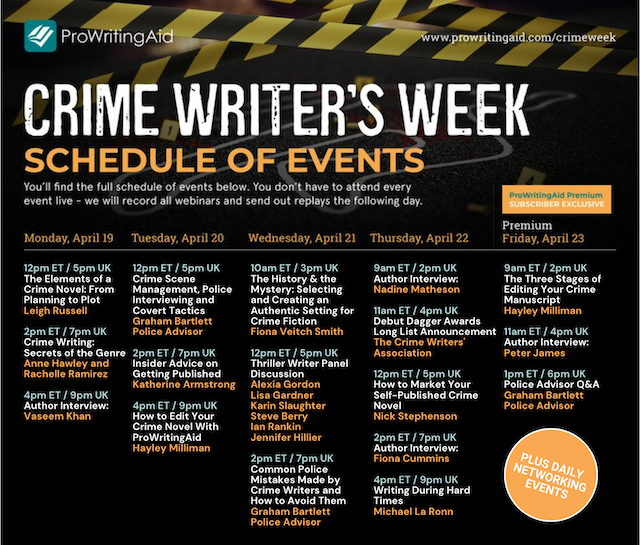 Click on the image to enlarge.
Crime Week Full Schedule—What We Got Up To
Replays of all of the events below are available on ProWritingAid Academy. Join us over there now!
The Elements of a Crime Novel: From Planning to Plot
Presented by: Leigh Russell, Bestselling Author
Every genre requires a unique approach, and crime writing is no different. In this session, internationally bestselling crime author Leigh Russell will take you through the key elements of the crime writing process.
Crime Writing: Secrets of the Genre
Presented by: Anne Hawley and Rachelle Ramirez of Pages & Platforms
Do you have an idea for a mystery, heist, or puzzle story but don't yet know how to structure it? Got some bad deeds, clues, and some scenes that don't really work together or entertain? Want to introduce moments of heightened danger and plot twists into your writing? You're in the right place. In this webinar, you'll learn the crime story essentials so that you can create intrigue for your readers and have them recommending your story to others.
Interview with Vaseem Khan
Interviewed by Hayley Milliman, Head of Education at ProWritingAid
Vaseem Khan is the award-winning author of two crime series set in India, the Baby Ganesh Agency series, and the Malabar House historical crime novels. His first book, The Unexpected Inheritance of Inspector Chopra, was a Times bestseller, now translated into 15 languages, and introduced Inspector Chopra of the Mumbai police and his sidekick, a one-year-old baby elephant. Khan works at University College London's Jill Dando Institute of Security and Crime Science.
Crime Scene Management, Police Interviewing and Covert Tactics
Presented by: Graham Bartlett, Police Advisor
Retired detective, bestselling author and advisor to over eighty crime novelists and TV writers, Graham Bartlett will help your WIP ooze authenticy. Learn how police use mobile phones, vehicles, CCTV, and social media in their investigations, as well as authentic police interview techniques (avoiding the good cop/bad cop trope) that are used by police today. Getting police tactics right is essential if you want to write a realistic and sizzling crime novel.
Insider Advice on Getting Published
Presented by: Katherine Armstrong, Deputy Publishing Director, Crime & Thriller Fiction, at Simon & Schuster
Read Katherine's Cover Letter Dos and Don'ts.

See Katherine's writing and publishing booklist.
The session is intended to demystify the publishing process for writers, give advice on how to get published and answer any questions you might have about traditional publishing.
How to Edit Your Crime Novel With ProWritingAid
Presented by: Hayley Milliman, Head of Education at ProWritingAid
It doesn't matter how many hours you spent meticulously crafting your crime novel's plot. If your writing isn't clear and effective, your readers won't engage with it. That's where editing technology can help. In this workshop, we'll dive into how to use ProWritingAid to make key edits to your crime manuscript.
The History & the Mystery: Selecting and Creating an Authentic Setting for Crime Fiction (10 AM ET / 3 PM UK)
Presented by: Fiona Veitch Smith
Fiona Veitch Smith is the author of the Poppy Denby Investigates novels, Golden Age-style murder mysteries set in the 1920s (Lion Fiction). Fiona will give tips on how to research and build an historical fictional world and the importance of selecting the right investigator within the constraints and possibilities of the period.
Thriller Writer Panel Discussion
Presented by: International Thriller Writers (ITW)
Award-winning author Alexia Gordon will be joined by four of her fellow International Thriller Writer's Association members for a lively discussion around the joys and pains of writing thrillers. Expect great tips and life lessons from these popular writers as they discuss their writing journeys so far.
Moderated by Alexia Gordon
Panelists: Steve Berry, Lisa Gardner, Jennifer Hillier, Ian Rankin, Karin Slaughter
Common Police Mistakes Made by Crime Writers and How to Avoid Them
Presented by: Graham Bartlett, Police Advisor
Graham will be back again to share the most common errors that authors get wrong in their crime novels. Who really runs a homicide investigation? When does a missing person report become a murder enquiry? Find out the answers to these and many more bloopers that could spoil your next bestseller.
Author Interview: Nadine Matheson
Nadine Matheson has always been passionate about writing and storytelling. She was born and lives in London and is a Criminal Solicitor. In 2016, she won the City University Crime Writing Competition and completed the Creative Writing (Crime/Thriller Novels) MA at City University of London with Distinction in 2018. 
Her crime novel, The Jigsaw Man, was published by HQ earlier this year.
Debut Dagger Awards Long List Announcement
Presented by: The Crime Writers' Association
For over two decades the CWA has been encouraging new writing with its Debut Dagger competition for unpublished writers. The submissions are judged by a panel of top crime editors and agents.
How to Market Your Self-Published Crime Novel
Presented by: Nick Stephenson, Crime Author and Founder of Your First 10k Readers
Marketing your book comes down to mastering three key things: traffic, conversions, and scaling up. With the right systems in place for these three things, you can grow your readership and sales without spending your entire day 'worrying about marketing'. Join USA Today Bestselling author Nick Stephenson as he breaks down some real-world results using examples from his Crime/Thriller series (and others too) and shows you how to find your first 10,000 readers by implementing these three core strategies.
Interview with Fiona Cummins
Interviewed by: Lisa Lepki, CMO at ProWritingAid
Fiona Cummins is the award-winning author of Rattle, The Collector and The Neighbour. Her work has received widespread critical acclaim from authors including Ian Rankin, Val McDermid and Lee Child. We'll be chatting to her about breaking into the world of crime writing, and what it's like to see her fourth book, When I Was Ten, being adapted for television.
Writing During Hard Times
Find out how to thrive as a writer no matter what life throws your way. Life happens. When it does, will you be able to keep writing and publishing books? Writing in Hard Times will help writers stay productive, using the basic principles of disaster planning to help them survive hard times such as: recessions, pandemics, injuries, illness, natural disasters, and much more.
The Three Stages of Editing Your Crime Manuscript
Presented by: Hayley Milliman, ProWritingAid's Head of Education
As nice as it would be, writing your crime novel isn't over when you type "The End." In fact, the actual work is just beginning. During the editing process, your novel will go from rough first draft to thrilling final manuscript. In this workshop, Hayley will walk you through the most important edits you should make to your manuscript to ensure it's publish-ready.
Interview with Peter James
Interviewed by: Lisa Lepki, CMO at ProWritingAid
Peter James has become synonymous with plot-twisting page-turners, and has won over 40 awards for his work and achieved 17 Sunday Times Bestsellers to date. Learn from the master what it takes to write gripping crime novels that keep readers hooked.
Police Advisor Q&A
Presented by: Graham Bartlett, Police Advisor
This is your chance to bring YOUR questions about police work and crime scene investigations to Graham Bartlett, retired detective, best selling author and advisor to over eighty crime novelists (including Peter James).
---
Replays of all the events above can be found on the ProWritingAid Academy course platform.