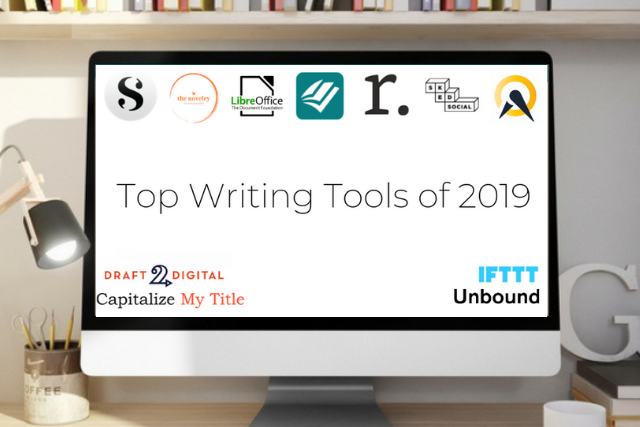 Put these writing tools on your resolution list and get ready to make a clean start in the New Year.
The Day Job
Writing Apps
#1: Scrivener
It had to be you.
At The Novelry, we have tried them all: Ulysses, Novelr, and more. We are unanimous that if you're tackling a big project, the organizational engine of Scrivener will ensure everything goes off to plan. 
Who uses Scrivener? Authors, journalists, copywriters, lawyers, novelists, screenwriters, students, translators... If you're tackling a major document, go for it.
Scrivener for iOS won both Productivity App of the Year and overall UK App of the Year at the UK App Awards 2017.  Scrivener 3.1.1 has just launched (November 2018) and the list of updates and additions is very long and comprehensive.
In truth, Scrivener works best for Mac. The Windows version is less virtuous but still worth getting.
#2: ProWritingAid
Use ProWritingAid to polish your prose. It will keep an eye on clichés and make sure your sentences are short and snappy. That's important. It will pluck out passive writing and score your writing for readability showing you where you can improve your style.
The app analyzes your writing and presents its findings in over 20 different reports (more than any other editing software). Over 700,000 writers use ProWritingAid to spare their copy blushes.
You can keep track of your writing style with a neat integration of ProWritingAid and Scrivener. They work very well together. ProWritingAid imports your Scrivener folder into its platform and gives you a detailed analysis of how you're writing. (Of course, you should be a control freak!)
I use ProWritingAid for that final finesse, but you may also find Grammarly useful.
#3: LibreOffice
LibreOffice has a number of great features, including a clean and sophisticated word processing layout and support for a vast number of file formats. You can create everything from a simple memo to a complete book using the online editor, which makes it a great choice for people looking for a word processor for all types of projects.
Social Media
Here are the smart workarounds that will save you time and money this year and beyond.
#4: Schedugram 
Schedule your Instagram posts beautifully with Schedugram. You get a nice visual display of previous posts and forthcoming allowing you to really consider the look of your wall. 
Check out The Novelry's Insta wall! It's pretty.
#5: IFTTT 
Next, configure IFTTT to relay those posts through Facebook, Twitter, Tumblr, Pinterest and more. This will save you heaps of time and the Insta-sized posts (now at 1200 x 1200 px) will look just fine and dandy on every channel. It's FREE and it's genius!
Bye bye Hootsuite headache!
Scheduling
The easiest way to embed your diary and create appointments for customers and one-to-one chats by far is Acuity. We tried them all, and while it's not that beautiful as an interface and the customization is limited, it functions robustly, allows for custom reminders and accepts payments.
New Year. New Ambition?
Publishing a Book
#7: Draft2Digital
Draft2Digital made major updates and improvements in 2018, adding Amazon to their book listing engine so that even if you're listed on the e-commerce giant you can now list with Draft2Digital too.
If you're writing an e-book and want to get published, start here. Draft2Digital take just 10% of the sales price. What's more, with D2D Print, they've extended their remit to the real world of printed paperbacks and bookshops via Baker & Taylor, who will handle for you the printing and distribution of your work to stores.
Baker & Taylor is the world's largest distributor of digital and print books worldwide, to thousands of libraries, publishers, and retailers. As a library distribution partner, Baker & Taylor will further enhance D2D's reach into public libraries around the world. This improves indie author reach to the estimated 1.5 billion customers who visit libraries each year. Over the past six months Draft2Digital authors have seen a 133% growth in library revenue.
They assign you ISBNs too. Bye bye, Neilsen costs! This should be your go-to solution for publishing in 2019.
But... if you're after a major publishing adventure and don't want to go it alone....
#8: Try Unbound 
This is a radical new approach to publishing through crowdfunding. Unbound offers a team of publishers, writers, editors, and designers who take care of the whole process, from manuscript editing to shipping the first editions.
You retain 50% of your sales and you get a powerhouse of public relations and noise as the community cheers you on. Paul Kingsnorth, who wrote 'The Wake', got onto the Man Booker long-list when he published with Unbound. 
Unbound accept submissions for unfinished books if they think your idea (and writing sample) is of a high enough quality.
How To Get Published
#9: The Novelry
And if you want to secure a traditional publishing deal with the likes of Penguin, head to The Novelry.
The step-by-step program hothouses writing talent with writing courses of a high standard taught by an award-winning author or two to a deadline with live online teaching, practical and provocative content on a beautifully designed platform online which guides you daily on your path to publishing glory. The Novelry has an affiliation with a leading literary agency and passes outstanding new talent their way so the road to literary fame is carefully plotted and planned all the way to a happy ending.
The course can be gifted and it's truly the ultimate gift for writers. A big surprise for the aspiring novelist you know. 
Little Extras
#10: Your Stocking Fillers
These are natty little sites which are incredibly useful (even if it's embarrassing to admit!)
Because sometimes it eludes the best of us... Whether you're writing ads for Google, SEO titles, or working on the big novel, sometimes you forget quite how to title it. Head to Capitalize My Title. Phew. Job done.
Want to convert a PDF document to Word, edit or compress a PDF? It's free and functional with SmallPDF.
A cheap and cheerful way to check your writing is offered to you with the compliments of the charming Count Wordsworth. Check the number of times you use a certain word. You may be surprised at what seeds you're sowing in the subconscious of the reader!
In the first book of The Bible, "behold" occurs more commonly than "there", "as", "went" and "we". For an analysis of the cunning repetitions of words to seduce the reader in 'The Great Gatsby', you may enjoy this blog article.
In search of an idea for that novel you're meant to write? How about writing one you never meant to write. Check out this super party game starter, the Random Logline Generator! I hit the page while writing this and found the idea for my next novel in less than 5 seconds. 'A telephone operator gives advice to the anachronistic adopted daughter of a magician in Scotland.' Why have you been fretting over your big idea for so long, you will ask yourself.
Want to keep track of the things which will make you seem smart at this year's social functions? Fancy dropping a learned quotation over a canapé or two? Now you can bring all those highlighted passages from your Kindle or iPad iBooks into one place. Sign up to Readwise. 
Wishing you a Happy New Novel in 2019.