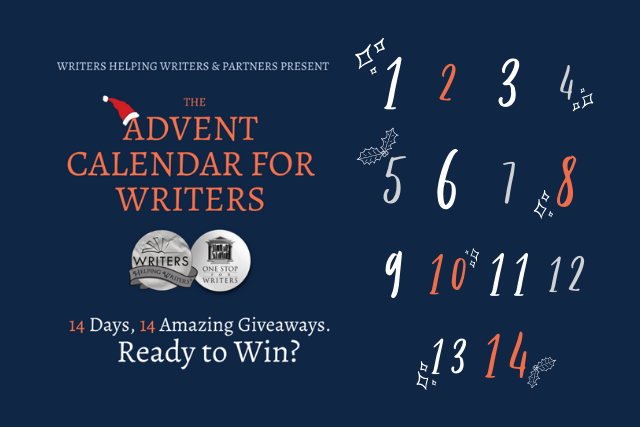 The Countdown to Better Writing Has Begun!
Hi ProWriters! Here at ProWritingAid we love searching out the best deals and opportunities for writers from across the web—and today we've found a good one.
This year, count down to Christmas (and better writing!) with The Advent Calendar for Writers. It works like a normal advent calendar: open a door, get a treat. But instead of a tiny piece of chocolate, you'll find a fantastic giveaway to enter thanks to the folks at Writers Helping Writers.
How Does It Work?
From the 1st to the 14th December, a new giveaway will be hidden behind a door over on the Writers Helping Writers website. Just follow this link, click the window, and it will take you to the most current giveaway.
We're super excited to be sponsoring the event this year. (If you're a ProWritingAid fan, we think you'll love what you can win on December 6th!)
There's a stunning $2,300 worth of prizes to be won, so it's worth checking back each day to see what has been revealed.
You could win:
1-to-1 Coaching Sessions
Workshops and Free Courses
Memberships to Writing Communities
Subscriptions to Writing and Editing Tools
Professional Editing
A full Manuscript Review Package
...and so much more!
The Advent Calendar for Writers:
14 days.
14 Advent windows to open.
14 amazing prizes with a combined value of over $2,300!
Prizes Announced So Far:
Dec 1: A Marketing Consult with NYT Best-Selling Author Eva Lesko Natieillo
Dec 2: A 1-Year Subscription to Fictionary Storyteller
Dec 3: A First Chapter Edit by Fawkes Editing
Dec 4: A Complete Manuscript Feedback Package by The Spun Yarn
Dec 5: An OnDemand Writing Workshop with Jami Gold
Dec 6: A 1-Year License for ProWritingAid Premium
Dec 7: A 1-Year Subscription to One Stop for Writers
Dec 8: A Seat in Anatomy of Prose: The Senses Course
Dec 9: A 1-Hour Coaching Session with Christina Kaye
Head over to the Writers Helping Writers website for more information on how to claim your prize draw entries!