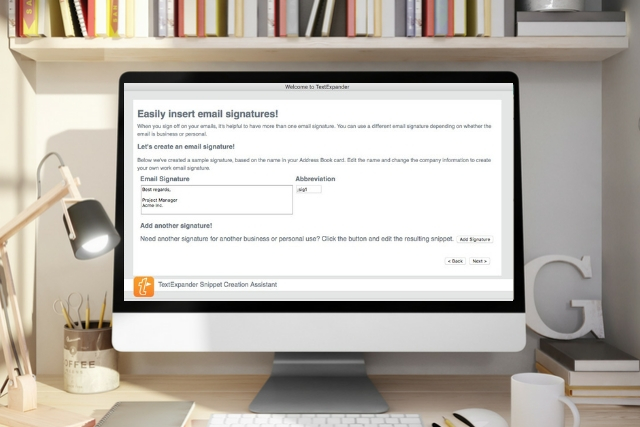 Since we love technology that makes life easier, we're bringing you a new app we found: TextExpander.
Regardless of whether your writing is academic, business, technical, fiction, non-fiction, or just emails to friends, you probably have lots of words and phrases that you use over and over again.
TextExpander lets you create "Snippets" of commonly used words to automatically insert into your text.
For example, let's say you've figured out your elevator pitch for your newest manuscript and you're ready to shop it around. Instead of typing that same two-sentence elevator pitch dozens of times in emails to agents or publishers, or copying and pasting from one email to another, you can create a Snippet that automatically fills it in for you.
Maybe you want a snippet that fills in your web address or social links? Or your biography? Or a template version of your cold approach email that you can then modify for your specific target.
Or, if you are an editor or beta reader, you may find that you often give the same feedback over and over: "Flesh out this section", "Inconsistent", or "Remove passive voice here. Passive voice is problematic because…".
But TextExpander is more powerful than that. Let's take a closer look.
Getting started
Create a free TextExpander account to take it for a test drive. Then download the app to your laptop, phone, or tablet. Here's what it looks like when you first open the app: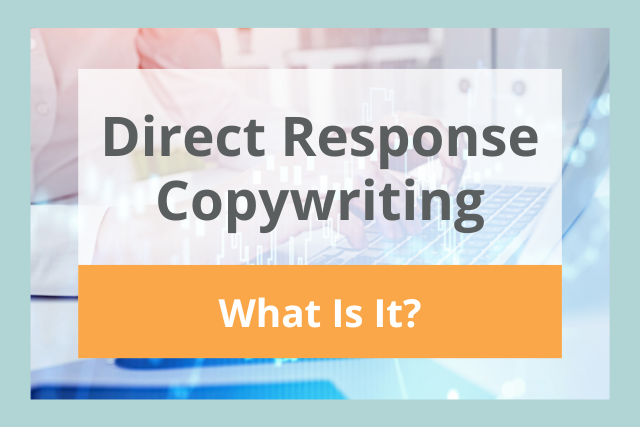 If you have the time, watch the intro video. It offers a great introduction to the app and how best to use it. You have the option to show this screen each time you open the app, so don't worry about trying to access everything on it the first time. When you're done, click on "Close" in the lower right-hand corner, and you'll be taken to the Snippet Creation Assistant, which is where the magic happens.
Using the Creation Assistant
The Snippet Creation Assistant walks you through how to create Snippets for just about any scenario you can think of. Here are a few of our favorites.
Date and time
How often do you need to add today's date or time to something you're writing? Or say you keep a journal on your WIP. You can create a Snippet to insert the date and time for your journal entries to save you time typing them. In the screenshot below, anytime you type in the abbreviation "ddate", TextExpander automatically fills in today's date like: October 1, 2018. (Yes, I just typed the abbreviation.) Here's what the "ttime" looks like: 10:40 AM.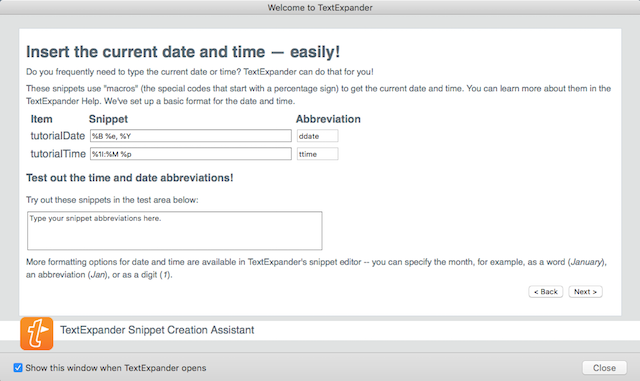 You can change the formatting and options in the Snippet editor; more on that in a minute.
Email signatures
If you're like many writers, you have different email signatures you use depending on who you're writing. I have one email signature for clients, another one for prospects, and a third one for vendors and contractors I work with. It's simple just to type in "';sig1" to fill in the email signature I want.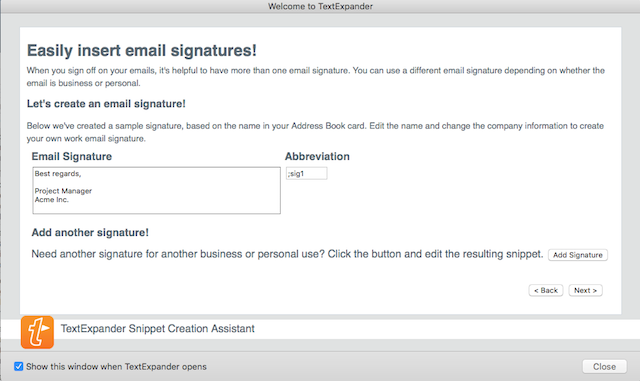 Again, this is just the Creation Assistant you have access to each time you start the app. But once you get the hang of these, it's easy to see how you can apply the same rules to different scenarios. Then it's easier to use the Snippet editor to create your customized Snippets.
Make sure you take the time to go through all the screens in the Creation Assistant. It shows you how to create everything from a boilerplate email letter to a multiple "fill in the blank" document.
Let's look at the editor next.
Editor
Here's where you can customize your Snippets. You have all the ones from the tutorial in the Creation Assistant like "ddate" and "ttime." You can change them or reformat them in the editor by clicking on the Snippet in the left-hand side of the screen.
This is what the editor looks like if you want to reformat or change the "ddate" Snippet: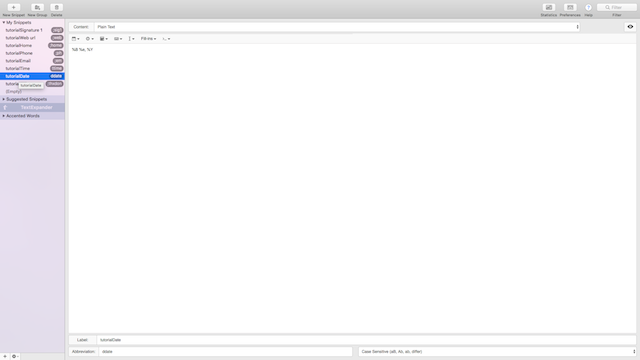 Notice in the main editor screen, you have several "%" and other characters. That's the TextExpander code that tells the app what to insert into your text. The menu bar above it is how you change formats, insert new procedures, and generally make your Snippet ultra-powerful.
Let's say you want to change the format of your date Snippet from October 1, 2018 to 10-1-18. The first icon that looks like a calendar on the menu bar gives you these formatting options: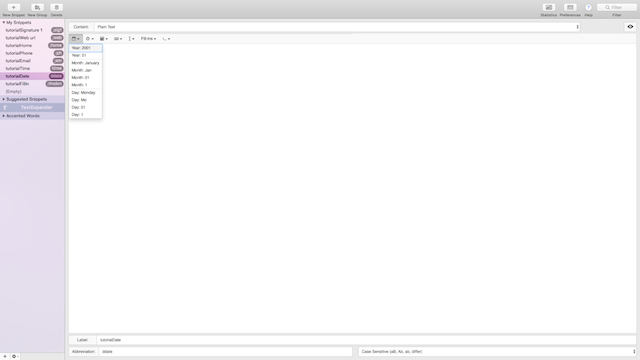 Here's what the remaining icons are for:
Time: This is where you can change the time format to include the hour based on a 12 or 24 hour clock and down to the minutes and seconds.
Calculator: The calculator icon lets you add or subtract years, months, days, hours, minutes, and seconds in your Snippets. For example, say you often send emails to a client requesting their feedback within 14 days. Instead of figuring out that date and entering it every time, you can create a Snippet with today's date and add 14 days to it. This is one scenario the Creation Assistant walks you through so you don't have to figure it out on your own.
Functions: You can add functions to your Snippet like "Enter," "Return," "Tab," and others. This helps you move through fields (e.g., tabbing from the email subject line to the body of the email) or separate paragraphs with returns.
Cursor: You can also tell TextExpander where to position your cursor in your favorite program so you're ready to type.
Fill-Ins: This is the advanced part of Snippets. You can add data fields to your Snippets that let you automatically fill in information that may change. For example, say you send an invoice to a customer every month for hours you've worked. The only thing that changes is the number of hours worked. So create a Snippet of the entire invoice with a popup box that asks you to fill in the number of hours you worked that month.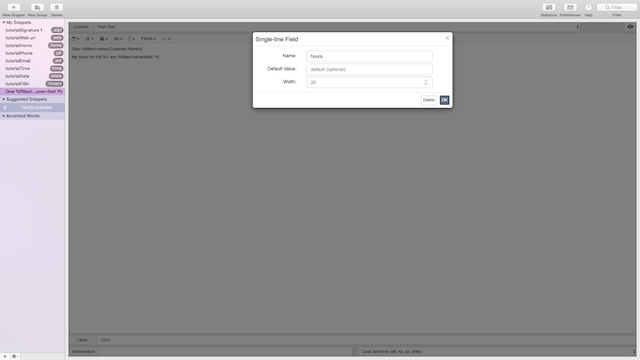 In the above screenshot, I'm entering a "Single-line Field" called "hours" into a new Snippet. This will generate the monthly invoice to my client and let me manually enter the hours each month while it auto-generates the rest of the invoice.
Think of all the time you spend on repetitive wording, phrases, even inserting web links. TextExpander can automate anything you write.
Final thoughts
The app is smart, too. It watches what you type and if you repeat words or phrases, you'll get a popup notice on your screen that maybe you should create a Snippet. (The app suggested in the first 5 minutes of writing this article I add "TextExpander" and "Snippet" to my Snippets.)
If you were JK Rowling, you might want to add "Hogwarts School of Witchcraft and Wizardry" to your Snippets.
Try it out and let us know what you think!