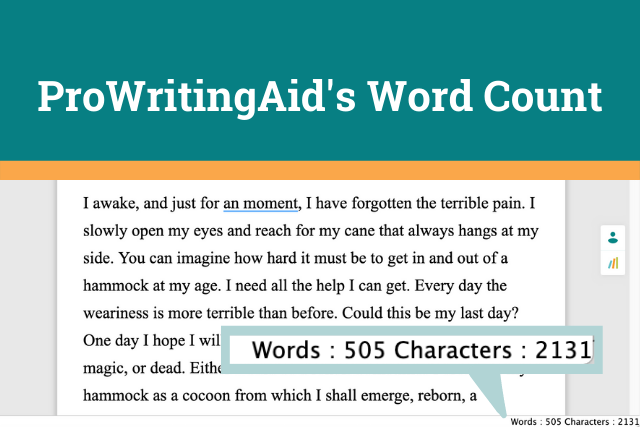 You may have noticed that ProWritingAid's word count differs from others, like MS Word, Scrivener, Google Docs, and even Grammarly. There's a very simple reason for it: each program counts words with apostrophes, numbers, hyphens, commas, periods, and other characters differently.
Examples
How many words would you say are in the following:
ISO 9001:2015—Some programs count these are 3 and some as 2
And/or—You and I see 2 words, but some counters only see 1
Jane@xyz.com—Programs can count this as 1, 2, or 3 words, depending on the algorithm
Numbers like 123.45, $567.89, 89%—Some programs count them as a single word, others as 2, and some even count them as 3
www.AnyWebsite.com—URLs are generally counted as either 1 or 3 words
Under_score—The majority count this as 1 word, with some counting it as 2
a.m.—Some programs count this as 2 words while others count only 1 word
Wouldn't—Contractions mostly count as 1 word, with a few stragglers counting them as 2
How popular programs count words
Algorithms count words in software programs. Some of them, like MS Word, look for spaces between words to consider the boundaries between words. These types of programs will consider and/or as a single word because it contains no spaces. These algorithms will generally return word counts that are lower than other programs.
Some programs use their algorithm to find spaces and special characters between words. For example, February:March would count as 2 separate words, even if there are no spaces on either side of each word. You'll get a higher word count with this algorithm.
Other algorithms handle numbers and apostrophes differently. They may count periods and commas in numbers as word separators. Thus, $6,123.45 would count as 3 words. It's crazy, but it happens. And it gives back a much higher word count than other programs.
Optional word counts
Some programs have options to let you control what characters are word separators. The drawback to this algorithm is that a single text could end up with highly varied word counts depending on the options chosen.
Whatever program you choose for writing your manuscript or content, stay consistent. If you turn in work via MS Word most of the time, stick to MS Word for everything. If you write in Scrivener, but compile your manuscript into MS Word, stick with the word count in MS Word's algorithm.
Break Down Your Writing Style Stats with ProWritingAid
ProWritingAid was built not only to help you edit your own writing, but to understand it better, too.
Our reports give you the stats on your document's readability, sticky sentences, grammar and spelling, sentence lengths, jargon words, transitions and more.
Try ProWritingAid's Editor For Yourself