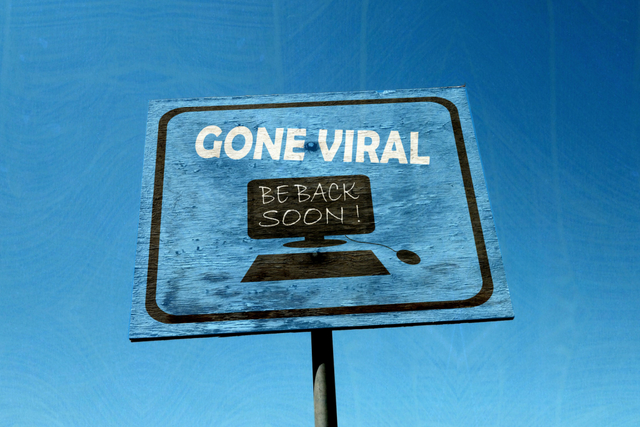 Four years into my professional content marketing career, and a year into running a joint venture agency, and it has finally dawned on me.
How well an article is written is trumped EVERY SINGLE TIME by the quality of the promotion tactics backing it.
Before your pencil-gnashing breaks that thing in two – let me explain!

What created that 5-7x traffic spike?
I've written hundreds of interview-based features, and thousands of SEO articles. I've also edited more than 10 million words. By no means do I have low expectations when it comes to quality writing.
But, the day has come to admit that there is an external factor critical to the "success" (whether a piece drives traffic, converts, etc.) of every single piece we write. As an expert content writer, I need to do more than just write and submit to my editor. I need to get that content to the market!
Pivoting to Promotion
Information Age writing, especially for commercial purposes, requires an equal or greater amount of energy put into promotion. This is the "marketing" aspect of "content marketing." And it's something expert writers consider heavily before ever putting pen to paper, or fingers to keyboard.
No one is saying to abandon quality writing. Quite the contrary – a solid content strategy, backed by market and SEO research, and sprinkled with the flair of your best wordsmithing are instrumental in converting readers.
Why the emphasis on promotion? The effort expended to promote a piece directly impacts the breadth and depth of its audience, i.e. its niche-specific traffic volume. Factors such as audience and platform profoundly influence a piece's style and contents.
If my aim as a content writer is to promote an education industry client's SaaS product, I will of course want to focus on how that software bests its offline counterpart. But, how I write my content depends entirely on who the client is selling to, i.e. the principal, teachers, parents, or even children. Furthermore, the difference between reading a full-length article on Parenting.com and jumping through a quick Facebook post is so large that where prospective customers will consume the content should direct its length, style, supplementary images, etc.
Promoting a Piece
Now we are clear that where and how you will promote a piece should directly influence content from its inception, let's go over how to do so.
For a recent client, I relied on two elementary, complementary content marketing tactics to drive visitors to their website.
Automated: WP->IFTTT->Twitter
This is the best new addition to my wheelhouse – despite (or, in part because of?) the fact that it is so hands-off I'm not even entirely sure how it works. The important thing is that it generates results. It helps that IFTTT's user-friendly interface makes it easy for a non-techie to use.

These stats also look sweet to clients.
With a 15,000-person Twitter following (it grows by a few thousand a month), Twitter currently makes up ~30% of a client's web traffic.
Knowing that all of the client's blog posts are automatically pushed to their Twitter following, it is more important than ever to watch our title and meta description character counts. In addition, that featured image when clicking "Publish" in WordPress is critical.
The icing on the cake? Since I wrote the piece, why not add a little value for the client by providing a 20 to 30-word Twitter-friendly synopsis – or, even better, a hook that will earn those click-throughs.
While I am a big fan of using IFTTT to automatically push blog posts to Twitter, because it is such a low-touch solution, there is a limitation here. It is important to recognize this, without casting blame – this automation-heavy process nets us solid numbers, but it fails to bring highly targeted traffic.
Manual FB Promotion
Because targeted (warm, hot, however you want to call it!) traffic is what converts best, you are going to want to complement the hands-off IFTTT strategy with manual Facebook Groups promotion.
When my team created an epic 50-state overview of legislation in my client's niche, sharing the primary link in just five groups boosted traffic by 5-7x for five days.
Of course, you need to "prime" your audience by engaging in comments, adding value to the group through useful shares and posts, etc. But, if you're already working for clients in industries or fields you're passionate about, this daily 30-minute task nets huge gains.
That 5-7x traffic bump from sharing, engaging with commenters, and following up several days later to bump the post required a total of 2-3 hours.
To be clear, I'm not talking about spamming groups. These are industry-relevant groups where I already engage with the membership.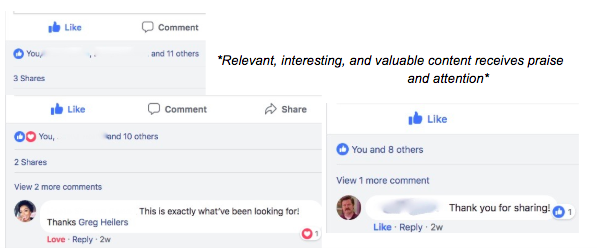 Relevant, interesting, and valuable content receives praise and attention
Which Comes First: Writing or Promotion?
While I recognize the question is subjective, promotion should be at the forefront of your mind during the content creation process. Whether you will promote your work, or hand it off to someone else to do so, you need to consider where it will be published when you are researching, outlining, writing, and even editing.
Once the piece is finished, there is valuable work that remains to be done.
As I continue to evolve in my role as a results-oriented content marketing service provider, I have learned to be cognizant of promotion with every stroke of the key.