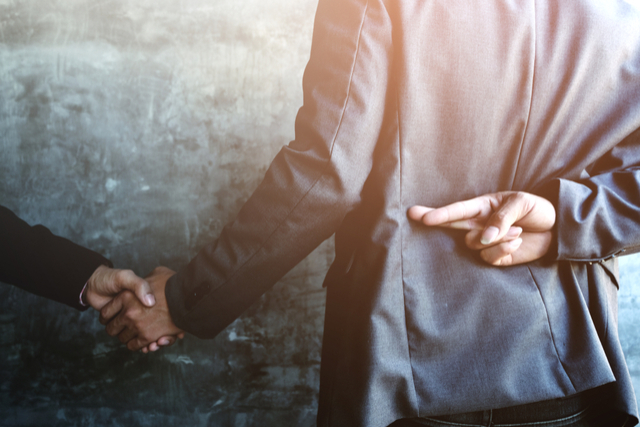 Freelance writers need to be prepared for clients with all sorts of annoying traits and awkward demands, but there are some that simply aren't worth your time.
Here are five types of clients that you need to avoid.
1. The Negotiator
The Negotiator pretends to be reasonably cautious, offering you below-average rate for the initial post. He pretends this is the usual way of thinking because you are just starting and have to prove the quality before earning more money for your writing.
While it may sound reasonable in the beginning, the truth is that the Negotiator is interested only in getting the final product cheaply. It's the kind of guy who says: "Let's give it a try at $12 per post and then increase rate when we see how it goes."
What he actually means sounds more like this: "I want you to write a great 1000-word article but I don't want to pay you accordingly. As the matter of fact, I will look for another freelance writer as soon as you start asking for more money."
The Negotiator will probably promise you loads of new work, but who wouldn't at this rate? However, I strongly suggest you stay away from such clients or at least terminate your cooperation after a post or two. The years of slavery are long gone, so no reason to get them going once again.
2. The Janus
The Roman god Janus is usually depicted as having two faces since he looks both to the future and to the past at the same time. On the other hand, your client Janus is a two-faced person who sends you opposing signals day after day.
One day he is super-friendly and appreciates your text, just to wake up the next morning and find him giving you nothing but headaches and disrespect. Janus has an awful temper, which makes him a terrible client for the first-time freelance authors.
This type of client can ruin your self-esteem, which is not helpful in the early stages of your blogging career. It's hard to recognize Janus because he will probably be friendly during contract negotiations, but if he burdens you too much, remember that you are free to withdraw anytime you want.
3. The Heisenberg
Have you ever heard of Heisenberg's uncertainty principle? It's a mathematical concept, but in the broader context, it's also a theory that questions the limits of human perception, suggesting that you cannot be definitively sure of anything. Well, our guy Heisenberg is the personification of this theory.
Namely, this type of client will never tell you precisely what to do. He makes no attempt to establish rational communication, so you'll have to deal with his gigantic but totally unrealistic expectations.
Heisenberg will tell you to do one thing and then change his mind when you deliver. Sometimes, he will spend 20 minutes explaining his wishes but you still won't be able to figure them out. If you are not a mind-reader (and I'll assume you aren't), you won't be able to guess his thoughts.
Needless to say, Heisenberg will be angry at you because you failed to meet his requirements. Do yourself a favor and avoid clients who don't tell you exactly what you are supposed to do. Detailed explanations may sometimes seem abundant, but you need to be sure about the client's demands.
4. The Insomniac
This guy is the control freak who calls you, texts you and sends you emails around the clock. A client like this will make you wonder about your own lifestyle and productivity because it seems like he never sleeps and spends 24 hours a day doing nothing else but working.
It's a really frustrating habit because it stops you from focusing on your job. You won't have the chance to spend one hour writing without the Insomniac interrupting. The problem lies in his nature – he just hates staying away from the steering wheel and letting someone else do the work.
While this may be boring, there is a way to overcome the obstacle. The Insomniac will acknowledge and respect your schedule if you keep him informed about when you can be contacted and when you need to block off time to write. You will also have to be clear about your own boundaries with this type of client.
5. Joe the Broke
The last type on my list is probably the most difficult. After everything you've read so far, you will probably wonder – how is this possible? But the reason is simple – Joe the Broke will be a great client right until the moment you ask him for the money. After that, you can expect Joe to make all sorts of excuses.
You will hear things such as "I mailed the paycheck to you yesterday" or "My bookkeeper's mother died". There is always the chance that something went terribly wrong, but you should stay alert. Make sure you don't sink an unaffordable amount of time into a new client relationship unless there is clear means of payment (e.g. written contract, installments, or a percentage upfront).
Final thoughts
Finding a perfect client is almost as difficult as finding the love of your life. What may seem like the perfect opportunity at first could easily turn into a nightmare because your client is… well, not that perfect after all.
These five types of first clients are all too common and are usually more trouble than they're worth. If you notice any of these signs while negotiating the job, bear in mind you have the right to end the discussion and start looking for another client!