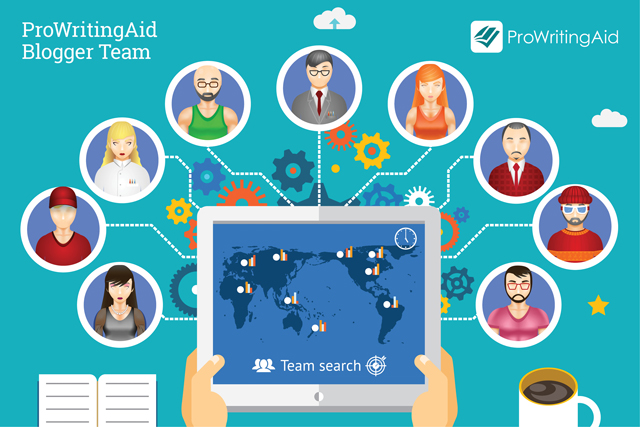 UPDATE: We now have a full team of writers and are not accepting any more applications. Please sign up for our newsletter if you would like to be alerted to future writing opportunities.
---
Hey Writers!
I'm looking to put together a team of writers for the ProWritingAid Blog. Team members will be diverse in their knowledge and specialities, but all share a love of writing.
Here's how it's going to work. On the first of every month, all writers will pitch their titles. I will then put together my editorial calendar for the following month based on those suggestions. I aim to include 30-40 posts per month. The chosen titles will be due in my inbox by the 20th.
All articles should be publish-ready according to our specifications with only minor edits required.
Writers get space for a biography of up to 50 words, which can include a link to their website or other work. They will also be given a free ProWritingAid licence to edit their work.
The ProWritingAid Community
We have a dedicated and loyal community of writers. In 2017, our website had over 3.5 million page views.
We send out two newsletters each month to our 130,000 subscribers and always include links to our best posts. We also often re-post our articles on Medium, Facebook, Twitter, Flipboard and LinkedIn, and will include your writer biography there, too.
Types of Posts
We are looking for the following types of articles:
1) Grammar Tips (300-400 words)
These are short posts that help clarify a grammar rule.
Example: It's vs. Its: Let's Get It Straight
Example: Do I Use Lay or Lie?
Payment: $25
2) How-to articles (600-900 words)
These are medium length posts that are aimed at helping writers improve their craft. These can be aimed at any of our five blog categories (The Writing Process, Blogging and Content Writing, Grammar Rules, Writing Apps, How to Use ProWritingAid).
Example: Why Writers Must Use the Toilet Paper Test on Professional Content Topics
Example: Belief, Emotional Involvement, Clarity: What Every Character Needs
Example: Why Your Ending is as Important as Your Book's Hook
Payment: $60
3) In-depth articles (1200+ words)
These are articles that really get into the meat of a subject. Again, I welcome these for any of the five blog categories.
Example: How Literary Devices Can Add Depth to Your Writing
Example: The Drafts Your Novel Needs (and Why You Probably Won't Use a Single Word of Your First Draft!)
Example: Advice from Kurt Vonnegut that Every Writer Needs to Read
Payment: $135
How to Apply
Please send me (Lisa Lepki) an email at writerteam@prowritingaid.com and include the following:
Tell me a bit about yourself, including your experience, your areas of speciality, and why you would be a great writer for the ProWritingAid blog specifically.
Give me eight examples of titles that you would pitch to me
Include at least three samples of your writing
Is there any way that you will be able to extend the reach of your posts when they are published on our site? E.g. Social media accounts, your own blog, etc.
Can't wait to hear from all of you!
Happy writing,
Lisa
Note: all writers should be very familiar with the ProWritingAid editing tool.