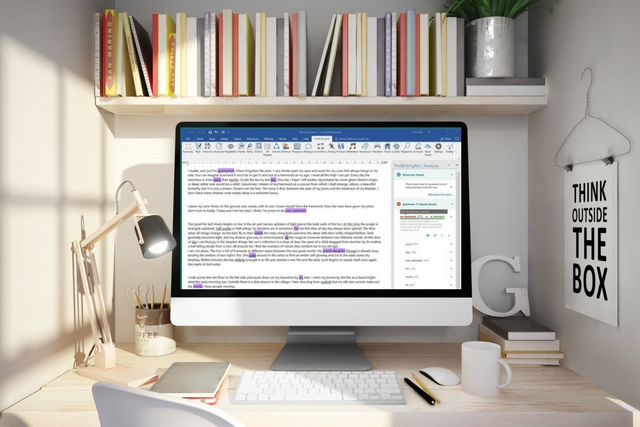 If you haven't used a Word or Outlook add-in before, it's very simple. You just need to download a small bit of software, which will then be automatically added to your menu in Word and Outlook.
Click here to download the new ProWritingAid MS Word/Outlook add-in. A small file called ProWritingAidSetup.exe will begin to download. When it's finished downloading, click it and a window will open asking you to agree to the license terms and conditions. Once you click the "agree" box, you will be able to begin installing.
You may be asked once again to agree to let our app make changes to your computer. Please click yes.
When you open Word the next time, there should be a new heading at the top that says "ProWritingAid. Click the heading and it will open up your ProWritingAid toolbar.
You will need to enter your ProWritingAid Premium licence code. The easiest way to do this is by clicking 'Log-in to retrieve licence' from either the welcome message box or the settings window. Alternatively, you can copy & paste it from the email you received when you purchased your Premium licence, or from your user profile when logged in to the ProWritingAid website.
If you are not a ProWritingAid Premium user, you will be offered a free 2-week trial when you open the add-in for the first time.
Click on the cog (see circled in red) to enter your licence code:

This may vary slightly depending on the version of Word that you are using.
Once your licence code is in place, you are ready to go!
We normally suggest running a Summary Report first. It will give you your writing scores, statistics, and some key actions you should take to improve your writing. It looks like this: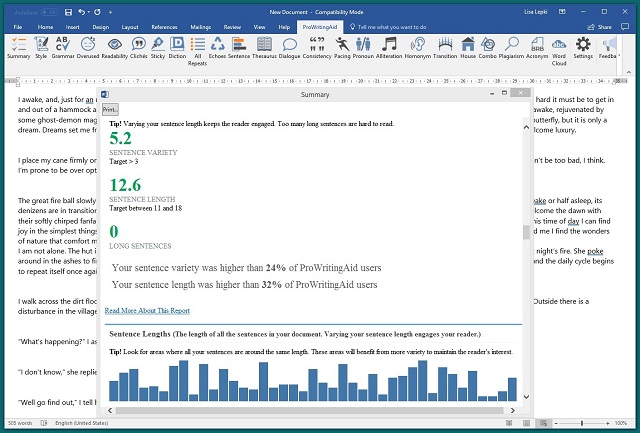 There are a lot of reports to test out, but here are three great ones to get you started.
The Style Report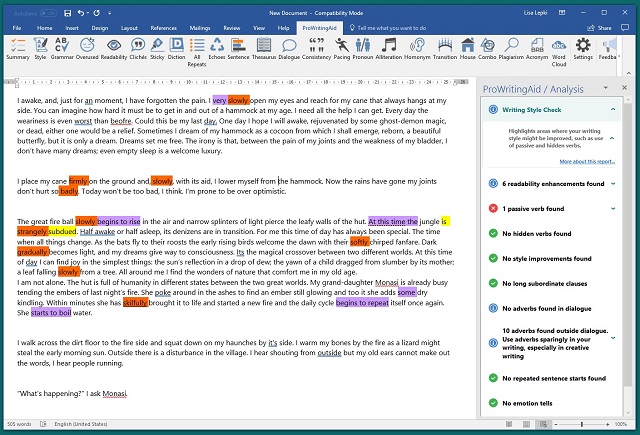 This is one of our most popular reports. It suggests a whole range of readability improvements including adverb overuse, passive voice, hidden verbs, long subordinate clauses, and much more.
This report highlights those sentences that contain a very high percentage of glue words (the 200 most common words like and, the, in, etc). Sentences with a high "glue index" will often be awkward or difficult to follow.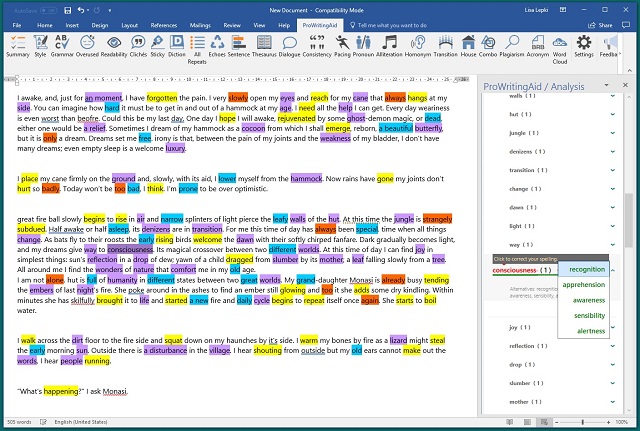 This report highlights the words in your document that have synonyms so that you can go through and make sure that you are using the strongest vocabulary possible. You can run it on 300 words at a time.
Take the Time to Explore
Each report is different and each user has their favorite. Play around with each of them until you find the ones that work best for you.
Now in Outlook as well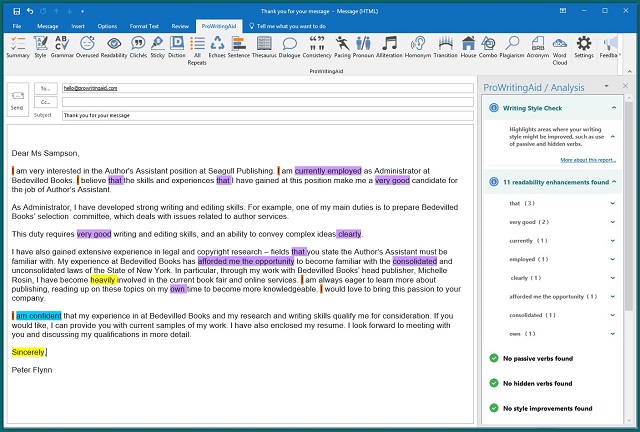 The ProWritingAid add-in will also work in Outlook so you can make sure your emails are just as well-written.
When you open Outlook after installing the add-in, it will ask you if you would also like to install it here. It functions in the same way as in word.
Having problems?
Are you having problems getting the add-in installed? Check our MS Word add-in FAQ page for troubleshooting tips or contact us for help.