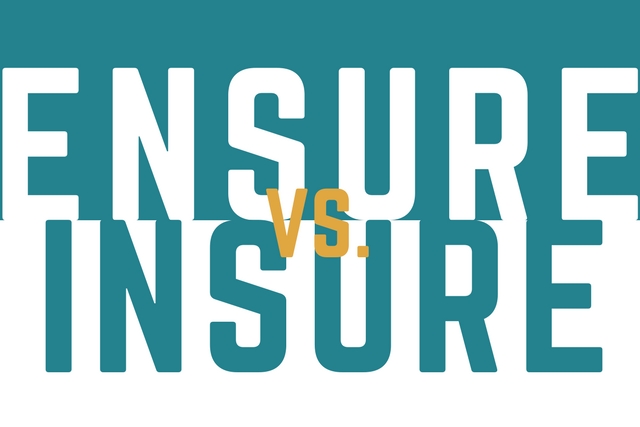 English users sometimes confuse insure with an "I" and ensure with an "E". Don't they both mean to "make certain" or "make sure"?
We can turn to Latin roots for clarification, but no one really wants that. Let's refer instead to the good ole Oxford Dictionary to clear this one up.
Insure
This form has to do with financial compensation after damage to or loss of some piece of property (like your car or house). It also means compensation after jury or death of a person. When you make regular payments to an insurance agency, you're insured against these types of claims. "To insure someone" means to give insurance coverage for property or persons.
You should use insure when you mean to protect someone against a contingency. The Oxford Dictionary has an excellent example of this use:
"By appeasing Celia they might insure themselves against further misfortune"
"Such changes could insure against further unrest"
Per the Oxford Dictionary, insure was used in the sense of assuring someone of something back in late Middle English as an alteration of ensure. Today, we use it to mean "financial compensation in case of something happening."
A nifty way to remember insure is to think of the context of your sentence. If your meaning is "insurance of a sort against something happening," then you use insure.
Ensure
Ensure is by far the more common usage. It means "to make certain," "to guarantee," or "make sure" something does or does not happen. A neat trick from Grammar Girl is to remember "guarantee" has two "E's" so you use ensure. Another tip is to remember that the "E" in ensure refers to an "event" happening or not happening.
A few examples:
You ensure you'll have enough food for everyone invited to your party.
A client should ensure miscommunication doesn't happen by insisting on a signed contract.
Now more elegant examples from the Oxford Dictionary:
"The client must ensure that accurate records are kept"
"Legislation to ensure equal opportunities for all"
You've got insure and ensure down now, right? So, let's throw in a monkey wrench because we're dealing with English grammar after all.
Assure
Here's what the Oxford Dictionary says about assure:
"Tell someone something positively to dispel any doubts": - [with object and clause] 'Tony assured me that there was a supermarket in the village' - [with object and direct speech] ''I quite understand,' Mrs. Lewis assured her' - [with object] 'they assured him of their full confidence'
"Make (something) certain to happen": - 'Victory was now assured'
"Be certain to get": - 'You would be assured of a welcome'
BRITISH: "Cover (a life) by assurance" or "secure the future payment of (an amount) with insurance" - 'We guarantee to assure your life' - 'The sum assured can be paid as a lump sum'
Grammar Girl had an excellent tip for remember. Only things that are alive can be "assured" (both alive and assure start with an "A"). Her explanation was that only something "alive can feel doubt or anxiety, so only they can be assured."
Conclusion
Everything clear now? Let us know in the comments below if you've got it or if we've merely muddied the waters.