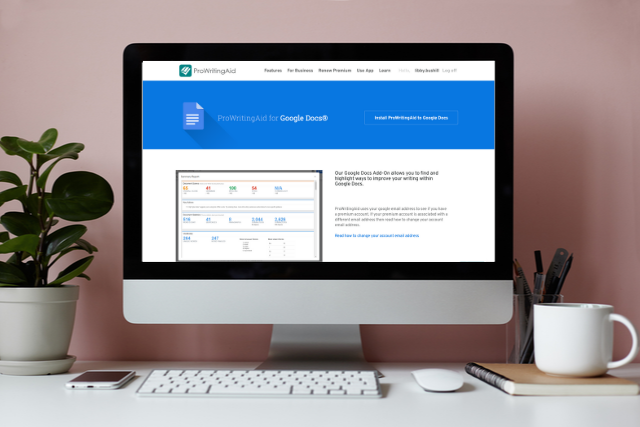 We know that ProWritingAid users like to write in different places. Some enjoy Word, others Scrivener—but today we're talking Google Docs.
The ProWritingAid Google Docs Add-on allows you to edit with ProWritingAid within Google Docs, no copying or uploading required. You'll need a ProWritingAid Premium License to get started.
Check your email address
It's easy to get the Google Docs add-on set up on your computer. You just need to make sure that your ProWritingAid Premium license is associated with the same email address you use for Google Docs.
If you use writersblock@emailprovider.com for ProWritingAid, but writersblock@gmail.com for your Google Account, you'll need to change your ProWritingAid email.
Click here to change your ProWritingAid email address in your account. Scroll down to 'User Details', enter your new email address and click the link in the confirmation email.
Install the Add-on
Click here to set up the ProWritingAid Google Docs add-on.
You will be taken to the Google Store, which looks like this: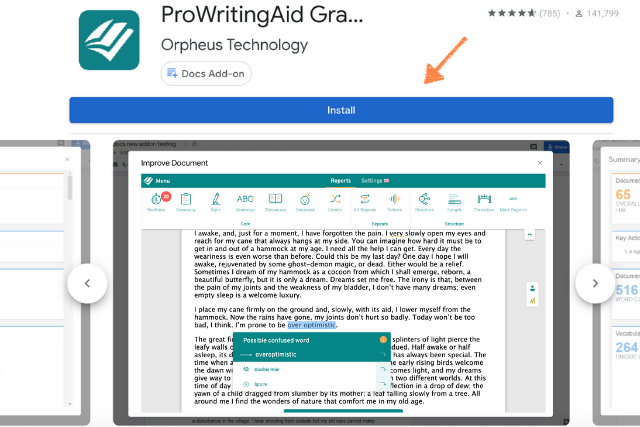 Click "Install".
Then, go back into Google Docs and open a document. If you click on "Add-ons" in the main menu, you should see ProWritingAid listed there.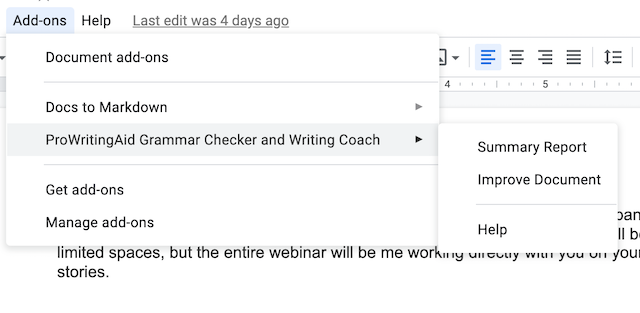 If you don't see the Add-ons button, this might be because you have uploaded a .docx document. Google doesn't allow enabling add-ons for .docx documents—you'll need to copy your document into a Google Doc and save it to your Google Drive as a separate doc before you can edit it.
Hover over ProWritingAid to bring up a second menu. From here, you can click on 'Summary Report' to see a summary of your document or you can click on 'Improve Document' to open the full ProWritingAid editor within Google Docs. Let's look at those options now.
Run a Summary Report
The ProWritingAid Summary Report will show you where your document is looking good and where you could make some quick improvements. You can see visualisations of your sentence structure, dialogue, passive and active voice use and more. This helps you to get an idea of where you need to focus your editing efforts before you even read over your manuscript.
To run the Summary Report, click on the 'Summary Report' option in the menu above. The report will open up automatically, and you'll immediately be able to see your writing goals: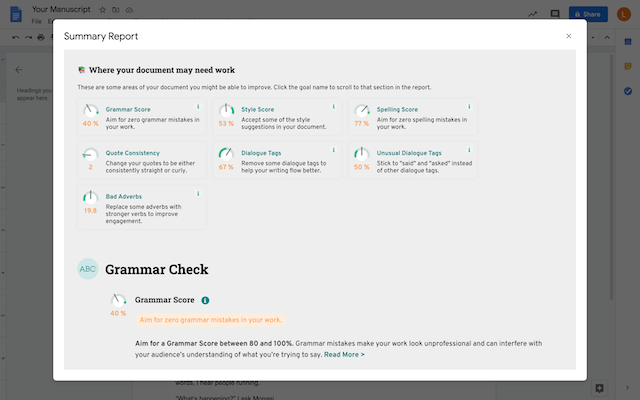 The summary report shows your document statistics and an overview of the results from all of the other reports. It also includes the key actions you should take that will make the most difference to your document.
Use these to work out which sections of the Summary Report you want to focus on first. For more detail, click on the titles to jump to their larger sections within the report.
Improve Your Document: Run Individual Reports
Once you know where you want to focus, run the individual ProWritingAid reports to see actionable suggestions within your document.
Hover over 'Add-ons' - 'ProWritingAid' and click on 'Improve Your Document'. This will open the full ProWritingAid editor within Google Docs: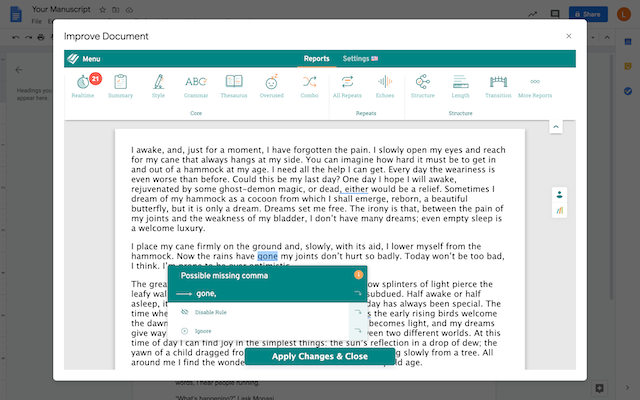 The Realtime report will begin running automatically. This will show you spelling, grammar and writing style suggestions, highlighted in red, blue and yellow.
You can click on each highlight to review its suggestion. If you like it, click on the suggestion to insert it into your document. If the suggestion doesn't fit, or contradicts your purpose, hit 'Ignore', as below: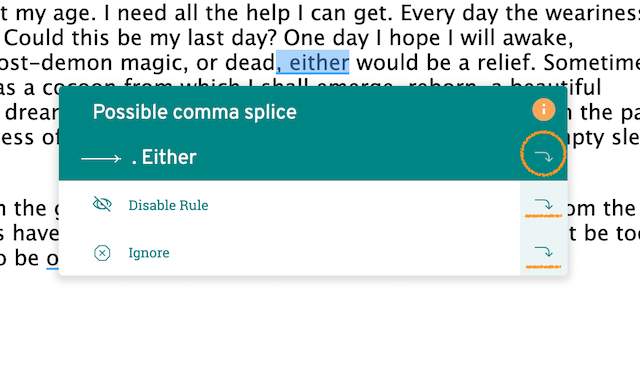 To work through suggestions quickly, use the arrows to the right of the box to move automatically to the next suggestion.
Find out more about Realtime Checking here.
Which Reports Are Most Useful?
This depends on the writer. Here are some of our favourites, but you can find out about all of our reports on our Writing Reports page.
The Sticky Sentences Report
A sticky sentence uses too many glue words; words that don't mean anything but that stick sentences together. The Sticky Sentences report will highlight any sentences that are over 40% glue words so you can assess them for readability.
Depending on the size of your monitor, you might need to click on the 'More Reports' button to access the Sticky Sentences report, as below: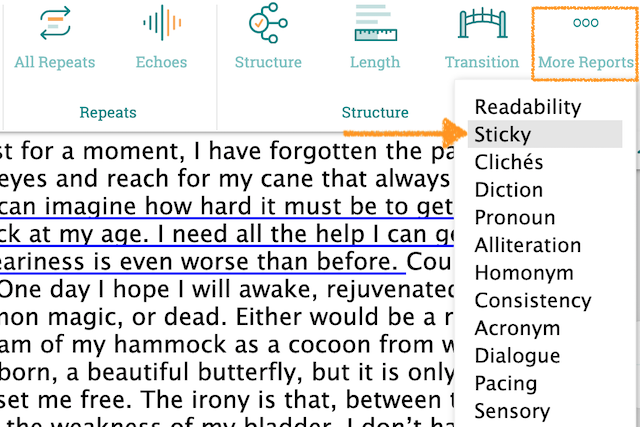 Once you run the report, you'll see your sticky sentences highlighted within your document. When you click on them, you'll see a suggestion box showing you all of the glue words in the sentence. You can remove some of these to make your sentence clearer.
Improving your sticky sentence score will make your writing easier for your reader to digest. Whether you're writing a pamphlet or a 500 page novel, clarity will make sure your reader feels connected to your writing. You'll get your message across, and your reader will engage with. If your key points are hidden behind meaningless words and flimsy language, that connection won't be as strong.
The Pronoun Check
We know that many bloggers use Google Docs to write and edit their posts. It's a great tool to share your work with others and work collaboratively. One area to watch when you're writing a blog post is your pronouns.
You want your content to be relatable. You use pronouns to establish a relationship with your reader so you can get your ideas across to them. You start opening each sentence with you, and using you repeatedly throughout your writing to keep the rapport you have developed going.
We're sure you get what we're going for here.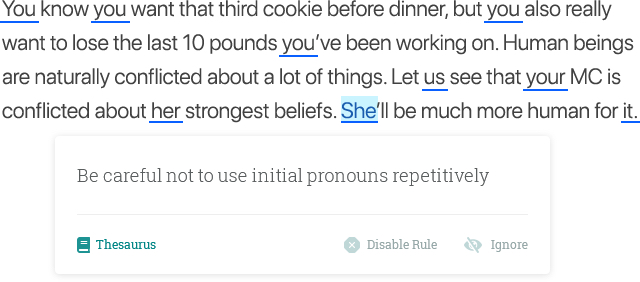 The pronoun check highlights all of the pronouns in your document, and lets you know when you've used too many pronouns at the beginning of sentences. This will help you notice when you might need to break it up a bit.
Transitions Report
Has your editor left comments on your Google Doc suggesting that your manuscript is confusing? You may need to work on your transitions.
Transition words are the road signs in writing—they help your reader move smoothly between ideas. Transitions like "similarly", "nevertheless", "in order to", or "as a result" help you show your readers how separate points go together to support your larger idea.
They illustrate agreement, contrast or show cause and effect. One in every four sentences (25%) should contain a transition. If your transition score is less than 25%, you should consider adding more road signs.
Final Thoughts
ProWritingAid works seamlessly with Google Docs to help you edit where you write. It helps you check everything from clear grammar to passive voice
Ready to change the way you use Google Docs?