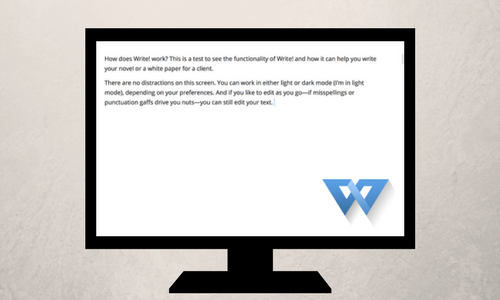 We're obviously mad for technology at ProWritingAid, and there are so many apps, gadgets, and programs out there to help you finish your novel or write content for clients.
This is the sixth post in our Writing App Review… series. Here are the others in case you missed them (don't worry, I'll put them at the end of the article too):
Let's have a look at Write! and see how it measures up.
A Minimalist's Dream
If you're distracted by everything else that's going on in other parts of your computer screen while trying to concentrate, then this is the platform for you! No interruptions, and you can go straight into full screen mode to focus only on your words. There's also a handy focus mode that fades out the rest of the content on your screen, focusing only on the paragraph you're working on to keep you centered and in flow.
Here's what Write! looks like in full screen mode with a bit of text.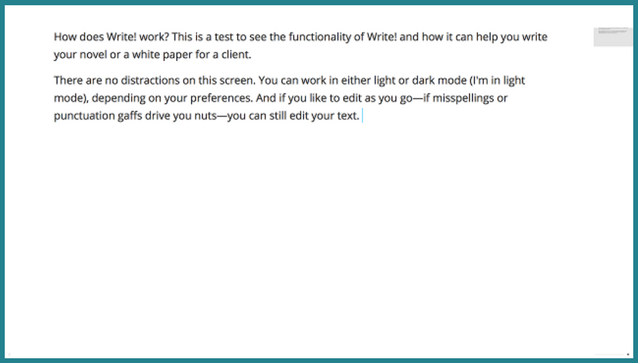 As you can see, there's a lot of white space, and nothing else to distract you.
Full Functionality
While aimed at minimalists, Write! doesn't skimp on functionality. When you first download the program, you have several options to customize Write! to your tastes. For example, you can choose from 15 different font and style presets, you can choose a dark screen (black with white text) or a light screen (white with black text), and you can even change the color of your cursor if you'd like something different.
Right click anywhere you want to make changes, and a text editor pops up with plenty of options for basic formatting, headings and lists, color palette, research tools like Google and thesaurus, and spelling and grammar.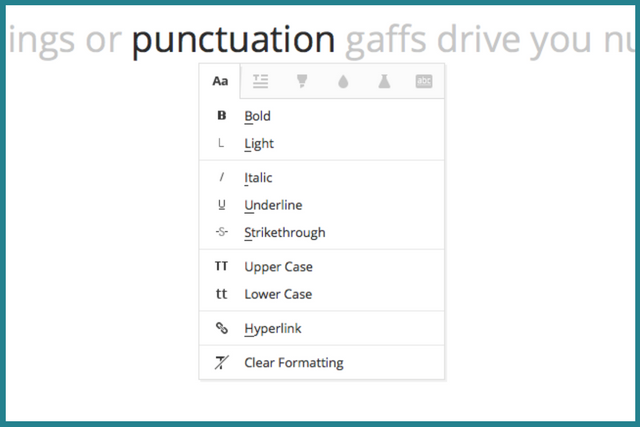 For those who need to write in Markdown or combined Textile and Wiki syntax, there's a handy setting in Preferences from the File menu that lets you choose your style.
Navigation & Organization
It didn't take long playing around with Write! to determine how to navigate and organize work.
Write! uses sessions to allow you to group your documents under common subjects or type of writing, etc. For example, if you're writing a novel, you could create a session for each chapter or a session for each novel, with plenty of documents stored in each session. If you're writing content for clients, you could separate it by type of content (a session for white papers and a session for blog posts), or you could create sessions for each individual client.
You can store your documents in the cloud where you can collaborate with others or access from anywhere as long as you have an internet connection. Write! automatically syncs your work in the cloud as individuals make changes.
Or you can store on your local drive if you know you won't have internet available.
And much like a browser window, you can have several documents open at the same time with tabs across the top to help you navigate between them.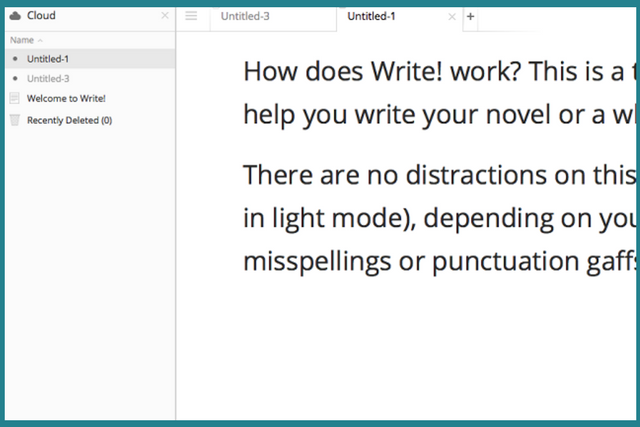 Extra Tools
There are a few extra tools worth mentioning. If you like to use French terms in your British or American English text, there is an Intelligent Spell-checker that lets you analyze text by document, paragraph, sentence, or even word using different languages.
A Configurable Autocomplete function is self-learning. Say, for example, you're working on a blog post for data-driven management strategies. You can configure your autocomplete function to suggest words after typing a specified number of characters. The application can learn "data-driven management strategies" and suggest that as an autocomplete when you type "dat" saving you valuable time.
A tool that's extremely valuable to most writers is the Productivity Counters. Not only can you set word or character limits (think of character limits if you're working on Tweets for your social media strategy), but you can always see a running tally of total words, characters per minute, total reading time, and much more.
Syncing and Publishing
Since Write! is cloud-based, you can store your documents in the cloud, and you can even publish them to the Write! cloud. You get an individual URL when you publish to the Write! cloud that you can share with co-workers or friends to collaborate on projects. You also have access to all of your cloud documents anytime, anywhere.
Finally, you can export your work into a variety of formats depending on how it will be used. For example, Write! exports into Word, HTML, PDF, plain text, Markdown, and a few other formats.
Conclusion
Write! makes it easy to focus on your words, but still gives plenty of options for formatting and editing. The full screen and focus modes can help you get into the flow and crank out content to meet your word count for the day or complete a client project. And the extra tools help you be more productive.
You can download Write! for Windows, Mac, or Linux. And at $34.95, it's a bargain for all types of writers. The creators of Write! were kind enough to offer a discount to all ProWritingAid users. Use this code and get 30% off Write!: PROWRITINGAID
---
Want to check out other other posts in our Writing App Reviews… series? As promised, here they all are:
---