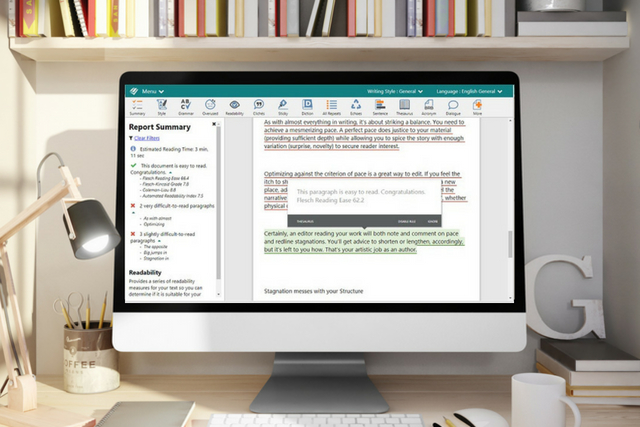 Your ProWritingAid Summary Report will provide you with a variety of readability scores that have been calculated using some of the top tools out there. Each tool calculates their score in a slightly different way but the results should be within the same ballpark.
The Flesch Reading Ease Score
This is the most well-known readability test out there (even the US military use it to assess the readability of their technical manuals). It calculates the total number of words in each sentence, and then the total number of syllables in each word, and gives you two scores:
A number score between 1 and 120 (the higher the number, the more readable the document is).

A grade score that shows what American school year you'd need to be at to understand it.
We suggest targeting between 60 and 70 for fiction, editorial or business writing. This would mean you're trying to hit about grade 7 (meaning someone in seventh grade could probably understand it).
Read more about the Flesch Reading Ease Score here.
The Coleman-Liau Formula
This readability score is similar to the Flesch Score but relies on characters instead of syllables per word. Instead of using syllable/word and sentence length indices, Meri Coleman and T. L. Liau believed that computerized assessments understand characters more easily and accurately than counting syllables and sentence length.
The Coleman-Liau formula returns a simple U.S. grade-level score from 1-12. We recommend targeting a score of around 7.
Read more about the Coleman-Liau Formula here
The Automated Readability Index
The Automated Readability Index calculates based on characters per word (instead of syllables, similar to the Coleman Liau Index) and words per sentence. Its scores correspond to U.S. grade levels. If you get a score result with a decimal, round up to the next whole number.
We suggest targeting (yep, you guessed it) a score between 6 and 7.
Read more about The Automated Readability Index here
The Dale-Chall Grade
The Dale-Chall Readability Formula uses a list of 3000 words that fourth-grade American students could reliably understand to calculate a readability score based on how many of those words were found in the text.
Read more about the Dale-Chall Readability Score Here
Last thoughts
Like any algorithm-based scoring system, your readability metric should be taken with a pinch of salt. You know better than anyone who your audience is and can guess at what level they read. If you are writing a Young Adult novel, you should target 80 or higher; if you are writing for the Harvard Business Review, you should feel comfortable with scores as low as 30.
Subscribe for writing hacks, special offers and free stuff
We will not share your details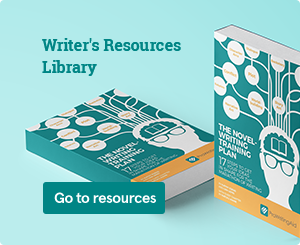 Subscribe for writing hacks, special offers and free stuff
We will not share your details