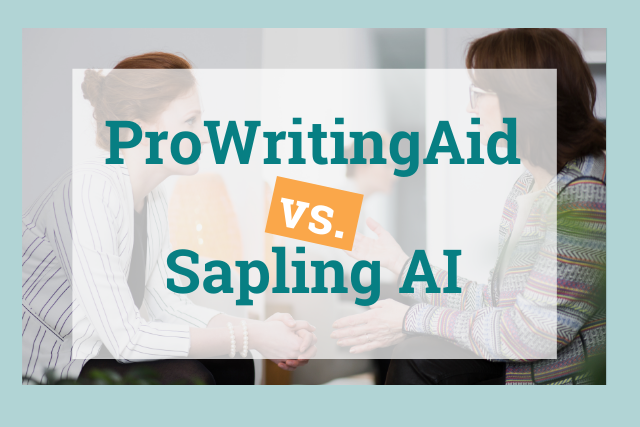 When it comes to customer service, clear and accurate written communication is of the utmost importance. Good writing eliminates many miscommunications and makes your business appear more professional.
There are several editing programs on the market that can aid customer service teams. Sapling AI is one of the most popular. But what are the alternatives to Sapling AI?
You might not realize that ProWritingAid isn't just for professional writers. It's a powerful editing software and app for businesses, too. Many of ProWritingAid's features are comparable to Sapling AI, with some added benefits.
Today we're diving into both Sapling AI and ProWritingAid to determine which proofreading program is the best for your customer service team.
What is Sapling AI?
Sapling AI is a grammar checker app that integrates with popular customer service platforms such as Zendesk, Freshdesk, LiveChat, and more. It also integrates with Outlook, Chrome, and Google's GSuite.
Sapling AI is primarily a proofreader to ensure that customer service representatives are communicating clearly in proper English with customers and other team members. But it has a couple of other features, too.
There's an autocomplete feature that is specific to customer service. There is also a Snippet tool for saving canned responses or information that is frequently distributed.
Overall, the goal of Sapling AI is to cut down on poor customer service communication.
What is ProWritingAid?
ProWritingAid is a proofreading and grammar checker app that does so much more than just check your spelling and grammar. It's a versatile editor for all types of writing, but that's just the tip of the iceberg.
ProWritingAid has other features that are helpful for customer service teams, like the Snippet tool. We'll look at all of these features and how they stack up against Sapling AI.
Key Features Comparison
Grammar and Spelling Checkers
Sapling AI claims to be one of the most accurate proofreaders on the market. They base this on a third-party dataset that analyzed 1,300 sentences. Their website offers a side-by-side comparison of Sapling AI and a leading competitor.
In the grand scheme of things, 1,300 sentences isn't that many. There's no doubt that Sapling AI's grammar checking abilities are strong. But it's hard to see how it stacks up against ProWritingAid directly in more contexts.
ProWritingAid uses Natural Language Processing (NLP) artificial intelligence to continually learn and improve its spelling and grammar suggestions. That means that our program is constantly getting better and better at catching errors.
If spelling and grammar are all you're worried about, then either program could be a good fit. But let's check out the other features to determine which program is the best customer service aid for your team.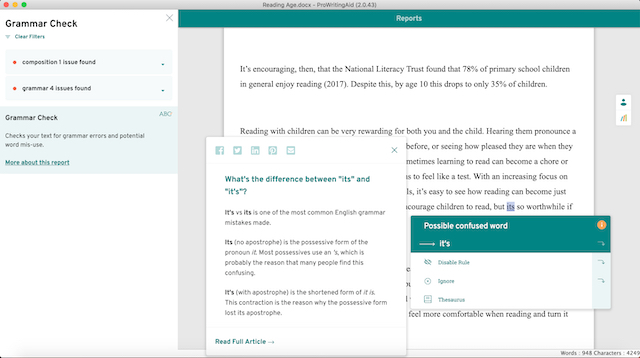 Grammar Checker: Understand Your Readability
Spelling and grammar are just one important part of written communication. But clearly communicating through writing involves many other language features; we can sum these up as "readability."
Readability is exactly what it sounds like: how easy your writing is to read. In customer service, you can expect to have customers with varying levels of language proficiency. It's easy to get bogged down in jargon or overly complicated explanations. That just leads to frustrated clients and increased miscommunication.
Readability includes things like sentence length, wordiness, hidden and passive verbs, adverb usage, and vocabulary.
Sapling AI does not check readability. But ProWritingAid can offer you ample feedback to ensure your communication is as clear as possible.
In the Summary Report, ProWritingAid will give you a reading level using a metric called the Flesch-Kincaid scale, which is based on US grade levels. Keeping your writing below 7th grade level ensures that even people with limited language proficiency can understand your writing.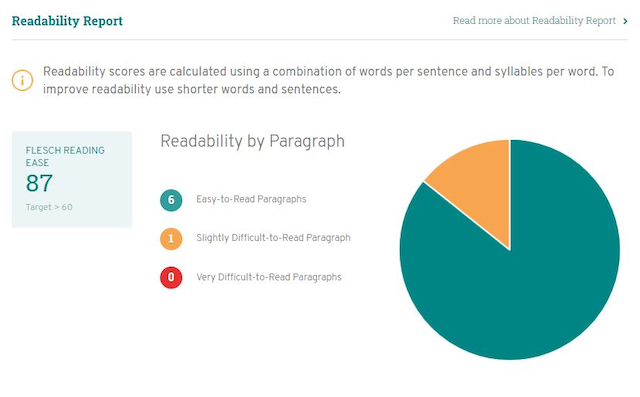 The Style Report will check your sentence length, verb and adverb usage, and look for simpler ways to explain things. The Readability Report tells you how many of your paragraphs are hard to read, which may be because of too much technical jargon. The Diction Report will analyze your word choice to highlight vague and abstract words that make miscommunication more likely.
When your ultimate goal with customer service is to communicate clearly with your client base, there's so much more to writing than just spelling and grammar. Paying attention to readability with a tool like ProWritingAid will save your company and your customers time and frustration.
Does your company have certain guidelines for written communication? Perhaps there's a style guide or specific spelling rules for products and services that a regular spell check won't catch.
Sapling AI does not allow you to edit the house rules their program can check, however, ProWritingAid does.
Sapling AI vs ProWritingAid: Autocomplete
The autocomplete feature of Sapling AI can save your customer service representatives a lot of time. You might be familiar with a similar autocomplete feature in Gmail.
Sapling AI analyzes your writing, specifically within the context of customer service, and predicts what the rest of your sentence might be. With just a quick hit to the tab button, you can insert that text without typing it all out.
This is one feature that ProWritingAid does not currently have.
Snippets
Snippets, or text shortcuts, are a great way to save time when writing. In customer service, you use many of the same phrases over and over again. A snippet is a shortcut that will then insert everything you need to say. Snippets are also completely customizable.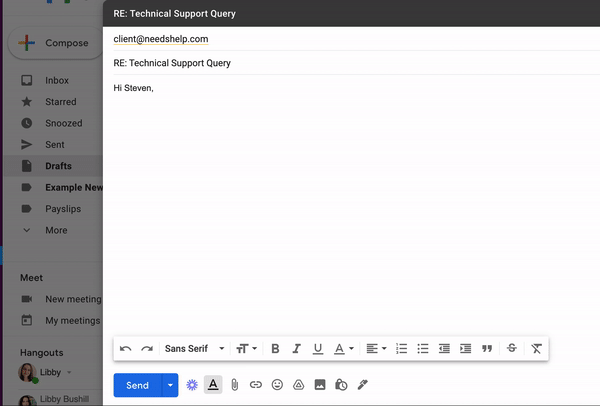 Here are some phrases you might use commonly.
Thanks for contacting us. I need to verify your account. Please tell me your name and account number.
To reset your device, first power it off then unplug it for 30 seconds.
You can contact our sales department at 867-555-5309.
Is there anything else I can assist you with?
Typing those responses over and over adds up to wasted time. Wouldn't it be easier to type these instead?
\verify
\reset1
\sales
\assist
The Snippet tool will automatically insert your canned responses for you.
Both Sapling AI and ProWritingAid have a snippet feature. You can set up a company- or team-wide library of snippets that are accessible anywhere that the programs integrate.
Integrations for Sapling AI and ProWritingAid
An important thing to consider with Sapling AI and its alternatives are their integrations. Do these programs work with the programs and apps your company currently uses?
Sapling AI works with multiple browsers and most websites. It also integrates with Outlook and Teams. The Pro and Enterprise versions work with many customer service, helpdesk, and sales engagement sites.
ProWritingAid's Chrome extension works with almost every website. Our business version integrates with many of the same customer service and sales programs. The desktop version integrates with Microsoft Office and is compatible with both Windows and Apple OS. You can also purchase API for specific apps.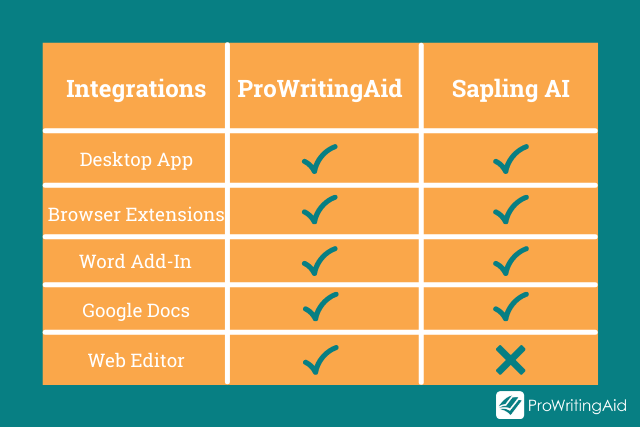 Pricing: Sapling AI versus ProWritingAid
If you are a small business with a team of only a few people, the pro version of Sapling AI might work just fine for you. It costs $25 a month per person. However, it does not include some of the more advanced features like advanced security and API that the enterprise version does. There is no option for group pricing for smaller teams, so you must get an enterprise contract for anything more than a couple of people.
ProWritingAid's business licenses can be purchased at an individual level or a team level. Individual business licenses are $6 a month, billed annually, and team licenses are $8 per team member. These come with the full functionality of the app, including our 256-bit security. These also come with some additional business features, like team analytics.
For larger teams, it is best to contact the companies individually for enterprise pricing.
Sapling AI or ProWritingAid?
Although both programs have their own merits, ProWritingAid comes out on top because of its versitility and customization options. But don't just listen to us, why not go for a free 30-day trial and experience the benefits for yourself?
Try ProWritingAid's Editor For Yourself