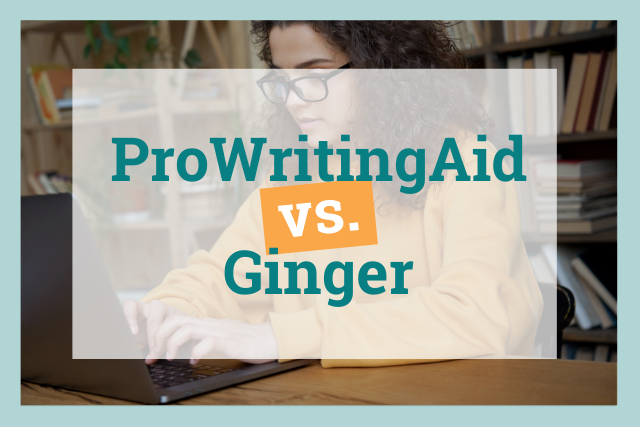 Grammar mistakes make readers lose confidence. They can make you look sloppy and unprofessional—but even the best writers make mistakes sometimes.
An editing tool helps you catch grammar, spelling, and style mistakes so they don't make it into your final document.
The best software will even go beyond this, explaining why a word or phrase is incorrect and how you can fix it. This helps you learn as you edit and avoid making the same mistake next time.
Today we're comparing two popular editing tools—our own ProWritingAid editing software and Ginger Software—to help you decide which is best for you. Let's get down to business.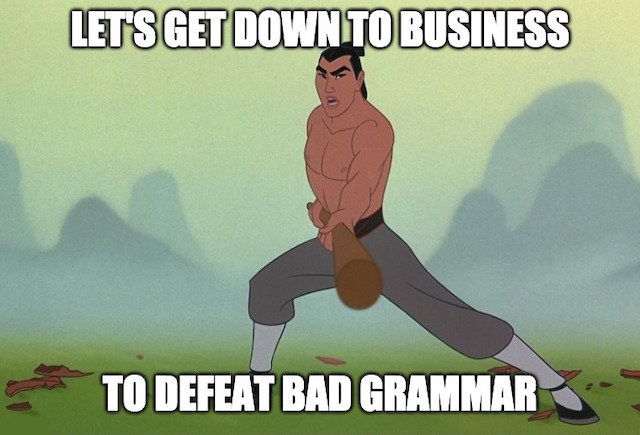 Key Feature Comparison: ProWritingAid vs. Ginger
Before we get started, we'll say that Ginger Software is a great tool for writers who want a basic grammar checker. If you're looking for quick fixes that remove glaring errors, Ginger will do the job.
At ProWritingAid, we believe that fixing grammar errors is only the first stop on the road to better writing. We also think we've solved a few usability issues that you'll find with Ginger too, like document storage, adjustable screen size, and more in-depth educational resources.
Take a look at the key features and differences below, then keep reading for the full comparison.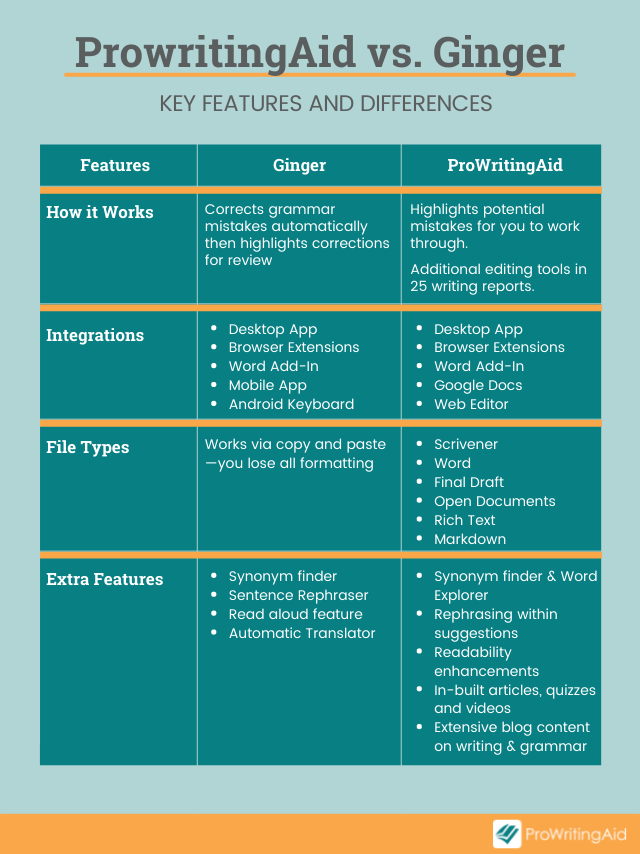 1. Free Grammar Checking
Both Ginger and ProWritingAid offer free versions of their software, both with limits.
With Ginger Free, you can:
Edit up to 500 words without an account, or 900 with a free account
Correct grammar and spelling errors in your document
See a limited number of synonyms for words in your writing (with more synonyms for Premium users)
Rephrase sentences with their automatic rephraser
Download their Desktop App and browser extensions
With ProWritingAid Free, you can:
Edit in real time
Edit up to 500 words in our Web Editor
Use all 20+ ProWritingAid reports to edit for readability, structure, repeats, and more
Save your progress and return to your document later
Access our in-built learning resources to help improve your writing technique
Edit online in the Web Editor and download our browser extensions
Let's take a look at both free editors.
ProWritingAid's Web Editor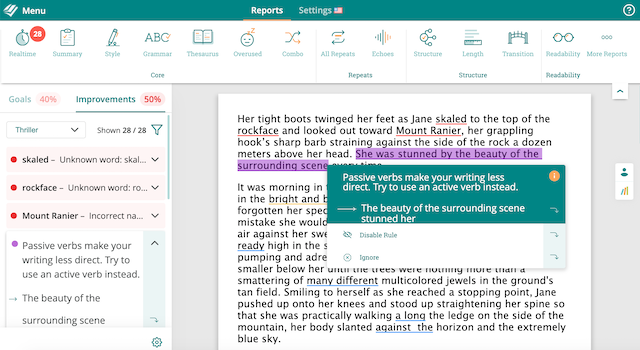 ProWritingAid's Web Editor gives you full access to all 25 of our writing reports right away. There are no hidden suggestions, synonyms, or resources on the free version, so you don't need to worry that you've missed something.
Our real-time report allows you to make quick edits as you write—no need to endlessly re-run the report to see new suggestions.
Ginger's Desktop App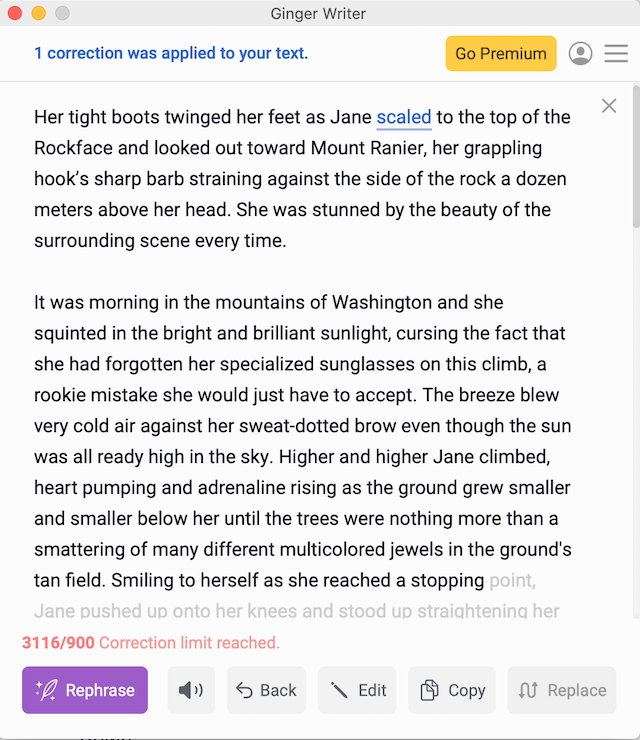 You can download Ginger's Desktop App without signing up for an account. The screenshot above shows the full interface—you can't extend the window to make your editing area bigger. ProWritingAid's Web Editor can be fully extended to give you the space you need.
Ginger's free Desktop App limits you to 450 words of grammar checking. When you sign up, that goes up to 900 words.
Ginger corrects the errors it finds automatically, and shows you the corrections after the fact. This means you have to re-run the grammar check whenever you type something new.
We ran the same sample text through Ginger and ProWritingAid. Notice how many more highlights there are in the ProWritingAid screenshot below?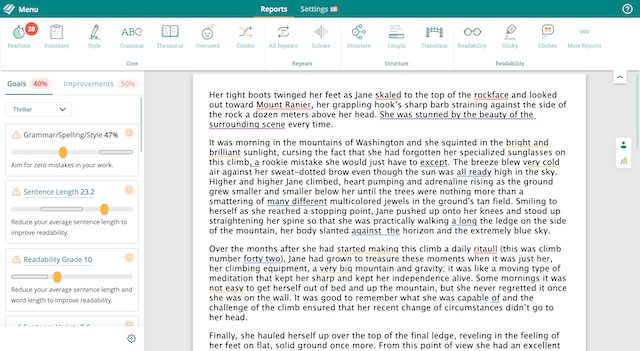 That's because we look for grammar, spelling, and style errors like passive voice, repeated words and sentence starts, incorrect entity name spellings, and readability enhancements.
We also show you your progress towards key writing goals so you can get an idea of the bigger picture.
With ProWritingAid, you'll work through your suggestions yourself, clicking to accept or ignore them. This may seem less efficient than Ginger's automatic approach, but assessing each suggestion means you make sure that every change works for your document. You get all of the suggestions Ginger picks up, and more.
You'll also see why you're making that change, so you're less likely to make the mistake again—that saves time in the long run.
2. Grammar Suggestions
Both softwares give explanations for their suggestions. Ginger offers quick explainers: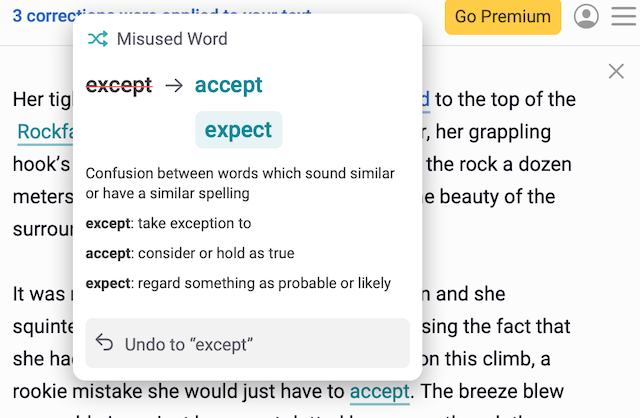 These are great for making sure you understand why they've made the change, but don't go into much detail.
ProWritingAid's suggestions have in-built articles, quizzes, and videos to help you understand grammar rules and writing technique. You can read a quick summary or click for more detail.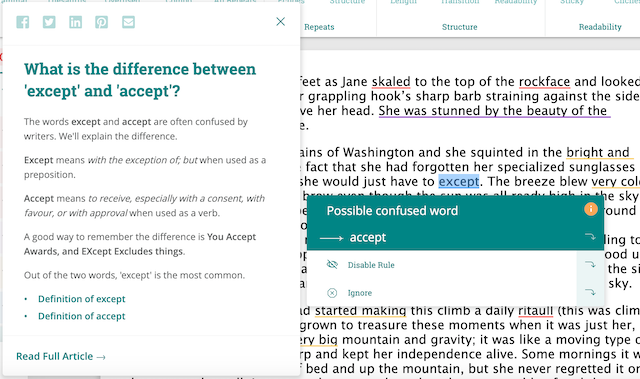 You can also see synonyms for the words in your document in both editors. Ginger limits the number of synonyms you see in its free version. ProWritingAid shows you all synonyms and gives you access to our Word Explorer where you can find related definitions, quotes, rhymes, clichés, and more.
3. Extra Features
One feature Ginger offers that ProWritingAid doesn't is its Rephraser.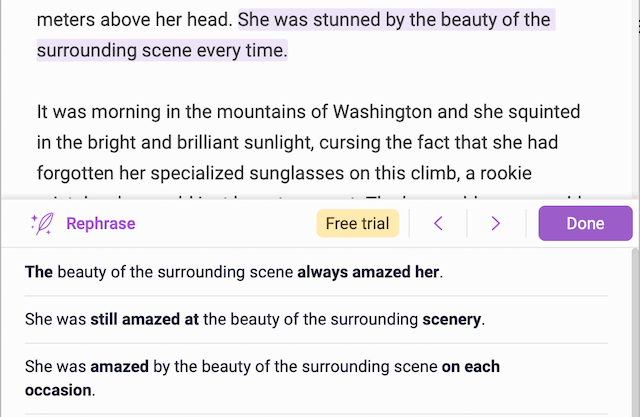 This uses AI to offer alternative phrasing for some of your sentences. This is useful for trying out a few different combinations to find which phrasing sounds best.
ProWritingAid doesn't do this work for you, but it does give you all the tools you need to improve your sentences yourself.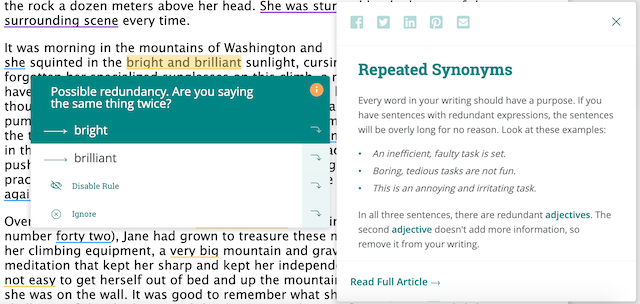 Our passive voice suggestions now come with automatic active voice rephrasing. Our style suggestions will also offer alternatives to repeated or redundant words and overused phrases, as well as highlighting potential readability enhancements.
Unlike Ginger's Rephraser, ProWritingAid's real-time report highlights words and phrases you may need to re-think and guides you through the process.
4. Ginger Premium vs. ProWritingAid Premium
What about the Premium versions? Which grammar checker gives you more for your money?
Here's the pricing run-down: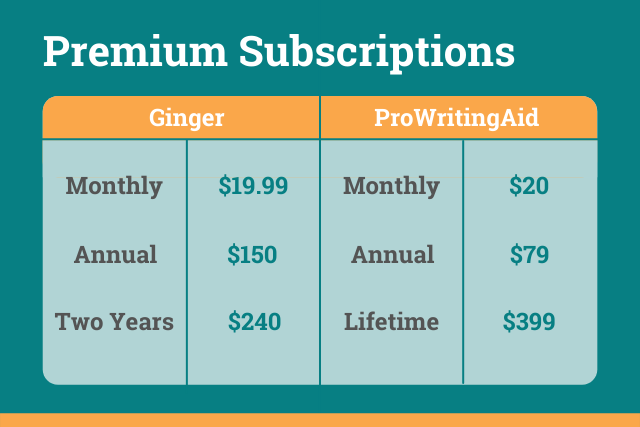 As you can see, ProWritingAid works out cheaper. You can get Lifetime access to ProWritingAid, including all future updates, for $81 less than 4 years of Ginger Premium.
And, you're paying less for more.
With ProWritingAid Premium, you can:
Access all ProWritingAid integrations:

Desktop App (works with Word, Scrivener, Final Draft, RichText files, and more)
Web Editor
Google Docs Add-On (not available with Ginger)

Run reports on an unlimited word count

Edit with 25 writing reports, including sticky sentences, sentence length, thesaurus, pronouns, repeated words, and more

Download and keep eBooks from our Writer's Resource library

Save your documents securely in our Web Editor

Create your own custom Style Guide and Snippets bank
Ginger Premium offers you:
Access to all of their integrations: Desktop App, Word Add-In, Browser Extensions, Mobile App, and Keyboard
Unlimited word count
Automatic translation into 40 languages
Full synonym lists
Sentence re-phrasing
Let's take a look at some of those key differences.
ProWritingAid's 25 Writing Reports
Ginger shows you grammar and spelling errors in your document.
ProWritingAid gives you personalized feedback on 25 key areas of good writing so you can become a better writer across the board.
You might be wondering if you need all of these reports. ProWritingAid's reports-based system allows you to create a buildable editing process.
If you're looking for a quick but comprehensive edit, the real-time report allows you to fix embarrassing mistakes and improve the overall quality of your writing in just a few clicks.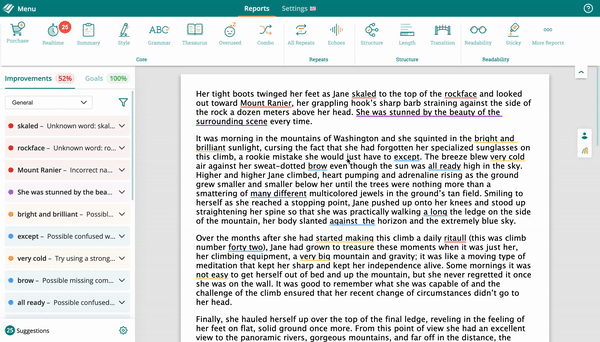 Then, you have the option to go further. Our reports give fiction, academic, business, and casual writers the tools they need to become better writers:
Choose from over 30 document types to see suggestions tailored to your purpose
Track your editing with Goals—the target scores are based on real writing from your genre or style so you know if you're on the right track
Vizualize your document with graphics for sentence length variety, dialogue tags, readability, and more
See where your writing is looking good and where it might need work with your personalized writing Summary Report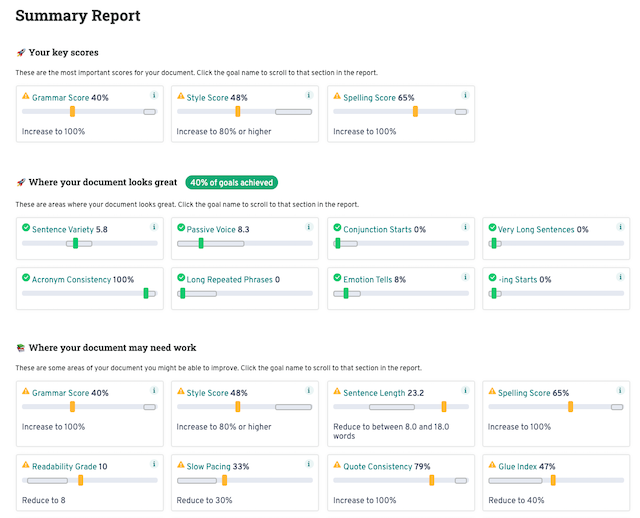 Ginger has your grammar and spelling checking covered. ProWritingAid puts everything you need to achieve perfect grammar scores and become a better writer all in one place.
Google Docs is a super handy way of working collaboratively with other writers. But if you want to check your grammar in Google Docs with Ginger, you're out of luck.
Ginger's browser extensions don't work in Google Docs, and they don't offer a Docs add-on.
With ProWritingAid, you can choose between making quick real-time edits in Google Docs with our browser extensions, or you can install our Google Docs add-on for seamless, comprehensive editing right where you write.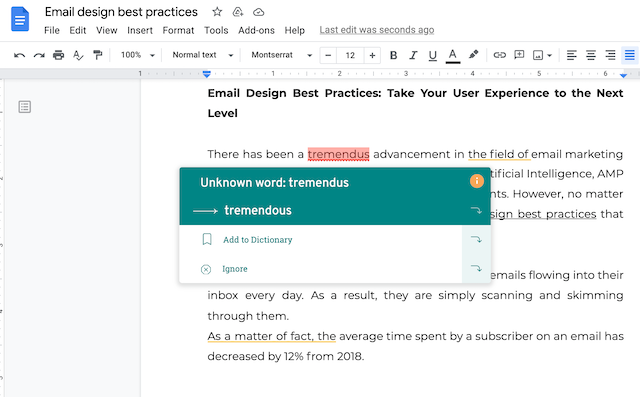 5. Formatting and Document Storage
Ginger works by asking you to paste your writing into their editor.
This seems quick, but you'll lose all of your formatting when you paste it back into your original document.
ProWritingAid allows you to open documents directly from your computer in our Desktop App. You won't see your formatting while you edit, but when you hit Save your changes will save directly back to your original document—and all formatting is preserved.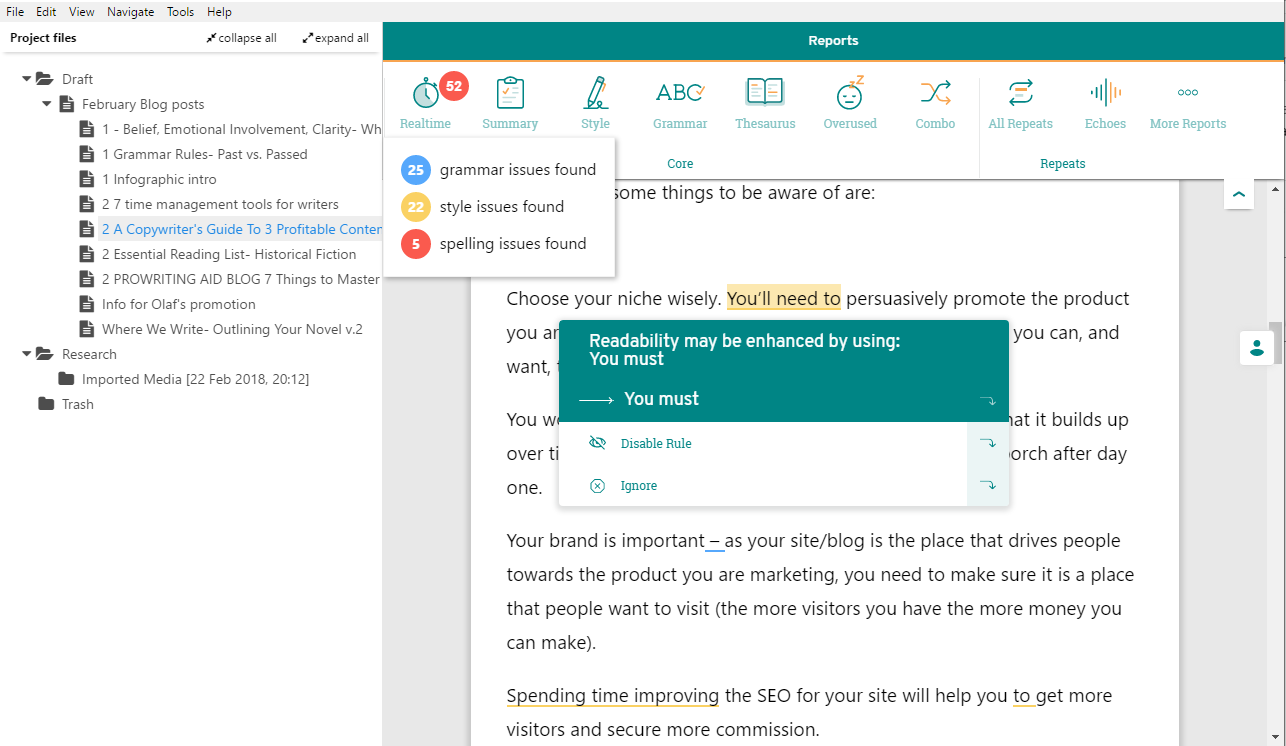 The same goes for uploading and exporting documents in and out of our Web Editor. You can also create, write and edit documents right in the editor, and save them to your account.
This allows you to pick up where you left off without having to re-paste your document into the editor. This also means you can edit anywhere by logging into your account online.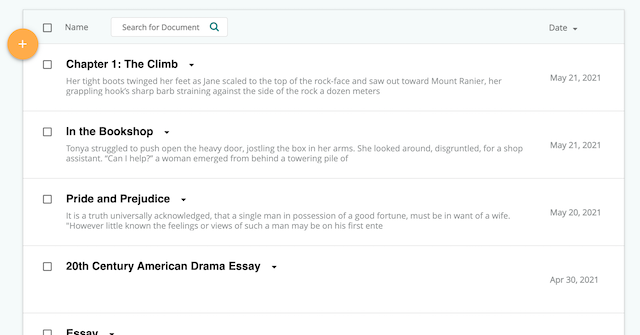 Ginger doesn't offer any document saving, so you'll always need to start from scratch, every time.
Should You Get Ginger or ProWritingAid?
Understandably, we're a little biased. But hopefully you can see for yourself that ProWritingAid is the obvious choice—whether you're looking for quick editing fixes or an in-depth editing software.
If you're happy with basic grammar and spelling corrections, Ginger can help you out. But if you want to learn as you edit and improve the quality of your writing overall, try ProWritingAid.
---
Try ProWritingAid's Editor for Yourself