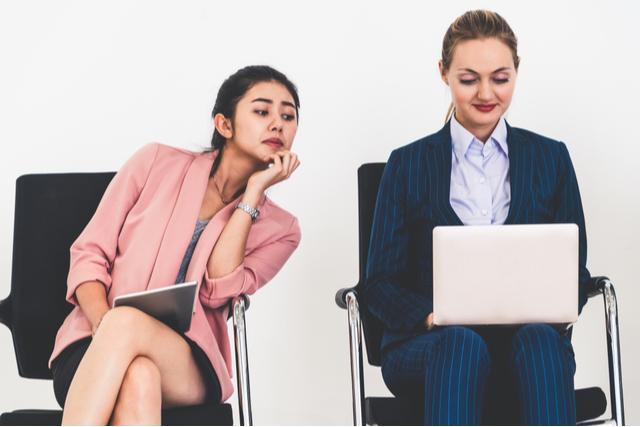 The rise of the internet has made plagiarism huge news. Now everything's available online, it's easy to find inspiration with a few searches on Google. But when does this inspiration cross into theft?
Whether you're an author, content writer, or creating your own blog, you need to know about plagiarism. Everyone has their own opinion on what is, and is not, acceptable. Some writers even make a business from it (university essay for sale, anybody?)
These tips will help you confidently take inspiration from the ideas you find, without worrying that you're stealing from other writers.
Worried about plagiarism in your work? Try ProWritingAid's Plagiarism Checker.
What Is Plagiarism?
Copying text verbatim (using the exact words someone else used) and passing it off as your own is theft. There's no place for it in writing. Not only is it morally wrong, you could face huge legal ramifications if you're caught.
When you plagiarise, you steal someone's writing and then lie about it. This excellent guide will tell you everything you need to know if you're unsure what counts as plagiarism.
But sometimes we plagiarise without meaning to. We think we've created something new, only to find we've read it somewhere else. ProWritingAid has a handy Plagiarism Checker you can purchase to make sure you haven't inadvertently stolen someone else's work. It's well worth buying to give you peace of mind.
Here's a quick look at how ProWritingAid's Plagiarism Checker works:
Can We Even Be Original?
There are many debates about whether we can ever be truly original as writers. New stories are generally based on much older tales. In the novel Haroun and the Sea of Stories, Salman Rushdie makes constant obvious references to famous literature including Alice's Adventures in Wonderland, Lord of the Rings, and One Thousand and One Nights to highlight how stories are reimagined and woven together. It can feel like every story has already been written somewhere before.
That doesn't mean there isn't room for originality. If you're a fiction writer, you can take a familiar plot, event, or character to create a new idea from them, or combine things in surprising ways. Content and copywriters can find a new angle or comparison to make on subjects that countless articles have already been written about.
Take this article. If you look online, you'll find hundreds of blog posts about the same theme of plagiarism. That doesn't mean there isn't room for this one.
There are plenty of ways to make topics feel fresh. Here's how it's done.
---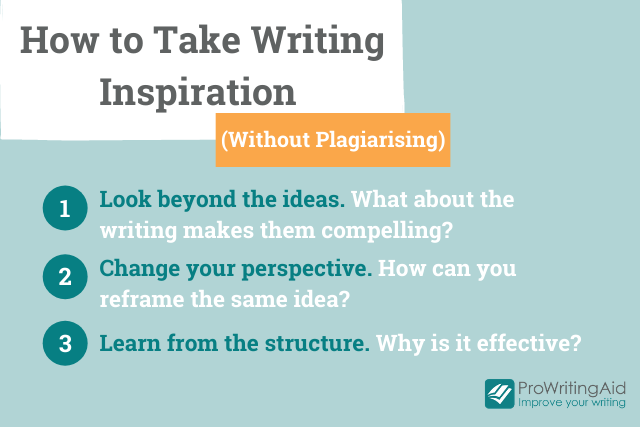 1. Look Beyond the Ideas
Skilled writers are excellent readers. It's a great source of inspiration. Don't stick with the genre you write in: read broadly, including novels, non-fiction texts, print news, and online articles.
You're not going to cut and paste an idea and say it's your own. Look deeper. What makes it good? Maybe it's not the ideas, but the way they've been written. You could emulate the style of another writer and use this to develop your own voice.
For fiction writers: Look beyond the plot. It could be a character, setting, or an interesting scenario that inspires you.
For business writers: Look at the structure behind the words. How does it convert customers or position itself as a source of authority?
These tips for reading like a writer will help you take inspiration without copying another writer's ideas.
There are stories all around us. Inspiration can come from surprising sources, so actively look and keep a record of your ideas. Create a swipe file or carry a notebook to collect them.
2. Change Your Perspective
Actively look for existing work as part of your research to help you avoid accidental plagiarism. If you find someone has already had your idea, you can still use it. There's plenty of space for alternative versions of existing ideas.
Business writers look at competitor websites and check out popular searches on Google to see what has been written in their industry. Fiction writers can do the same. Find out what published work has in common so you can say something new.
Look for points of difference to focus on. Can you shift emphasis, change perspective, or draw a different conclusion? Making minor changes can give an entirely different feel to a piece of writing, even on the most familiar of themes and topics.
3. Learn from the Structure
Your changes need to be deeper than surface level to make an idea truly your own. You're looking for inspiration rather than replication. Make enough points of difference to make an idea feel original.
It's not enough to just change character names or the setting from something already published. Make a few points of difference so your story moves in a different direction. It will make your writing feel fresh and less expected.
Let's take a common theme seen in novels: three characters unexpectedly reconnect after a long time apart. Sound familiar? You've probably encountered this scenario countless times before; it's definitely not original. But there are plenty of points of difference you can make:
Why are they meeting? For example, a reunion, bereavement, special date, accidental meeting, or change of circumstances.
Who are they? They could be relatives, best friends, ancient enemies, former inmates, or school friends.
How do they meet? Are they looking forward to it or do they dread meeting again? Will this change all their lives or uncover a hidden past? Are they reluctant or keen, or maybe they have no choice?
For business writers, it's easy to recreate successful content you've seen before. Instead of making surface changes, look down deeper to find the structure. What makes it compelling to read or makes you take action? How is it converting customers?
Check out these seven tips for writing well as a professional so you can always make your ideas your own.
Summary
The prolific way we use the internet means it's never been easier to take other people's work. With this article, it would have been easy to use Google to cut-and-paste paragraphs from top-ranking blog posts. I could have switched the sentences around a little to make it seem my own. Would anyone spot me using a quotation and not attributing it to the author?
Stay away from that whole grey area. It's best to avoid any hint of stealing by making ideas you find truly your own. Besides, you can use your existing skills as a writer to make a very familiar idea feel fresh.
And remember, if you want peace of mind, the right software can help. ProWritingAid's Plagiarism Checker will highlight unoriginal text in your work and show you the link to the page it comes from so that you can choose whether to credit the source or cut it.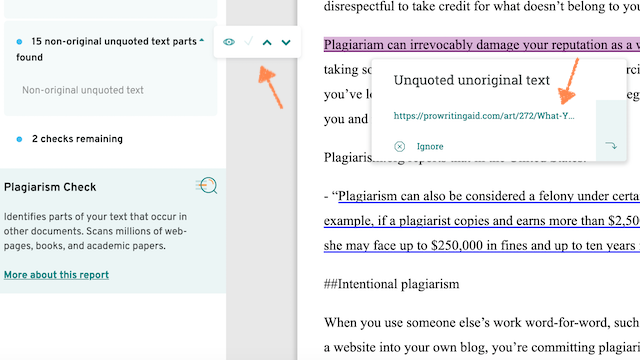 Get some peace of mind when it comes to plagiarism.