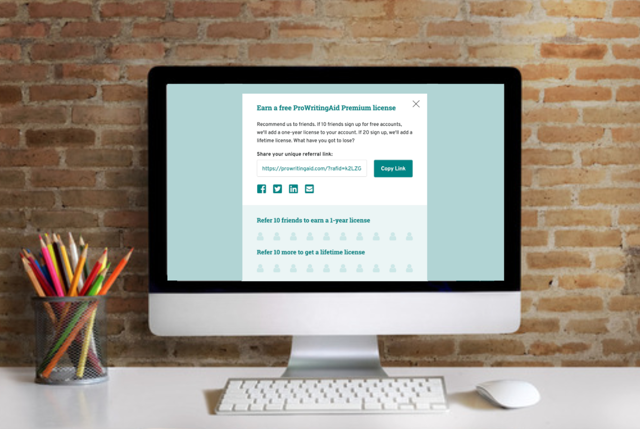 We all love getting things for free, whether it's a free sample, a two-week free trial, or even a good old Buy One Get One Free offer.
Offers are great, but we think we can do one better.
You can now extend your ProWritingAid Premium License for a whole year or even a lifetime completely free with our new referral system.
The system is simple. If you refer 10 of your friends and they give ProWritingAid a try, you'll get a free annual license added to your ProWritingAid account. And if you refer 20 friends, we'll give you lifetime access to ProWritingAid Premium for free, forever.
NOTE: This system is for referring completely new ProWritingAid users only. The people you refer to ProWritingAid must never have accessed our website prior to using your referral link. If they have visited prowritingaid.com before they visit using your link, you will not be credited with the referral.
Keep reading to find out how to start referring.
How Do I Refer Someone?
From the ProWritingAid website, head to your account page. There, you should see this referral box, which contains a personalized link for you to send to your friends: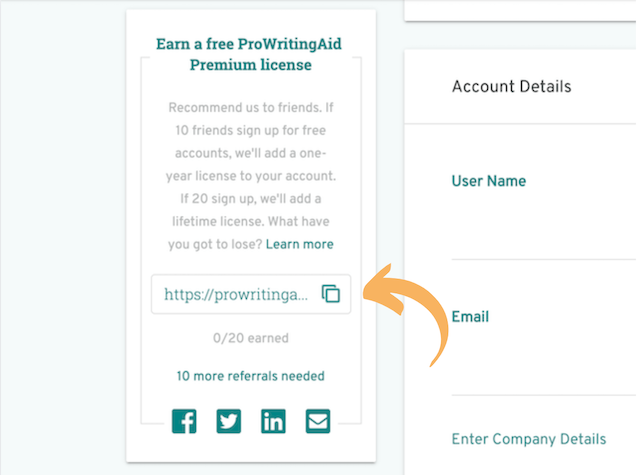 Just copy the link, and send it in a message or email, like this: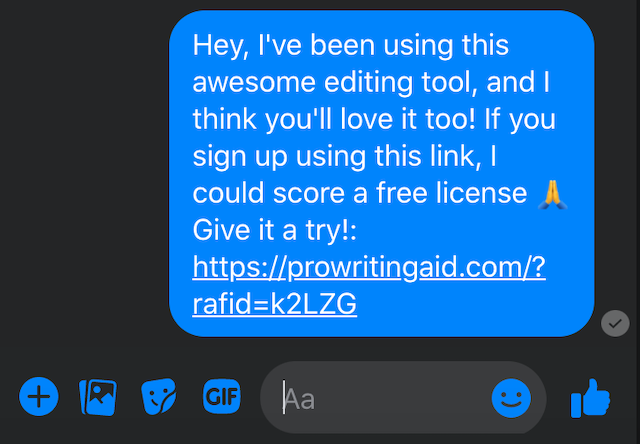 Once you've spread the ProWritingAid love far and wide, you can return to your account page to keep track of how many sign-ups/test-drives you've achieved. Scroll down to the referral box as before, and click on "Learn More" to view your referral card: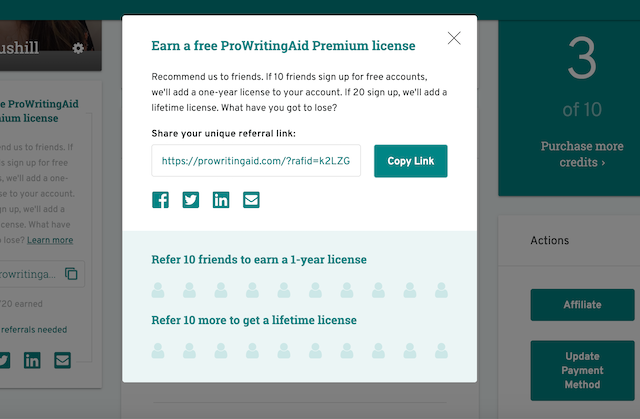 Your friends just need to sign up for a free ProWritingAid account and then test out some text in the software. If your referees do not use the software, that referral will not count towards your total. Once they do that, your referral card will begin to fill up. Your referees don't need to pay for a ProWritingAid license—signing up for a free account and running an analysis will do the trick: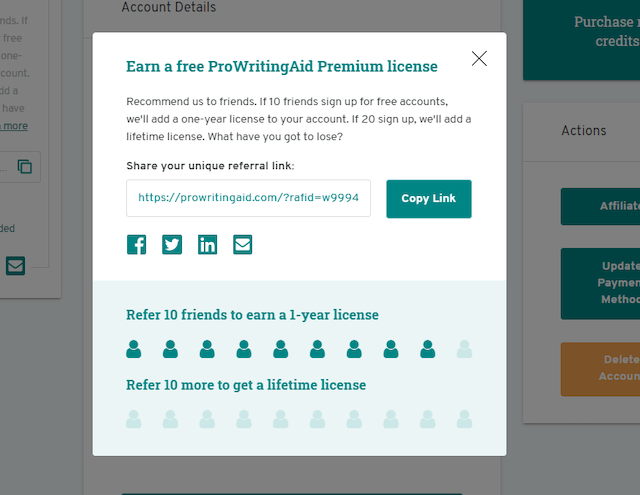 Once you've collected 10 stamps, your free annual license will be added to your account automatically.
What If I Already Have a License?
If you already have a ProWritingAid Premium annual license, your free license will begin when your current license expires.
If you didn't previously have a ProWritingAid Premium license, your free license will begin on the day you collect your tenth referral, and will expire one year from that date. The start date of your new license can't be altered.
Once you've collected a further 10 stamps (making 20 stamps in total), your license will be converted into a lifetime license.
What Do I Get with a ProWritingAid Premium License?
With ProWritingAid Premium, you can edit:
There's no limit on word count, and you also get access to our Writer's Resource Library for free.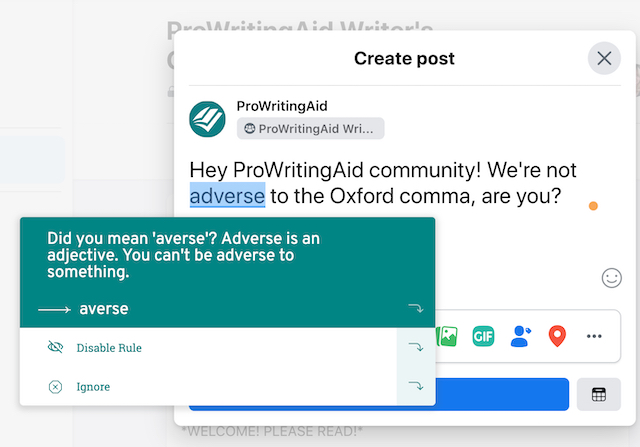 To find out more about what you can do with ProWritingAid, check out our ultimate guide.
So, what are you waiting for? Get referring and start working your way towards better editing.