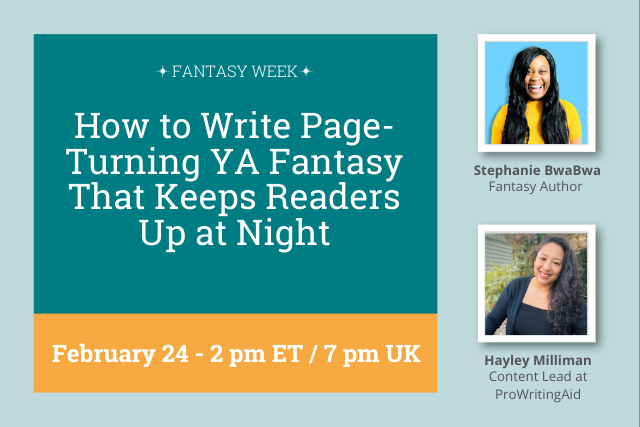 Do you want to write the next YA fantasy sensation?
In this workshop, fantasy author Stephanie BwaBwa will dive deep into creating a page turning novel that will keep your readers up at night. She'll break down the main elements all YA Fantasy novels need.
Stephanie will discuss what to avoid when writing your novel and highlight how to make your characters relatable, and your story themes memorable.
NOTE: We record all webinars and send out a replay the following day. So, even if you are not able to make this date/time, it's still worth registering to get the recording.
Fantasy Author, Stephanie BwaBwa
Stephanie BwaBwa is a Jesus-centered, multi passionate, creative who's enjoying building a legacy through the lens of story. As the CEO and Founder of Bwabs Collective LLC, BwaBwa has focused her zone of genius on the Enneagram Type 5 writer who likes to meticulously plot, research, and organize their way through crafting their stories.
Stephanie BwaBwa is the YA Fantasy author behind the world of Elledelle, and an avid reader of fantasy and fiction. Jesus is her Lord and lifeline, Disney is her safe place, Capuchin monkeys have her heart, and coffee is the reason she makes it from sunshine to sunshine.
You can usually catch her going for a walk through a park, or simply binging Disney+ with a cuppa Joe in hand. Find out more about Stephanie.