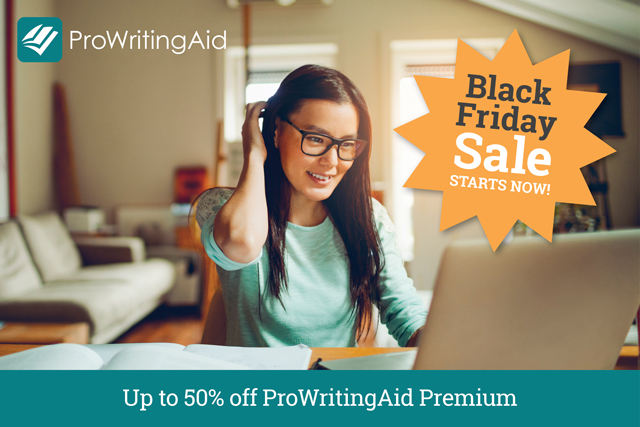 We're going big for Black Friday this year. 
Our big Black Friday sale is back again this year and we're going bigger than ever. 
Lifetime licenses are 50% off.
Annual licenses are 25% off.
This amazing discount also applies to our Premium Plus subscriptions, which include plagiarism checks.
Black Friday Sale Dates
Monday, Nov 23 - Tuesday, Nov 24: Charity Donation
For any purchases made on these days, we will donate $5 per purchase to the Children's Literacy Charity. (Last year we raised over $1500 for the International Literacy Association.)
Wednesday, Nov 25 - Monday, Nov 30: Regular Black Friday sale dates.
The sale ends at 11:59 PM PST on Monday, November 30.
If you've been waiting for the right time to upgrade to ProWritingAid Premium or snag a lifetime license, this is it.
What do I get with my ProWritingAid license?
Go beyond just grammar to improve the style and strength of your writing
In-app suggestions, explanations, videos, and quizzes help you learn as you edit
Over 20 writing reports flag common writing issues like passive voice, overuse of adverbs, awkward constructions, sticky sentences, and more
You can use ProWritingAid:
Find out more in our Ultimate Guide to ProWritingAid.