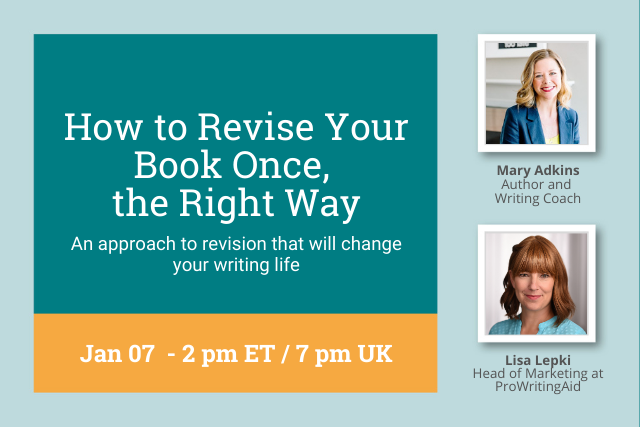 Editing is a lot of work. Here at ProWritingAid, we're doing everything we can to simplify the self-editing process. But we know that, sometimes, just having the right tools isn't enough. You need a strategy to get you from a rough first draft to a polished manuscript ready to send to a human editor.
That's why we reached out to award-winning author and writing coach, Mary Adkins, to pick her brains about how to make the editing process as painless as possible.
You can save yourself months of frustration by approaching revision with the proper mindset and priorities. Author Mary Adkins learned this the hard way: she rewrote her first novel, When You Read This, 13 times! But when she turned in her third novel, Palm Beach, to her editor at HarperCollins several months ago, she had only revised it once. What's the difference? It's all in the system Mary will teach you in this webinar.
Award-Winning Author and Writing Coach, Mary Adkins
Mary Adkins is a writing coach and author of the novels When You Read This (Indie Next Pick and "Best Book of 2019" by Good Housekeeping) and Privilege (New York Post Best Book of the Week). Her books have been published in 13 countries, and her next novel Palm Beach will be published by HarperCollins in summer 2021. Her essays and reporting have appeared in the New York Times, The Atlantic, Slate, and more.
Ready to change your writing life? Register now.
Register for this free webinar now to gain practical advice and learn tried and tested methods for editing your manuscript effectively.
We record all webinars and send out a replay the following day. So, even if you are not able to make this date/time, it's still worth registering to get the recording.