Our users are at the heart of everything we do here at ProWritingAid. Our editing tool has more features than any other manuscript editing software on the market, including many that are unique to our product—but we always want to make it better.
Everyone writes and edits differently, and different approaches require different tools. You might edit collaboratively, so a tracking changes feature would be useful. Or, you might be a Mac user who would find a ProWritingAid Word Add-In for Mac a lifesaver.
Wherever and however you write, we want ProWritingAid to work for you. If there's a feature you think ProWritingAid should have, we want to hear about it. This is where our new user suggestion system comes in.
Introducing Upvoty
Upvoty is a platform for sharing your ideas. You can see our upcoming features, upvote other users' suggestions, and make suggestions yourself.
To get started, you'll need to sign up for a free account. This is to make sure that only suggestions from actual ProWritingAid users show up on your dashboard.
Sign-up is easy. Click "Log in" in the top right-hand corner of your screen, and you'll be prompted to sign up: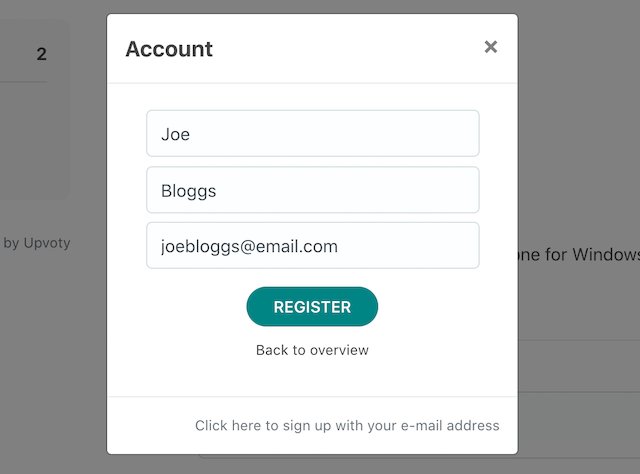 The whole process takes a couple of clicks, and then you're ready to go. (Don't worry—you won't be overloaded with emails. You'll have complete control over when you're notified.)
What We're Working On
We want to be as transparent as possible, and part of this is sharing our plans with you. Upvoty allows you to see the features our team is currently working on in the "Product Roadmap" section: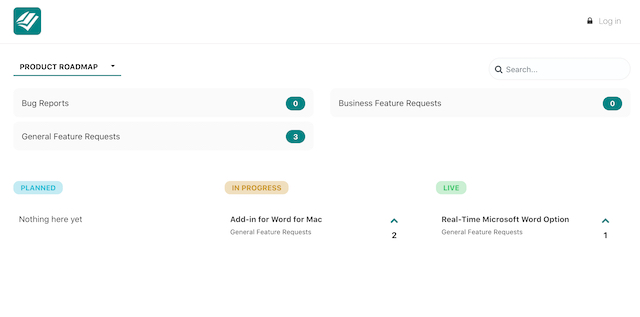 You'll be able to see which features we have planned, which are in progress and which have been released in the latest ProWritingAid update.
User Suggestions
On your dashboard, you'll be able to see suggestions made by other ProWritingAid users by clicking on "General Feature Requests." From here, you can click to filter by suggestion status so you can easily see which features are planned, in progress, under review or live (active within the latest version of ProWritingAid).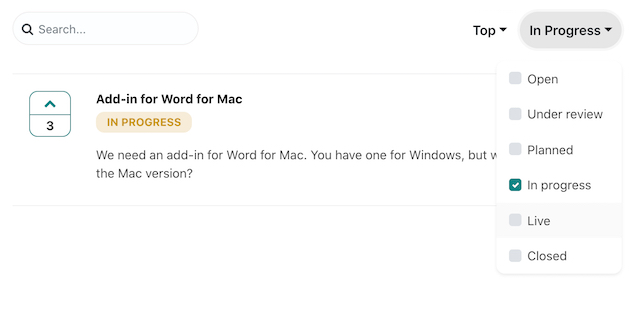 This allows you to see what progress we're making with different features. If a feature is "Under Review," then we are busy working out how we could incorporate it into ProWritingAid. A "Planned" feature is one that is on our to-do list. Once a feature is "In Progress," we're working on it. By clicking on the headline, you can read the suggestion in more detail, as well as any updates from our team in the comments.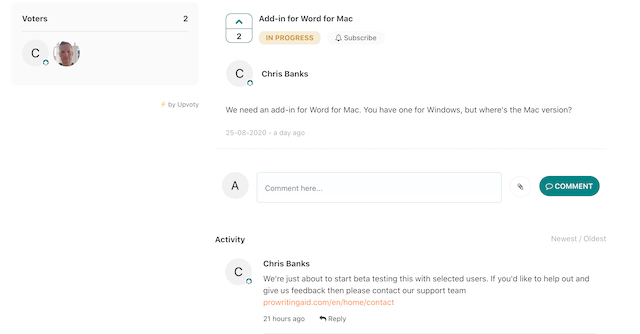 You can hit "Subscribe" to be notified within your account when there's an update to a suggestion such as a comment or status change. Once a feature is "Live," you can start using it in the latest version of ProWritingAid.
You can also sort by popularity to see which suggestions most users want to see, or by date added to see what has been suggested most recently: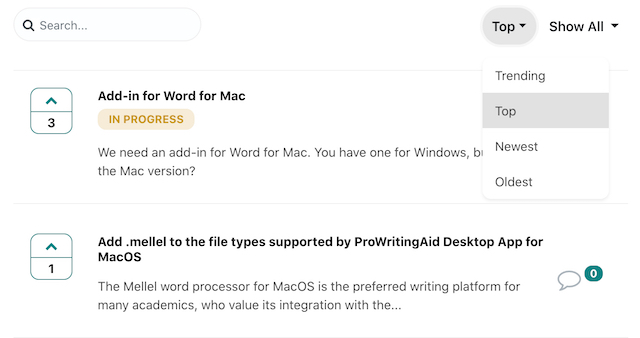 You can also search to see if your idea has already been suggested, and to see whether that idea is planned or in progress.
Voting on Suggestions
If you see an idea you like, you can upvote it by clicking on the up arrow to the left of the suggestion.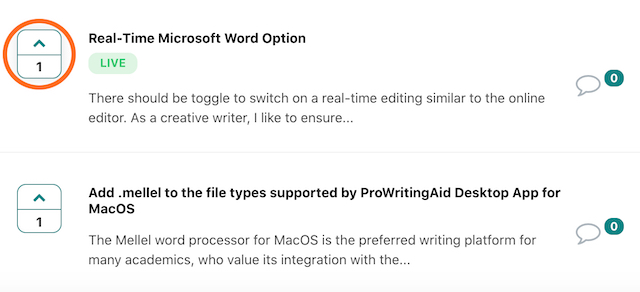 You can also see who else has voted on the suggestion by clicking on the headline. The more votes a suggestion gets, the more likely we are to add the feature to ProWritingAid when possible.
Making a Suggestion
If you don't see the feature you want in the list of suggestions, you can suggest it yourself.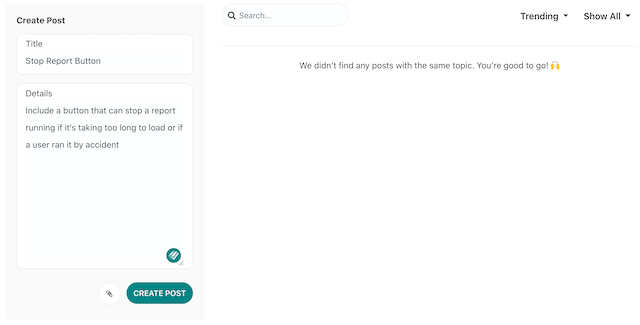 Simply give your suggestion a short title, explain what your idea is and why it would be useful, and hit "Create Post." You can also add attachments if you think a screenshot would help to illustrate your point. Once you've made your suggestion, other users will be able to start voting on it.
Our developers will check Upvoty regularly to see what we should work on next—we're guided by you.
Got an idea?
If you've got an idea for a feature that you think will make editing with ProWritingAid even easier, you can suggest it on Upvoty now:
We can't wait to hear from you! If you have any questions about making a suggestion, please contact us over at hello@prowritingaid.com and we'll be happy to help.
---
Not using ProWritingAid yet?
Start editing like a pro with your free ProWritingAid account.
When a reader sees a grammar error, they start to lose faith in the writer who made it.
ProWritingAid is one of the best grammar checkers out there - but it's far more than that! The Editing Tool also looks at elements of structure and style that have an impact on how strong and readable your writing is.
More, it helps you learn as you edit, making you a better writer every time you use the program.
The best way to find out how much ProWritingAid can do is to try it yourself!
---