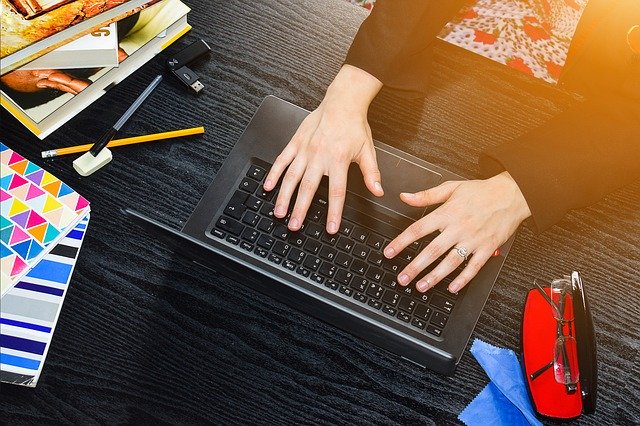 There are many wonderful novel-writing apps out there. Everyone has a program they swear by. However, most of these cost money, either a hefty sum up front or a monthly subscription. This adds up, and it's not a financial option for everyone.
Money shouldn't be a barrier to writing the novel of your dreams. Or maybe you're really picky, and you don't want to pay for a program that you only sort of like. Personally, I'm willing to pay good money for the perfect software. I just haven't found it yet!
If you feel like Google Drive isn't cutting it for you, but you don't want to fork over your hard-earned money, check out these four free novel-writing programs.
This program was created by a software developer who also writes novels. He designed his perfect writing software and was nice enough to make it free. (You can choose to register yWriter in order to support his updates.)
It's not quite like any other program I've ever seen, but that's not a bad thing.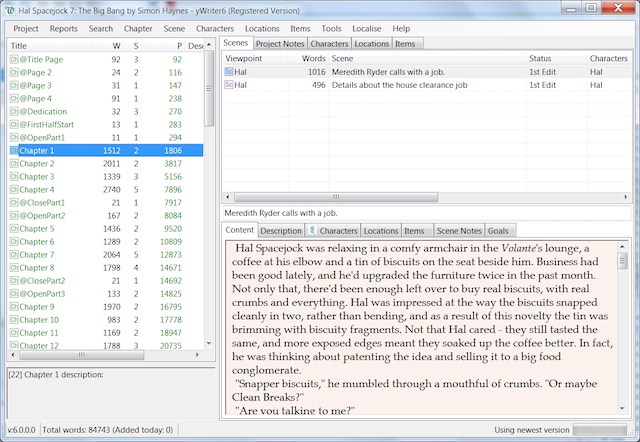 Pros
The feature I like best in yWriter6 is the built-in scene chart. I enjoy plotting my novels scene-by-scene, which I usually do in a spreadsheet. This chart is built for you as you add new scenes.
You can add characters, settings, plot conflicts, and even pictures. You can change the point-of-view per scene. All of this information will show up in a chart, which you can easily export. You can also change the status of the scene from outline, draft, first or second revisions, and complete. It's easy to stay organized. You can even storyboard!
Additionally, if you back up to Google Drive and purchase the phone app, you can add notes or scenes from your phone or tablet that will sync when you're back at your computer.
Cons
I think the biggest con is that the interface is just a little weird. It looks outdated, and it's not completely intuitive. You also have to manually add scenes instead of just writing in one ongoing streak. It takes a few clicks and could easily get you out of "the zone."
Coolest Feature: Scene chart
Who Should Use It: This is a software for plotters who plot scene by scene. If you like the idea of Scrivener but prefer a nice table instead of a pinboard, you'll enjoy this program.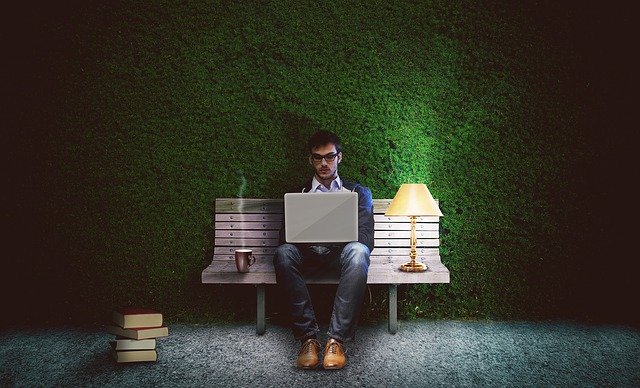 Bibisco's strength is in its plotting tools, but you can write and analyze your novel in the same program. The free version has a ton of features, but the best thing about the paid version is: you decide what to pay! So, if you do choose to upgrade, you pick the price you think is fair.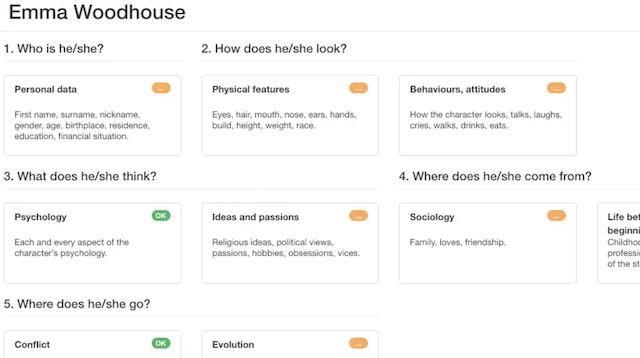 Pros
The plotting tools are front and center on Bibisco. You can create the premise and conflicts of your novel, while also planning the events and various narrative strands for each conflict.
There is a detailed character interview that encourages you to think deeply about what makes your characters work. You can add extensive details to your setting information including pictures. I also love how you can flag your scenes as "to-do," "in progress," and "done."
Bibisco also allows you to export directly to EPUB format, so you don't need a separate app for that part of the process.
Cons
The actual writing interface is strange. You can only see one scene at a time, and it's hard to navigate to other scenes. I'm a pretty tech-savvy millennial, but I found this part of the software counterintuitive to use. You can't change any of the formatting when you type your scenes. There is also no cloud-based or mobile version, making it a less versatile option for writers on the go.
My biggest issue was actually the download. It came as a huge .zip file that took over half an hour to download and extract. I downloaded two other programs, figured out yWriter6, then had a fifteen minute business call, and Bibisco still wasn't ready. Then I had to use a command prompt to make it run because there's no easy icon to open the program. Again, this is fine for someone who knows their way around a computer, but it won't be easy for authors who struggle with technology.
Coolest Feature: The character interview
Who Should Use It: Writers who love to dive deep into characters and setting
The free version of Papyrus Author is basically a word processor for books. The plotting tools are only available on the paid subscription. However, if you just want an easier way to format your books and rearrange chapters and scenes, Papyrus is a great option.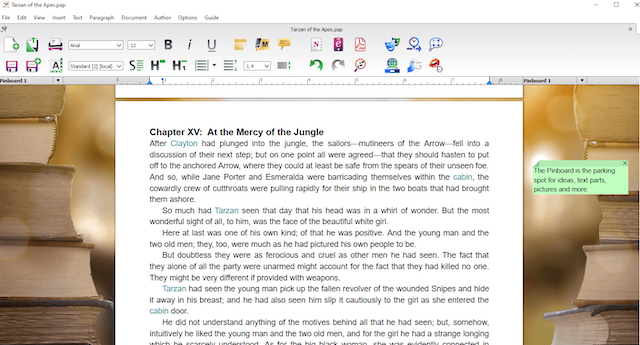 Pros
Papyrus has a lovely, clean interface. It's easy to figure out how to create a new project. If you're in a hurry, you can also just create a document that isn't tied to a book. There are plenty of formatting options in the word processor, and you can change the settings to allow Papyrus to save to Google Drive or Dropbox.
I also love that you can write your book directly in the format you want to publish it in. There are many sizes of paperbacks and hardbacks, and you can also export to EPUB or PDF. It's easy to navigate to different scenes and chapters.
There are two features that set Papyrus apart. The first is the Pinboard. You can set up multiple pinboards with notes or plot points or characters, and it's visible just to the side of your story. It's freeform, so you can change colors and format however you want. I set up pinboards for characters, settings, and research notes. There is also the Sticky Note feature. This allows you to put notes directly in your manuscript. So you can put things like "elaborate here" or "find a synonym" or "what happens to X character?"
Cons
Papyrus doesn't have a ton of plotting options on the free version, just the Pinboard and Sticky Notes. It also has no mobile format, and it can't be used on a Chromebook or tablet. Like Bibisco, it requires a download onto a laptop.
Coolest Feature: Either the Sticky Notes or all the book format options
Who Should Use It: Discovery writers ("pantsers") who don't do a lot of plotting
Wavemaker has more plotting tools than I've ever seen on a writing app. But you can easily write your manuscript here, too! It comes in multiple formats, so you can use it wherever you like to write. It can be downloaded to your computer for the most access to its features, but many of these features are also available in its online edition which you can use in your browser. You can even download it to your phone!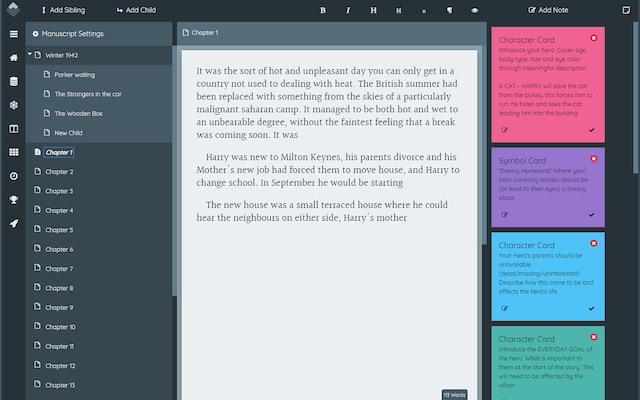 Pros
Wavemaker's sleek format is full of so many tools, I hardly know where to begin. You can write your manuscript on the writer tool, and when you create a new project, you can follow a template like Save the Cat or Three-Act Structure, or create a blank project.
The writer tool is easiest to use on the desktop app because you can put your notes for each scene on the same screen and you can easily change the font. Wavemaker can connect to your Google Drive for secure backup, but it also saves to Wavemaker directly.
You can create a Database that is based on Google Keep's structure, and organize it by creating hashtags. For example, I can use #ships, #englishhistory, #famouspirates to easily find the notes I need. There are Cards, which is where you can create notes for characters, themes, symbols, etc. and connect them to scenes and chapters.
If you're familiar with the Snowflake plotting method, that is actually why Wavemaker was created. There's a Grid Planner based on J.K. Rowling's method, similar to the [plotting tool on Dabble].(https://prowritingaid.com/art/1189/3-alternatives-to-scrivener.aspx) There is also a mind map tool and a timeline tool. If you like to live dangerously, there's even a Challenge mode, where you force yourself to write a certain number of words in an allotted time, or it deletes what you wrote!
Cons
I didn't like Wavemaker at first because I couldn't figure it out. When you click on each tool, there is no tutorial or explanation of how to use it. But once I watched the short videos, it was easy to understand. There also aren't many export options. Unlike some of the other software mentioned here, Wavemaker's eBook option is experimental right now.
The thing that was the hardest for me to figure out was "sibling" and "child." This is what Wavemaker calls chapters and scenes. I had to play around with adding them and rearranging them before I really felt comfortable.
Coolest Feature: Challenge Mode
Who Should Use It: People who do minimal plotting to people who do very detailed plotting
---
Finished Writing Your Novel?
Congratulations! But the work isn't over yet. Do you know everything you need to look for in your initial self edit? ProWritingAid can help you ensure you've got everything covered. Its 20+ detailed reports focus on the areas that copyeditors look at when reading a manuscript. Don't send off a submission riddled with grammar errors and writing style gaffes.
---
Which Novel-Writing Software Is Best?
All four of these programs have their good features and bad features. The one I like best might not be right for you. My favorites were Wavemaker and Papyrus. But I recommend trying out a couple that sound like your style and playing around with the features.
Where do you write your novels? Let us know in the comments.
---
Are you prepared to write your novel? Download this free book now: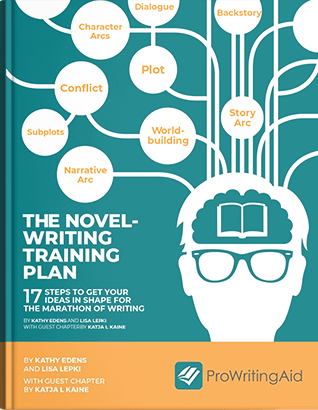 So you are ready to write your novel. Excellent. But are you prepared? The last thing you want when you sit down to write your first draft is to lose momentum.
This guide helps you work out your narrative arc, plan out your key plot points, flesh out your characters, and begin to build your world.