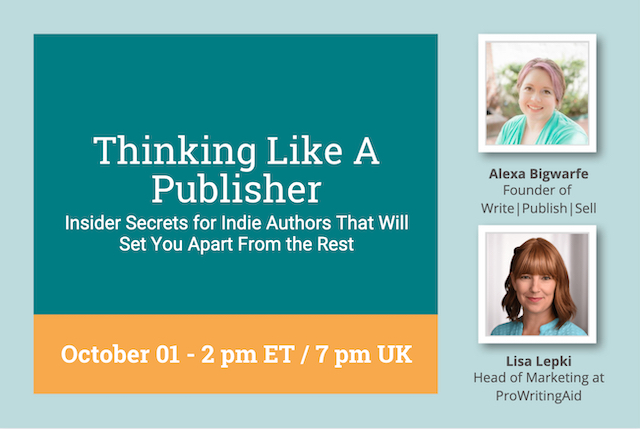 Think Like a Publisher
Do you want to make sure your book is produced and launched AS IF it was done by a publisher? It's okay to be solidly committed to being an indie author AND want to have a really well produced book. You don't want to publish your book and realize you skipped some key steps. It happens all the time!
On October 1, Alexa Bigwarfe, the publisher behind Kat Biggie Press, Purple Butterfly Press, and Chrysalis Press, and boutique publisher, Write|Publish|Sell, will show you all the secrets that you'll want to uncover before publishing your next book.
Alexa Bigwarfe, Publisher and founder of Write|Publish|Sell
Alexa Bigwarfe is a USA Today Best-Selling author, speaker, and publishing partner. Alexa turned to writing books as a healing method after the death of her infant daughter and fell in love with all things publishing. She coaches others who also want to share their story or knowledge through writing and publishing a book. Alexa is the founder of Write|Publish|Sell, Kat Biggie Press, Purple Butterfly Press, Chrysalis Press, and the Women in Publishing Summit. Learn more at writepublishsell.com.
---
NOTE: We record all sessions, so even if you can't make it, it's still worth registering so you receive the replay!
---
We host dozens of trainings for writers. Check out our upcoming webinars here, or watch some of our previous trainings here.