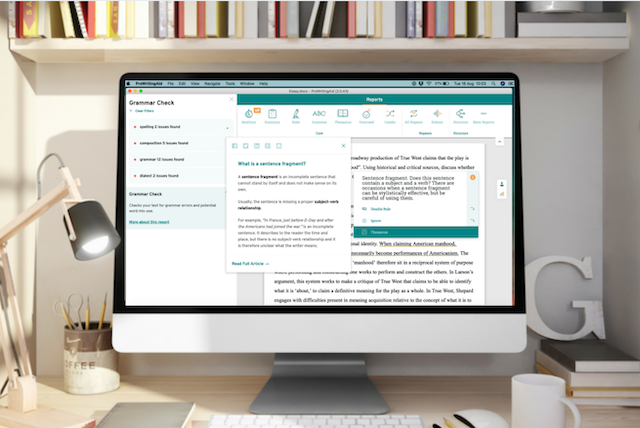 Every college student is familiar with writing essays. Some courses require them more than others, but every college student will need to produce a piece of extended analytical writing at some point during their degree.
Despite advice from their instructors to proofread, many students finish their essays and submit them right away. The thing is: your professors know what they're talking about. Every piece of writing should go through an editing process before it's submitted to be read by others—especially essays.
Editing isn't just rooting out typos. It's making sure your writing is structured logically, gets your point across, and is engaging to read. An engaging essay will put the marker in the right frame of mind for giving you higher grades.
Essay writing itself is a wonderful learning experience for expressing thoughts and ideas within a structured framework. If you can write a good essay, you can use written language skills to share your take on a particular topic coherently, concisely, and clearly. This is an amazing skill to take with you after college.
In a nutshell, writing an essay is an exercise in delivering knowledge properly and showcasing your mastery of the subject. If we dig a little deeper, we'll find that there are three intertwining elements of essay writing. In this article, we'll go through these elements and how you can secure them through your editing process.
Key Elements of a College Essay: Language, Logic, and Subject Mastery
Language Mastery
A well-learned individual is a subject expert who uses language effectively at a level that reflects their technical mastery and sophistication. Thus, writing an essay is an exercise in expressing one's thoughts in a coherent, clear, and concise manner using academic language and standardized guidelines.
The better your language mastery, the higher your grades. This explains why English-speaking colleges, universities, and postgraduate schools require high TOEFL, TOEIC, or IELTS scores as an admission requirement. Without advanced language proficiency, high-level concepts in any subject are difficult to grasp and express.
Logic Mastery
According to the Stanford Encyclopedia of Philosophy, logic itself comprises a formal or informal language together with a deductive system and/or model-theoretic semantics.
Simple, right?
Basically, as a deductive system, logic is developed to capture, codify, or record valid arguments, while semantics is designed to capture, codify, or record meaning. You need a grasp of both the logic and the semantics of your topic in order to show your instructors that you have a good grasp of it.
Language is the vehicle of logical arguments. It's the way we can demonstrate our analytical thinking and how we've moved from one concept or idea to the next.
Writing an essay showcases the author's level of subject comprehension presented logically, which is based your ability to reason. Errors in logical reasoning are known as logical fallacies, which must be avoided as much as possible.
It can help to outline your essay before you start to make sure your arguments make sense before you get too deep into the writing process.
Subject Mastery
Subject mastery is your knowledge of your topic. Do you know what all of the key terms really mean? Are you able to pick the best and most relevant evidence to back up your arguments?
Without subject mastery, it becomes impossible to present logical arguments such as the pros and cons of a concept, comparisons of theories, and other reasoning structures. Professors assign essays to students to grade their subject mastery based on the way they demonstrate logic through their language mastery. It's all connected.
Only through rigorous self-editing can these three (language, logic, and subject) elements be delivered well and, eventually, earn a good grade. You can't write a perfect essay first time. Your arguments will come as you write, but they'll be polished in your edit. Possessing the skills to self-edit your own essay is integral to improving your grades.
How to Self-Edit Your College Essay: 7 Steps to Boost Your Grades
Step 1: Map Out the Essay Requirements
Writing an essay seems simple on the surface. You need to write X number of words on Y topic. But your teachers will want specific things from your writing.
Here are three checklists to create so that you can make sure your essay is doing what it's meant to do.
Structure checklist
Have you followed the instructor's requirements on the essay framework? (The most common is introduction-body-conclusion.)
What's the thesis statement? Is it clear?
What does the body constitute? Do you need to break it down into parts?
How do you state the important points in the concluding paragraphs?
Content checklist
Does the body of the essay reflect the thesis statement?
What are the questions that must be answered in the essay?
Does each argument make sense?
Is the body arranged in a logical sequence?
Are the arguments well researched, integrated, and referenced?
Do you use a consistent referencing style?
Have you cited all direct and indirect quotes?
Is there anything else that the instructor requires you to include?
Proofreading checklist
What's the word limit? Have you reached it?
Do you capitalise all sentences and nouns properly?
Do you use punctuation marks properly?
Is your spelling and grammar correct?
Step 2: Take a Break, then Read for the Big Picture
Don't edit your essay within minutes of completing it. Sleep on it first or at least give yourself a few hours between that final word and your first edit.
Close your laptop and do something else before start working on the essay again. Let the final draft rest in your hard drive before being seen with a fresh pair of eyes the next day.
Reading "for the big picture" means you're skimming through, which you can do by reading aloud or silently. The goal is to find anything that you can catch within minutes. Perhaps it's an inappropriate title, obvious logical flaw, typo, missing argument, incomplete sentence, orphaned paragraph, or something else.
Then, start using an editing tool to learn more about your writing. ProWritingAid's Summary Report will give you an overview of your sentence length variety, sentence starts, repeated words, and more.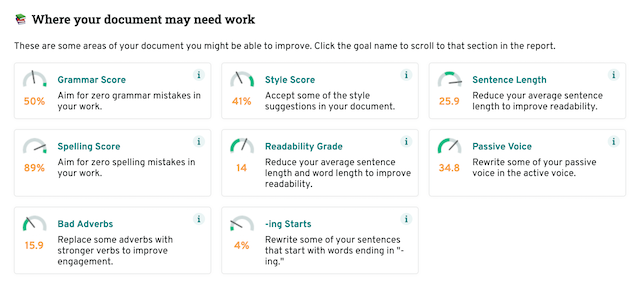 The report gives you areas to work on and tips to help you make the most improvement in the shortest amount of time. Now you know where you need to focus during your edit.
Step 3: Return to the Thesis, then Read Each Paragraph
Returning to the thesis is a lifesaver when you're running out of ideas to argue what comes next. Copy and paste your thesis on top of every paragraph in a different color. This will make you return to the thesis before each paragraph so you know your next point is on topic.
It's hard to remember your essay question as you write. Keeping the question on hand will allow you to see problematic areas, like redundancies and repetitions, as well as misplacements or anything missing. Are two of your paragraphs essentially saying the same thing? Does your first paragraph answer the question, or do you need to move your third paragraph up for it to make sense? The thesis statement itself serves as a "railway track" that will keep you focused and moving towards your conclusion.
Step 4: Make Changes
After reading through your own work, both as a big picture and in detail, apply any changes needed. Most likely, several cycles of revising and rewriting are needed before you submit.
Let's look at how you can implement one common change using ProWritingAid.
Passive Voice
All academic writing uses the passive voice every so often. This is conventional, and you definitely don't need to eradicate all passive voice from your essay. Sometimes, though, your essay would be more engaging if you switched a sentence or two into the active voice.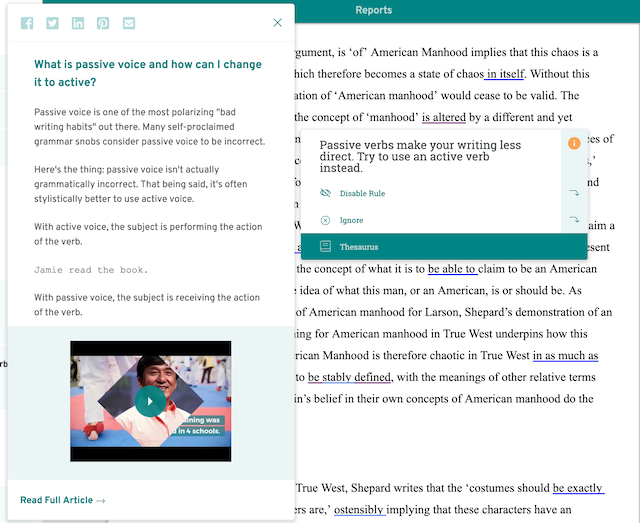 If you're not sure what the passive voice is, ProWritingAid will find instances of it in your writing. By clicking on the little orange "i" as per the screenshot above, you can find informational videos and articles to help you learn what to change. This will not only improve your essay, but your writing overall.
The best way to find out how much ProWritingAid can do is to try it yourself!
Step 5: Get Feedback
Now that you've covered the basics, you should have the essay read by others, preferably your peers.
Having another fresh pair of eyes on your work is a great way to locate overlooked mishaps and unclear statements. Friends and relatives may not have sufficient subject proficiency, or they may be too nice to give any constructive criticism. Classmates would be an excellent choice, especially when you offer to reciprocate, as it allows both of you to learn from each other.
However, think through before accepting or rejecting each piece of feedback, as every opinion will be subjective.
Step 6: Read It Backwards
After incorporating peer feedback, read the essay again from the bottom up. Start with the conclusion and the concluding paragraph, the lower part of the body, the middle part of the body, the upper part of the body, the introduction, the thesis statement, and the title.
By reading your essay backwards, the conclusion becomes the thesis statement and vice versa. An excellent paper will read well from both ends, meaning that the conclusion and the thesis are in alignment and (somewhat) interchangeable.
Is there consistency or discrepancy? Do all the arguments make sense? Are your conclusion and thesis statement in alignment? Does the essay completely follow the guidelines? What is lacking, or too much? Should any parts be revised again for clarity and conciseness?
Step 7: Final Touches
Now you've completed your redraft based on what you found in Step 6. Should this be the final version to be submitted for grading? Depends.
If you're satisfied with it, by all means, stop. However, if you're like most people, you're your own worst critic. This explains why most writers, including professional ones, are never satisfied with their work.
Give yourself one more time to read the essay aloud from top to bottom, preferably after a break of at least a few hours or overnight. Run your essay through ProWritingAid one more time to check if you could make it more readable by removing unnecessary words where you don't need them.
Before you submit, run a plagiarism check for peace of mind, to check that your essay doesn't have any unintentional plagiarism like using identical sentences to a published piece. After all, many great minds think alike.
Master the Self-Edit
Writing an essay is a great way to learn how to write clearly, how to think, and how to argue. For this, you'll need to master the language, the logic, and the subject, as well as the self-editing process. Master the self-edit with the seven steps above and enjoy better marks as your reward.
---