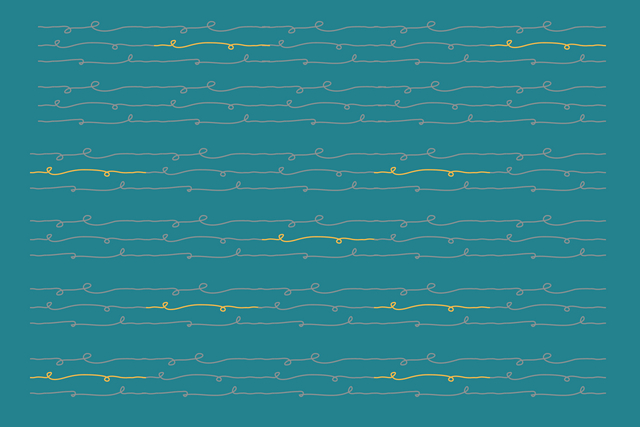 You will be amazed to see how often, when in the thralls of creative writing, you use the same word or phrase multiple times. It's natural to fall into accidental repetition: if you have described something well, then those words are already in your mind when you need to refer to it again later in the text.
And it can be worse when you edit! Many writers actually increase the repetitiveness of their writing when they are self-editing. It happens very easily when revising a sentence or paragraph without reading the chapter or report as a whole: you hit on the perfect phrase without realising that the exact same wording has already been used in the previous paragraph. I find it creeping in all the time when I'm editing the ProWritingAid e-books.
ProWritingAid offers two different reports to help you weed out any unintended repetitiveness in your writing.
In the examples below, we ran the first draft of our latest e-book, Turn Yourself into a Prosperous Copywriter, through the two ProWritingAid Checks that help reduce repetition.
First up, let's see what happened when we ran it through the All Repeats Report.
1) All Repeats Report
To help you identify repetitiveness in your document, ProWritingAid will create a list of all phrases that you have used more than once in your document. It orders them according to the length of the phrase because, the more words a repeated phrase contains, the more it will stick out to your reader as a repetition.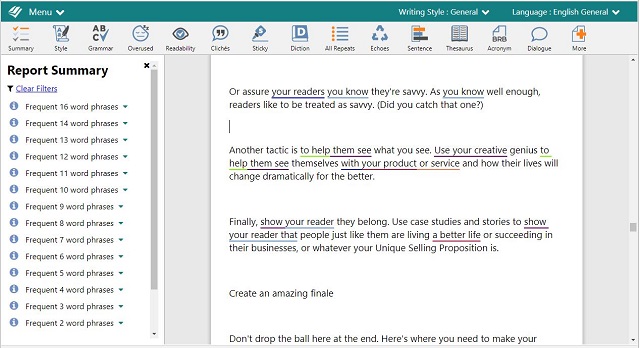 When you click on the list, it will give you the exact phrases so that you can assess them and then find them in your document and revise them if necessary: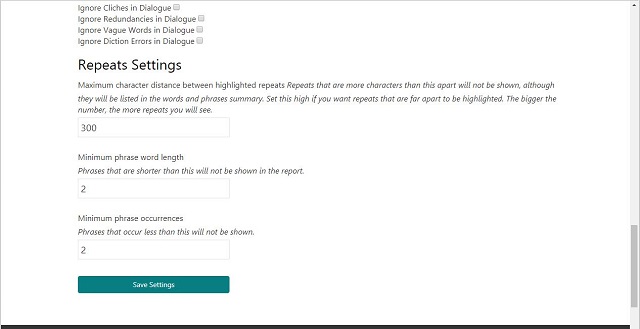 Some repeated phrases are innocuous and can be ignored. In the above example, however, I can see that we used the phrases "your product or service" eight times and "your target audience is" seven times. That's too many. Our readers would notice, either consciously or unconsciously, that our writing felt robotic and dull.
It doesn't take long to click through the eight instances of "your product or service" and rewrite two or three of them in a different way. Often this will mean rejigging the whole sentence, rather than just replacing the words with synonyms, but it's worth doing to keep your writing feeling fresh.
ProWritingAid's Contextual Thesaurus can help when you are looking to diversify language that has become repetitive. Double-click on a word to get a list of synonyms: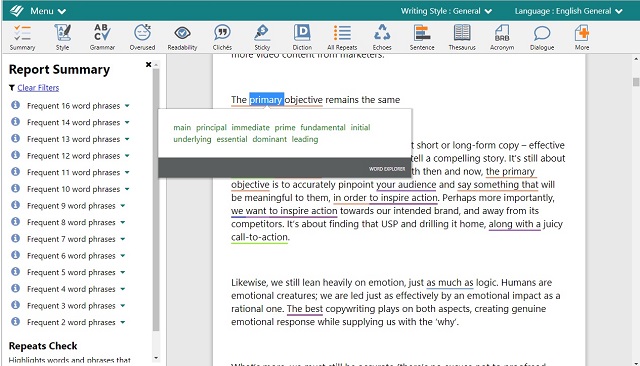 In this example, if you've used "primary objective" too many times, you might simply change this instance to "main objective", using the contextual thesaurus' first suggestion. But there's scope for large-scale rewording, too. One of the suggestions is "fundamental"; instead of changing to "fundamental objective" you may decide to talk about the "fundamentals" and streamline two words into a single word.
The All Repeats Report is great for running a full check on any length of work. But if you'd like a detailed report on a short piece of writing, you'll also want to run our Echoes Report.
2) Echoes Report
This report looks specifically at repeats that happen within a certain number of characters. You can choose this number in the settings, as shown in the image below: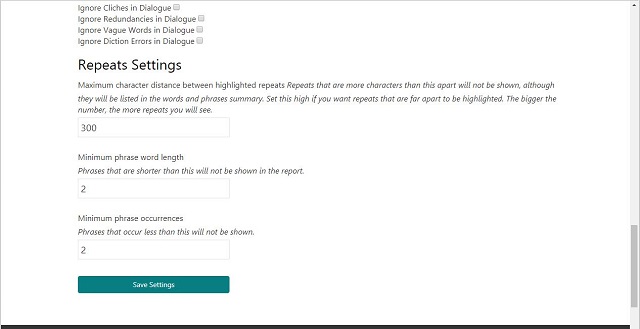 We have chosen a 300-character sample from our e-book to run this check. Use your instinct to set the right number of characters for the specific document that you are working on. This is the best way to catch any duplicate words, particularly where you may have accidentally used the same word at the end of a line and the start of the next one.
25 Writing Reports
Running these checks will keep your writing free from accidental repetition, whether it's a duplication error or a nice set phrase that you've just happened to use a few times too often.
These are just two of the ways that ProWritingAid can analyze your writing and make it better. Our most popular reports are those that highlight potential writing issues around style and clarity, rather than just correcting your grammar.
I'm sure you have all come across examples of writing that is grammatically perfect and yet still awkward and hard to follow. Diction, Style, Readability, Sticky Sentences, and Overused Words Reports will help you make your writing more clear.
Want to know more? Take a quick 2.5 minute tour of ProWritingAid here: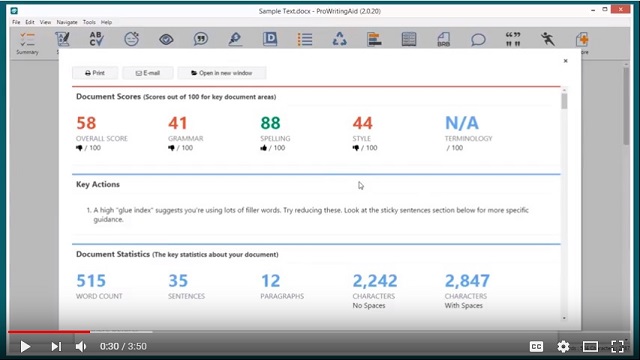 ---
P.S. My personal favorite report is the Sticky Sentences Report. Since using the editing tool, I've discovered that I have a tendency to write necessarily long and awkwardly constructed sentences. ProWritingAid pulls me up on it every time!
This report is quite simple, really. It highlights those sentences that have an uncommonly high percentage of glue words (those little building block words that don't actually have meaning themselves like the, and, in, on, of, etc.). If a sentence has a high percentage of glue words, it probably means you are working too hard to make the sentence work. You can simplify and clarify your sentence by dividing into two or rewriting it.
Click here to find out more about sticky sentences and see some examples.
Which report do you find most useful? Let us know in the comments below!