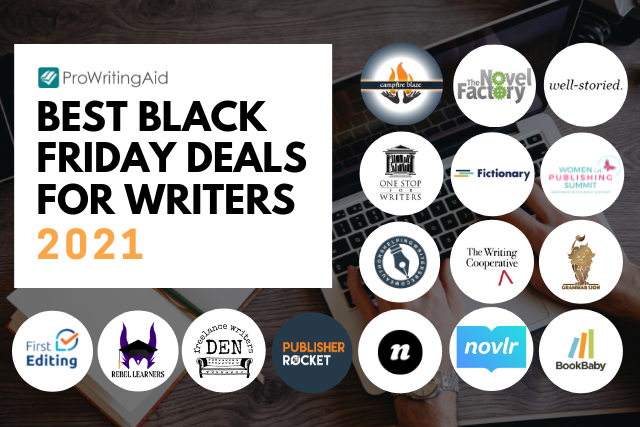 As we head into Black Friday and Cyber Monday for 2021, there are some great deals popping up on courses, software, and books for writers. We think there will be something on this list that will help you become a better, more successful writer.
We'll continue scouring the internet for deals this week, but if you come across any others, let us know and we'll add them to the list!
Note: A few of the links below are affiliate links, which means we will get a small commission at no extra cost to you. Others are just deals that we thought were awesome!
18 Awesome Black Friday Deals for Writers
---
A grammar guru, style editor, and writing mentor in one package.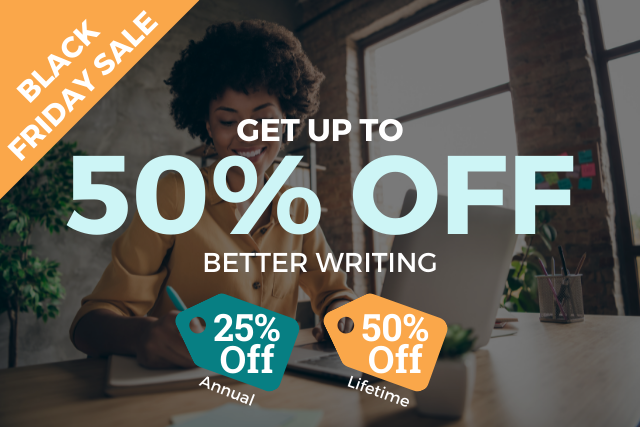 Black Friday is starting early at ProWritingAid. From November 15, you can get:
50% Off ProWritingAid Premium Lifetime
25% Off Annual Subscriptions
Our Black Friday prices only come around once a year, so if you've been waiting for the perfect time to upgrade, this is it.
ProWritingAid Premium takes the guesswork out of good writing by flagging thousands of potential readability issues and offering suggested improvements.
Eliminate embarrassing typos—ProWritingAid notices thousands of writing errors so you don't have to
Learn as you edit—our unique combination of 20+ writing reports, articles, videos, and quizzes help you understand the "why" behind the changes you'll make
Become a better writer—over 2,000 articles, explanations, eBooks, and videos will help you build your writing skills
With integrations for MS Word and Outlook, Scrivener, Google Docs, Chrome, Firefox, and more, ProWritingAid allows you to improve your writing wherever you write.
Join over a 2 million writers who already use ProWritingAid to edit like a pro.
Build your writing skills, find your writing community, and get your story out there with ProWritingAid Academy. You'll find courses on everything from planning, writing, and editing your book to marketing it and building your author profile.
At ProWritingAid Academy, you get a unique combination of:
Self-paced courses,
Live monthly writing challenges with daily exercises,
Exclusive live training workshops, and
Support and constructive feedback from a community of like-minded students and instructors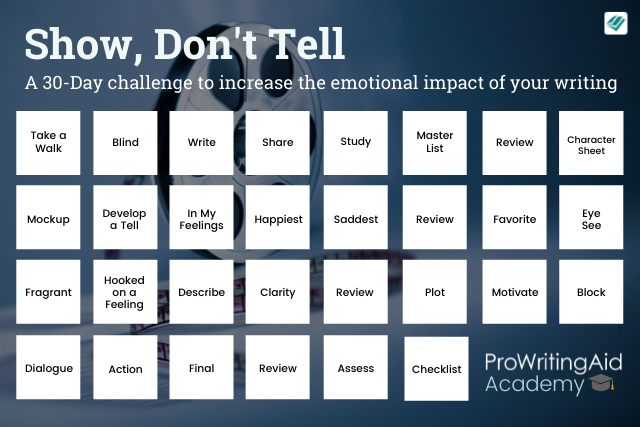 With courses and challenges dedicated specifically to fantasy, crime, romance, and nonfiction writers, you'll learn from bestselling authors including Ian Rankin, Karin Slaughter, David Farland, Tia Williams, Talia Hibbert and more. If you are craving training, accountability and support, there's no better place to continue your writing journey.
Coming up this December: You Can't Stop the Beat, a live 30-Day writing challenge to help you amp up the emotion, action, and dialogue in your writing for a richer story.
Join ProWritingAid Academy now.
Between Monday November 22 and Monday November 29, sign up for a free trial and use coupon code BLACKFRIDAY2021 to get 30% off The Novel Factory.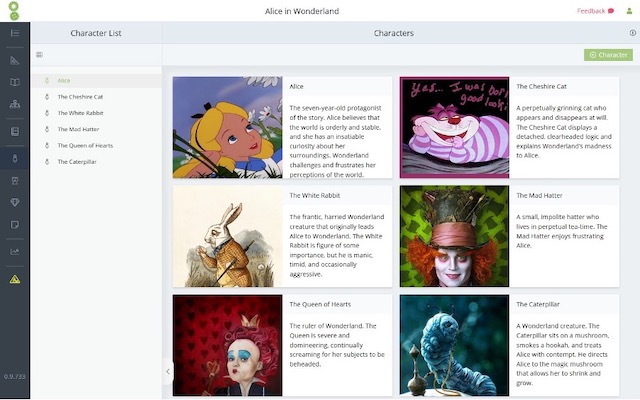 Novel Factory 3.0 offers dedicated sections to develop and keep track of your characters, a step-by-step novel writing guide, and loads of useful resources for writers, such as plot templates and character questionnaires.
Looking for help with your developmental self-edit?
Between Monday November 15 and Tuesday November 30, get 40% off an Annual Fictionary StoryTeller Subscription with coupon code BLACKFRIDAY21.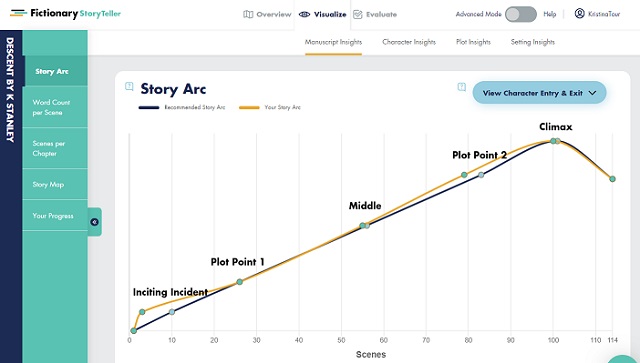 Fictionary StoryTeller is a creative editing software for fiction writers and editors that makes editing easier by applying universal storytelling structures to each and every scene.
Evaluate and revise your manuscript against 38 Fictionary Story Elements to tell a powerful story that readers will naturally connect with. After you've written your draft, it's time to revise your story, and Fictionary will guide you through your edit. Turn your words into a great story.
Are you looking for a revolutionary new World-Building software? Campfire have got you covered.
From Wednesday November 15 until Tuesday November 30, get 30% off lifetime access to Campfire Write with code BLACKFRIDAY.
More than 100,000 writers use Campfire to write better stories faster. With Campfire Write's full suite of organizational tools, you can create character sheets, full timelines, relationship webs, and a manuscript with built-in reference tools that allow you to double-check yourself while you write. When you're done, publish your project in Campfire Explore where you can show off your work, garner a following, and eventually monetize your writing.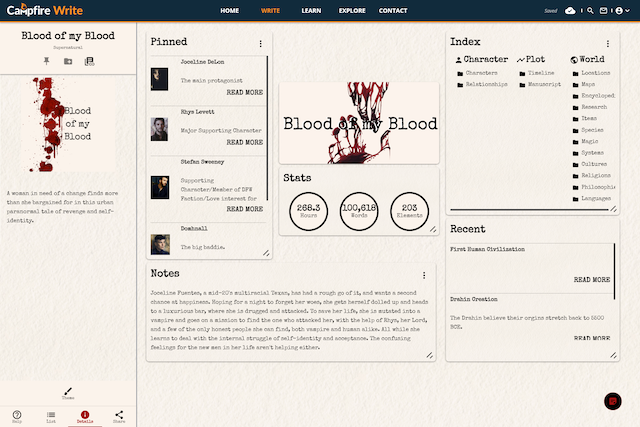 With code BLACKFRIDAY, you'll get 30% off a lifetime purchase of Campfire Write.
Writing can be challenging on your own. If you're lacking the accountability, inspiration, and guidance you need to finish your manuscript, The Writing Cooperative's Community Cohort could be for you.
Their small-group-based, five-week coaching program combines accountability, support, and encouragement to help you write better and achieve your goals.
The Cohort meets Monday nights at 7:00 pm EST on Zoom from January 10 to February 7, and each participant receives:
Five one-hour group coaching calls
Exclusive worksheets and assignments
Peer-reviewed work
Private Cohort Discord channel
Exclusive 30-minute one-on-one follow-up coaching session with Justin Cox, founder of The Writing Cooperative
Click here between Nov 25 and Nov 30 to enrol in the January New Writing Habits cohort for 20% off.
If you write fantasy, you've probably heard of World Anvil. It's a worldbuilding software beloved by over 1.5 million writers worldwide. Tons of fantasy writers in the ProWritingAid community swear by it!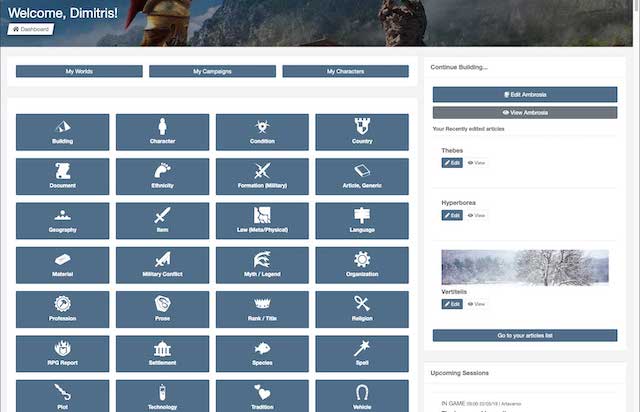 (Image credit: World Anvil)
World Anvil's award-winning software is a comprehensive worldbuilding and story bible, with an integrated novel writing software. So if you're looking for a writing interface that puts your planning and writing all in one place, this could be for you.
You can develop your setting, plots, and characters with flexible worldbuilding templates, and access a host of vital tools like interactive maps and family trees. Plus, it works with ProWritingAid!
The software also has marketing tools built in, helping you release content to your fans in a way that suits you. Watch our walkthrough of the software with its creators, Janet and Dmitris.
Do you want to improve your prose, characters or storytelling? Join rebel author, podcaster, and bestselling author Sacha Black for her writing classes.
For Black Friday, Sacha is offering 30% off two of her most popular courses, The Anatomy of Prose: The Senses, and her Villains Masterclass.
THE ANATOMY OF PROSE: THE SENSES COURSE
In this course, Sacha shares everything she's learned about creating sensory-rich writing. You'll learn the psychology behind the senses, as well as how to connect sensory detail with memory to deepen both your characterization and imagery.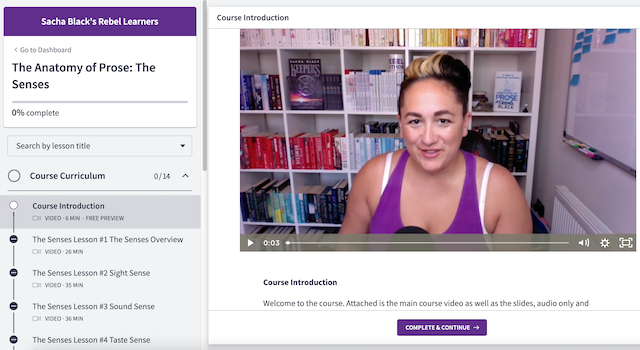 THE VILLAINS MASTERCLASS
If you want to create better villains, this course will show you how. The class covers common villain story structures, the six common villain journeys and the key scenes you need, how to create unlikeable characters, Save the Cat (villain style)—and more!
Check out Sacha's class with us for a taster of what you'll get on the courses. You won't regret joining her!
Book marketing can feel like an impossible task when you've never done it before.
If you're trying to break into the world of marketing your book on Instagram, Write|Publish|Sell's Instagram for Authors course will help you out. It breaks down everything you need to know to start seeing returns on your Insta-marketing efforts, and provides you with all the tools you need to successfully use Instagram to market and sell your books.
Between Monday November 15 and Tuesday November 30, you can save 40% when you sign up here.
The publishing world can feel impenetrable at times. That's why publisher Alexa Bigwarfe has brought together women from the industry to bust myths and share advice at the Women in Publishing Summit.
Get $100 off your ticket until December 1! This offer lasts from Monday November 1 until Wednesday December 1.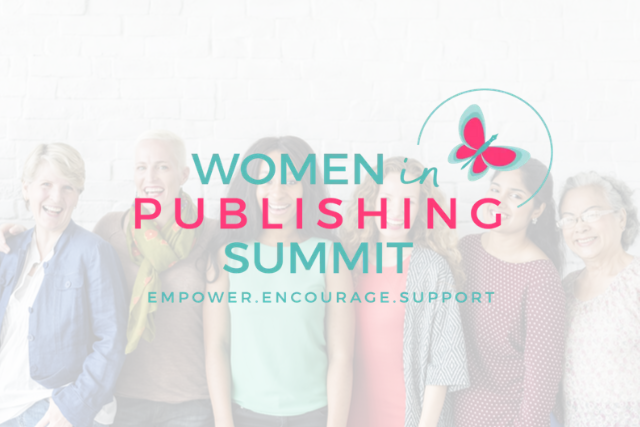 The Women in Publishing Summit is a week-long conference that provides resources and training to authors across all facets of writing, publishing, marketing, and author development.
Made by women, for women, the conference not only delivers incredible content, but celebrates the achievements of women in the industry. Plus, you'll get access even more incredible discounts and opportunities from the event's sponsors to help you in the training process.
Need a little more structure in your outlining process? Try the Outlining Your Novel Workbook.
Between Friday November 26 and Monday November 29, you can get 25% off the software when you sign up here.
The Outlining Your Novel Workbook computer program is a powerful brainstorming tool for writers. It is designed to guide you in discovering the brilliant possibilities in your ideas, so you can identify those best suited to creating a solid story that will both entertain and move your readers. The software provides an intuitive and easy-to-use fill-in-the-blanks format that will guide you through every step of the process.
Strengthen your writing and editing with Grammar Lion's Grammar Refresher Course.
Whether you're a writer, an editor, a researcher, a businessperson, or a student, your writing needs to be clean and professional to inspire confidence in your work. This course will reinforce the rules you learned at school—and teach you some you didn't.
This deal gives you 12 weeks of course access so you can learn at your own pace, with instructors on hand to answer any questions that come up as you learn.
Click here to get $40 off the course at checkout for Black Friday.
If you want to build an author website, but you're not sure where to start, Nrdly could be the answer.
When you sign up, you get a site designed by business experts to give you exactly what you need.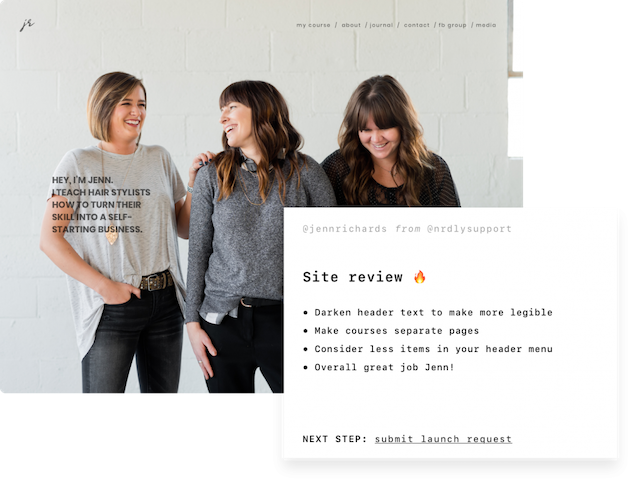 (Image credit: Nrdly)
Their custom templates make sure you have all the pages, features, and functions you need for your business—all of the hard work is taken care of for you! All that's left to do is put your own unique spin on things—tweak the colors, switch out the images, add your own content, play with the fonts—customize to your heart's content.
Check out founder Nick Stephenson's demo of the software (and get some awesome author website tips!) to see if it's for you.
Get 20% off your first order with Nrdly's Black Friday deal.
Does the idea of setting up social media campaigns for your books send you running for the hills?
Bookbaby have been in the publishing business for a while—they've helped publish over 50,000 titles. Now, they're helping you sell your book, too.
Save $50 on a custom-built Facebook ad campaign for your book. Your social ads will include an attention-grabbing image, an enticing synopsis, and a direct link that takes readers straight to your sales page on BookShop, Amazon, or wherever your book is available. If you're looking to outsource your author advertising, this is a great deal!
How many times have you sat staring down a blank page? Some authors claim there's no such thing as writer's block so long as you have the right approach. But what is that approach?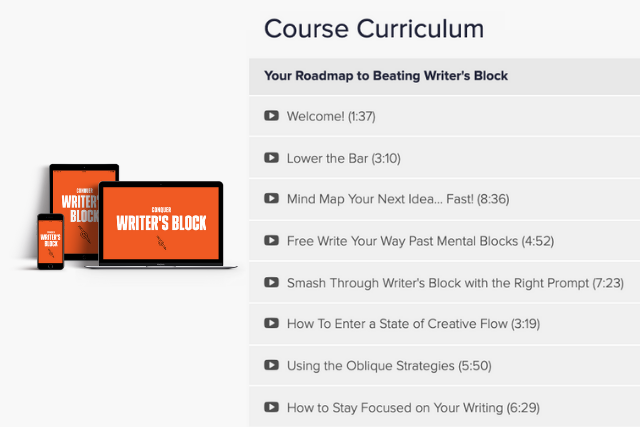 This course from Become a Better Writer Today helps give you the skills you need to turn up in front of the blank page full of ideas and with a clear plan about which one to focus on. It's a self-paced online course that enables you to build a personal writing system that works for you, so you can find the success you deserve.
Publisher Rocket is the world's leading book marketing software that has helped over 70,000+ authors of all levels sell more books, and save loads of time doing it. It comes from Dave Chessen, the brains behind Kindlepreneur, so you know you're in safe hands!
For a limited time, Dave is offering you the Kindlepreneur Keywords and Categories Course absolutely free when you buy Publisher Rocket.
This course has hundreds of 5-star reviews, and is normally $50. It helps you navigate the tricky waters of SEO, teaching you how to select profitable keywords and bestselling categories with ease. It even comes with Amazon Ads features that will save you hours in setting up your ad campaigns.
First Editing's professional editors manually correct and perfect your every word so you can publish confidently and successfully.
First Editing is unique because it vets, trains, and certifies expert editors with publishing experience to coach you. Over 50,000 authors since 1994 have entrusted First Editing with their manuscripts.
After completing your self-edit, be sure you are ready to distribute publicly by hiring a professional editor.
With First Editing, you get an expert editor in your genre to personally edit your writing, revise your syntax, and strengthen your structure.
Book Bolt is a comprehensive platform for publishing low-content books. If you're looking to publish a journal, puzzle book, picture book, or notebook on Amazon, Book Bolt can take you from idea to finished product.
This Black Friday, the ProWritingAid community can get an extra 20% off Book Bolt with code prowritingaid (regular Black Friday deal: $49.99).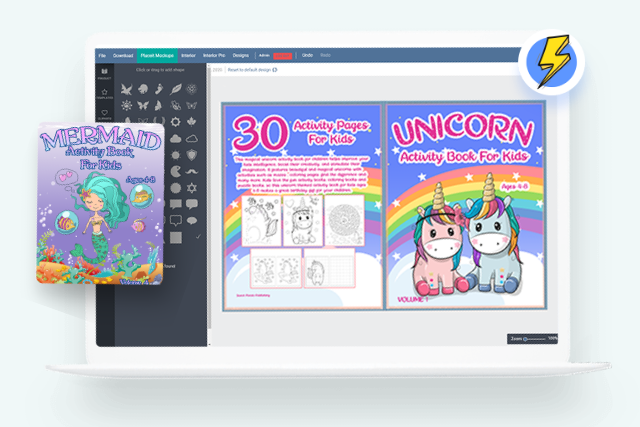 Image credit: Book Bolt
You'll get the tools you need to research, create, and publish your book, with access to live Amazon data so you can track marketplace trends and publish what's popular.
Their Black Friday deal also includes the PuzzleWiz feature, which allows you to create activity books, puzzle books, coloring books, and game books, all on the same platform.
Get $1494 worth of courses, videos, and templates for just $497.
The Evergreen Email Accelerator helps you mobilize (or create) your email list so you can make sales on autopilot. You'll learn how to write, structure, and schedule your emails to increase engagement even when you're not directly involved.
This program is great for business owners who want to ensure that when the unexpected happens—or when they just want to take some well-deserved time off—their sales funnel will keep generating income.
Plus, for Black Friday, you can get a bundle of over-the-shoulder videos from Evergreen Email Accelerator creator, Brittany Long, for just $37 (Reg: $197).
---
What have we missed?
Have you spotted any more great bargains floating around the internet? Let us know in the comments and we'll add them to our list!