How to Use ProWritingAid
by ProWritingAid
Apr 25, 2016
There are some words and sentence constructions that are fine to use occasionally, but become problematic when they are overused. They fall into five main categories:
1) Too Wishy-Washy
Words like "could", "might" and "maybe" are indefinite in their meaning. "I could bring a salad to dinner" feels hesitant and unsure, whereas "I will bring a salad to dinner" feels resolute. If your writing is peppered with these non-specific words, it will feel unconvincing. Try to limit your use of these undefined words to times when they are really necessary and replace them with definite words when you are able.
Read More »
by ProWritingAid
Apr 25, 2016
Pacing refers to the speed at which a story is told and how quickly the reader is moved through events. Good writing contains faster-paced sections, such as dialogue and character action, as well as slower-paced sections, such as introspection and backstory.
A book that is entirely composed of car chases without taking the time to make you care about the character being chased just won't be effective at bringing readers into the story. Likewise, a story that has four chapters in a row dedicated to your main character's Zen contemplation may need a bit of action to keep readers interested. Differently paced sections should complement each other, allowing the reader to move with you through the narrative.
Read More »
by ProWritingAid
Apr 25, 2016
Repeating a word or phrase happens to the best of us, especially if you're writing an article and using a specific vocabulary for your topic. You won't even notice you've used the same word several times in the span of one paragraph because it's foremost in your mind. But those repeats can set off an echo in the reader's mind – that subconscious feeling of "Didn't he just say that?" It can be irritating to read and, worse, it can detract from what you are trying to say. The more uncommon a word or phrase, the more likely it is to echo, even pages apart.
Read More »
by ProWritingAid
Apr 25, 2016
Varied sentence length is an important feature of good writing. To maintain your readers' interest, use a variety of sentence lengths: some short and punchy, others long and flowing.
The late Gary Provost illustrated it best. Click through to see how.
Read More »
by ProWritingAid
Apr 25, 2016
A sticky sentence is one that is full of glue words.
Glue words are the empty space that readers need to get through before they can get to your ideas. Generally, your sentences should contain less than 45% glue words. If they contain more, they should probably be re-written to increase clarity.
Read More »
by Lisa Lepki
Jul 14, 2015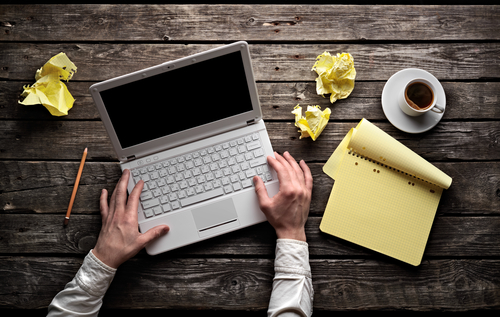 We know that many of you, like us, need a fast-approaching deadline in order to really get down to the business of writing. The problem with doing it all at the last minute means that your editing time is short and needs to be efficient and effective. These three reports will help you do swift and snappy edit when you are down to the wire:
Read More »
Search in Blog
Subscribe
Article Categories
Our Blog
We love writing. ProWritingAid helps turn your writing into great writing. We publish articles about writing software, writing techniques and other useful information for writers. Subscribe to be notified of new articles.